Purdue vs. Notre Dame: Complete Game Preview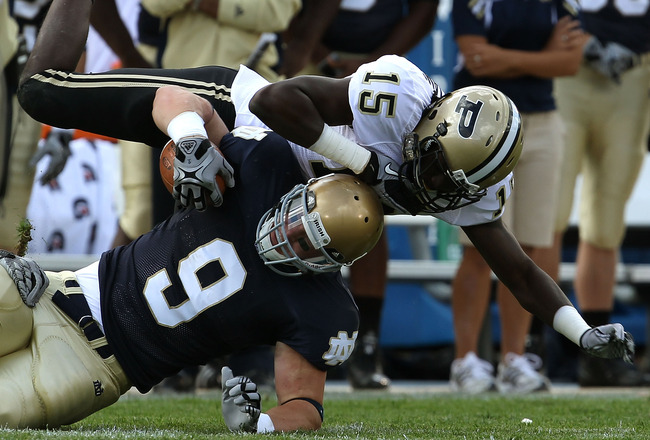 Jonathan Daniel/Getty Images
Saturday afternoon's contest between Purdue and Notre Dame marks the 84th meeting between the two schools, with the Irish owning a four-game winning streak in the series.
The Boilermakers will make the trek to Notre Dame with revenge in mind, after they suffered through a 38-10 loss to Brian Kelly's squad last season on their home turf.
For a complete game preview of the battle for the Shillelagh Trophy, please take a look through the following slideshow.
Enjoy.
Game-Day Information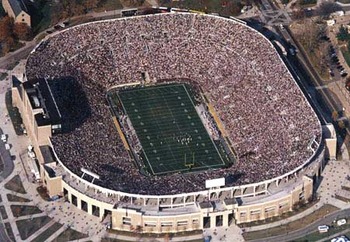 Who: Purdue at Notre Dame
When: Saturday, 3:30 PM (EDT)
Where: South Bend, IN
Stadium: Notre Dame Stadium (80,795)
TV: NBC
Radio: IMG Notre Dame Radio Network
Internet Stream: NBCSports.com (http://nbcsports.msnbc.com/id/38985841)
Depth Chart for Notre Dame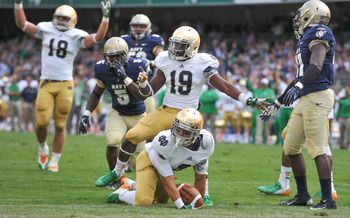 Barry Cronin/Getty Images
Position—Starter, Backup
OFFENSE
QB—Everett Golson, Andrew Hendrix/Tommy Rees
RB—Theo Riddick, George Atkinson III
WR—John Goodman, Daniel Smith
WR—T.J. Jones, DaVaris Daniels
WR—Robby Toma, Davonte Neal
TE—Tyler Eifert, Ben Koyack
LT—Zack Martin, Ronnie Stanley
RT—Christian Lombard, Nick Martin
C—Braxston Cave, Mike Golic, Jr.
LG—Chris Watt, Conor Hanratty
RG—Mike Golic, Jr., Conor Hanratty
DEFENSE
DE—Kapron Lewis-Moore, Sheldon Day
DE—Stephon Tuitt, Chase Hounshell
NT—Louis Nix, Kona Schwenke
LB—Ben Councell, Romeo Okwara
LB—Prince Shembo, Ishaq Williams
LB—Manti Te'o, Jarrett Grace
LB—Dan Fox, Carlo Calabrese
CB—Bennett Jackson, Jalen Brown
CB—KeiVarae Russell, Josh Atkinson
FS—Zeke Motta, Matthias Farley
SS—Jamoris Slaughter, Nicky Baratti
Depth Chart for Purdue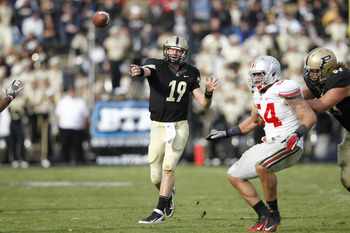 Joe Robbins/Getty Images
Position—Starter, Backup
OFFENSE
QB—Caleb TerBush, Robert Marve
RB—Akeem Shavers, Akeem Hunt
WR—O.J. Ross, Shane Mikesky
WR—Gary Bush, Cameron Posey
WR—Antavian Edison, Raheem Mostert
TE—Gabe Holmes, Crosby Wright
LT—Kevin Pamphile, Justin Kitchens
RT—Trevor Foy, Justin Kitchens
C—Rick Schmeig, Robert Kugler
LG—Peters Drey, Cody Davis
RG—Devin Smith, Cody Davis
DEFENSE
DE—Ryan Isaac, Jalani Phillips
DE—Ryan Russell, Greg Latta
DT—Bruce Gaston, Brandon Taylor
DT—Kawann Short, Michael Rouse
LB—Robert Maci, Nnamdi Ezenwa
LB—Will Lucas, Joe Gilliam
LB—Antwon Higgs, Sean Robinson
CB—Ricardo Allen, Frankie Williams
CB—Josh Johnson, Normondo Harris
FS—Landon Feichter, Max Charlot
SS—Taylor Richards, Chris Quinn
What Happened to the Fighting Irish Last Week
Barry Cronin/Getty Images
Notre Dame opened its 2012 season with a 50-10 victory over the Navy Midshipmen at Aviva Stadium in Dublin, Ireland.
The game marked the first career start for redshirt freshman quarterback Everett Golson, who had a solid day, completing 12-of-18 pass attempts for 144 yards and one touchdown. Golson displayed poise and composure not typically found in a first-time starting quarterback.
Golson was able to rely on an explosive rushing attack that racked up 293 net rushing yards against a weak Navy defense. Theo Riddick carried the ball 19 times for 107 yards, while George Atkinson ran nine times for 99 yards. Riddick and Atkinson each had two scores, as well.
The Irish defense showed its prowess at shutting down the triple-option attack, completely eliminating the dive man from being a factor in the game. Navy finished the game with 149 net rushing yards, the fewest Notre Dame had allowed against Navy since 1998.
However, the young Irish secondary was exposed, yielding 192 passing yards and one touchdown to Navy quarterback Trey Miller.
The victory vaulted Notre Dame to No. 22 in both the AP Poll and USA Today poll.
What Happened to the Boilermakers Last Week
AP/Lafayette Journal and Courier, Brent Drinkut
The Purdue Boilermakers began their 2012 season with a bang, defeating the Eastern Kentucky Colonels by a score of 48-6.
Purdue's starting quarterback, Caleb TerBush, did not play due to a one-game suspension for an undisclosed violation of team rules. Backup quarterback Robert Marve started in his place, and the Boilermakers did not miss a beat.
Marve completed 30-of-38 pass attempts for 295 yards and three touchdowns. Marve and the Boilermakers sealed the victory early in the second quarter, after Kurt Freytag's seven-yard touchdown run that put Purdue ahead 20-0.
Akeem Shavers led the Purdue rushing attack, compiling 74 yards on 11 carries with one score.
With the Boilermakers up 41-6 late in the third quarter, head coach Danny Hope sent out his second-team offense, led by quarterback Rob Henry, who completed 7-of-9 pass attempts for 77 yards and one touchdown.
Marve and Henry combined to hit 12 different receivers in the game.
Despite such a large margin of victory, Danny Hope was concerned with his team's five combined turnovers in the game.
What It Means to Both Teams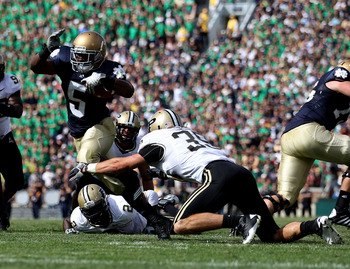 Jonathan Daniel/Getty Images
On an annual basis, the battle for the Shillelagh Trophy typically means much more to Purdue than it does to Notre Dame. The Irish also tend to be the highest-profile team within the Boilermakers' non-conference portion of the schedule.
For the Irish, Saturday's contest will serve as a second tune-up for first-year starting quarterback Everett Golson, before he and the offense will face a stout Michigan State defense on Sept. 15.
The Irish secondary, which allowed 192 passing yards last week against Navy, will also use this game as a tune-up for pass-happy teams on the schedule, such as USC and Oklahoma.
This week's game is an opportunity for the Irish to move up in the top 25 polls, where they currently find themselves in the 22nd slot.
For Purdue, Saturday afternoon's game serves as an upset bid. A victory over the Fighting Irish would send a message to the rest of the Big Ten Conference that the Boilermakers are a legitimate contender in the Leaders Division, as Ohio State and Penn State are both ineligible for the conference championship game.
Key Player for Notre Dame
Key Player: QB Everett Golson
Notre Dame's first-year starting quarterback, Everett Golson, will be the key to the Irish offense on Saturday.
Last week, Golson completed 12-of-18 passes for 144 yards and one score. However, head coach Brian Kelly limited the playbook for the redshirt freshman, resulting in a lack of downfield throws.
Golson had a potent rushing attack to lean on, meaning Purdue is likely to load the box in an effort to contain Notre Dame running backs Theo Riddick and George Atkinson. When that happens (and it will), Golson will be forced to take some shots down the field.
How he fares in those situations will speak volumes about his potential as the starting quarterback for the remainder of the season.
Key Player for Purdue
Key Player: DT Kawann Short
Purdue defensive tackle Kawann Short, a potential first-round pick in next April's NFL Draft, will play a crucial role in stopping Notre Dame's potent rushing attack.
Notre Dame head coach Brian Kelly raved about Short and fellow defensive tackle Bruce Gaston, saying the pair are the best the Irish will see all season (via Irish Illustrated).
The Irish's game plan against Purdue remains a mystery outside the walls of the Guglielmino Athletics Complex on the Notre Dame campus, but odds are that Kelly and Co. employ a similar offensive attack to what fans saw against Navy last Saturday.
Notre Dame starting quarterback Everett Golson will be in his second career start, meaning Kelly will place an emphasis on the running game, as the third-year head coach did against Navy.
Short and his defensive line will be Purdue's biggest help to pulling off the upset in South Bend.
Notre Dame Will Win If...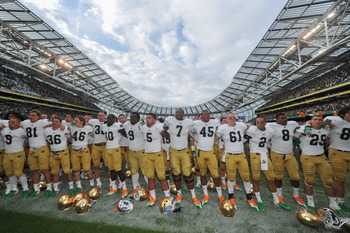 Barry Cronin/Getty Images
Notre Dame will win if the defensive front seven applies consistent pressure to Purdue quarterbacks Caleb TerBush, Robert Marve and Rob Henry, all of whom will play on Saturday afternoon.
The Irish secondary appeared to be extremely raw against Navy, and will be exposed against a pass-oriented Purdue offense if the quarterback is given ample time in the pocket to find open receivers.
It won't be easy to force the Boilermaker quarterbacks into making mistakes, as each possesses starting experience, but the Notre Dame front seven is, perhaps, the best Purdue will see all season. If Stephon Tuitt, Louis Nix, Manti Te'o and crew can get into the head of the quarterback, the Purdue offense will struggle to put the ball in the end zone.
Purdue Will Win If...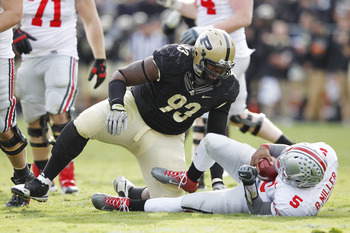 Joe Robbins/Getty Images
Purdue will win if it can take advantage of Notre Dame's raw, inexperienced secondary. The Irish will start cornerbacks KeiVarae Russell and Bennett Jackson, neither of whom had any starting experience prior to Notre Dame's season opening game against Navy last weekend.
This matchup heavily favors Purdue, as the Boilermakers boast three quarterbacks with starting experience, as well as a veteran group of receivers featuring O.J. Ross, Antavian Edison and Gary Bush.
Purdue head coach Danny Hope and offensive coordinator Gary Nord will attempt to create one-on-one matchups against KeiVarae Russell, a true freshman who was recruited by Notre Dame as a running back. Russell didn't even make the switch to cornerback until the week leading up to the Irish's contest against Navy.
If Purdue is able to carve up the Irish secondary, a win for the Boilers will be tacked on the board.
Prediction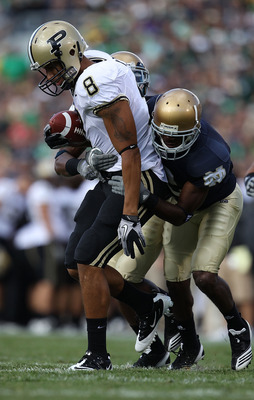 Jonathan Daniel/Getty Images
Last season against a very similar Purdue team, Notre Dame stormed out of the gates en route to a 38-10 domination of the Boilermakers in West Lafayette.
This season, with an improved Notre Dame offense, as well as a premier defensive front seven, the Irish will put on a repeat performance. Purdue quarterback Caleb TerBush will struggle in the first half, just as he did a season ago, prompting Danny Hope to play musical chairs with his quarterbacks.
Meanwhile, the Irish offense will rely on the ground game, with quarterback Everett Golson taking a few more shots down the field than he did against Navy.
Expect a large margin of victory for Notre Dame.
My Prediction: Notre Dame 35, Purdue 17
Keep Reading

Notre Dame Football: Like this team?