Grading the Top 10 College Football Defenses Heading into Week 2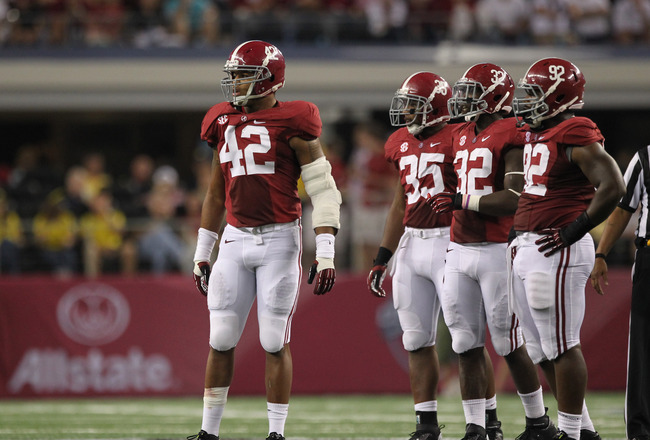 Matthew Emmons-US PRESSWIRE
Offense is more entertaining, but defense wins championships.
Just ask Alabama.
It's still early in the season and we don't quite truly know who the best defenses in college football are, but we got something of a good idea after one week of college football.
So, let us evaluate the top 10 defenses in college football based on their Week 1 performances. I'm sure that we'll update these rankings as the season goes on, but these defenses are off on the right foot.
Who are they? Read on.
No. 10: Oklahoma Sooners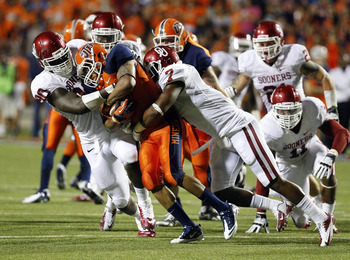 Jim Cowsert-US PRESSWIRE
Oddly enough, Oklahoma's defense had to bail out the Sooner offense against UTEP. Also, the defense had to make up for two blocked punts as well.
The Sooners held the upset-minded Miners to seven points and 255 yards of total offense.
It's a good thing that Oklahoma's defense was up to the task. It wasn't until late that the Oklahoma offense was able to find its footing.
No. 9: UConn Huskies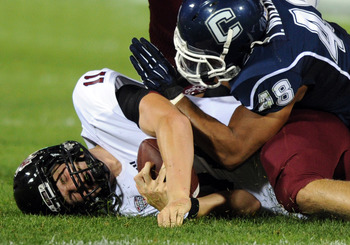 Michael Ivins-US Presswire
For Week 1 at least, UConn leads the FBS in total defense.
In fact, the Huskies held poor UMass to only 59 yards total.
Only 59 yards.
I'm not sure if UConn is really that good or if UMass is just that bad (I suspect it's a combination of both), but I would be amiss if I didn't include them on this list based on their Week 1 performance.
No. 8: BYU Cougars
Jake Roth-US PRESSWIRE
When you think of BYU, defense isn't the first thing that comes to mind.
Well, that just might change.
BYU became only the third team in history to keep a Mike Leach-coached team from scoring a touchdown. In fact, the usually pass-happy Air Raid was held to only six points.
LB Kyle Van Noy picked up two sacks while CB Jordan Johnson and LB Brian Uona Kaveinga had an interception each.
Most impressively, BYU held Washington State to a net loss of five yards rushing for the game.
Yes, Mike Leach's offense has a ways to go to establish itself, but BYU's dominant performance on D made the Cougars in crimson uneasy all night long.
No. 7: Utah Utes
Russ Isabella-US PRESSWIRE
Utah had a dominant defensive performance. True, it was against FCS Northern Arizona, but it's still a great feat to hold any team to only 114 total yards.
The Utes are going to need their defense as they face the meat of their schedule. We'll see just how good their defense is when they face teams like USC.
No. 6: Ohio State Buckeyes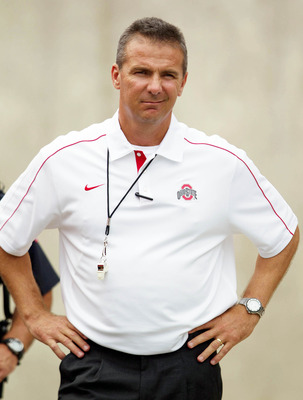 Rob Leifheit-US PRESSWIRE
While Ohio State struggled just a bit with stopping the pass (it gave up 313 yards passing), the Buckeye defense completely stuffed the Miami (Ohio) running game.
What do I mean by "stuffed?"
I mean that poor Miami had negative one yard rushing.
That'll put a bit of a smile on Urban Meyer's face.
No. 5: Illinois Fighting Illini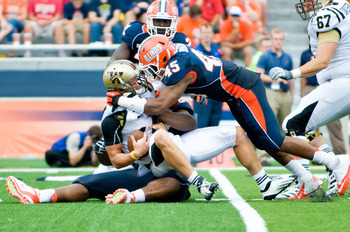 Bradley Leeb-US PRESSWIRE
The Fighting Illini defense put on quite a show against Western Michigan.
Illinois completely shut down the Bronco running game by holding them to negative six yards rushing. They also forced four turnovers, including one interception each for Ashante Williams, Earnest Thomas and Michael Buchanan.
Throw in two sacks and you have a pretty good picture of how good Illinois did.
And lest you scoff at beating Western Michigan, the Broncos are led by senior QB Alex Carder. Last season, Carder threw for 3,873 yards and 31 touchdowns to only 14 interceptions.
Solid defensive effort for the Illini.
No. 4: Florida State Seminoles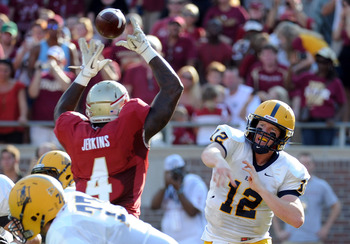 Melina Vastola-US PRESSWIRE
The good news is that Florida State looked like a defensive powerhouse against FCS Murray State. They held the Racers to only 156 total yards and just a field goal.
The bad news is that preseason All-ACC DE Brandon Jenkins will miss the rest of the season due to a Lisfranc injury to his foot.
The good news is that the Seminoles are plenty deep at defensive end. Bjoern Werner picked up four sacks and five tackles for loss on Saturday.
Will the loss of Jenkins hurt Florida State? Sure. But they're still a top-10 defense.
No. 3: LSU Tigers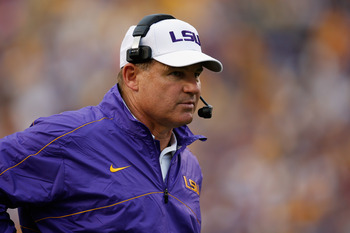 Chris Graythen/Getty Images
Les Miles can't be entirely pleased with his team's defensive effort against lowly North Texas as the Tigers gave up two touchdowns.
That just says how high the bar is set in Baton Rouge.
Still, LSU did hold the Mean Green to 219 yards of total offense and forcing two turnovers. That's certainly nothing to sneeze at.
No. 2: Michigan State Spartans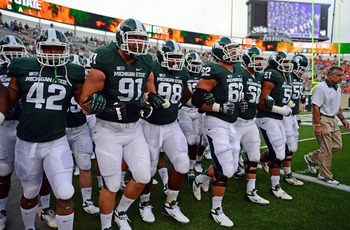 Andrew Weber-US PRESSWIRE
While Michigan State gave up four turnovers, Boise State was only able to score a total of 13 points.
That speaks to great defense.
Also, the Spartans held the Broncos to only 206 yards of total offense. That's the lowest amount of yards a Chris Petersen-led team has ever produced.
Yes, Kellen Moore isn't there anymore and there's a lot of new starters this year for the Broncos, but this Michigan State defense is something special. And it'll prove that in Big Ten play, too.
No. 1: Alabama Crimson Tide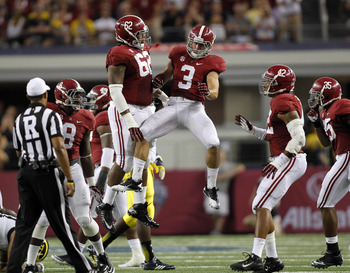 Tim Heitman-US PRESSWIRE
Covering a guy like Denard Robinson isn't easy, but Alabama sure made it look that way.
Dee Milliner, C.J. Mosley and Dillon Lee each picked off Robinson, while the entire Crimson Tide defense held Robinson to only 27 yards rushing.
Last season, Robinson averaged just over 90 yards per game rushing.
In the end, Alabama only gave up 14 points against a top-20 team. And unless you've forgotten, many of the Crimson Tide's starters from last season are playing in the NFL now.
That's just scary.
Keep Reading