The 20 Biggest Letdown Games in Sports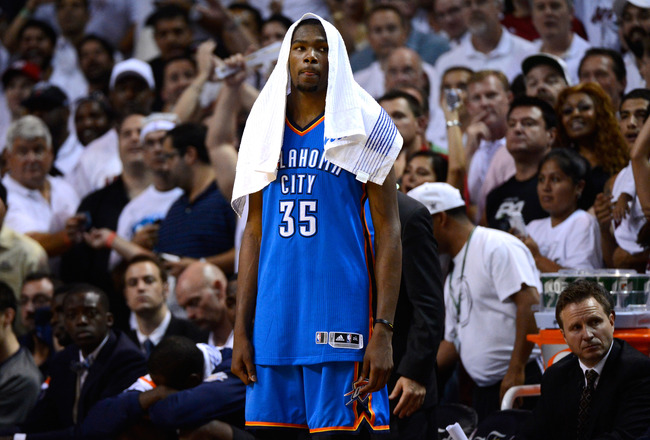 Ronald Martinez/Getty Images
Hype is the backbone of sports. Heralded draft picks who may never find promise and short-lived marriages that hog the back pages are the bread-and-butter to a meal of over-hyped stories flooding the scene.
What takes the cake, however, are the illustrious games/fights/races that are revered long before the whistle blows and then torn to shreds following disastrous showings. We're talking disappointment, ladies and gentlemen.
Let's take a look at the history of disappointing sporting events; those that had high expectations, but failed to deliver similarly epic performances.
Remember Ali vs. Frazier in '71 and Cal vs. Stanford in '82? Picture the complete opposite.
These are the duds.
20. 2012 BCS National Championship Game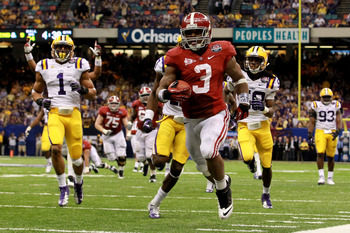 Ronald Martinez/Getty Images
Many would declare their mind-numbing, field-goal happy 9-6 bout in November of 2011 the bigger letdown, but No. 1 LSU (13-0) and No. 2 Alabama (11-1) truly fed off each other's mediocrity in the 2012 rematch...the BCS Championship Game.
Forget the game receiving the third lowest ratings for a national championship in the 14-year history of the BCS, we're more focused on LSU's monstrous crumble. 21-0 didn't properly detail the mundane nature of this game.
'Bama's defense was perhaps dominant, but Tigers' signal-caller Jordan Jefferson played a fish out of water under center. His fluttering passes and clueless scrambles were nauseating. In the end, we'd have rather watched the pregame lawn mowing.
19. The Subway Series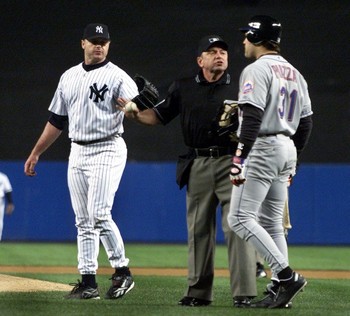 Image via theepochtimes.com
The 2000 World Series was a battle of contrasting clubs. The prestigious Pinstripes who were accustomed to dominating and the fiery Mets who were ready to dethrone their big brothers.
But early excitement and brief optimism would lead the way to utter disappointment, as the Yanks trounced the Metropolitans in five games.
Forget the lowest ratings in Fall Classic history, this hyped Subway Series kept a city divided, and probably somewhat conquered.
An all-out brawl between Roger Clemens and Mike Piazza following their broken-bat-tossing tease could've changed everything.
18. Leonard-Duran II
It was in June of 1980 that the boxing world saw contrasting styles collide.
Defending WBC Welterweight Champion Sugar Ray Leonard against WBC No. 1 welterweight contender Roberto Duran, an intriguing bout that watched Leonard get upset in flat-footed fashion, having abandoned his quick style in an effort to beat Duran at his own game. Trash talking flooded this new rivalry.
But then came the November rematch, one that saw Leonard use his own flavor. What was expected to be a historic redemption for Leonard turned into a disgraceful showing from Duran.
In the waning moments of the eighth round, a bruised Duran turned to referee Octavio Meyran and said, "No Mas".
He was finished, done, mentally and physically destroyed. It took Panama several years to forgive their fallen fighter.
17. Super Bowl XX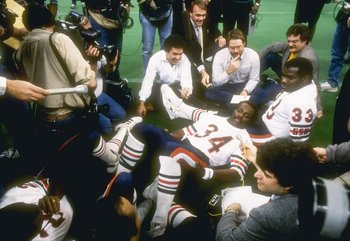 Image via chicago.cbslocal.com
After winning three road playoff games to advance to the Super Bowl, the Cinderella Patriots seemed poised to defeat the almost undefeated Bears. Both teams were making their Super Bowl debuts.
But it was a game that would see Chicago set Super Bowl records for sacks (seven), fewest rushing yards allowed (seven) and margin of victory (36 points).
Pregame hype surrounded Bears quarterback Jim McMahon, who began to trademark the epic headband. The game's performance couldn't measure up.
Patriots record minus-19 yards in the first half. Bears win 46-10.
16. Dan vs. Dave at the 1992 Olympics
The hype was sparked during Super Bowl XXVI. Reebok single-handedly thrust open the door for perhaps the most exciting athlete battle in history.
With decathletes Dan O'Brien and Dave Johnson expected to dominate at the 1992 Summer Olympics in Barcelona, Americans were eagerly awaiting the result.
Who would become the world's greatest athlete?
And then it happened. After winning the world championship a year earlier, O'Brien missed three straight tries on the pole vault in the trials, failing to qualify for the Olympics.
He would redeem himself at the '96 Olympics, winning a gold medal. Johnson, meanwhile, secured an unspectacular bronze medal at the '92 Games.
15. Ryan Lochte Blows the Relay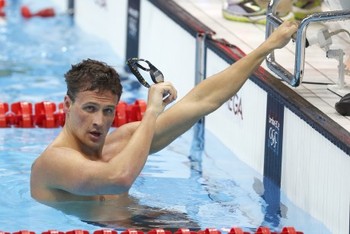 Image via salon.com
One day after watching Ryan Lochte steal the thunder from the legendary Michael Phelps, a role reversal of epic proportions took place.
The illustrious 4x100 relay, featuring four of America's greatest swimmers, was the stage. London the setting.
But with an enormous lead on the final leg, Lochte dove in, ready to close it out. Of course he couldn't, and the Americans had to settle for silver.
After months of Lochte chatter, Lochte interviews, Lochte legends, he crumbled under pressure.
14. 1919 World Series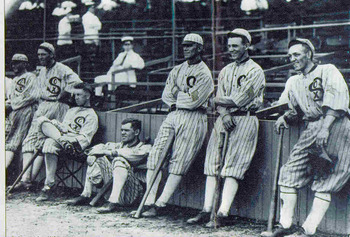 Image via school-is-cool.pbworks.com
In a natural effort to generate more revenue, baseball used a best-of-nine format for the 1919 World Series. Certainly too long when fixing was buried underneath, as we would eventually learn.
The last World Series to take place without a commissioner in place, the 1919 Series featured eight players associated with intentionally losing games amid a conspiracy with gamblers.
The glamorous White Sox vs. the blossoming Reds seemed like a perfect matchup. But bans from baseball resulting from the Black Sox Scandal clouded the illustrious Fall Classic. Fans felt betrayed.
13. Super Bowl XVIII
As the defending champs, having finished the 1983 season with a 14-2 record and the fewest rushing yards allowed, Washington was seen as heavy favorites over the 12-4 Raiders, who were prospering in their second year in Los Angeles.
With a 21-3 halftime lead, however, the Black Jerseys seemed upset bound.
Marcus Allen's 74-yard run and the "1984" commercial introducing the Apple Macintosh personal computer for the first time became the main highlights.
A pure trouncing, 38-9. Raiders secure the Lombardi, Redskins fade into oblivion (or Bolivian, as Mike Tyson would say).
12. Kimbo Slice's First UFC Heavyweight Fight
Dubbed "The King of the Web Brawlers," Bahamian-American street fighter and boxer Kimbo Slice made headlines when he began his crawl into the world of ultimate fighting.
He had only one year earlier lost his first fight to replacement fighter Seth Petruzelli by technical knockout 14 seconds into the first round of the Elite XC bout that was meant to feature Slice and Ken Shamrock, who received a cut in his left eye hours before the fight. Slice's true talent was immediately questioned, but not yet doubted.
The MMA extraordinaire was beloved by Internet junkies and studied by UFC analysts. But it was President Dana White who said that Slice had to win his way in, competing on The Ultimate Fighter.
After defeating Houston Alexander at The Ultimate Fighter: Heavyweights Finale, his future looked bright.
And then, in May of 2010, Slice made his pay-per-view and official heavyweight debut at UFC 113 against Matt Mitrione. He would lose in the second round by technical knockout, an anti-climactic finish for the Internet sensation.
Only Brock Lesnar trying out for the NFL even comes close.
11. 2007 BCS Championship Game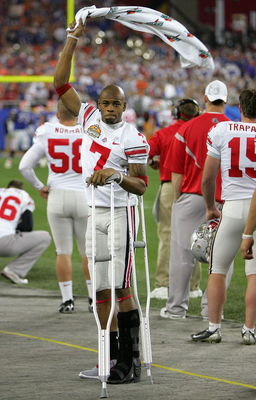 Image via buckeyeplanet.com
The No. 2 Gators (12-1) were set to face the No. 1 Buckeyes (12-0) in the '07 BCS Championship Game, a tight matchup featuring two prestigious powerhouse programs. But the first play would dictate the rest of the day.
Electric returner and No. 1 receiver Ted Ginn Jr took the opening kickoff to the house, before injuring his foot during the touchdown celebration. Optimism came to a screeching halt, the crowd officially silenced.
To add salt to the wound, Heisman Trophy-winning quarterback Troy Smith would record the worst game of his career. He was sacked five times and only completed four of 14 passes for 35 yards, one interception and a fumble.
Ohio State loses to Florida 41-14 in what-just-happened fashion.
10. Roy Jones Jr. vs. Park Si-Hun
Buildup to the 1988 Seoul Olympics was of monstrous proportions. American sensation Roy Jones Jr. hadn't lost a single round on his road to the final.
And his dominance continued, as he landed 86 punches to Park Si-Hun's 32, victory all but assured. The judges disagreed and awarded Si-Hun the win, 3-2.
If it's any consolation, Si-Hun allegedly apologized to Jones, and two of the three officials in the fight were banned for life while admitting they made the wrong decision. A new scoring system for Olympic boxing would be cemented.
9. 2012 Belmont Stakes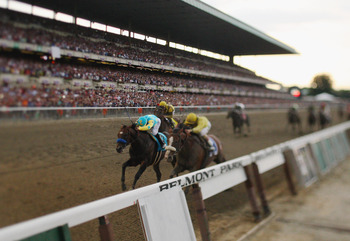 Rob Carr/Getty Images
He'd won the Kentucky Derby and the Preakness Stakes in historic fashion. All that was left for I'll Have Another to become the 12th Triple Crown winner and first since Affirmed in 1978 was a victory at the Belmont Stakes.
Eyes were peeled, bets were placed and jockey Mario Gutierrez undoubtedly prayed. The sporting world took notice, and was prepared for history.
But the day before the Stakes, the talented thoroughbred was scratched due to tendinitis. He would retire from the sport, and 85,811 Belmont Stakes viewers would be left wondering what could have been.
8. Super Bowl XIX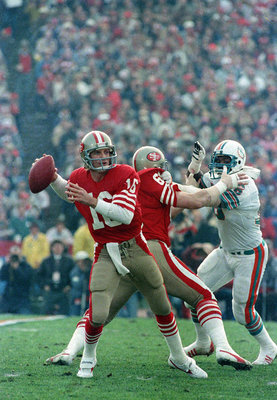 Image via sacbee.com
Joe Montana vs. Dan Marino. Bill Walsh vs. Don Shula. 17-1 Niners vs. 16-2 'Phins. It didn't get any better than Super Bowl XIX, matchup wise.
Having just thrown for 5,084 yards and 48 touchdowns, Marino seemed ready to dominant his one and only Super Bowl appearance, while Joe Cool was ready to do what he did best...come through in the clutch.
But the 49ers would take control in the second half, behind Montana's Super Bowl record 331 yards and three touchdowns, closing out a 38-16 victory. Marino would throw one touchdown, and never return to the title game.
7. The Notorious Battle of Alberta
There is perhaps no ending worse than an own-goal, and then-rookie defenseman Steve Smith learned that the hard way back in 1986.
The vicious Battle of Alberta rivalry between the Oilers and Flames was never dull, but it took a new turn during Game 7 of the Smythe Division Final, with 14:46 remaining in the third period and the score tied at two.
In an attempt to flip the puck out of his zone, the Oilers' birthday-boy (the day of the game, April 30, was his 23rd birthday) deflected the rubber off his own goalie. A horrific ending for the young blue liner.
Flames win the series and the eventual Stanley Cup, Smith's name carved in history for good.
6. UFC 148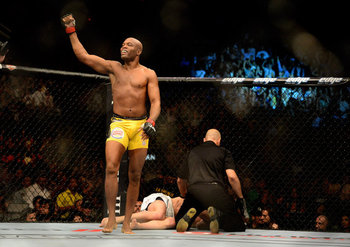 Image via blackhousemma.com
With trash talk and arrogance oozing from chatterbox Chael Sonnen leading up the fight, UFC 148 became arguably the most highly anticipated bout in the sport's history.
It was the rematch of UFC 117, when Anderson Silva made Sonnen submit to a triangle armbar with 1:50 left in the fight despite losing up until that point.
"You tell Anderson Silva I'm coming over and I'm kicking down his back door and patting his little lady on the (butt), and I'm telling her to make me a steak, medium-rare, just how I like it."
It was comments like this from Sonnen that irked his legendary Brazilian opponent.
But the results wouldn't live up to the pre-fight hype, as their rematch for the middleweight title would end at 1:55 of the second round. And after months of barking, Sonnen was finished.
5. 2004 Olympic Dream Team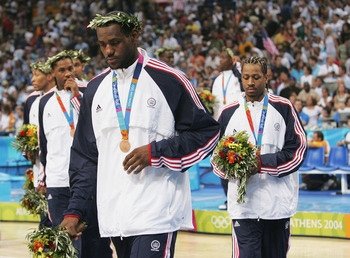 Jamie Squire/Getty Images
This Larry Brown-led crew consisted of budding youngsters (Dwyane Wade, LeBron James and Carmelo Anthony) and recent MVPs (Tim Duncan and Allen Iverson). The world expected a dominant showing.
And then, in their first game, the "Nightmare Team" lost to Puerto Rico 92–73, the most lopsided loss for the U.S. in international competition history.
They would eventually beat undefeated Spain in the quarterfinal game 102–94, before losing to Argentina 89–81 and relinquishing their shot at a gold medal.
A victory over Lithuania would secure a bronze, but Athens in 2004 would remain the site for the first U.S. national basketball team composed of professionals to not win gold.
4. 2012 NBA Finals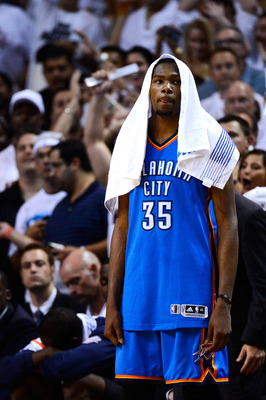 Ronald Martinez/Getty Images
Following an 11-point win in Game 1, the Thunder looked primed to dominate the scrutinized Heat in what was set to be the most revered and athletically-gifted finals in recent memory.
But for the first time in several years, Oklahoma City lost four straight games. This time, for the title.
It's unfair to magnify one bout, but we're stuck on Game 5. Clinging to life by a thread, the Thunder were expected to come out strong and spark an inspirational comeback. Or, at least, put up a fight.
But Russell Westbrook's 4-20 night essentially headlined the inefficiency of a young Oklahoma City club. LeBron James finally silenced his critics.
3. 1940 NFL Championship Game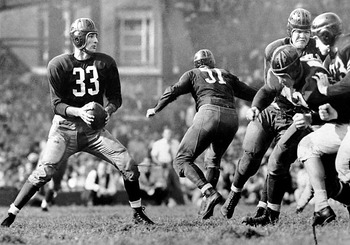 Image via sportsillustrated.cnn.com
After defeating the Bears 7-3 only three weeks earlier, the steaming Redskins seemed destined for the promised land. The championship rematch was expected to be even tighter.
The second play, a 68-yard Bill Osmanski touchdown, would detail the nature of the game.
Redskins get trounced 73-0, the largest margin in NFL history.
2. 1972 Munich Olympics Final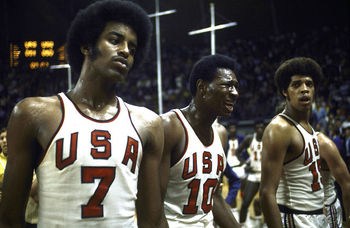 Image via businessweek.com
At the 1972 Olympics, the heavily-favored Americans won their first eight games in dominating fashion to secure an undefeated Olympic record of 63–0 and a final with Soviet Union.
But the final would be a game that saw referees allow the Soviets extra time twice in the final three seconds, and the ability to somehow pull out a 51-50 victory. Several American celebrations were quickly squashed after refs seemingly changed their minds.
Here are the notorious final three seconds.

1. Holyfield-Tyson II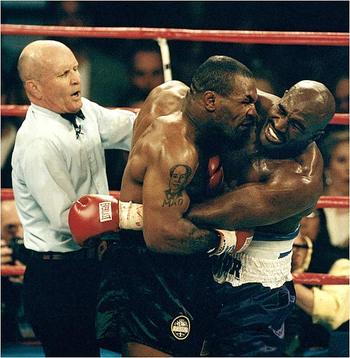 Image via sportsillustrated.cnn.com
A heated rivalry began brewing when Evander Holyfield upset Mike Tyson for the latter's second career defeat, back in 1996. An epically-hyped rematch was set for June of 1997, and few expected disappointment.
Holyfield came out swinging, dominating his Iron opponent in every facet of the game. Unable to intimidate Holyfield, and possibly getting retribution for an early headbutt, Tyson tore off a chunk of Holyfield's ear.
The match was over, Tyson disqualified, suspended and fined.
Follow me for happier endings.
Keep Reading