25 Bold Predictions for NFL Week 1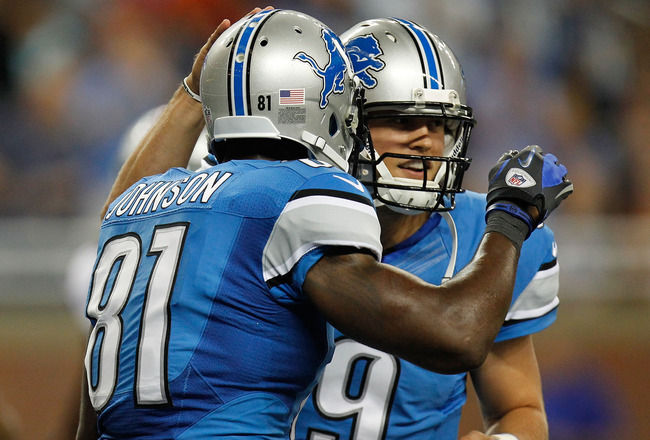 Gregory Shamus/Getty Images
It's great to have the NFL back in our lives. This weekend provides us with plenty of interesting matchups and storylines.
For example, it's the first time in NFL history that five rookie quarterbacks will open the season as starters. Many of those first-year players appear on this list.
This weekend will show us what teams look ready to make a run at the Super Bowl and what players are ready to have a dominant season.
We're going to see some interesting developments this weekend.
Here's my best guess at 25 of them.
Brian Urlacher Will Play Less Than 50 Percent of the Bears' Defensive Snaps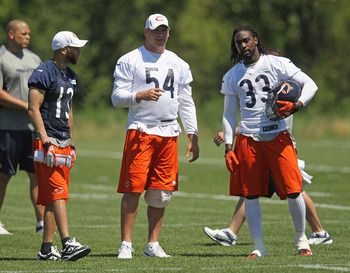 Jonathan Daniel/Getty Images
There's a lot of optimism surrounding the Chicago Bears, but Brian Urlacher's knee issue looms as a problem. This injury is going to force Chicago to manage the time Urlacher spends on the field.
The Bears offense might be more explosive, but they'll need strong defensive play if they want to make a Super Bowl appearance.
Urlacher is the key to Lovie Smith's defense. To be effective, the Cover-2 needs an athletic and rangy middle linebacker. Without Urlacher or a lesser version of him, offenses will be able to expose the middle of the Bears defense.
Chicago should have an opportunity this weekend to get an early lead on a young Indianapolis Colts team and rest Urlacher. Even if the game is close, look for the Bears to rotate him in and out of the lineup.
Trent Richardson Will Have More Than 25 Carries for the Cleveland Browns
David Richard-US PRESSWIRE
Trent Richardson might still be nursing a knee injury, but Pat Shurmer appears ready to give him the bulk of the carries. Shurmer stated, "If he's ready to go, he will be our starter." This indicates that, unless there's a setback, Richardson will have plenty of touches versus the Philadelphia Eagles.
The Cleveland Browns made Richardson the No. 3 overall pick because they saw him as an every-down back. They need his playmaking ability to help increase the production of an offense that lacked explosiveness last season.
Richardson will also be asked to play a role in helping rookie quarterback Brandon Weeden develop. Young quarterbacks greatly benefit from a strong ground attack. This draws defenders out of coverage and opens up the use of play-action.
Chris Johnson Will Top 150 Total Yards Against the New England Patriots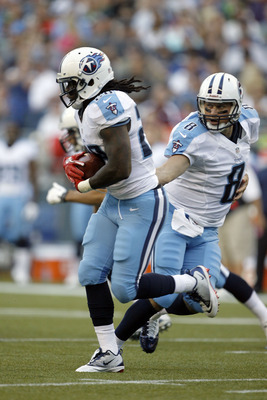 Joe Nicholson-US PRESSWIRE
With a new contract in hand, Chris Johnson looked explosive and ready to produce during the preseason. Last year's holdout caused Johnson to start the season without his legs under him. This resulted in nagging injuries and subpar production.
However, this isn't the type of player Johnson has proven to be over the course of his career. He's someone who consistently produces explosive plays and runs hard. The Tennessee Titans will be counting on him to help them make a run at the playoffs.
Tennessee's decision to name Jake Locker the starting quarterback should also help Johnson. Locker's strong arm will force defenses to respect the deep ball. Opponents will need to pull defenders out of the box to keep players like Kendall Wright, Kenny Britt and Nate Washington from stretching the field.
Adding to Johnson's likelihood for success this weekend is the Patriots' spotty defense. The Patriots' difficulty stopping the pass means they'll have to make sure they have extra defenders back in coverage.
Chandler Jones Will Have Two Sacks in His Debut for the New England Patriots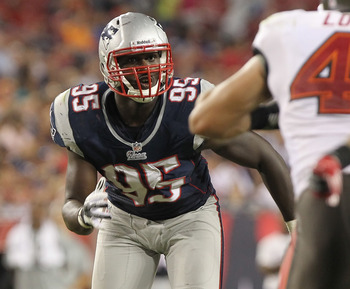 Kim Klement-US PRESSWIRE
Outside of Jones' talent as a pass-rusher, the Patriots offense and Jake Locker will also contribute to Jones making an impact this weekend. The high-paced New England offense forces opponents to attempt to keep up. Look for the Tennessee Titans to have more passing attempts, and this means more opportunities for Jones to register a sack.
Locker relies heavily on his athleticism to move the football. He's still learning the quarterback position, and at times is too quick to vacate the pocket. Someone with Jones' speed and motor will have an opportunity to catch Locker while he's on the move.
The Patriots' need for a pass-rusher forced them to make an aggressive draft-day move to add Jones. His quickness off the edge, good change-of-direction ability and non-stop motor are what make him such a promising player. New England has already inserted him in the starting lineup at right defensive end.
Playing time, talent, Locker and the New England offense is what will allow Jones to have a successful NFL debut.
Both Julio Jones and Roddy White Will Top the 100-Yard Mark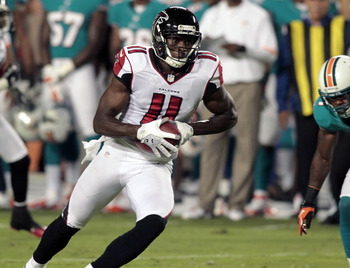 Robert Mayer-US PRESSWIRE
The Atlanta Falcons could be facing a Kansas City Chiefs team that is breaking in two new cornerbacks this weekend. Kansas City lost Brandon Carr to free agency, and now Brandon Flowers might miss the game with a left foot injury.
This means the Chiefs will have to try to shut down Roddy White and Julio Jones with a combination of Stanford Routt, Javier Arenas and Jalil Brown. White and Jones are talented enough to produce 100-yard receiving games against the league's top cornerbacks. Facing a depleted Chiefs secondary only increases those odds.
Atlanta figures to be much more aggressive under new offensive coordinator Dirk Koetter. Expect Matt Ryan to air it out early and often, with Jones and White his primary targets.
Peyton Hillis Will Rush for More Than 100 Yards and Two Touchdowns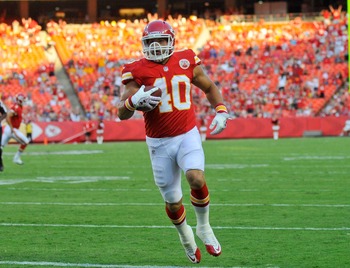 Denny Medley-US PRESSWIRE
Jamaal Charles is the Kansas City Chiefs' most explosive playmaker, but it's possible that he'll be used more in spurts. Peyton Hillis is more of the ground-it-out type runner who can get 20-plus carries a game. It's possible the Chiefs split the load, with Hillis getting around 20 carries and Charles around 15.
After last season's poor performance with the Cleveland Browns, Hillis has a lot to prove. This weekend he'll have an opportunity to run behind a top-notch offensive line and against an Atlanta Falcons defense that's breaking in a middle linebacker.
Helping Hillis' cause is the fact that the Falcons will have to respect the playmaking ability of receivers Dwayne Bowe, Steve Breaston and Jon Baldwin.
Adrian Peterson Will Have Fewer Than 10 Carries This Weekend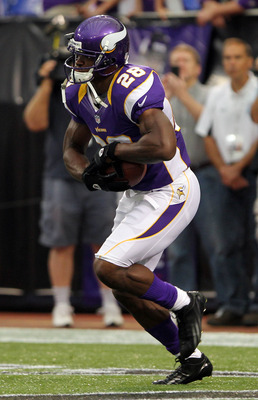 Brace Hemmelgarn-US PRESSWIRE
That Adrian Peterson will even be in pads this Sunday is a complete shock. He's only eight months removed from a major knee injury. Despite his claims that he's ready to go, it's unlikely that Peterson tops the 10-carry mark.
Both Peterson and the Minnesota Vikings need to consider the long-term health of his knee.
This type of injury typically takes a full year to recover. If that knee isn't at full strength, Peterson is risking damaging it further. The right move is to work him back into the lineup with extreme caution.
Minnesota lacks the talent to make a playoff push this season. This is why it's important to keep Peterson healthy, as the team will be better equipped to contend in future seasons.
It would also be nice for the Vikings to provide Toby Gerhart an opportunity to showcase his skills. Last season with Peterson out of the lineup, Gerhart averaged 88 yards per game, including a 109-yard performance against the Redskins.
Robert Griffin III Will Throw Two Interceptions in His Debut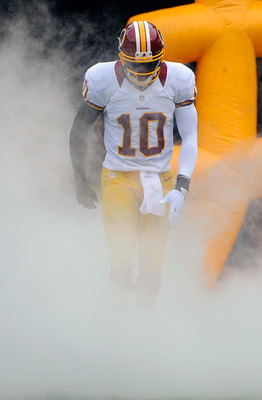 Brad Mills-US PRESSWIRE
Robert Griffin III is extremely talented and has a very bright future. However, it isn't easy for rookie quarterbacks to transition into the NFL.
Starting the first game of your NFL career can be a very stressful situation. Griffin III's emotions, lack of experience and the New Orleans Saints defense all increase the likelihood for a turnover-filled debut.
Despite all the time spent in training camp, Griffin III doesn't have a ton of experience running Mike Shanahan's offense. He's going to need time to feel comfortable with the playbook.
Even more important, he needs time to develop a relationship with his receivers. Miscommunication and making the wrong read are all things that lead to interceptions.
The Saints defense features a handful of players who excel at creating turnovers. Defensive backs like Malcolm Jenkins and Roman Harper do a good job reading the quarterback's eyes. They also play an aggressive style of defense, which means they aren't afraid to take a risk in order to pull down the interception.
If Griffin III throws two interceptions in his first game, it doesn't mean that trend will continue. He's a player who will get better as each week progresses.
The Buffalo Bills Will Hold the New York Jets Offense Under 300 Yards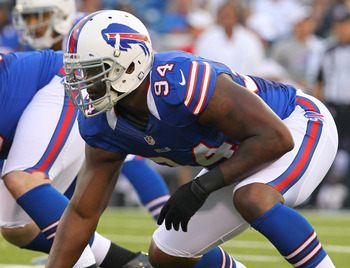 Timothy T. Ludwig-US PRESSWIRE
A lot has been made of the New York Jets' offensive struggles, particularly quarterbacks Mark Sanchez and Tim Tebow. Their issues moving the ball will continue into the regular season.
New York's first matchup forces them to face a tough Buffalo Bills defense. Those watching this game will continue to see a Jets offense that has issues moving the ball.
Buffalo spent its offseason focusing on upgrading the talent on defense. Adding Mario Williams, Mark Anderson and Stephon Gilmore significantly increases the talent there. The combination of Williams, Marcell Dareus, Kyle Williams and Anderson makes up one of the more talented defensive lines in the NFL.
The Jets' struggles this preseason weren't limited to the quarterbacks, as the offensive line also had some issues. This unit will have a tough time handling the pass rush of the Bills defense. Pressure has a tendency to lead to poor throws, bad decisions and turnovers.
Many will point out that we haven't seen the Tim Tebow-led Wildcat package. While this might be effective, it's not going to be able to overcome the issues New York has throwing the ball.
Tim Tebow Will Have More Than 20 Carries in His First Game as a New York Jet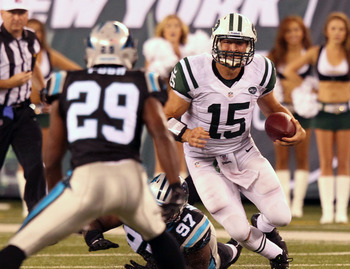 Anthony Gruppuso-US PRESSWIRE
The New York Jets did everything in their power to avoid exposing their plan to utilize Tim Tebow. We all know that he'll play a significant role in the offense, mainly in a Wildcat package. Without any other great options at running back, the Jets are counting on Tebow to help increase the production of the ground game.
New York can't solely rely on Shonn Greene to run their ground-and-pound offensive attack. Last season, he averaged barely more than four yards per carry. This isn't the type of production that will allow a team to have success operating a run-first offense.
Tebow's versatility is the type of thing that could actually make this game plan work. Defenses must respect his passing ability, which will prevent them from keying on the run. He's also a powerful runner who knows how to find open running lanes.
The Jets will feed Tebow the ball early and often. This isn't an experiment, it's the Jets' offensive game plan.
Matthew Stafford and Sam Bradford Will Pass for More Than 700 Combined Yards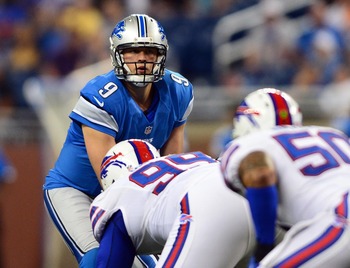 Andrew Weber-US PRESSWIRE
The Detroit Lions have an explosive offense and issues in their secondary. This means their game against the St. Louis Rams will feature tons of passing yardage. Last season, Matthew Stafford averaged 314 passing yards a game and topped the 350-yard mark five times.
Featuring the passing game is the Lions' best chance of winning. With the injury problems of Jahvid Best and Kevin Smith, and Mikel LeShoure's lack of experience, Detroit doesn't have much of a running game. This means that Stafford will get plenty of opportunities to put up good numbers.
The Detroit Lions secondary is a complete mess. They are heading into the season with rookie third-round pick Bill Bentley starting at one of the cornerback spots. Bentley has talent, but he'll make his share of mistakes.
Adding to that problem is that the Lions didn't do anything to upgrade the position. This is basically the same group that allowed nearly 240 passing yards per game last season.
Look for Stafford and Rams QB Sam Bradford to both have big days. This should be an exciting game to watch.
Ryan Tannehill Will Have a Less Than 50 Percent Completion Percentage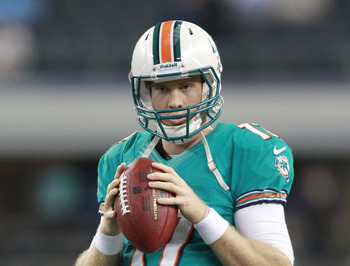 Tim Heitman-US PRESSWIRE
The Miami Dolphins' decision to start Ryan Tannehill was made because he's ready to take on the challenges of the NFL. It was mainly because the team didn't have any other great options.
The fact that the Dolphins are in a rebuilding mode also contributed to the decision. Miami is absolutely rushing Tannehill onto the field. This is why he's going to have a less-than-stellar performance in Week 1 against the Houston Texans.
A lot of quarterbacks struggle against the Texans' top-notch defense. Last year, the defense only allowed 190 passing yards per game while sacking the quarterback 2.8 times a game. Tannehill will have a tough time moving the ball against this defense.
Also hurting Tannehill's chances is the lack of offensive playmakers on the Dolphins roster. He's heading into this game with Davone Bess and Legedu Naanee as his starting wide receivers.
This is going to be a mistake-filled and inefficient game for Tannehill.
The San Francisco 49ers' Defense Will Sack Aaron Rodgers Five Times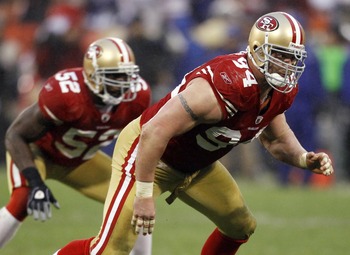 Jason O. Watson-US PRESSWIRE
Last season, the Green Bay Packers' offensive line allowed 41 sacks. Guard T.J. Lang and tackle Bryan Bulaga improved as the season progressed, but neither is an elite pass-protector.
This weekend, they are facing an extremely tough test against the San Francisco 49ers. Aaron Rodgers will have a tough time staying upright.
The 49ers defense does a good job generating pressure on the quarterback. They have players like Aldon Smith, Justin Smith and Ahmad Brooks, who excel at getting after the quarterback. As a rookie, Aldon Smith had 14 sacks as a situational pass-rusher. He's going to see even more playing time this season.
Green Bay's lack of a rushing attack also makes it more likely the 49ers will get to Rodgers. The more passing attempts for Rodgers, the more opportunities for the San Francisco pass-rushers.
Russell Wilson Will Throw Two Touchdown Passes in His Debut
Kirby Lee-US PRESSWIRE
Russell Wilson was one of the biggest surprises this preseason. He played with more poise than the typical rookie quarterback. His ability to move the ball instantly makes the Seattle offense more explosive. He'll make rookie mistakes, but expect to see good things from him this weekend.
Pete Carroll and his staff will do everything they can to give the young quarterback confidence. This will include letting him take shots down the field. That Sidney Rice appears healthy is an added bonus. Rice's size will provide Wilson with a good target.
The Arizona Cardinals are also aware that the Seahawks have a good running game. This should force them to bring extra defenders in the box, creating opportunities for Wilson.
Doug Martin Will Top the 100-Yard Mark for the Tampa Bay Buccaneers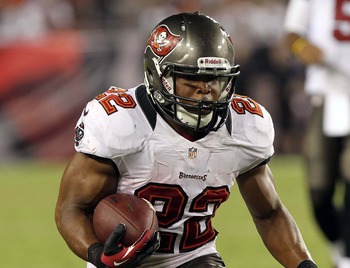 Kim Klement-US PRESSWIRE
Greg Schiano has already named Doug Martin a starter at running back for the Tampa Bay Buccaneers. His well-rounded skills are what make him such a valuable asset.
Martin is the type of runner who can pick up the tough yards between the tackles and also break off a long run.
Tampa Bay is facing a Carolina Panthers defense that allowed 130 rushing yards per game. The Panthers don't have a lot of talent at defensive tackle, which impacts their ability to stop the run.
The Buccaneers spent money this offseason to increase the talent level on offense. Wide receiver Vincent Jackson and guard Carl Nicks will help the running game's production.
Jackson's ability to stretch the field draws defenders out of the box and opens running lanes. Nicks is a dominant run-blocker who'll provide Martin with plenty of room to run.
Cam Newton Will Torch Tampa Bay for More Than 400 Total Yards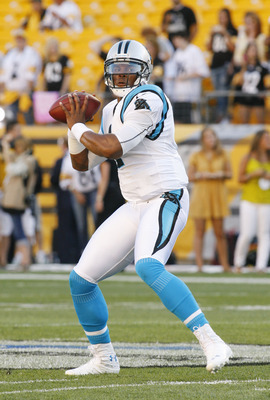 Charles LeClaire-US PRESSWIRE
In only his second season, Cam Newton is already one of the most explosive players in the NFL. He's able to move the football with his legs and arm.
The Tampa Bay Buccaneers are going to have a hard time shutting him down this weekend. It won't only be because of Newton's talent, it'll also be because of the inexperienced Tampa Bay defense.
That defense features four starters with fewer than two years of experience, including two rookies. Youth and inexperience often lead to mistakes, which is something that a talented quarterback like Newton can exploit.
Another concern for the Buccaneers has to be the questionable talent in their secondary. Despite giving him a large contract, Eric Wright has never been anything more than an average cornerback. Aqib Talib has a ton of talent but a tendency to lose focus.
The Panthers know that Newton is the key to their success. They are going to feature him.
Peyton Manning Won't Throw a Touchdown Pass in His Denver Broncos Debut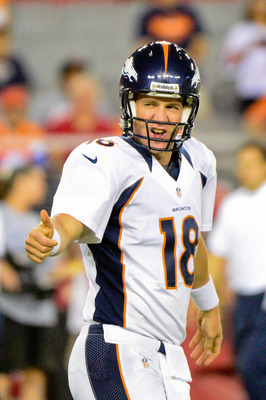 Matt Kartozian-US PRESSWIRE
The Pittsburgh Steelers defense might be getting a little old, but this is a group with a lot of talent. They have an excellent pass-rusher in Lamarr Woodley, a ball-hawking safety in Troy Polamalu and a talented corner in Ike Taylor.
These players all were a part of the team that was upset in the playoffs last season by the Denver Broncos. This defense is going to be focused on shutting down Peyton Manning.
Manning is in a new city after spending his entire NFL career in Indianapolis. He's playing with unfamiliar wide receivers and in a slightly different system. These are all things that take time to overcome. There's a good chance he doesn't have a successful first game.
Even with Manning at quarterback, John Fox is a head coach who loves to run the football. He's going to make sure Willis McGahee is a major part of the offense.
The Cincinnati Bengals Will Upset the Baltimore Ravens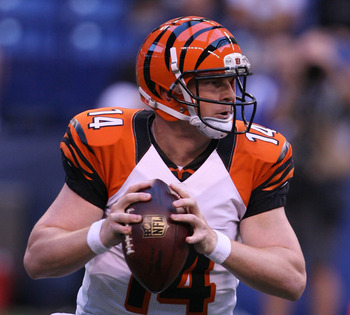 Brian Spurlock-US PRESSWIRE
It's tough to know exactly what type of team the Cincinnati Bengals will be this season. However, the strong preseason by Andy Dalton suggests he'll avoid a sophomore slump.
This is a football team with offensive firepower and a strong defense. It is ready to take the next step and become the top team in the AFC North.
The Baltimore Ravens' offseason featured some turnover and injuries at key positions. The loss of Terrell Suggs will have a major impact on how the defense performs. They don't have another player capable of replacing the pressure he creates on the quarterback.
Other players like Ben Grubbs, Jarret Johnson and Ricky Williams will also be missed. These losses and the continued growth of the Bengals' younger players makes this matchup a potential statement game for Cincinnati.
The San Diego Chargers Will Hold Darren McFadden to Fewer Than 100 Total Yards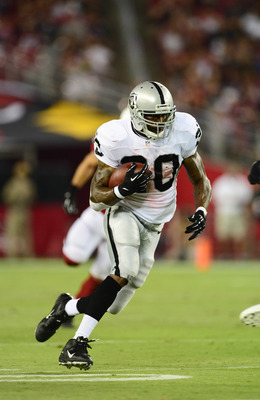 Mark J. Rebilas-US PRESSWIRE
Darren McFadden is a versatile playmaker who produces explosive plays in the running and passing game. He's the focus of the Oakland Raiders offense and will touch the ball plenty this season.
However, the San Diego Chargers are aware of McFadden's importance and will focus on shutting him down.
The Chargers have a ton of talent on defense. Players like Kendall Reyes, Antonio Garay, Jarret Johnson and Corey Liuget excel at shutting down the run. They're going to make it tough for McFadden to pick up yards on the ground.
San Diego's linebacker corps is very athletic and does a good job in coverage. Shaun Phillips and Melvin Ingram will be asked to keep an eye on McFadden. Someone like safety Eric Weddle should also draw the assignment of dealing with McFadden.
At the end of the season, we'll all be talking about how well this Chargers defense performed.
Jay Cutler Will Throw for More Than 300 Yards and Two Touchdowns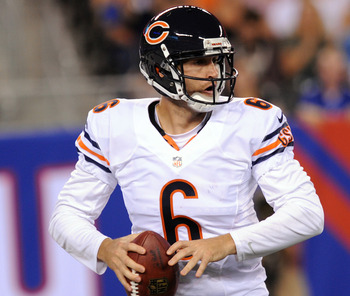 Joe Camporeale-US PRESSWIRE
The Chicago Bears spent the offseason adding playmakers on offense. They brought in Brandon Marshall and Alshon Jeffery to provide size and explosiveness to the receiving corps.
This is the first time Jay Cutler has had a legitimate No. 1 receiver in Chicago.
Since Lovie Smith was hired as head coach, the Bears have always been led by their defense. However, this season it's the offense that is going to be the more productive unit.
Age and inconsistent play at safety means the defense is primed for a down year. If Chicago wants to make a run at the Super Bowl, it will need Cutler to lead it there.
He'll have his first opportunity to put up big numbers this weekend against the Indianapolis Colts. The Colts are a rebuilding team. They have a lot of holes on defense, but none bigger than in the secondary.
Cornerback Jerraud Powers has talent, but has been inconsistent. The addition of cornerback Vontae Davis helps, but he's going to need time to adjust.
Expect the Bears to test the Colts secondary early and often.
Michael Vick Will Play Every Offensive Snap for the Philadelphia Eagles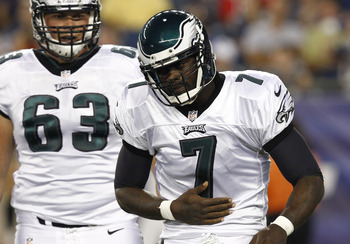 Mark L. Baer-US PRESSWIRE
There's a lot of focus on the health of Philadelphia Eagles quarterback Michael Vick, and rightfully so. He has a long list of injury issues, but this weekend he'll make it through the entire game.
Philadelphia knows that Vick is the key to their team. They'll make sure he's protected.
Playing the Cleveland Browns also helps Vick's chances of staying healthy. The only real pass-rush threat on the Browns defense is Jabaal Sheard. Others like Ahtyba Rubin and Frostee Rucker are better at stopping the run.
Look for the Eagles to help whatever offensive tackle has to deal with Sheard by lining the tight end up on that side of the field.
The presence of LeSean McCoy also plays a major role in Vick's health. His ability to run the football means the Eagles don't have to pass the ball as much.
The fewer the passing attempts by Vick, the better chance he has to remain on the field.
Justin Blackmon Will Top the 100-Yard Mark and Record His First NFL Touchdown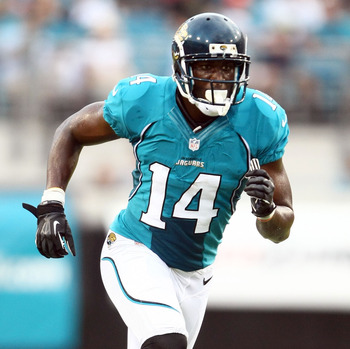 Douglas Jones-US PRESSWIRE
Justin Blackmon looked extremely impressive during the preseason. He's already developed a strong relationship with Blaine Gabbert and established himself as the Jacksonville Jaguars' No. 1 receiver.
His style of play fits what the Jaguars want to do on offense.
Jacksonville wants to run a quick passing attack that gets the ball into the hands of their playmakers. Blackmon's toughness and hard running style help him pick up yards after the catch. It's possible that he hovers around the eight-catch mark each week.
The Minnesota Vikings defense will provide Blackmon with plenty of opportunities to pick up yardage. Their secondary has a lot of issues and lacks a true standout. Blackmon should be able to take advantage of cornerbacks Chris Cook and Antoine Winfield.
And there are more issues at safety than cornerback.
Drew Brees Will Throw for More Than 350 Yards and Three Touchdowns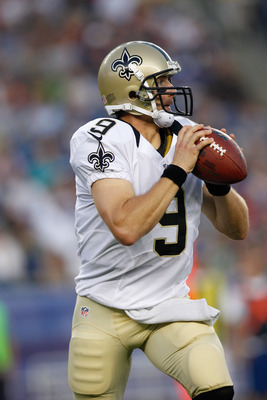 Greg M. Cooper-US PRESSWIRE
Drew Brees and the New Orleans Saints are on a mission to prove that Sean Payton isn't the only one who made this franchise so successful. The fact is most of the offensive personnel is returning and Pete Carmichael Jr. is back calling the plays.
Last season, Brees threw for more than 350 yards a total of seven times. He excels at taking advantage of suspect secondaries like the one in Washington. The Redskins have issues at cornerback and safety. Brees isn't going to have any problem exploiting Madieu Williams and Reed Doughty.
That Robert Griffin III is starting his first game should also play into the hands of the Saints. New Orleans should see a few extra possessions because of mistakes made by the rookie quarterback.
Green Bay Will Fail to Reach 40 Total Rushing Yards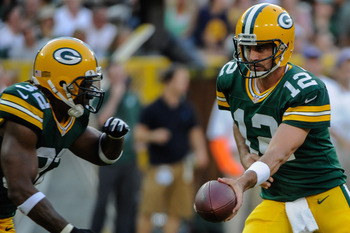 Benny Sieu-US PRESSWIRE
The Green Bay Packers' recent success has been because of the play of Aaron Rodgers and the passing attack. Rodgers has quickly emerged as one of the best quarterbacks in the league, and Mike McCarthy ensures the ball is in his hands.
This means that the Packers aren't focused on running the football.
Over the years, Green Bay has neglected the position and relied on players like Ryan Grant and James Starks. This year, the Packers are leaning on Cedric Benson to provide them with some sort of a running game. But don't expect to see big things from him against the San Francisco 49ers this week.
Last season, the 49ers defense allowed a league-low 77 rushing yards per game. It features a stout defensive line and the elite middle linebacker duo of Patrick Willis and NaVorro Bowman.
Russell Wilson Will Be the Only Rookie Quarterback to Record a Win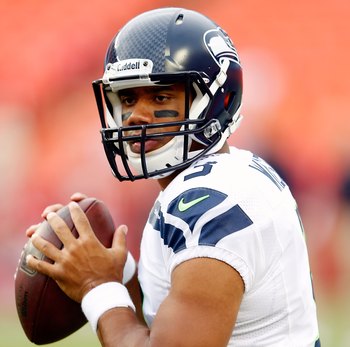 Jamie Squire/Getty Images
Of all the teams starting a rookie quarterback, Russell Wilson and the Seattle Seahawks have the best matchup this weekend.
The Arizona Cardinals looked terrible throughout the preseason, especially on offense. John Skelton and company will have a tough time moving the ball against a talented Seahawks defense.
Wilson doesn't have to be perfect, he only needs to manage the game and Seattle should get the win. The other rookie quarterbacks have to face tough teams like the Chicago Bears, Houston Texans, New Orleans Saints and Philadelphia Eagles.
The others also aren't on teams that feature a ton of talent. Each of them is facing a team with either playoff or Super Bowl aspirations.
Keep Reading