5 NHL Teams Where the Wrong Player Is Team Captain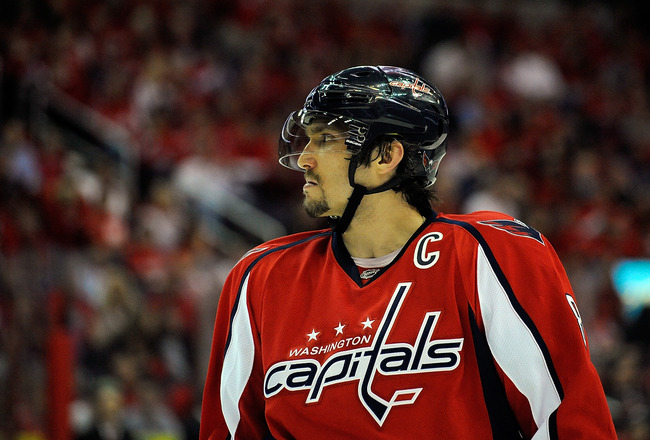 Patrick McDermott/Getty Images
Being an NHL captain is a hard job, and not every player who wears the "C" on his jersey is right for the role.
Some players aren't ready for the pressure that comes with being captain, and some just don't have the leadership skills to benefit the team in that role.
Let's look at five teams that currently have the wrong captain.
New York Islanders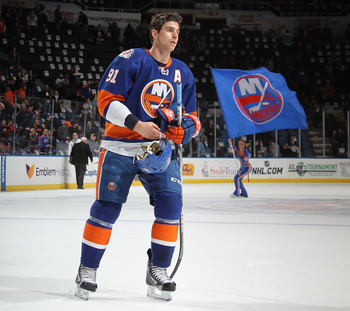 Bruce Bennett/Getty Images
The captain of the New York Islanders is defenseman Mark Streit, and even though he's not a terrible leader, the "C" should be given to franchise star John Tavares.
While it was a smart decision by the team to not give Tavares the role too early in his career, after three solid seasons in the NHL, it's time to make him captain.
Streit was one of the few options on the Islanders when he was given the title, and he's done a decent job; but Tavares is the future of the team and should begin his role as captain sooner rather than later.
Edmonton Oilers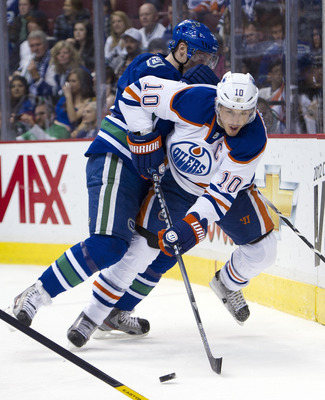 Rich Lam/Getty Images
Shawn Horcoff has spent his entire career with the Edmonton Oilers, dating back to 2000, but he's not captain material.
While a lack of team success cannot be solely blamed on the captain, the Oilers franchise has not won a playoff series since 2006 and haven't been to the playoffs once during Horcoff's tenure as captain.
As an individual player, Horcoff is one of the worst captains from an offensive production standpoint. You don't have to be an offensive star if you're a forward and a captain, but he scored just 13 goals with 21 assists for 34 points last season and was a minus-23.
Horcoff is also overpaid considering his contract has a salary cap hit of $5.5 million for another three years.
Horcoff isn't an awful leader, but he's not a great NHL captain. Unfortunately for the Oilers, they don't have too many choices to replace him other than veteran forward Ryan Smyth. Maybe Taylor Hall or Justin Schultz will make a case to be captain in the near future.
San Jose Sharks
Joe Thornton has been a captain for two different teams in his NHL career, and he has been an average leader in both places.
He has not won a Stanley Cup as captain of the Boston Bruins or San Jose Sharks, and throughout his career, he has disappeared when his team has needed him most, the playoffs.
Thornton doesn't make the physical impact on the ice that he should, and for someone his size, he is actually one of the softest captains in the NHL. He also isn't a great motivator, and his leadership skills have been questioned far too many times for someone who wears the "C" on his jersey.
The Sharks would benefit from having a veteran with Stanley Cup winning experience as be their captain. Defenseman Dan Boyle, who is currently an alternate captain and won a championship with the Tampa Bay Lightning in 2004, would be a better leader for San Jose than Thornton.
Toronto Maple Leafs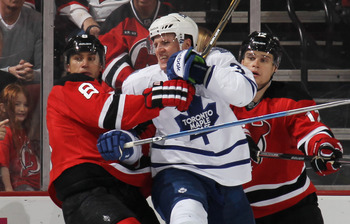 Bruce Bennett/Getty Images
To be fair to Dion Phaneuf, he wasn't ready to take on the huge responsibilities and pressure that comes with being the captain of the Toronto Maple Leafs. The team didn't have too many captain-like choices when Phaneuf was given the "C" in 2010, but it's clear now that he's not captain material.
In many games last season, especially during the second half, the Leafs didn't play with enough intensity and were bullied far too often. The 8-0 loss to the Boston Bruins stands out as one of these occasions.
In a major hockey market like Toronto, where the Leafs are currently in a lengthy playoff drought, the team needs a strong veteran who doesn't have to be mentored to lead the team as captain.
Phaneuf is a pretty good leader, but he's not right for the current state of the Leafs.
Washington Capitals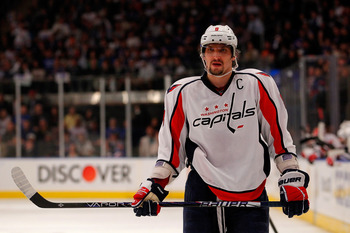 Paul Bereswill/Getty Images
Alexander Ovechkin does not lead by example, and too often he has been unwilling to work just as hard on defense as he does in the offensive zone.
He is a poor captain, and even though he's the best player on the Washington Capitals and one of the faces of the NHL, that doesn't mean he's worthy of the "C."
Your team captain should never have to be benched, and he should not be forced to the bench late in games because he is a defensive liability. Both of these happened to Ovechkin last season.
He's a great player, but he is not a good leader. The Capitals would be better off with Troy Brouwer as captain. He plays a physical game, he's a leader and he won a Stanley Cup with the Chicago Blackhawks in 2010. Brouwer is currently an alternate captain.
Nicholas Goss is an NHL lead writer at Bleacher Report. He was also the organization's on-site reporter for the 2011 Stanley Cup Final in Boston. Follow him on Twitter.
Keep Reading