Three years ago he was among the greatest players in the world and for a brief time was also the most expensive player in world football history.
Coming off a great run at AC Milan, where he won the Champions League and was voted World and European Player of the Year in 2007, Kaka's move to Real Madrid was met with much fanfare and heavy expectations.
Fast forward to today and it looks like Madrid have come out second best in the deal with AC Milan, as Kaka has struggled to reclaim his once legendary level of play amid an array of injuries and inconsistent play.
Not helping is the fact that Madrid purchased German playmaker Mesut Ozil, who has developed into everything Madrid hoped Kaka would turn into.
Now with Croatian international Luka Modric completing a big money move to the Bernabeau, Kaka's role in the team has been further lessened.
With rumours circulating that Real were shopping Kaka throughout the offseason and Mourinho even stating that Kaka could be bought for the right price, the question must be asked is: Is there still a place for Kaka at Real Madrid?
In my opinion, yes.
Kaka may never totally reclaim his prime form, however he still is, in my opinion, one of the best midfielders in world football.
What he needs is consistent game time and the trust of manager Jose Mourinho. It's clear that Mesut Ozil and maybe even Luka Modric are ahead of Kaka on the depth chart, but Kaka has shown that he has a great rapport with Cristiano Ronaldo and when given an extended run he can produce.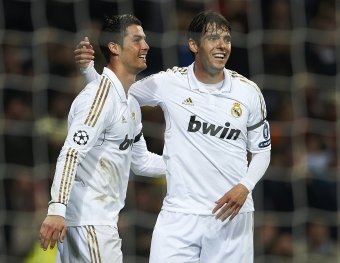 Manuel Queimadelos Alonso/Getty Images
Bringing him on as a substitute does not suit his game, as Kaka is now a methodical playmaker, not a poacher or speedster of the bench. As he has spent his entire career starting, coming of the bench prevents him from getting into the rhythm of the game and thus lessens his game.
As Kaka said himself, he just needs a chance to prove himself to Mourinho one more time. But therein lies the problem, it seem as if Mourinho has lost faith in Kaka and no longer believes he is a world class player.
That point became clear toward the end of last season when Mourinho stuck with a worn down Ozil, to the detriment of the team.
While I'm not suggesting that Kaka should be starting in place of Ozil, there are certain matches where Kaka would be the better option. Also resting Ozil at times during the season would be beneficial in the long run, as Madrid play a lot of games in many competitions.
Another reason that Madrid should keep Kaka is that he wants to stay in Madrid and is eager to prove his worth. These are strong words coming from a former World Player of the Year, and whatever Kaka has left in the tank he will use in his bid to remain at Madrid.
At 30 years of age, Kaka still has plenty of football in him and his dedication to becoming the player he used to be will serve him well.
It's clear that Kaka believes that he can still be a valuable contributor at the Bernabeau and having a player of his class eager to prove himself is a great thing to have if you are a Real Madrid. Mourinho and co. should not be showing him the door, instead they should give him a chance to become the great player he was and can still be.