Grading the Houston Texans' Entire 53-Man Roster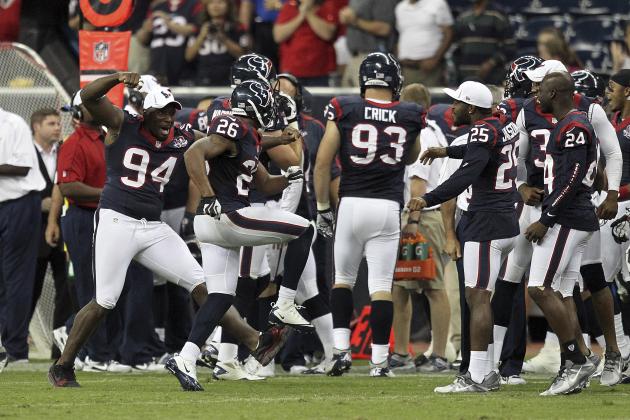 Bob Levey/Getty Images

The smell of football is in the air, and the regular season opener versus the Miami Dolphins is fast approaching.
Ah, it should be exciting to watch the Bulls on Parade defense have fun with the Dolphins' starting rookie quarterback, Ryan Tannehill.
First, though, after months and months of breaking down and examining the Houston Texans' roster, one final analysis is in order.
After an entire offseason of breaking down film, the Texans' coaching staff has painstakingly narrowed down the roster to its final number of 53.
Let's take a look at my final grades for the Texans' roster.
Begin Slideshow

»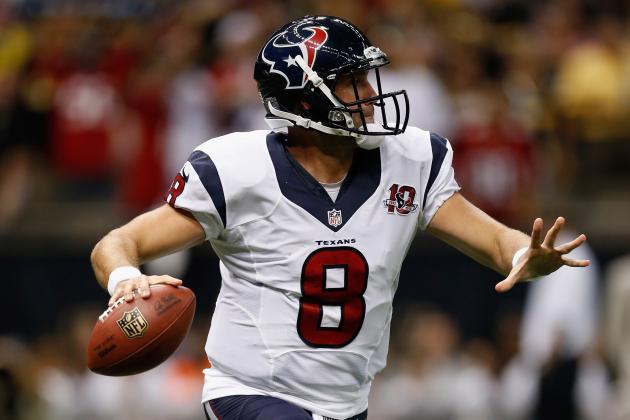 Chris Graythen/Getty Images

Matt Schaub: A-
Though many Texans' fans wish and believe Matt Schaub is in the tier of elite quarterbacks, he is simply not there yet. Despite his 4,770 yard season, he has yet to win a playoff game or stay healthy for the majority of his career. Schaub is an excellent quarterback, and he just needs to take that next step.
T.J. Yates: A
No, T.J. Yates is not a better quarterback than Schaub. No, he will not produce more than Schaub this season (unless an injury occurs, but let's just not think about that.) Yates has a higher grade than Schaub simply because of the value he provides at the backup quarterback position. Yates can be considered one of the best backup quarterbacks in the league, and he also has a lot of room for growth. Yates was a rookie last season and his offseason was shortened by the dreaded NFL lockout, so he can actually make big strides this season with a training camp under his belt.
John Beck: C
Though John Beck has a firm understanding of the Texans' playbook after his stint with the Washington Redskins—the Redskins run an offense very similar to the Texans—last season, he has yet to prove himself in his six-year NFL career. He was, however, very successful in the preseason, and that is encouraging, for the Texans know that having a solid third-string quarterback can actually be very important.
Overall: A-
It is safe to say that the Texans' quarterbacks are much more solid and dependable than they were last season. Schaub, like he was last offseason, his heading into the regular season fully healthy. Yates is a proven backup—unlike Matt Leinart—and he can fill in effectively in case anything happens.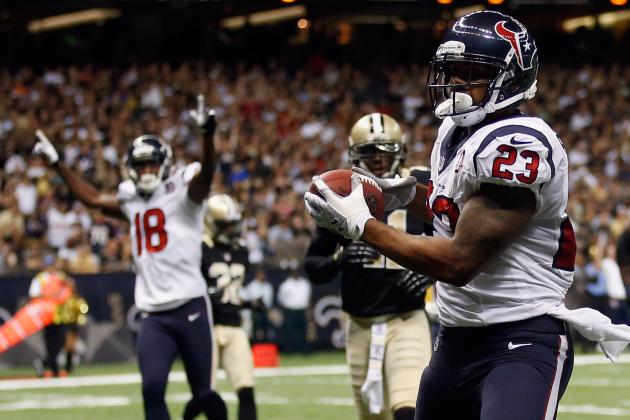 Chris Graythen/Getty Images

Arian Foster: A
Simply put, the Texans are fortunate to have one of the best running backs in the NFL playing for their team. Arian Foster's one-cut style and incredible vision is a perfect fit for the Texans' zone blocking scheme, and the results have been impressive so far.
Ben Tate: A
Ben Tate could likely be a starter on many NFL teams. When Foster went down with a hamstring injury last season, Tate made the most out of his opportunity. He rushed for nearly 1,000 yards, and he kept the Texans' offense churning while Foster was out.
Justin Forsett: B+
Justin Forsett provides an excellent change-up to the size and strength of Foster and Tate. While Forsett is also a tough, downhill runner, he is able to greatly utilize his speed. He had an excellent preseason, and he broke the Texans' record for the most rushing yards in a preseason game against the Minnesota Vikings with 114 total yards. With Foster and Tate pounding on opposing defenses all game long, Forsett has the opportunity to take advantage of a exasperated defense with his speed and break off big runs.
Overall: A
The Texans have one of the best halfback tandems in the NFL. Since all of their running backs are perfectly molded for the zone blocking scheme, any of them can consistently produce for the offense.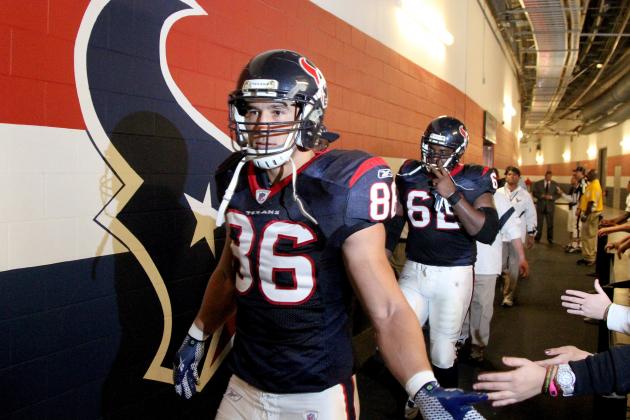 Thomas B. Shea/Getty Images

James Casey: B
James Casey by far is one of the most versatile athletes on the Texans' roster. He is able to be an effective lead blocker for any one of the Texans' running backs, but he can also run downfield and catch passes as a tight end. Because of this, the Texans will utilize him as a dual-threat, and he will not be a full-time fullback.
Tyler Clutts: B
Tyler Clutts is the antithesis of Casey; he is very much a blocking fullback. While Clutts is known for his excellent special teams play, his most notable skill is being able to pave the way for his team's running backs. His ability to pound and knock around linebackers and defensive linemen should provide a nice counterbalance to Casey, who struggles in short yardage and goal line situations.
Overall: B
The Texans' have a solid duo at the fullback position. One is a pounder who can impressively open holes for the Texans' running backs, while the other gives opposing defenses another threat to worry about in an already loaded offense.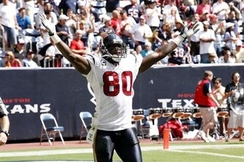 Andre Johnson: A
Andre Johnson is, without a doubt, a superstar receiver in the NFL. He can outrun any defender, outmuscle any defensive back and can go up and grab any ball thrown to him. The problem with Johnson, however, is his health issues. He has struggled to stay injury free the past few seasons, and the Texans' offense needs him on the field.
Kevin Walter: C
Kevin Walter is not a flashy receiver, nor is he a particularly good one. He does, though, do all the small things right. He runs nice, tight routes, catches almost anything thrown to him and he is a great blocker in a offense that depends on it's running game. It is for these reasons, in addition to his vastly superior experience, that Gary Kubiak is keeping him as the teams' No. 2 receiver, despite the more athletically talented receivers that are breathing down his neck.
Keshawn Martin: C+
Keshawn Martin has been one of the surprise players of the Texans' offseason. When he was drafted, many, including myself, expected him to just be the team's permanent punt and kick returner. Instead, Martin as emerged as a favorite to claim the No. 3 receiver job, and he has shown all the potential of being a big threat as a receiver in the NFL. He shows a great wiggle in his route, and his speed can allow him to make big plays for the offense. The reason for his low ranking, however, is his inexperience. He has yet to prove himself in a regular season game.
Lestar Jean: C+
Like Martin, Jean has yet to appear in a regular season game, though he has been in the league for one more year. A shoulder injury effectively ended the impressive training camp he had in 2011 and landed him on the IR. This offseason, however, Jean has shown no sign of slowing down. He continues to make long, downfield catches, and Gary Kubiak believes he can be a great, not good, receiver in the NFL.
DeVier Posey: C-
DeVier Posey was the Texans' young receiver who was the most expected to make the most noise in training camp and preseason. Instead, he remained relatively quiet. He did not catch a pass until the last game of the preseason, though he certainly took advantage of his opportunity. He caught the ball, broke two tackles and displayed his speed on an 80-yard touchdown reception. His only other catch of the preseason occurred later that night, and it resulted in a fumble. Posey missed 10 games last year at Ohio State due to a couple of suspensions, and it is evident that he has not worn off the rust yet.
Trindon Holliday: D
Though Holliday has had an electrifying preseason as a punt and kick returner, he contributes very little to the Texans as a wide receiver. His extremely small body structure makes it easy for defensive backs to press him at the line of scrimmage, making it tough for him to get his incredible speed going.
Overall: C+
The Texans, overall, are very weak at the receiver position. Behind Johnson lies the incumbent Walter and a horde of inexperienced receivers. Though all of the Texans' young receivers have shown that they have great potential, it is unlikely that they can effectively produce in their first seasons playing in the NFL. If Johnson gets hurt the result could be scary.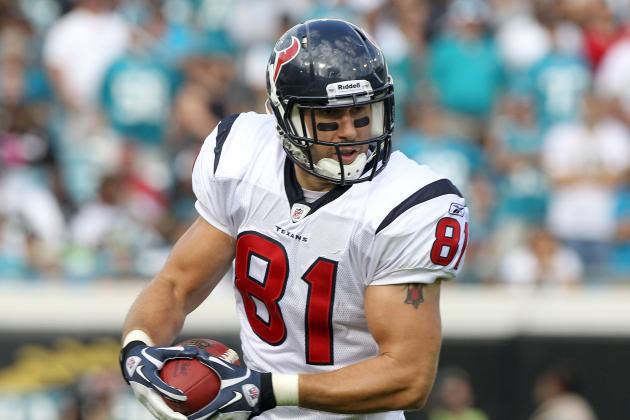 Sam Greenwood/Getty Images

Owen Daniels: A-
Owen Daniels is just another threat for the Texans' offense. Though the Pro Bowler has not quite been the same since his ACL injury that he suffered in 2009, he still posses a noticeable skill-set. He has the ability to make big plays for the Texans, and he is just another cog in the machine that is the Texans' incredibly efficient offense.
Garrett Graham: B
Garrett Graham has been buried on the depth chart for years and years behind Daniels and Joel Dreessen. Now, however, Dreessen has departed for the Denver Broncos, and Graham is making the most out of his opportunity. He put on excellent performances for the Texans' offense in the preseason, with his most notable game coming against the Saints when he led the Texans with 97 receiving yards. If he can keep up that high level of play in the regular season, the Texans' offense would have the potential to be virtually unstoppable.
Overall: B+
The Texans' duo of tight ends, along with James Casey, have the potential to make some major noise this season. Both Daniels and Casey have proven that they can be dangerous downfield pass catchers, while Graham has shown that he has the ability to perform like that, also. The Texans' offense is full of weapons, and the tight ends just help to contribute to that.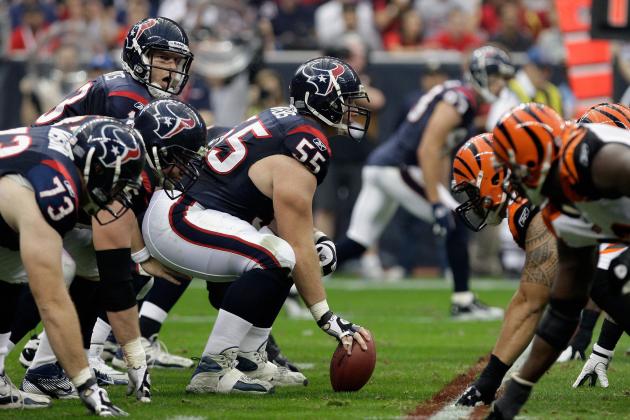 Thomas B. Shea/Getty Images

Duane Brown: A
Duane Brown has shown incredible progress since being drafted in the first round of the NFL Draft in 2008. The decision to take him so early in the draft was something that the media and fans alike continuously questioned, but it is something that is now praised by all. Brown has emerged as one of the best players on one of the best offensive lines in the NFL, and he was just rewarded for his great play with a large contract.
Wade Smith: A-
Though he is clearly not the best player on the Texans' offensive line, Wade Smith certainly manages to produce for them. He has helped contribute to both of Arian Foster's Pro Bowl seasons, and he is now even more important to the line with the losses of Eric Winston and Mike Brisiel in free agency.
Chris Myers: A
Chris Myers is the unquestioned, quiet leader of the offensive line. Playing at the center position, he ensures each and every down that the line is prepared to run the play out to perfection, and he is also a very apt run blocker. Though he is not the most skilled pass protector due to his lackluster athleticism, Myers is smart and does not allow his weaknesses to affect him. Since he is weak against the bull rush, he makes sure to take early position against power rushing defenders, ensuring that they cannot even start their move. Myers was awarded for his nearly unnoticeable efforts with a Pro Bowl selection last season.
Antoine Caldwell: B-
Antoine Caldwell will be facing a lot of pressure this season. By replacing Brisiel as the team's right guard, all eyes will be on him—and the tackle to his right—as the Texans will attempt to continue their success in the ground game. Caldwell does have starting experience, and he has certainly shown that he has the talent to make the loss of Brisiel go unnoticed. For Caldwell, though, the story is his ability to be able to consistently contribute and not fall into rough patches of being detrimental to the line's success.
Derek Newton: C+
Like Caldwell, Newton will be facing enormous pressure this season. He will be replacing Winston as the team's right tackle, and unlike Caldwell, he has yet to start an NFL game. Though he was the team's swing tackle last season, his lack of starting experience in the NFL is concerning for an offensive line that is expected to be great.
Brandon Brooks: C+
This mass of a man took part in an intense competition with Caldwell for the starting right guard job this offseason. Brooks weighs in as the heaviest player on the Texans' roster at an enormous 346 pounds, and he can absolutely pummel any defensive player. The surprising thing about Brooks, though, is that he is very nimble on his feet for such a heavy man. This allows him to get the right angles on his blocks, and also get downfield into the second level.
Ben Jones: C+
Ben Jones has shown this offseason exactly why the Texans were so pleased to select him in the fourth round of this year's draft. He takes excellent angles on his blocks, and his ability to so completely learn the Texans' playbook has been very encouraging. Despite being listed as a center, he has the skill-set to play guard if it is necessary for him to do so.
Ryan Harris: C+
Ryan Harris is exactly who the Texans needed to pick up after Rashad Butler was placed on the IR with a torn triceps injury. He has a ton of starting experience in the NFL, and if he can manage to prove his critics wrong and stay healthy for a whole season, then he should provide quality depth as the team's swing tackle.
Andrew Gardner: C-
Andrew Gardner, like many of the players on the Texans' offensive line, has very little playing experience in the NFL. He has bounced around the NFL for the majority of his career, and he is hoping that he can find a permanent home in Houston. He has played well so far in the preseason, and he would have been the team's swing tackle if Harris had not been signed.
Overall: B+
The Texans' offensive line is going to be a major concern heading into the regular season. A 40 percent turnover on the line occurred in the offseason, and two inexperienced linemen will be starting for the Texans on September 9. The Texans' offense lives and breathes through its rushing attack, and if the offensive line cannot effectively produce, then the result could be scary.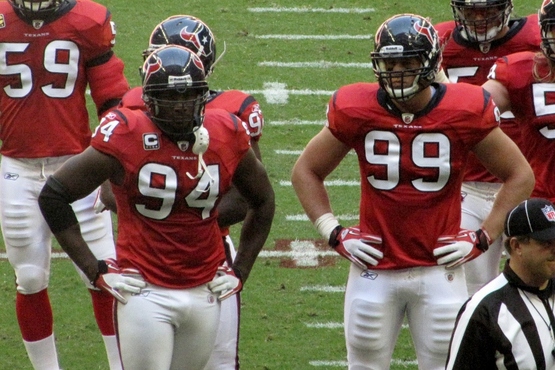 Antonio Smith: A-
Antonio Smith by far is the most unappreciated defensive player on the Texans. Since he is primarily a pass rusher, he is lost under the huge shadows of the wildly popular Connor Barwin and Brooks Reed. Smith, however, manages to apply constant pressure to quarterbacks and opens up pass rushing lanes for the outside linebackers. Smith's famous ninja sack dance is something every Texans' fan has gotten use to seeing every Sunday.
Shaun Cody: B
Though he is not the big-bodied, gigantic nose tackle that Texan fans so desperately desire, Cody simply gets the job done. Although he is not a flashy pass rusher, Cody is a very solid defender against the run.
J.J. Watt: A
Drafted with the 11th pick of the 2011 NFL Draft, Watt was expected to come in and contribute right away to a rebuilding defense. Instead of just contributing, Watt went on to become a star last season, and his performance throughout the whole year was a major reason for the Texans' unexpected defensive turnaround. Combined with his impressive strength, Watt has a seemingly endless motor that allows him to constantly play at a high level. Watt has all the makings of a future superstar defensive end in the NFL, and it should not be long until he is an absolute terror as both a pass rusher and run defender.
Tim Jamison: B-
Tim Jamison is one of those players who can just come into the game and produce for the defense. If either Watt or Smith needs to take a break, Jamison would not do anything to impede on the defense's success. He is a solid backup that is very important to this young, talented defense.
Earl Mitchell: B-
Though Earl Mitchell starts on the bench every game, he is essentially a starter for the Texans' defense. He and Cody rotate at nose tackle throughout the game, and Mitchell plays an important role in the team's run defense. Also, Mitchell put on 21 pounds of weight in the offseason, growing him from 287 pounds to 308 pounds. This should allow him to produce even more for the Texans' vaunted defense.
Jared Crick: C
Jared Crick was a fan favorite pick this year in the 2012 NFL Draft. Picked in the fourth round of the draft, Crick immediately was called a major steal, and he drew comparisons to the Texans' very own, J.J. Watt. Health concerns caused him to drop in the draft, and injuries also plagued him throughout the offseason. If he can eventually live up to his hype, however, then the Texans' defense will be very, very good.
Overall: A-
The Texans should be very excited about their talented defensive line. Smith and Watt have both proven themselves as defensive nightmares, and the two of them make it even easier for the Texans' outside linebackers to rush the quarterback. There is solid depth at all positions on the line, and all of the bench players should be able to step up and produce in the event of an injury.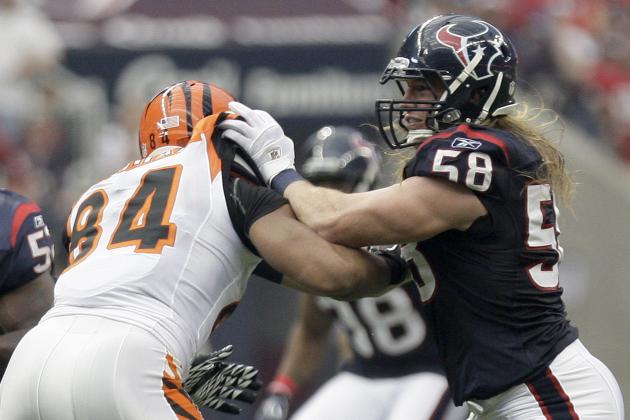 Thomas B. Shea/Getty Images

Connor Barwin: A
Injuries had slowed Connor Barwin down for the majority of his career before last year. Nothing slowed him down last season. Barwin garnered 11.5 sacks last season, and it seemed like he got after the quarterback on nearly every play. Barwin also appeared to get even better as the season progressed, and it is absolutely necessary for the Texans' to lock him up long term and not let him escape in the free-agent market next offseason.
Bradie James: B
Bradie James was the Texans' signing after the surprise trade of DeMeco Ryans to the Philadelphia Eagles. James had played with the Dallas Cowboys for his whole career before he signed with the Texans, and he lead the Cowboys in tackles for six straight seasons. James is familiar with defensive coordinator Wade Phillips' defensive scheme, as Phillips was James' head coach in Dallas before he joined the Texans. Despite the fact that his physical skills appear to be abiding, James is known to be a vocal defensive leader, and the Texans should benefit from him starting at middle linebacker.
Brian Cushing: A
Though James is expected to be the vocal leader of the Texans' defense, it is Brian Cushing who is the true leader of the talented defense. Cushing is a monster on the defensive side of the ball, and when he is playing at the top of his game, it seems that he is able to contribute to almost every single play. He is a true monster against the rush, and he is also able to rush the quarterback on any given down. Cushing led the Texans in the tackles category last season, and due to his exceptional skills, he will be expected to do it again.
Brooks Reed: A-
The reason why the loss of Mario Williams to the Buffalo Bills does not concern Texan fans is because of this sophomore outside linebacker. Brooks Reed was selected in the second round of the 2011 NFL Draft, and he was pushed into a starting job much earlier than expected. When Williams went down with a torn pectoral injury in Week 5, Reed was thrust into a starting role despite having virtually no offseason to effectively learn the Texans' playbook. It did not matter. Reed produced from day one for the defense, and he ended up with a total of six sacks. Reed should improve even more this season, as he relied primarily on his physical skills last season and not enough on finesse moves. A full offseason should have allowed for Reed to further develop his hand skills, and make him an even more dangerous pass rusher.
Tim Dobbins: B
Tim Dobbins is gaining a reputation on the Texans' defense. After a major goal-line stop last year in the playoffs versus the Baltimore Ravens, he continued his success into this year's preseason. Dobbins provides quality depth at middle linebacker.
Whitney Mercilus: B+
Whitney Mercilus is having the type of offseason a team would want to see out of their first round selection in the NFL Draft. He sacked the quarterback three-and-a-half times in the preseason, and he applied pressure to the quarterback on a countless number of occasions. It is looking like Mercilus can have a very productive season coming off the bench for the Texans' defense.
Mister Alexander: C+
Mister Alexander, aside from having an amazing name, has incredible physical tools. He has all the makings of a talented middle linebacker, but his skill-set is not developed anywhere close to where it can be. If Alexander can improve his skills, he can be a very good player for the Texans coming off the bench.
Jesse Nading and Bryan Braman: C
Both of these players will see little playing time on the defensive side of the ball. Where they make their names known, however, is on special teams. Both of them are buried on the linebacker depth chart, and they will likely remain as solely special teams contributors this season.
Overall: A-
The Texans have one of the best starting linebacker cores in the NFL. Both Cushing and Barwin had Pro Bowl-caliber seasons last year, and Brooks Reed is not far behind them. The only weakness of the linebacking core in the middle linebacker depth, but the Texans' backups at that position seemed to fair pretty well in the preseason.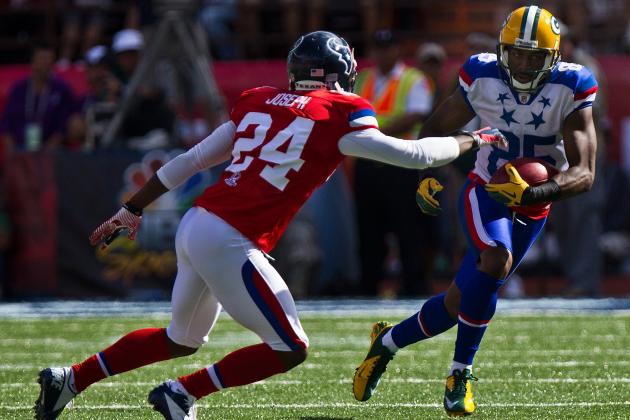 Kent Nishimura/Getty Images

Johnathan Joseph: A
Johanthan Joseph is the clear star of the Texans' defensive backfield. He proved to be both a shutdown corner and a ball-hawk last season; shutting down opposing teams' number one receivers and also totaling a team high four interceptions. Joseph was elected to the Pro Bowl for his incredible season, and he is actually even more confident this season as he heads into year two with his new football team.
Kareem Jackson: C+
Kareem Jackson has struggled ever since he was drafted in the first round of the 2010 NFL Draft to be an awful defense's starting cornerback. Whether he did not have the physical tools to succeed right away or whether his confidence was shattered by having to start so early, Jackson has not had a very good career so far. He has been the bane of the Texans' offense, and his inability to rotate his head and locate the ball in midair has caused other teams to break off huge pass plays. Jackson has reportedly greatly improved in training camp, and his performance on the field in preseason seemed to confirm such. One must wait until Jackson actually proves himself on the field in the regular season, though, before he/she can determine that he has actually improved.
Brice McCain: A
Brice McCain, like Antonio Smith, does not get enough credit for the amount of production he contributes to the defense. As the team's slot cornerback, McCain is essentially a starter in the pass-happy NFL. As more and more teams consistently utilize a slot receiver, McCain is required to be on the field on a more constant basis. McCain does a great job of shutting down slot receivers, and the work he does is necessary to the Texans' success.
Brandon Harris: C+
Brandon Harris, like Jackson, had big expectations coming out of the 2011 NFL Draft when he was selected in the second round. He was expected to come in and help turn around a historically bad pass defense, but he never even got the chance. Gary Kubiak and his coaching staff decided to sit Harris for the majority of the season, and not thrust him into a starting role like they did with Jackson. The decision has seemed to work for Harris, as he has excelled in the preseason.
Alan Ball: C-
Alan Ball, like Bradie James, used to play under Wade Phillips in Dallas. This fact is what caused him to be signed by the Texans this offseason in order to become the defense's Jason Allen of this season. Allen provided a security blanket for Jackson last season, and he was able to effectively produce whenever he played, and he gained a total of four interceptions, which tied Joseph for the team lead. Ball, however, has had a miserable preseason, and, based on his performance so far, Texan fans better hope he is not called upon to play an Allen-type role this season.
Roc Carmichael: C+
Roc Carmichael is another young Texans cornerback who is being allowed to develop on the bench. Carmichael had a solid preseason, and the future seems to be bright for him, wherever he ends up.
Overall: B
The Texans should be worried about their depth at the cornerback position. If Joseph were to succumb to injury, then the results could potentially be disastrous for the secondary.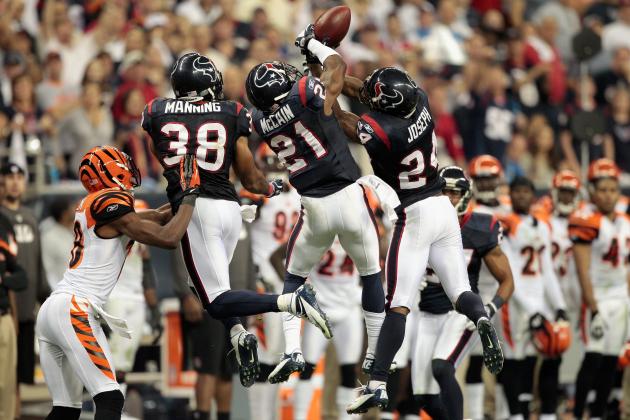 Bob Levey/Getty Images

Danieal Manning: A-
Danieal Manning is the star of the Texans safety and is the second best player in the secondary, behind only Johnathan Joseph. Manning is a playmaker who is extremely opportunistic. He is able to either go up and pluck the ball out of the air, or he can hit a ball-carrier extremely hard and create a fumble on any given play. Manning helped to transform the Texans' defense last season, and he should be able to greatly contribute again this season.
Glover Quin: B+
In 2010, Glover Quin was likely the best cornerback on the Texans' roster, but in 2011 he was asked to move back to his natural position of safety with the signing of Joseph in free agency. Quin should be glad for it. He helped to created a dangerous safety tandem with Manning last season, and he should improve even more as he settles back into playing safety full-time.
Quintin Demps: B
Quintin Demps got his opportunity to start when Manning broke his leg midseason last year. He did not disappoint, and along with Troy Nolan, the loss of Manning was hardly noticed. Demps is a valuable backup for the Texans, and he should be able to step in and produce should anything happen to either Manning or Quin.
Shiloh Keo: D
It was a surprise that Shiloh Keo was not cut when the Texans were forced to narrow down their roster to 53 players on August 31. Keo is a solid special teams players, but he has yet to produce on defense. He displays lackluster speed and poor coverage skills while playing safety, and it would be safe to say that he is more of a liability to the defense than an asset.
Overall: B
If Troy Nolan had not been surprisingly cut, then fans would not have to worry about this position. Nolan, however, was cut, which leaves Demps and Keo as the only safety bench players. If Manning or Quin were to suffer an injury, then both Demps and Keo would be expected to see a major increase in playing time. That could be a major concern, as Keo has performed miserably in preseason so far.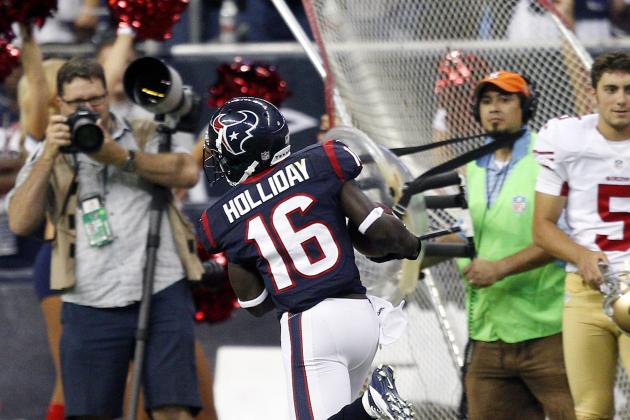 Bob Levey/Getty Images

Shayne Graham: A-
Shayne Graham won the kicking competition after the rookie Randy Bullock was placed on the IR with a torn groin muscle. This was a win-win for the Texans, as they are expected to make a run for a Super Bowl title this season. It would be dangerous for a contending team like the Texans to have a rookie kicker taking big field goals for them, so now Bullock is stashed on the IR while the veteran Graham will kick for the Texans this year. Graham performed admirably in the preseason, connecting on every single attempt, including some from very far distances. Graham should perform well for the Texans this season.
Donnie Jones: A-
Donnie Jones received heaps of praise during training camp from special team's coach Joe Marciano. He has performed well enough for the Texans to cut Brett Hartmann, their punter from last season, who punted exceptionally well throughout the whole year.
Jonathan Weeks (Long Snapper): A
Jonathan Weeks does everything perfect for the Houston Texans. Jones, the team's punter, has claimed that "(Long snapper) Jon (Weeks) makes my job easier. He's fast and consistent," and that is all you can ask for from your long snapper. Weeks excels at his craft, and he makes life much easier for Jones, who also happens to be the team's holder on field goals.
Trindon Holliday: A
Trindon Holliday has been the success story of the Texans' offseason. In four preseason games, the 5'5", 170-pound Holliday has returned two punts and one kick for touchdowns. Holliday has been electric, and he will be a major threat for the Texans in the regular season.
Overall: A
All of the Texans' key special teams players perform very well at what they do. Graham has been excellent so far in terms of field-goal kicking, and Jones has proven to be a reliable and talented punter. Holliday looks like he wants to break the record for the most returning touchdowns off all time in a single season, and the coverage teams have also performed well. Special teams for the Texans seems to be much improved all in all from last season.