Notre Dame Football: What We Really Learned About the Irish This Weekend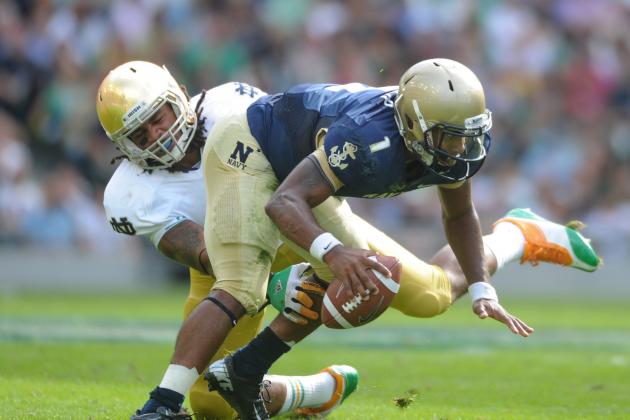 Barry Cronin/Getty Images
Notre dame tossed Navy around all game.
I am on the record as saying I enjoyed the 2012 Irish opener. As a slug of whiskey in my morning coffee warmed my stomach, the 50-10 Irish shellacking of the Midshipmen warmed my heart.
There were no postgame arrests. Although we're still not sure when or where my mom and the case of Irish Mist ran off to, or what the police blotter will say when we find her.
More importantly, no one is busy in the Irish training room worried about a high ankle sprain, mulling over a concussion or waiting for an MRI to discover why you never want an MRI.
I'd say overall Irish Nation had a pretty good day.
But what does it all mean in the existential world of unreasonable Irish expectations? How does this win fit into the Notre Dame cosmos and the omniscient plan to become BCS-worthy before we all die?
What exactly did we learn about the team?
The short answer is everything.
And nothing.
Begin Slideshow

»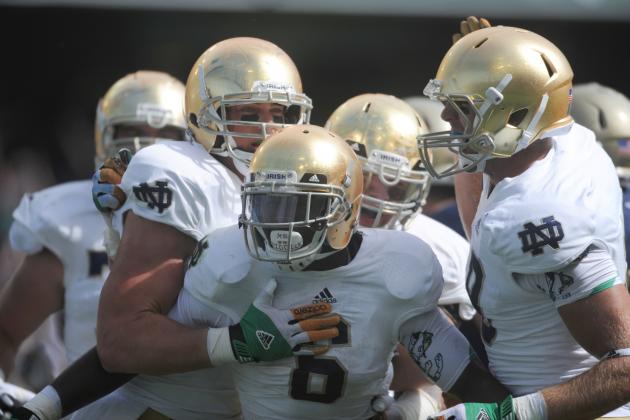 Barry Cronin/Getty Images
Notre Dame running backs had a track meet.
With unacceptable losses to inferior football teams in recent years (see debacles: Tulsa and Navy in 2010, USF in 2011), many Notre Dame fans now hold their breath through the first half of every game no matter what the spread.
I often turn blue holding my breath and have to be given Jameson intravenously at halftime.
This year, however, my worries were unfounded and some fine Irish whiskey was saved, as Notre Dame took care of business in a big way both early and often.
What that tells us is that the Irish fronts are capable of dominating lesser teams on both sides of the ball.
It also tells us that Brian Kelly avoided the countless distractions and got his team focused on winning a football game by 40 points, in convincing fashion.
Temper that thought with the fact that last year we beat basically the same squad by 42, and that came after getting pantsed by USC at home the week before, en route to an 8-5 year with some intensely ugly football along the way.
While it's a very good thing we are back to crushing the Navys of the college football world, it doesn't give us true enlightenment to any great extent.
We have light, but not enlightenment.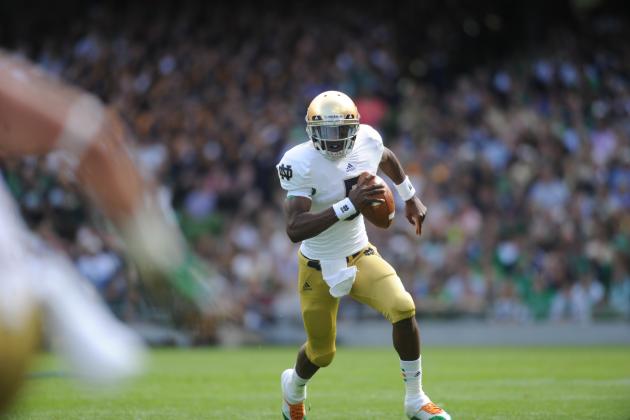 Barry Cronin/Getty Images
Everett Golson looked just fine, if not magnificent.
In his first start as a Notre Dame quarterback, Everett Golson was 12-of-18 for 144 yards with one TD and one pick.
In the words of a famous philosopher and zany film star, "Not too shabby."
Watching the game, Golson looked poised throughout, delivered the ball on target and generally ran the offense with a fair amount of efficiency. Albeit there was a timeout here and there to confirm things with his Zen master.
He also didn't have any inexplicable fumbles and inadvertent laterals. Although he did focus on Eifert at times, he didn't have 333 throws to the same receiver, which was a big relief.
There were no designed runs, and with little pressure he was not forced to do much with his legs other than a postgame Irish jig or two.
While the outing can be termed a good start by any measure, there wasn't much to judge.
Eight of his throws were flat passes and bubble screens, and the few intermediate routes he threw were generally crossing routes that he had several hours to think about.
At one point I saw him reading up on his Philosophy 101 class while in the pocket before unloading a ball into the flat.
EG had one ball downfield to the tight end for over 20 yards that was a nice throw. He didn't press the ball downfield, even with open receivers happily waving and holding up large "Throw To Me!!!" posters during the majority of the plays.
Overall, Kelly didn't challenge Golson to make plays, as the short passing game and Notre Dame's crushing ground attack were more than enough to move the chains without interruption.
It bears mentioning that the oft-criticized Tommy Rees that EG replaced went 19-of-25 for 237 yards with one TD and one pick against these same Middies.
So can Golson play college football? Yes, and he looked comfortable doing it.
Can he play great college football? Nobody knows yet.
His place in the Irish cosmos is yet to be determined.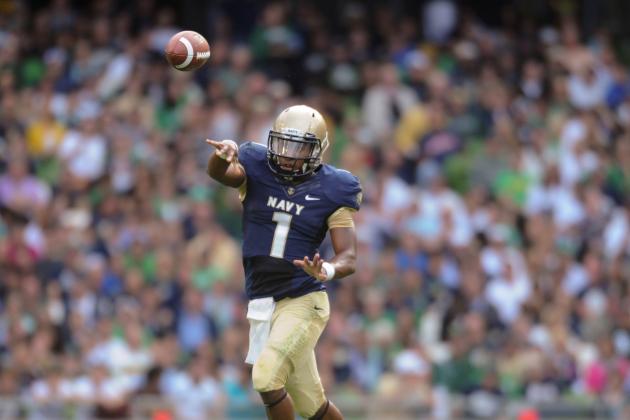 Barry Cronin/Getty Images
When the D-line didn't make Trey Miller look bad, the Irish secondary made him look damn good.
The one negative coming back from the Emerald Isle is the play of the secondary, which often looked confused on the rare occasion they were still on the screen at all.
Corners played softer than most living room cushions, then did circles that looked strikingly similar to that thing the family dog does when you come home from work with a bacon treat in your hand.
Safeties often made bad choices that were matched only by their bad angles.
For yet another game, the intricate mystery involved in covering a simple post pattern will have to wait for yet another day.
A team that can't throw lit the Irish secondary up for 192 yards on 14 completions, most of which were to receivers who had no one within a beer tent of them.
This is the same Navy group that dropped all of 33 yards on our secondary last year, and as we all know, we didn't have 'Bama's secondary in 2011.
But just like we must temper our offensive enthusiasm, so must we quell any negative energy spawned by the ashes of a still-burning secondary.
It was the first game for the corners, and they weren't ready to be put on a bubble. In Navy's triple-option threat, that means lots of man coverage as the safeties must deal with run support.
The shiny new corners had little help, and it showed.
Trey Miller is also one of the few Navy QBs since Roger Staubach who could thrive in a true passing offense. He showed some good arm and accuracy when he wasn't getting shaken like a dog toy by the Irish D-line.
So while there was very little to brag about from the back of the defense, Navy only scored 10 points, and the secondary tackled well when called upon.
It's something to work with, but it didn't tell us much about how this group will perform against more conventional college offenses.
We do know the DBs have clearly not reached total self-actualization, but that doesn't mean they won't.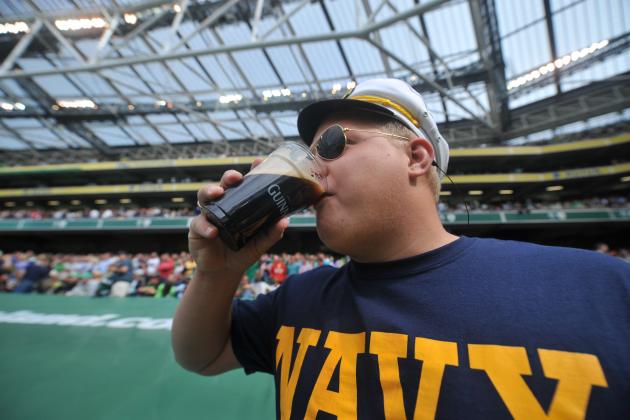 Barry Cronin/Getty Images
Navy is still drinking to forget.
Navy is an academy with great tradition and good coaching that plays hard every week.
Unfortunately, they also have limited talent that spent Saturday trying to play football against bigger, faster players, with an expected and very welcome result for the Irish faithful.
So for the second year in a row we put up a 50 on the Middies and crushed the triple option that gutted us in 2010.
Our running backs, O-line and front seven looked outstanding, albeit against a physically outmatched opponent.
But remember, we did the exact same thing to Navy last year after watching USC toy with us on both sides of the ball a week earlier—we're all hoping we are a better team than what we saw in 2011.
So what have we learned from Notre Dame versus Navy 2012?
If and when we bail mom out, in all likelihood she's not going to make the roster, no matter what Kelly or res-life does with the suspension issues.
We also didn't have five turnovers and 73 yards in penalties like last year's opener, so where we didn't have much competition, we did have karma.
We do know that we don't know a lot about the 2012 Irish.
We'll learn a lot more next week, and I can't wait.