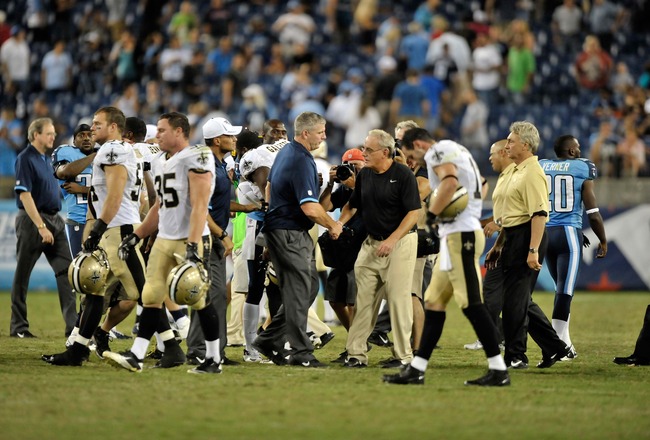 Jim Brown-US PRESSWIRE
After a preseason that felt like it lasted forever, the New Orleans Saints trimmed their roster to 53 players this past weekend. The Saints have also announced on Sunday afternoon who will be on their practice squad.
The Saints practice squad players survived the cuts. They proved that they have potential and belong in the league, but they are not part of the 53-man active roster—not yet. Anything can happen in a season, and an opportunity can arise at any moment.
Let's take a look at the eight practice squad players for the Saints, and what role they will be playing for the team in the 2012 season.
Ezra Butler, Linebacker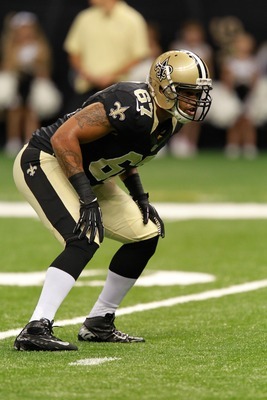 Derick E. Hingle-US PRESSWIRE
Outside linebacker Ezra Butler is familiar with the Saints organization. He has been on their practice squad since 2010.
Coming out of the University of Nevada, Butler first started his NFL career with the San Francisco 49ers back in 2008 as an undrafted free agent.
With Butler's combination of strength, quickness, speed and size, you can also put him at the defensive end position as a pass-rush specialist.
He has a high motor, and is very emotional when playing, which can also be his downfall. He shows frustration when he is unable to get to the ball or make the tackle, and that may lead to mistakes.
Butler is a hard worker at practice and a good athlete, but the high emotion he plays with can lead to big mistakes. That is why he really hasn't earned the promotion to the 53-man active roster.
He is a solid practice squad player, but it may take a string of unfortunate events on the Saints' defense for Butler to see some playing time on game day.
Braylon Broughton, Defensive End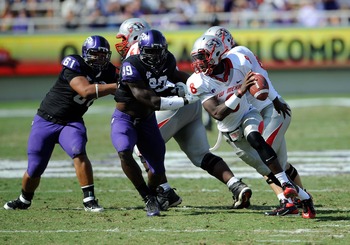 Jerome Miron-US PRESSWIRE
This 6'6", 272-pound behemoth out of Texas Christian made the practice squad as a rookie free agent. He has amazing athleticism and speed.
And when I say speed, I mean it. Broughton ran a 4.5 40-yard dash (not a typo). That's nothing special if you're talking about a wide receiver or running back, but this guy is a 272-pound defensive lineman. He is fast.
Broughton has upside with his size and speed, but he lacks explosiveness and isn't very consistent. In college, as a senior, he started five games and had 25 tackles and two sacks.
Broughton obviously has the raw talent, but isn't ready to make the 53-man roster just yet. The Saints need all the help they can get on the D-line, so Broughton is a project for now.
Harland Gunn, Guard
Steve Mitchell-US PRESSWIRE
The offensive lineman originally signed with the Dallas Cowboys as a rookie free agent, but was released a few days ago by the team.
The Saints picked him up and put him on their practice squad.
The guard out of the University of Miami did not participate in the scouting combine, but still had the size and strength to stand out as a solid lineman for the U.
At 6'2" and 314 pounds, Gunn is big. However, he has poor footwork and has a hard time adjusting to defenders, according to an SI scouting report.
Gunn may come in handy as a backup, but it doesn't look like he'll have much of a chance to make the 53-man roster.
Andy Tanner, Wide Receiver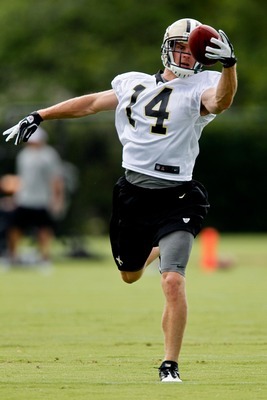 Derick E. Hingle-US PRESSWIRE
Wide receiver Andy Tanner was picked up by the Saints in 2010 as an undrafted free agent, and has been released a numerous amount of times since then, never making the 53-man roster.
This year could be different.
Tanner has had an impressive preseason in 2012, making play after play day-in and day-out. He can be a good and dangerous slot receiver, but his problem is that the Saints already have so many weapons on offense, and receiver in particular, that it can be hard to get noticed.
Tanner played at Midwestern State, a Division II school, hauling in 120 passes for 1,716 yards and 20 touchdowns in his career.
The receiver is familiar with the playbook and is getting more comfortable with it, as is evidenced by his improved performance. That, and injuries to Adrian Arrington and rookie Nick Toon, have helped Tanner land on the practice squad.
Tanner can be useful. It was a good move to keep the receiver. If given the chance, he can do some damage. All he needs is that chance to make the active roster to prove it.
With the injuries that happen throughout the season, Tanner may get that opportunity.
Jerico Nelson, Safety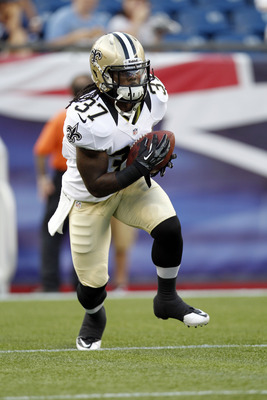 Greg M. Cooper-US PRESSWIRE
The New Orleans Saints did good in keeping Jerico Nelson. Nelson is a good athlete who can make plays. He showed his skills in college while playing for the Arkansas Razorbacks. He also showed his hard work and talent in the preseason.
As a Razorback, Nelson finished with 169 tackles, four interceptions, 10.5 sacks, nine passes defended and two forced fumbles in his career.
The safety provides some depth to the Saints' secondary, and with his play-making ability, he may see some time on the active roster.
Nick Hixson, Cornerback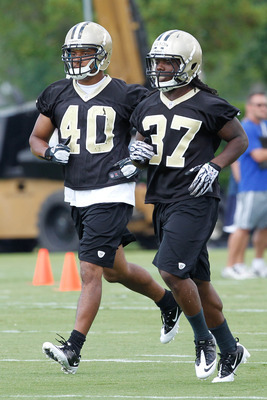 Derick E. Hingle-US PRESSWIRE
The rookie from Hillsdale College was signed by the Saints after the 2012 NFL Draft.
In college, Hixson played both on defense and special teams. In his senior year, he made 62 tackles, had two interceptions and nine passes defended. He excelled on both units, so the Saints can use him in either phase of the game.
Hixson has the potential to make the active roster as part of the special teams unit.
Ricky Henry, Guard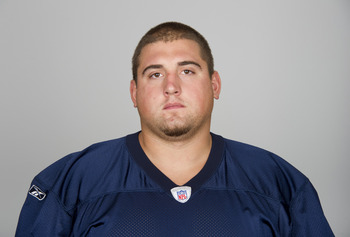 Handout/Getty Images
This guard out of Nebraska is in his second year in the NFL. He was signed last season by the Chicago Bears after going undrafted.
Henry is considered a good run-blocker, but was cut by the Bears a few days ago. He was subsequently picked up by the Saints. He did make the active 53-man roster with the Bears last year, so the guard does have potential. He can help the offensive line.
The Saints picked Henry up for depth on the O-line, so it is possible for him to see some time on the active roster if there are any injuries.
Michael Higgins, Tight End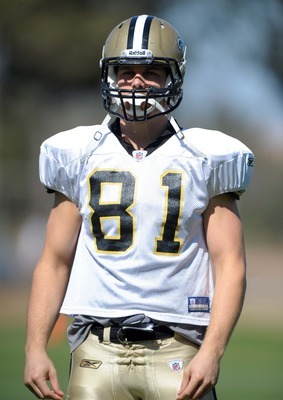 Kirby Lee-US PRESSWIRE
This 6'5" tight end can come in handy for the Saints. He already has experience with the team and their playbook, as he had some playing time with them last season.
The Saints have superstar tight end Jimmy Graham, but need Higgins as an insurance policy. Higgins had a nice preseason in 2012, with 14 receptions for 139 yards, so he should get to see some time on the 53-man roster.
Make sure to follow me on Twitter for more Saints news and other NFL updates: @ItsJPeralta.
Keep Reading

New Orleans Saints: Like this team?
Load More Stories