Pittsburgh Steelers: How Will Mike Wallace Impact Steelers Offense?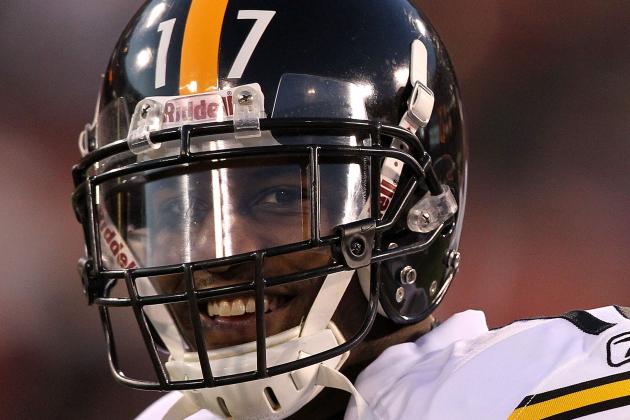 Karl Walter/Getty Images
Mike Wallace all smiles
Mike Wallace ended his elongated holdout Tuesday, August 28, and while he didn't sniff a single workout with his team this offseason, he'll perhaps have the biggest impact on the Steelers offense.
Arguably the fastest man in the NFL, Wallace spent the entire offseason being a distraction to Pittsburgh, but he was welcomed back with open arms.
Sunday's season opener against Denver is less than a week away, but all signs point to Wallace being a distraction for all defenses around the league.
Let's take a look at the ways Wallace's versatility impacts the Steelers offense.
Begin Slideshow

»
Gregory Shamus/Getty Images
Wallace and Roethlisberger on the same page
First and foremost, Wallace's biggest influence on the Steelers offense will be his own production.
Naturally, there will be a bit of a learning curve with new offensive coordinator Todd Haley's playbook, but there's no learning curve between Roethlisberger and Wallace.
These two have been on the same page since 2009, and especially so in the last two seasons.
In 2010, Wallace caught 60 passes for 1,257 yards from Big Ben, and he followed that up with 72 receptions for 1,193 yards in 2011.
Wallace's season in 2011 was highlighted by that 95-yard touchdown, in case the NFL forgot.
Expect Wallace to wreak havoc in 2012, despite the defense-heavy AFC North.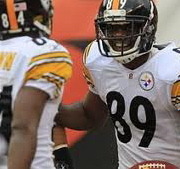 Antonio Brown and Jerricho Cotchery
Wallace's speed doesn't just benefit him. It will continue to have a great influence on receivers Antonio Brown and Jerricho Cotchery.
Expect Brown and Cotchery to find success from the attention that Wallace garners from defenses.
Any rational defense will be giving a little extra cushion whenever Wallace is lined up out wide, and Brown and Cotchery should expect to find themselves open on the underneath route.
Cotchery only caught 16 passes for 237 yards in his first season with the Steelers in 2011, so look for his production to go up in his second year with Wallace alongside him.
Look for Brown to equal or surpass the 69 grabs for 1,108 yards he had in the 2011 season as well.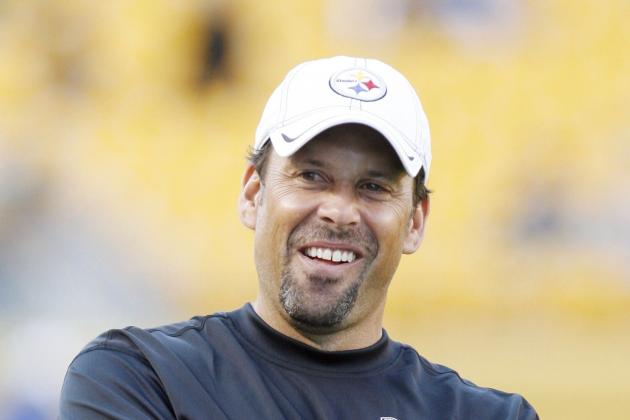 Charles LeClaire-US PRESSWIRE
Todd Haley likes his weapons in Pittsburgh
First-year offensive coordinator Todd Haley must have felt like a kid in a candy store when it was confirmed that Wallace would be one of the offensive weapons he could design plays for.
Wallace rejoining the Steelers offensive unit is like the Rooney family dropping a Ferrari in Haley's lap.
Haley starts fresh in Pittsburgh after a disappointing stretch as head coach of the Kansas City Chiefs.
He will have a receiving corps of Wallace, Brown and Cotchery to tease defenses in 2012.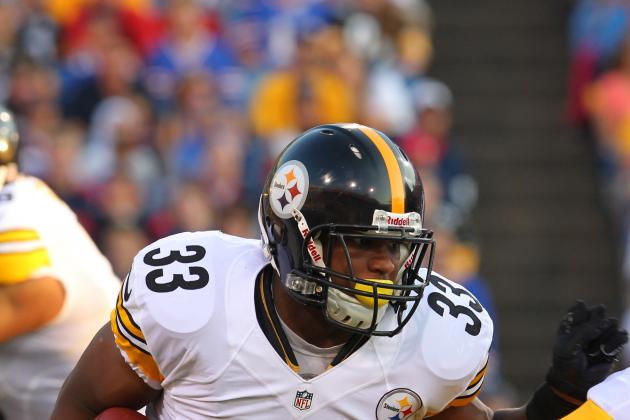 Timothy T. Ludwig-US PRESSWIRE
Isaac Redman
With Rashard Mendenhall unable to play for the foreseeable future, expect Isaac Redman to take the majority of the carries and Jonathan Dwyer to to back him up.
Between the receiving corps and Todd Haley's reputation that he likes to air it out, both running backs should stay fresh enough to be able to find and hit the holes when their number is called.
Wallace is such a dynamic offensive player that he'll affect how defenses line up, and the running game should benefit.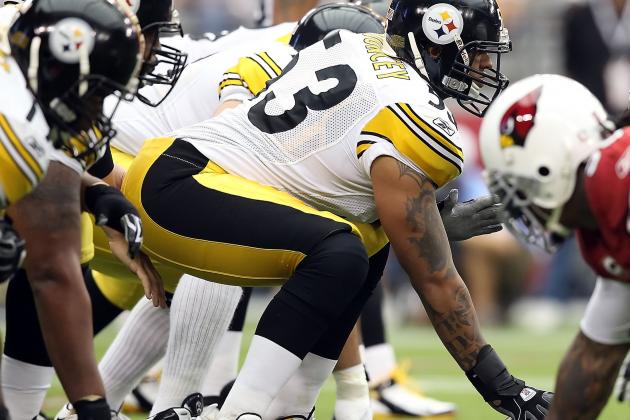 Christian Petersen/Getty Images
Steelers offensive line
The offensive linemen will be happy to know that Wallace came back for a fourth season.
Wallace's presence will dictate how defenses line up, which in turn should eliminate the blitz.
Defenses aren't going to want to have their cornerbacks and safeties blitzing Roethlisberger when Wallace is lined up outside.
As long as Wallace's speed causes defenses to think twice, the offensive line of Pittsburgh shouldn't have to worry so much about picking up these blitzes.
They should be able to just focus on protecting Roethlisberger and allowing him to hit targets like Wallace downfield.