New Mexico vs. Texas: Complete Game Preview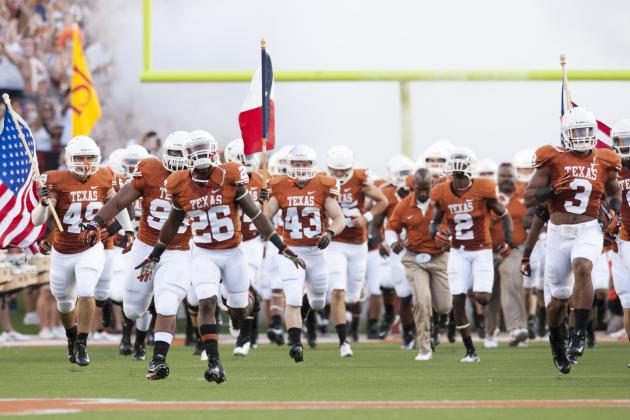 Cooper Neill/Getty Images

The Texas Longhorns shook off some early shortcomings against Wyoming in their season-opening win, and they return to the field Saturday looking to build on a victory that probably left most dissatisfied.
Following the win that answered some questions and created many more, the Longhorns will host a New Mexico team that ranked among the worst scoring defenses in the country last season.
Who: Wyoming at Texas
When: Saturday, 7 PM CST
Where: Austin, TX
Stadium: Darrell K. Royal Texas Memorial Stadium
TV: Longhorn Network (LHN)
Radio: Regional
Internet Stream: LHN, AT&T U-Verse
Begin Slideshow

»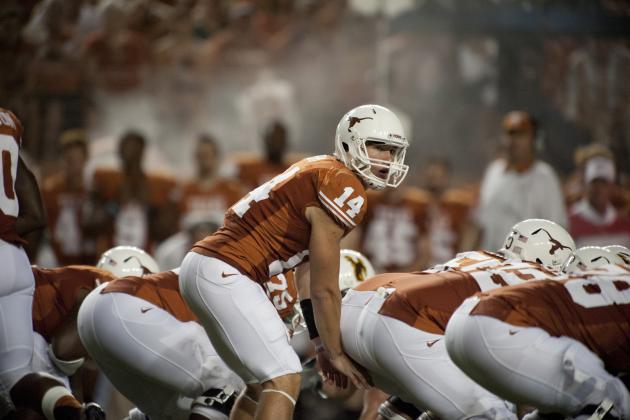 Cooper Neill/Getty Images

Offense
QB: David Ash, Case McCoy
RB: Malcolm Brown OR Joe Bergeron, Johnathan Gray
WR: Jaxon Shipley, Bryant Jackson
WR: Mike Davis, Kendall Sanders
WR: Marquise Goodwin, D.J. Monroe
LT: Donald Hawkins, Kennedy Estelle
LG: Trey Hopkins, Sedrick Flowers
C: Dom Espinosa, Garrett Porter
RG: Mason Walters, Thomas Ashcraft
RT: Josh Cochran, Luke Poehlmann
Defense
DE (Buck): Jackson Jeffcoat, Cedric Reed
DE (Strong): Alex Okafor, Reggie Wilson
DT: Chris Whaley, Ashton Dorsey
DT: Desmond Jackson, Brandon Moore
SLB: Demarco Cobbs, Tevin Jackson
MLB: Steve Edmond, Kendall Thompson OR Dalton Santos
WLB: Jordan Hicks, Kendall Thompson OR Peter Jinkens
CB: Quandre Diggs, Duke Thomas
FS: Kenny Vaccaro, Josh Turner
SS: Adrian Phillips, Mykkele Thompson
CB: Carrington Byndom, Sheroid Evans
Special Teams
PK: Nick Jordan OR Nick Rose
P: Alex King, William Russ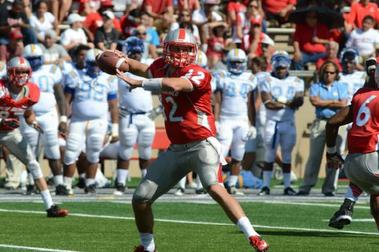 golobos.com
Offense
QB: B.R. Holbrook, Cole Gautsche
RB: Demarcus Rogers. Kasey Carrier
RB: Jhurell Pressley, Kasey Carrier
WR: Ty Kirk, Morgan Redmond
WR: Lamaar Thomas, Jeric Magnant
TE: Lucas Reed, Andrew Aho
LT: Korian Chambers, Bryan Oldenkamp
LG: Calvin McDowney, Mat McBain
C: Dillon Farrell, Josh Baggett
RG: LaMar Britton, Jamal Price
RT: Darryl Johnson, Dillon Romine
Defense
DE: Jake Carr, Gerron Borne
NT: Ugo Uzodinma, Rod Davis
DE: Reggie Ellis, Fatu Ulale
OLB (Bandit): Joseph Harris, Jacori Greer
ILB: Dallas Bollema, Toby Ball
ILB: Joe Stoner, A.J. Butler
OLB: Javarie Johnson, Rashad Rainey
CB: Destry Berry, DeShawn Mills
FS: Freddy Young, Julian Lewis
SS: Dante Caro, Darien Bronson
CB: Devonta Tabannah, Zoey Williams
Special Teams
PK: Justus Adams, Zach Rogers
P: Ben Skaer, Greg Rivara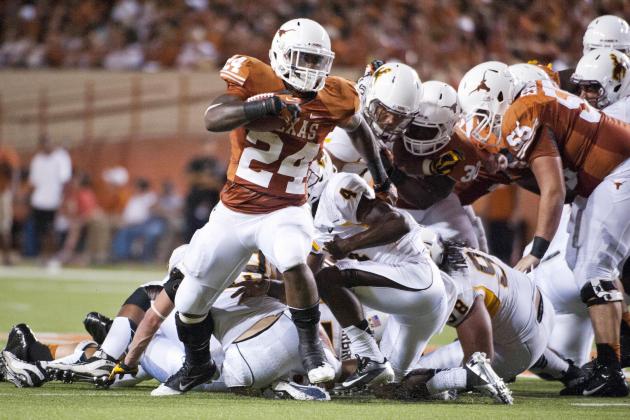 Brendan Maloney-US PRESSWIRE

What happened to the Longhorns last week: 37-17 W vs. Wyoming
The Longhorns flexed their run game against an undersized Wyoming defense that could not top the corps of running backs for Texas.
Joe Bergeron and Malcolm Brown each ran for more than 100 yards, and the offense combined to rush for 280 yards on 47 carries with four touchdowns.
Quarterback David Ash looked more comfortable than ever in his managerial role on the offense. The Longhorns looked to open up the game with the passing game, but it is evident that the sophomore quarterback still needs some fine tuning. Still, he was composed and effective without making the big mistake.
Defensively, the Longhorns were loosened up a bit by a scrappy Wyoming offense. Miscommunication and breakdowns in the secondary led to some big passing plays over the course of the game—something that will surely be addressed this week.
Against the run, the defensive line administered tons of pressure on a consistent basis. The end result was not always there, but it was a promising first game for the big boys.
The kicking game is still a huge question. Freshman Nick Jordan missed two field goals and had an extra point blocked in the absence of Penn State transfer Anthony Fera who is nursing a pre-existing injury.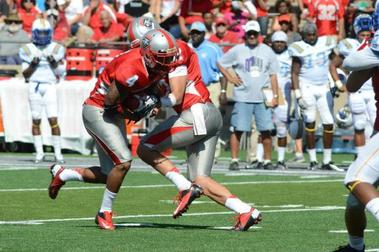 golobos.com
What happened to the Lobos last week: 66-21 W vs. Southern
The Lobos quickly matched last season's win total with a victory in their opener against Southern University.
New Mexico, carried by its triple-option offense, picked up nearly 350 yards and five touchdowns on the ground.
Demarcus Rogers, Cole Gautsche, Jhurell Pressley and David Anaya all had at least seven carries and 65 yards rushing.
Rogers, a tailback, led the way with 103 yards on 13 carries.
The freshman quarterback Gautsche rushed eight times for 88 yards, including a 47-yard touchdown run.
With just 70 yards passing, the Lobos made their offensive strength very clear.
Defensively, New Mexico capitalized on four Southern turnovers and were well-disciplined with just one penalty.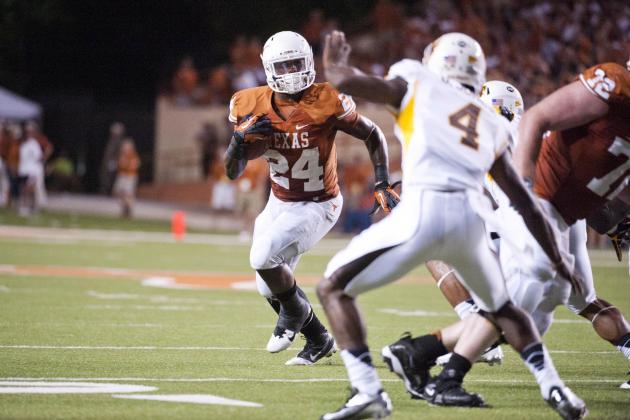 Brendan Maloney-US PRESSWIRE

Both teams will look at this game as a chance to improve from their first outing. It is a chance to see the progress made from Week 1 to Week 2, and an opportunity to determine how well each team learned from their mistakes.
But the difference between the Longhorns and Lobos is their respective opponent.
Texas will be at home for the second straight week, peering at an opponent that went 1-11 last year. Although New Mexico's running game was impressive in its season-opening win over Southern University, the Lobos will be facing a much more stout defense with better speed and strength.
New Mexico may look at this match-up and try to replicate how Wyoming was able to find holes in the Texas defense.
By no means is the Longhorns defense in midseason form, but there were sufficient breakdowns that could lead to easy scores for the Lobos.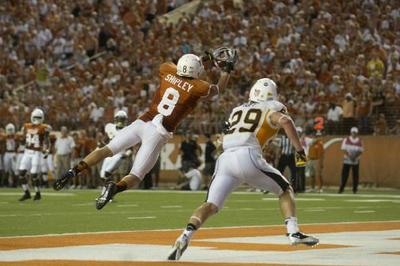 texassports.com
Jaxon Shipley is simply the offense's do-it-all guy.
The sophomore wideout is used in a multitude of ways that looks to ignite an offense full of playmakers. We saw Shipley as a threat to throw from the flat on a gimmick and take a speed sweep and use his quickness. All of this took place while putting up the best numbers at the position, including the lone touchdown catch.
While Shipley's involvement in the offense is not necessary a catalyst for the unit to score, his contributions are undeniable relevant in its efficiency.
As long as the young receiver gets enough touches, he has the ability to do something special.
dailylobos.com
In New Mexico's triple-option offense, the Lobos look to several players for carries.
One of the standout performers in New Mexico's opening win was freshman quarterback Cole Gautsche, a dual-threat of sorts who rushed for 88 yards on eight carries while scoring twice.
At 6'4", 227 lbs, Gautsche is a load to bring down in the open field.
The Lobos will look his way for explosive plays, and against a speedy defense like Texas, the need for timely, precise reads and solid runs will be paramount.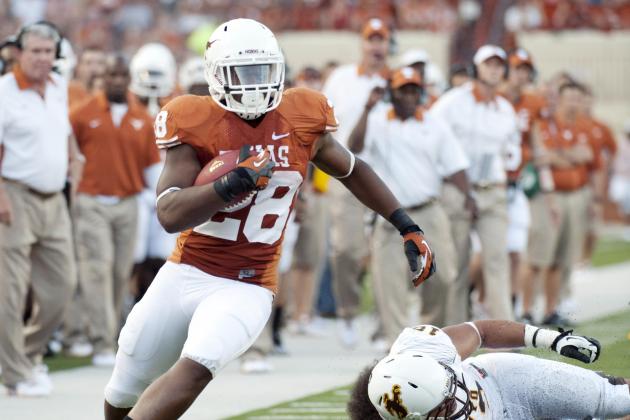 Brendan Maloney-US PRESSWIRE

Texas will win if it runs the ball like it did against Wyoming.
True, the Longhorns did have some success through the air, but they will not need to be prolific in the ball-carrying dimension to see victory on Saturday.
Although New Mexico did have a nice performance in its 66-21 opener, the Lobos are a much lower-caliber opponent that the Longhorns should handle easily.
Defensively, Texas needs to be disciplined. Strong tackles and good communication will help neutralize a seemingly effective option-offense for New Mexico.
Discipline and a ground game are keys to success.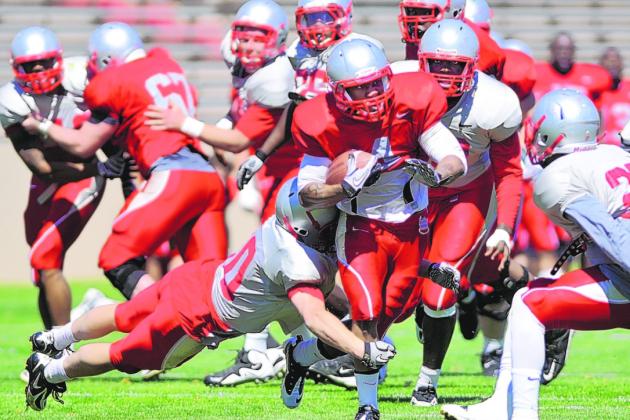 abqjournal.com
New Mexico will win if a slew of injuries wash over the entire Longhorns team, preferably on defense.
The jump in talent from Southern University to Texas is gargantuan, and the Longhorns will be looking to apply pressure to a one-dimensional offense.
But if Texas is forced to play its underclassmen, discipline and experience may be lacking in droves.
The Lobos will need a handful of freakish plays to be in the conversation for an upset.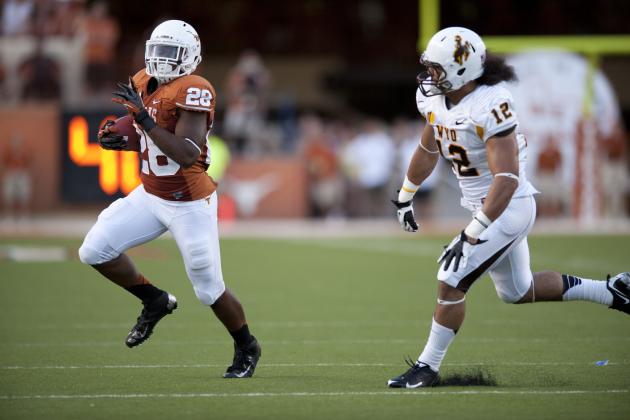 Cooper Neill/Getty Images

The Longhorns offense will look much-improved in their second game of the season.
Confidence is high for the Texas running game, as a corps of talented players look to establish the ground game early and often.
Defensively, although the Longhorns struggled against a scrappy Wyoming offense, Texas will look to eliminate the biggest option for New Mexico. Texas appeared stout against the run last week, and against a Lobos offense that will look to run way more often than not, the Longhorns may have the size and speed to neutralize the threat.
Texas is not invulnerable on defense. It will give up a score here and there, but for the most part, it is a comfortable victory for the Longhorns.