New England Patriots: Breaking Down the Rookie Class After the Preseason
Kim Klement-US PRESSWIRE

Despite being a well-established franchise that was a few plays away from bringing home its fourth Vince Lombardi trophy this February, the New England Patriots are a team that could see significant contributions from its rookie class.
The Patriots have both quality and quantity with the rookies on the current roster.
Here is a look at how all of them have shaken out now that the preseason is behind them and their season opener in Tennessee is just days away.
Begin Slideshow

»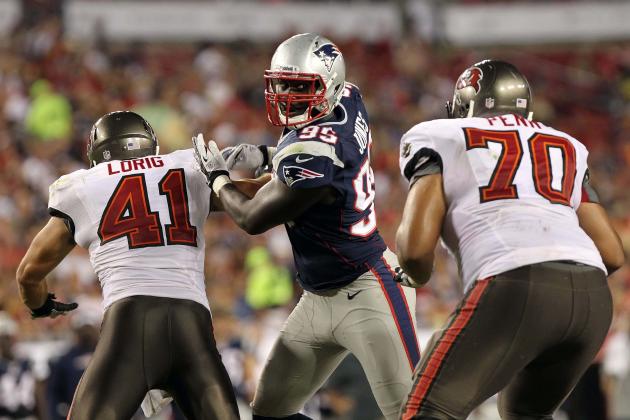 Kim Klement-US PRESSWIRE

Chandler Jones is a player that arguably showed up the most during the preseason. From the first snap he took in game one against the Saints, it was apparent from the get-go what his impact would be in the pass-rush.
Jones is a sure-fire starter at defensive end for the Patriots this season and will greatly help ease the loss of the team's two double-digit sack pass rushers from last season in Andre Carter and Mark Anderson. As of right now, he looks to be a slam dunk to lead the team in sacks this season.
Bill Belichick's Patriots had been projected to draft a top-end pass rusher for years before Belichick finally decided this season that Jones was the player he had been waiting for.
Jones will get a chance early on in his career to show people why.
Early Grade: A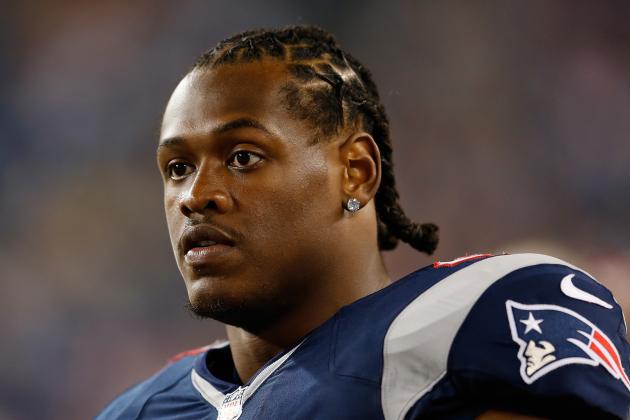 Jim Rogash/Getty Images

Like fellow first-round pick Chandler Jones, Dont'a Hightower is a lock to be a starter from day one in New England. With fellow former-SEC linebackers Jerod Mayo and Brandon Spikes, the Patriots are now one of the youngest and talented corps in the National Football League.
Hightower is a physical specimen who showed in the preseason his willingness to stick his nose in and lay the big hit. Sometimes players can bounce off of him, because he lays the wood instead of wrapping up, which is something his coaches will surely preach to him.
He will bring a swagger with him to the linebacking trio that could possibly rub off on his teammates and do a lot of good.
Coming out of Nick Saban's defense at Alabama, Hightower will have no trouble at all picking up what he should be doing in Saban's former boss' defense. Bill Belichick is sure to utilize Hightower in a number of ways this season from linebacker to a sub-rusher on passing downs.
Hightower will be one of the Patriots' biggest keys to showing defensive growth in 2012.
Early Grade: A-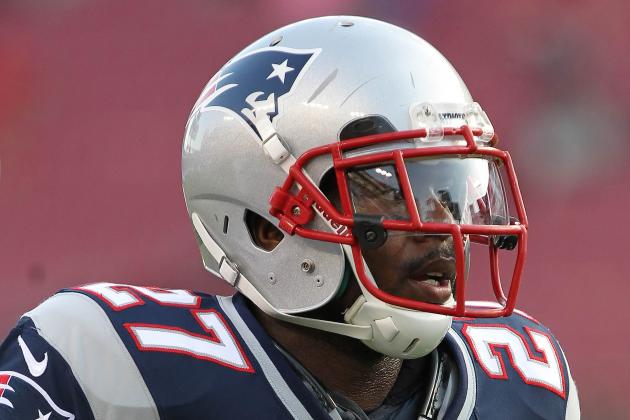 Kim Klement-US PRESSWIRE

Tavon Wilson was criticized perhaps more than any draft pick in the Bill Belichick era in New England. Few people noticed him do much good in the Illinois secondary, but Belichick saw something with this young safety that he liked.
Wilson is a player who clearly has some versatility, playing cornerback and safety in college and even seeing time in the "money" weakside linebacker role in the Patriots sub-packages.
Like Hightower, Wilson will see a variety of roles in the Patriots defense throughout his rookie campaign. Wilson showed in the preseason the ability to blow up offensive plays, too. Against New York in the Patriots' final preseason game, Wilson wrecked Giants tight end Martellus Bennett over the middle, forcing an incomplete pass.
With veterans Patrick Chung and Steve Gregory as the projected starters at safety, Wilson will not be a starter initially in his career, but he will certainly see enough time to prove all of his doubters wrong this season.
Early Grade: B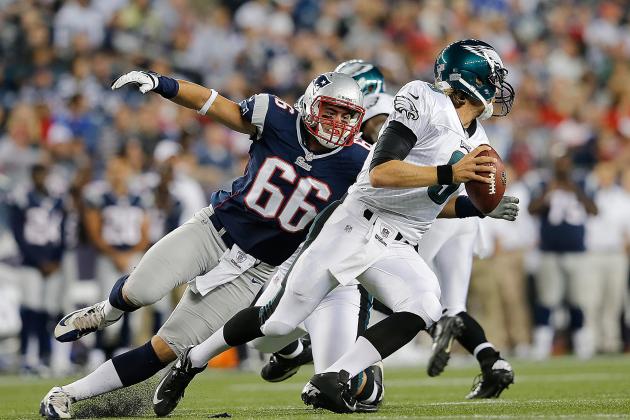 Jim Rogash/Getty Images

Jake Bequette is a player that comes out of the NFL farm system, also known as the SEC. Playing for Arkansas, Bequette was a very productive pass rusher, even more productive than first-round defensive end Chandler Jones.
These factors led to some, including myself, expecting a lot out of Bequette from a strictly pass-rushing role in his rookie season. Thus far though, Bequette has shown little to make anyone believe he will be a productive player for the Patriots this season.
He did manage a late sack in the preseason opener vs. New Orleans, but outside of that he didn't manage to show up and make plays and didn't receive as much playing time as one would have imagined.
Expectations of Bequette for this season now need to be lowered greatly. Quite frankly, he was not even a lock to make the roster last week after initial high hopes for his career in New England. He now sits at the bottom of the defensive end depth chart with veteran Trevor Scott.
Early Grade: C-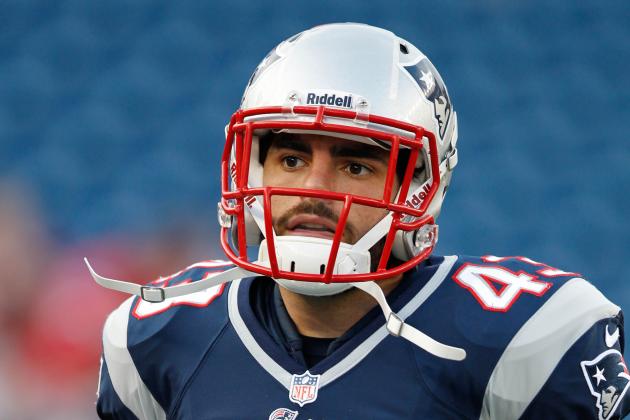 Greg M. Cooper-US PRESSWIRE

As a sixth-round pick who was known more for his rugby skills than football skills, no one expected much from Nate Ebner out of Ohio State.
Months later, he's a second-team safety and is likely to be a key member of the Patriots special teams unit. His development in the defense has been as impressive and rapid as any player in recent memory. He appeared to be a long-shot to make the roster early in the offseason, but with and interception and other pass defenses in the preseason, he has shown he's a legitimate option in the secondary should the Patriots need to throw him out there.
His real value should come immediately on the kickoff and punt teams, where he can use his rugby toughness to excel in kick coverage.
He has the makings of a fan favorite in Boston already.
Early Grade: B+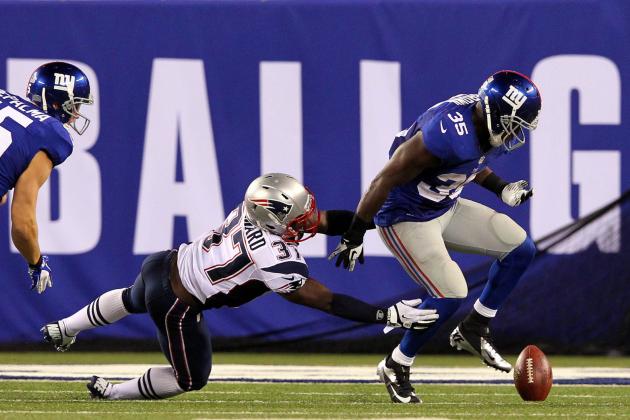 Brad Penner-US PRESSWIRE

Alfonzo Dennard was perhaps the most notable pick in the seventh-round of this April's draft simply because he should have still been there. Legal troubles stringing from an alleged assault of police personnel a matter of days before the draft caused his stock to plummet.
The Patriots pounced on Dennard and now have a developmental corner to let grow behind Devin McCourty and Kyle Arrington. With uncertainty and underwhelming performances certain to come with the corners ahead of Dennard on the depth chart, it will be a surprise to no one if he sees playing time this season.
Dennard missed much time during training camp and the preseason, but came back late and flashed some ability on the field over the Patriots final two games, giving fans some hope for Dennard's future in New England.
Early Grade: C+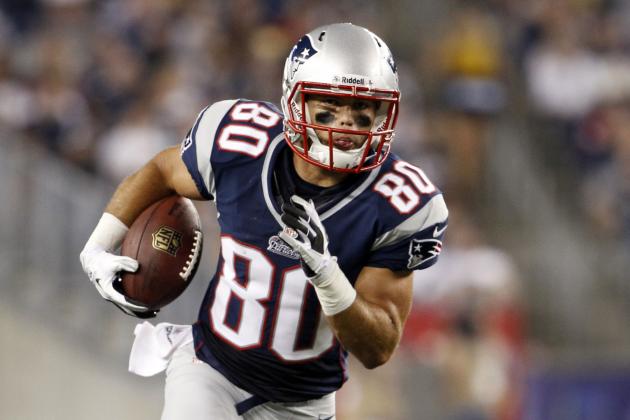 David Butler II-US PRESSWIRE

Jeremy Ebert was the lone offensive player selected by the New England Patriots in this year's draft. However, he is already a goner.
The Patriots released him last week following a preseason where Ebert dropped some balls and showed little reason to keep him around.
No team has claimed him since his departure from New England and at least initially, he's not on the Patriots practice squad either. For now, Ebert's NFL journey is put on hold.
Early Grade: Incomplete
Rich Schultz/Getty Images

Justin Francis went undrafted out of Rutgers, but it's apparent Bill Belichick has had high hopes for him all along. Francis has seen time with the starting defense all the way back to organized team activities (OTAs) earlier this offseason.
With an ability to line up anywhere on the defensive line, Francis has carved himself out a role in the Patriot defense and should be in the mix on the line from day one.
With some pass-rush ability he has shown in the preseason and the team's releasing of defensive end Jonathan Fanene, Francis will have a chance to get people to know his name quickly.
Early Grade: B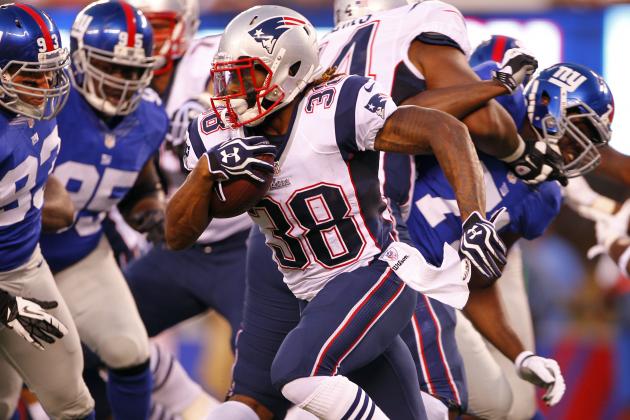 Rich Schultz/Getty Images

With the injury to Olympic sprinter Jeff Demps and the team placing all three of their fullbacks on seemingly every list but the active roster, the fourth running back spot fell right into the lap of Brandon Bolden.
Not that he did nothing to earn the job though, Bolden showed in the preseason ability as an early-down back with a combination of a little power and some burst.
He will surely get some carries this season, just don't look for him to ever be the team's third-down back or punt returner, roles he has shown that he's not going to excel in.
If there were a serious injury to Stevan Ridley or Shane Vereen though, the team could do worse than throwing Brandon Bolden out there for first and second down carries.
Early Grade: C+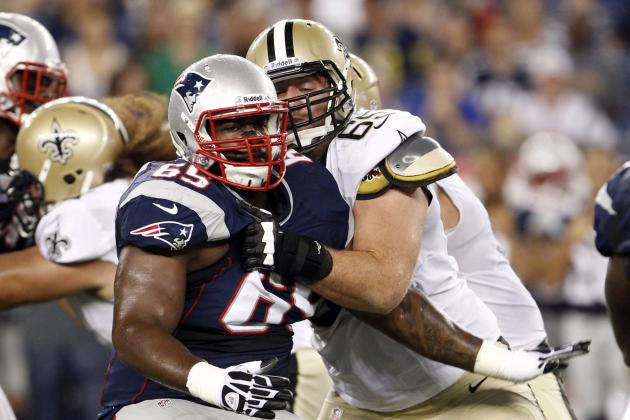 David Butler II-US PRESSWIRE

Out of the nine rookies to make the Patriots 53-man roster, Forston may be the biggest head-scratcher. He is comparable to Jeff Tarpinian in 2011 being that he did nothing to wow anyone, but Bill Belichick was impressed enough with his day-to-day work that he slid onto the final roster.
As Mike Reiss of ESPN Boston noted that Bill Belichick put it:
"Just the daily consistent performance, it's no one thing or one play or one day, but guys that can earn a spot on the roster do it with consistent performance relative to the competition. He did enough to do that."
With 11 defensive linemen currently on the roster, Forston may have to wait a little while to show people just what it is Belichick sees in his ability.
He did show some solid play in three of the four preseason games, making multiple tackles in each game, but unless you were looking for him, you would not have noticed him too much.
Early Grade: C