Auburn vs. Mississippi State: Complete Game Preview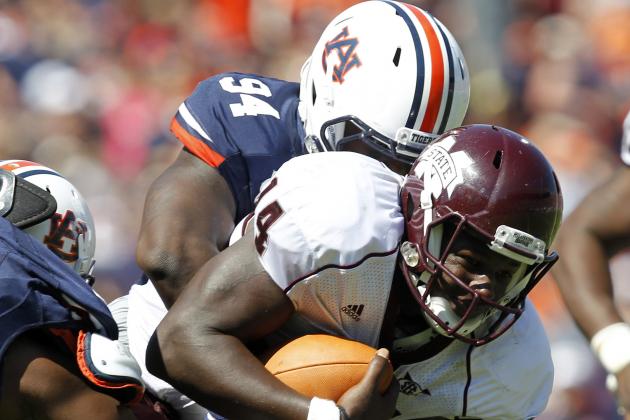 Butch Dill/Getty Images

Auburn tries to get their first win of the season this Saturday against Dan Mullen's Mississippi State Bulldogs in Starkville, Mississippi.
This is a budding rivalry that has had games decided on the final drives the last two years.
The winner will take a driver's seat in the SEC West and the loser will most likely already be eliminated from the division-title race.
Here is everything you need to know about the matchup on Saturday.
Begin Slideshow

»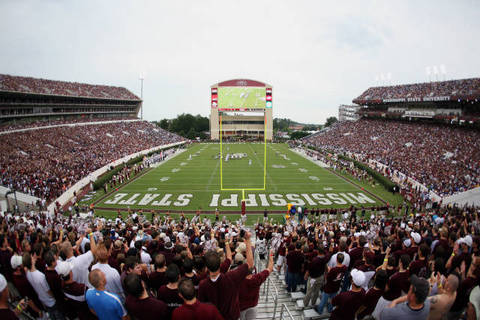 Davis Wade Stadium
Who: Auburn vs. Mississippi State
When: Saturday, September 8th at 11am (CST)
Where: Starkville, Mississippi
Stadium: Davis Wade Stadium at Scott Field (55,082)
TV: ESPN
Radio: Auburn IMG Sports Network. Complete listing can be found here.
Internet Stream: ESPN3.com or radio broadcast streaming on auburntigers.com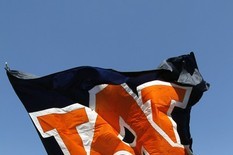 Offense
QB: Kiehl Frazier—Clint Moseley—Jonathan Wallace
RB: Onterio McCalebb—Tre Mason—Mike Blakely
FB: Jay Prosch—Blake Burgess
WR: Emory Blake—Sammie Coates—Ricardo Louis
WR: Trovon Reed—OR—Travante Stallworth
WR: Quan Bray—Jaylon Denson
TE: Phillip Lutzenkirchen—Brandon Fulse—C.J. Uzomah
LT: Greg Robinson—Shon Coleman
LG: John Sullen—Alex Kozan
C: Reese Dismukes—Tunde Fariyike (See note at bottom)
RG: Chad Slade—Christian Westerman
RT: Avery Young—Patrick Miller
Defense
DE: Dee Ford—Craig Sanders—Nosa Eguae
DT: Angelo Blackson—Kenneth Carter—Devaunte Sigler
DT: Jeffrey Whitaker—Gabe Wright—Tyler Nero
DE: Corey Lemonier—Ladarius Owens
SLB: Jonathan Evans—Justin Garrett
MLB: Jake Holland—Ashton Richardson
WLB: Daren Bates—Kris Frost
CB: Chris Davis—Jonathan Mincy
FS: Ryan Smith—Trent Fisher
SS: Jermaine Whitehead—Demetruce McNeal
CB: Ryan White—T'Sharvan Bell
Special Teams
PK: Cody Parkey—Alex Kvicklys
P: Steven Clark—J.D. Strawbridge
H: Ryan White—Steven Clark
DS: Jake Lembke—OR—Forrest Hill
KR: Onterio McCalebb—Quan Bray
PR: Quan Bray—Trovon Reed
*At time of publishing, it is only assumed that Reese Dismukes will be starting. Gene Chizik only announced that Dismukes will return this week.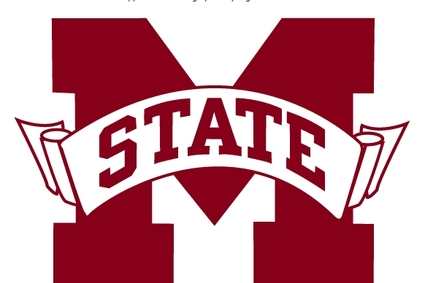 Offense
QB: Tyler Russell—Dak Prescott
RB: Ladarius Perkins—Nick Griffin
FB: Sylvester Hemphill—Adrian Marcus
WR: Arceto Clark—Joe Morrow
WR: Chad Bumphis—Jameon Lewis
WR: Chris Smith—Brandon Heavens
TE: Marcus Green—Brandon Hill
RT: Charles Siddoway—Damien Robinson
RG: Tobias Smith—Justin Malone
C: Dillon Day—Dylan Holley
LG: Gabe Jackson—Ben Beckwith
LT: Blaine Clausell—Archie Muniz
Defense
DE: Kaleb Eulls—Preston Smith
DT: Josh Boyd—Devin Jones
DT: Curtis Virges—Dewayne Cherrington
DE: Denico Autry—Shane McCardell
LB: Deontae Skinner—Chris Hughes
LB: Benardrick McKinney—Ferlando Bohanna
LB: Cameron Lawrence—Matthew Wells
CB: Johnthan Banks—Jamerson Love
SS: Corey Broomfield—Jay Hughes—Louis Watson
FS: Nickoe Whitley—Dee Arrington
CB: Darius Slay—Taveze Calhoun
Special Teams
PK: Devon Bell—OR—Brian Egan
P: Baker Swedenberg
SN: Winston Chapman
H: Chris Cameron
KR: Ladarius Perkins—Jameon Lewis
PR: Johnthan Banks—Chad Bumphis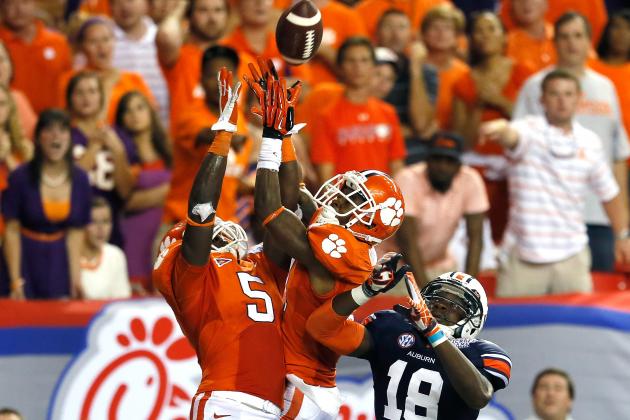 Kevin C. Cox/Getty Images

Last week, Auburn lost to Clemson 26-19 inside the Georgia Dome in the Chick-Fil-A kickoff game. Behind 528 yards of offense and 82 offensive plays, Tajh Boyd and the Clemson Tigers wore down the Auburn defense.
Auburn did a very poor job of tackling on the defensive side of the ball. Clemson running back Andre Ellington had the majority of his 231 yards after initial contact from Auburn defenders. The only bright spot on the defensive side of the ball was four sacks on Boyd.
Boyd picked apart the Auburn secondary, throwing for 208 yards. DeAndre Hopkins was his primary target. He reeled in 13 catches for 119 yards and a touchdown.
Even with the defensive problems, Auburn had an opportunity to come away with a win. The Auburn defense held Clemson to field goals four times and entered the fourth quarter with a 19-16 lead.
Kiehl Frazier made his first start as the Auburn quarterback and had a decent outing behind his young offensive line, completing 11 passes for 194 yards.
Tre Mason and Onterio McCalebb provided a solid ground game. Auburn fullback Jay Prosch opened up big holes for the two running backs.
Auburn's lone touchdown came in the first quarter when Kiehl Frazier connected with Emory Blake. The rest of Auburn's scoring came courtesy of Cody Parkey's leg on four field goals.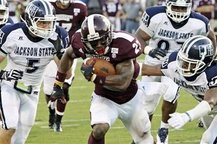 Photo via Associated Press
Mississippi State opened up with FCS opponent Jackson State last weekend in Starkville. Mississippi State handled the Tigers fairly easily, as expected. Mississippi State won 56-9.
The Jackson State Tigers scored only one touchdown against the Bulldogs. The Tigers had 265 yards of total offense and 16 first downs.
The Bulldogs did a great job of playing third-down defense. Jackson State only converted two third downs in 11 attempts.
Mississippi State quarterback Tyler Russell was 15-of-24 with two touchdown passes.
Mississippi State did not have a 100-yard rusher. Derrick Milton rushed for 65 yards and Ladarius Perkins added 58.
The leading receivers for the Bulldogs were Arceto Clark and Jameon Lewis. They both had three catches for 35 and 32 yards, respectively.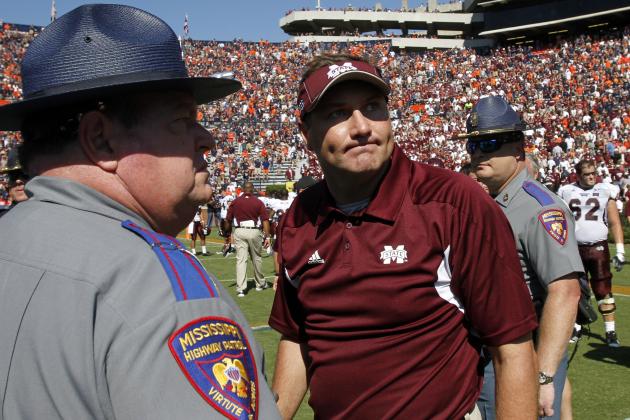 Butch Dill/Getty Images

"In the season, the first conference game is so critical to win because it's a two-game swing. Week two, you have either catapulted yourself to the top of the standings, or you're two games back already. That is a big deal for conference games," Dan Mullen said in his Monday press conference. He is exactly right.
For Mississippi State, if 2012 is going to be a year that they finally break through, the game against Auburn is a must win. Dan Mullen has developed a tagline of not beating an SEC West opponent not named Ole Miss.
A victory over Auburn all but assures that the Bulldogs start out 5-0. Their next three opponents are Troy, South Alabama and Kentucky. Mississippi State has not won a conference opener since 1999.
A loss to Auburn, and Dan Mullen is well on his way to having a hot seat for the rest of the year if the Bulldogs do not turn it around.
It can be assured that the Auburn game means a lot to the Bulldog players. "It's been marked on my schedule ever since I got it," MSU offensive guard Tobias Smith told Brandon Marcello of the Clarion-Ledger. "It's our turn to give them some payback."
For Auburn, the game on Saturday is important to get some confidence and momentum for the rest of the month and beyond. Following Mississippi State, the Tigers have Louisiana-Monroe and LSU to close out September.
A loss on Saturday will have a long-lasting impact for the rest of the 2012 season and could very well send Auburn into a tailspin. A win can put Auburn in a position to make some noise in the SEC West.
There will be an article later this week about this matchup being a must win for Gene Chizik and Auburn.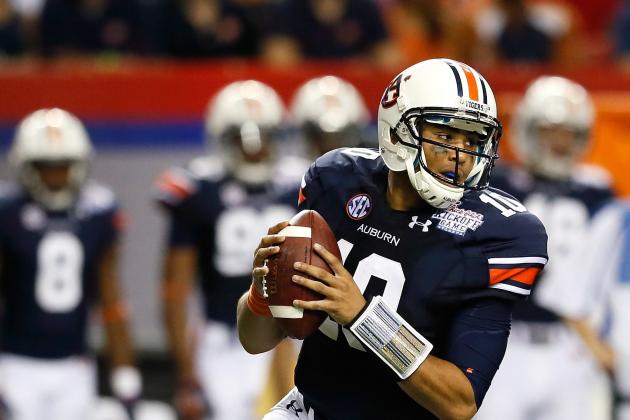 Kevin C. Cox/Getty Images

A lot of players can be nominated for this and while this may be taking the easy road, the obvious answer is Kiehl Frazier.
Frazier is going to need to make consistent and accurate throws on Saturday in his first SEC road start. The Bulldogs defense will be focusing early on the Auburn run game to make Frazier beat them with his arm.
If Frazier can make his passes, the run game will open up for Tre Mason and Onterio McCalebb. Offensive Coordinator Scot Loeffler will then be able to use his entire playbook.
It is probable that most of the Bulldogs' attention will be on Mason, Emory Blake, Phillip Lutzenkirchen and McCalebb. Only four receivers caught passes from Frazier in the opening game against Clemson. Frazier will need to distribute the ball better this week to be more successful.
If Frazier does not make his passes, it will be a lot like what we saw last Saturday. The Bulldogs will attempt to shut down the run and the Auburn offense will have a hard time finding the end zone.
Kiehl Frazier needs to come up big in his first road SEC start. If he can improve his play from last week, Auburn will be successful in Starkville.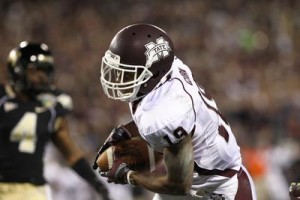 Mississippi State wide receiver Arceto Clark should be chomping at the bit to get his chance at this Auburn secondary.
As already noted, Clemson's DeAndre Hopkins had a huge game against Auburn last week.
The small but consistent wide receiver will be a key player for Mississippi State this weekend. Auburn must be able to adequately cover Clark and be able to tackle him when he catches the ball. That is not something they could do with Clemson's DeAndre Hopkins.
Last week, Clark caught three passes for 35 yards against Jackson State.
The senior wide receiver led Mississippi State in receiving in 2011. He caught 30 passes for 442 yards and four touchdowns.
Clark is State's most reliable receiver. Tyler Russell will look to him for big plays and important third-down situations.
Mississippi State will be successful on Saturday if Clark has a big game similar to what Clemson's Hopkins had last weekend.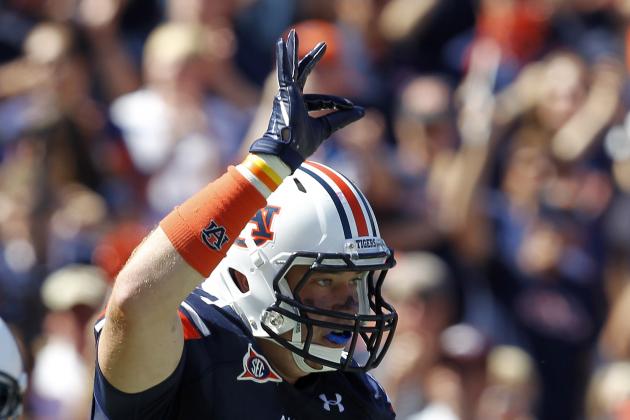 Butch Dill/Getty Images

Auburn will win this ballgame if they have a 50 percent or better success rate in the red zone. Auburn had net yardage of negative three yards in the red zone against Clemson last weekend.
The Tigers scored all three times they entered the red zone last week but all of the scoring was of the three-point variety from Cody Parkey's leg.
If not for a mental lapse by Trovon Reed, Auburn would have had a red-zone touchdown but Reed came down out of the back of the end zone.
Greg Robinson had a costly holding penalty in one of the trips.
The offensive line was no longer getting a good push off of the ball once it got inside the 20 yard line.
"We've really got to improve in the red," said offensive coordinator Scot Loeffler. "Every time we work our tails to get down there and are not getting touchdowns. We get two touchdowns in the red zone and we win the ball game," (via Montgomery Advertiser).
For the last two years, Phillip Lutzenkirchen was a red zone threat. Look for Auburn to get him more involved in the red zone offense this weekend.
If Auburn can get into the red zone and score seven points more often than they score three, they will come away victorious.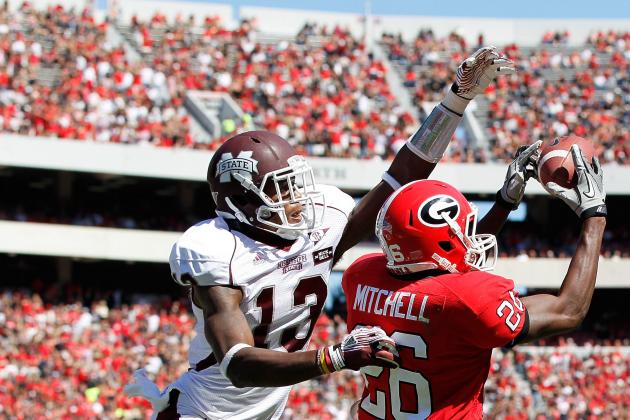 Kevin C. Cox/Getty Images

Mississippi State will win Saturday if they shut down Emory Blake. If last Saturday is any indication, shutting down Blake and/or Phillip Lutzenkirchen shuts down the Auburn passing game.
There is no doubt that Mississippi State will have preseason All-American Johnathan Banks on Blake all day long. If Banks is able to slow Blake and the Auburn passing attack down, Kiehl Frazier will have to look for other Auburn receivers. That is not something that he looked comfortable doing against Clemson.
Look for Auburn to move Blake around with motion and different positions to get him some open looks and to get mismatches against the Mississippi State secondary.
If Mississippi State can limit Blake to just a couple of catches, there is a good chance that the Auburn passing game will struggle and Mississippi State will be victorious.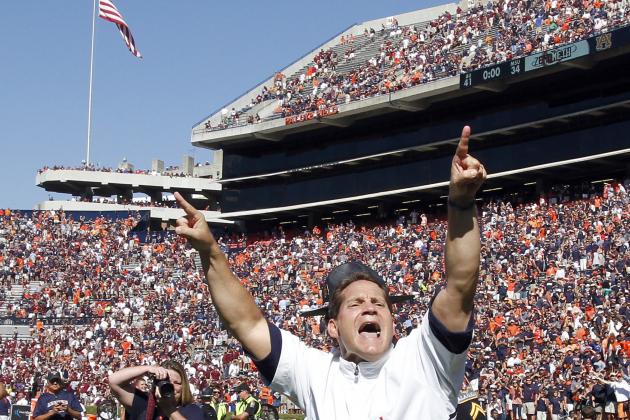 Butch Dill/Getty Images

Mississippi State has neither the offensive firepower nor the offensive playmakers that Clemson has (does any offense in the SEC?). Because of this, the Auburn defense should show a notable improvement from last Saturday.
The return of Reese Dismukes should give a little extra push to the Auburn offensive line, who played better than expected last weekend while three lineman made their first collegiate start. Mississippi State's defensive line does bring a little more experience to the trenches than Clemson did, though.
Kiehl Frazier may have nerves at first, making his first SEC road start. But his starting experience at the Georgia Dome last weekend should provide some level of comfort on the road. If Frazier can be just a little more accurate and simply not make a decision that loses the game for Auburn, the offense should be OK.
With special teams, Auburn should be able to win the field position battle and consistently make Mississippi State drive the entire field to score thanks to Steven Clark's leg.
In another nail-biter, the Tigers come out of Starkville with a win.
Auburn 24, Mississippi State 20.
Follow @TrueBlueAU