Georgia Tech vs. Virginia Tech: Live Score, Analysis and Results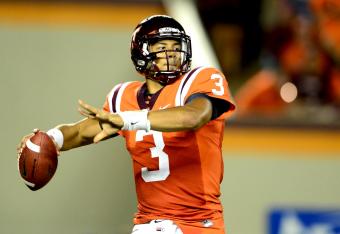 Final: Virginia Tech 20 - Georgia Tech 17

Thanks to a terrible decision by Georgia Tech quarterback Tevin Washington and a 17-yard field goal by Cody Journell, the Virginia Tech Hokies were able to knock off the Georgia Tech Yellow Jackets.
The game was extremely boring for three quarters, but began to heat up in the fourth, when there were a total of 20 combined points scored. As the game went into overtime, Washington threw a brutal interception, setting up the Hokies for a game-winning drive.
The winner of this contest has gone on to play in the ACC Championship in each of the last seven seasons.
Virginia Tech quarterback Logan Thomas finished the game with 230 passing yards and two touchdowns. But everyone will remember the boneheaded decision by the Georgia Tech quarterback more than anything.
Expect the Hokies to possibly slide up in the rankings after this victory and be considered the overwhelming favorites in the ACC Coastal Division.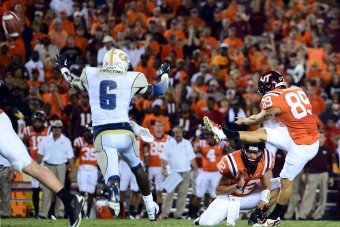 Andrew Weber-US PRESSWIRE
Final: Virginia Tech 20, Georgia Tech 17

Cody Journell makes a chip shot field goal to win the game. What a finish to such a boring event!
Quarterback Tevin Washington will be asked many questions about his late game decision and the outcome may have cost the Yellow Jackets a chance at an ACC title if you are a believer in history.
Virginia Tech is only a yard away from winning this game and Tevin Washington is a yard away from being under a ton of heat.
Kevin C. Cox/Getty Images
What in the world were you thinking Tevin Washington?
Georgia Tech at the very least had a shot for the field goal. After an interception, Virginia Tech has a shot to win this game with a score.
Amazing.
Georgia Tech has a chance to crack this game open. With two tired defenses, this game could go on forever.
Score: Georgia Tech 17, Virginia Tech 17
Hokies kicker Cody Journell was pushing the ball to the left, but somehow the ball found a way to sneak into the uprights.
Overtime here we come!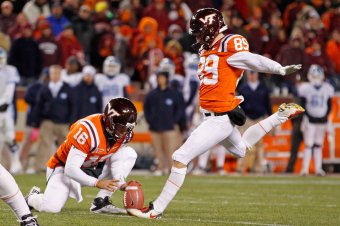 Geoff Burke/Getty Images
Journell has the ball right in the middle of the field, but remember how horrible he hooked the last kick he attempted.
Cody Journell is on the field for a chance to send this baby into overtime!
Little one yard passes aren't going to put you in field goal position for a chance to tie this game. The Hokies really only have three plays left.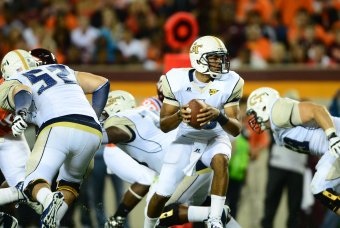 Andrew Weber-US PRESSWIRE
Score: Georgia Tech 17, Virginia Tech 14
So much for a boring game, Tevin Washington was able to find Deon Hill for a 10-yard touchdown to give the Yellow Jackets a three-point lead. Can Logan Thomas respond with some magic of his own?
Funny how a game that was boring for three quarters is quickly leaving everyone on the edge of their seat.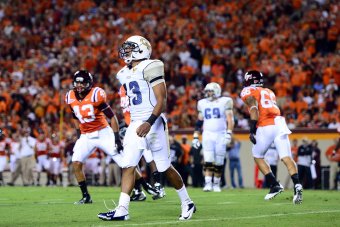 Andrew Weber-US PRESSWIRE
What in the world?
Tevin Washington did a great job of buying time and completed a pass in front of four Virginia Tech defenders. Will the Yellow Jackets be able to put together the comeback drive?
Punting the ball on fourth and six with only three minutes left? Not sure that is the best idea for Georgia Tech.
Virginia Tech's defense is obviously tired and beginning to ware down, this only benefits Georgia Tech, as the Yellow Jackets are trying to put together a possible game-winning drive.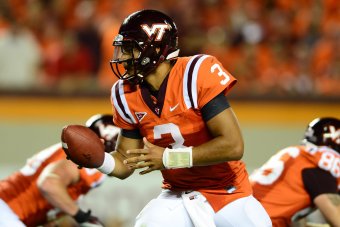 Andrew Weber-US PRESSWIRE
Score: Virginia Tech 14, Georgia Tech 10
Was that a touchdown we saw? No way.
Freshman receiver Demitri Knowles catches a 42-yard pass to give us the first touchdown of the game in forever. This will really test the Yellow Jackets offense the rest of the way.
These drives are getting stopped so quick, I feel like I'm watching the CFL where the offenses only have three downs to move the football.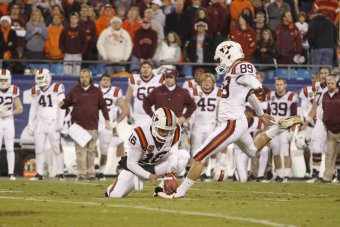 US PRESSWIRE
The team that is known for great special teams has suffered a few issues in this game. Hokies kicker Cody Journell hooked a 38-yard field goal, giving the Yellow Jackets the ball back with a three point lead.
Now I know why they play "Enter Sandman" before the game because I am falling asleep.
Virginia Tech is finally beginning to attack the middle of the field. Why didn't they start doing that to begin with? This can open up the running game with a few more slants.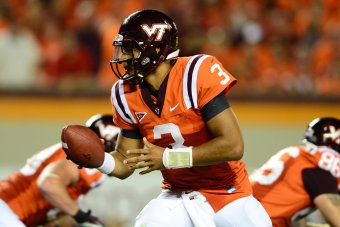 Andrew Weber-US PRESSWIRE
Score: Georgia Tech 10, Virginia Tech 7
David Scully drills a 34-yard field goal to give the Yellow Jackets a lead over the favored Virginia Tech Hokies.
Will Beamer's club be able to move the ball on the next drive to respond to Georgia Tech?
The lead may possibly change, as Georgia Tech is possibly lining up to kick a field goal in the beginning of the fourth quarter.
Yay for more points!
Virginia Tech could surely use one of those blocked punts that we have seen so many times under Frank Beamer.
What do you know? Another punt!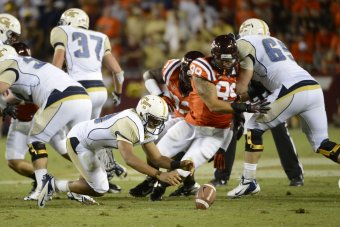 Bob Donnan-US PRESSWIRE
With both offenses refusing to move the football, this game is going to come down to who makes the first mistake in the second half. A turnover will likely be the difference in the ball game.
And Georgia Tech fails to convert on a fourth down, setting up the Hokies with a great chance to take a third quarter lead. It is clear that running the football is not going to work against this Virginia Tech defense.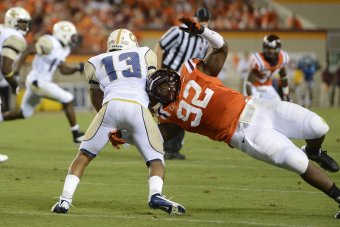 Bob Donnan-US PRESSWIRE
The first half was basically what we all expected. Very little to no offense, as both defenses are forcing the opposing quarterback to throw the football. Logan Thomas has thrown for 90 yards and a touchdown, but hasn't competed passes consistently to scare Georgia Tech. Quarterback Tevin Washington has only thrown seven passes, which is simply no good enough to get this offense moving.
The only reason the Yellow Jackets even have seven on the board right now is because of a misplaced snap on a Virginia Tech punt.
First half stats:
Total yards: Virginia Tech 137, Georgia Tech 107
Rushing yards: Virginia Tech 47, Georgia Tech 55
Passing yards: Virginia Tech 90, Georgia Tech 52
Time of Possession: Virginia Tech 17:12, Georgia Tech 12:48
This article is
What is the duplicate article?
Why is this article offensive?
Where is this article plagiarized from?
Why is this article poorly edited?