WWE Raw Live Results: Reaction and Analysis for September 3, 2012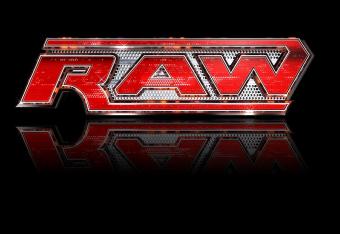 wallpapers-wwe.com

Welcome to the live blog for WWE Raw on September 3, 2012. Here is where you get all the action as it happens live on air.
Last week we saw a bit of improvement from WWE's three-hour show in the form of anger management segments involving Kane and Daniel Bryan.
This week we can expect fallout from CM Punk's brutal attack on Jerry Lawler after their cage match which saw the WWE Champion escape before Cena could get his hands on him.
The show is in Chicago, Punk's hometown, so it will be interesting to see how the crowd reacts to him.
We can also expect more AJ Lee and Vickie Guerrero turmoil after Guerrero made it clear on SmackDown that she is out for AJ's job.
The tag team division has seen some more attention being paid recently, so we might see something involving two contending teams or the champions.
We also have Night of Champions in just two weeks, so there is bound to be some forward movement on rounding out the PPV card tonight.
During the show you are encouraged to engage in debate and discussion in the comments section below.
Make sure to bookmark this page and come back when the show goes live.
Refresh you screen and you should see the newest anger management videos from tonight's show.
Well, that show was certainly interesting. There were a few good matches, some interesting segments, Miz was good on the mic tonight and Paul Heyman driving CM Punk away was the icing on the cake.
Thanks for joining me for the live coverage of Raw and feel free to keep the conversation going in the comments section below.
Punk grabs his WWE title out of the car and holds it up over Cena before driving away with Paul Heyman in the Driver's seat.
WOW! That just took things in a whole new direction.
ADR vs. Cena Part 2
Del Rio rolls Cena back in the ring and grabs a mic and yells at Cena for being beneath him. He stomps on Cena as he runs down the roster and Chicago, which gets him some good heat.
Del Rio says he will break Cena's arm before he locks in the Cross-Arm Breaker but Cena reverses it into the STF. Del Rio barely reaches the mic and hits Cena with it to break the hold.
That was a good counter by Cena. They go back outside the ring and Del Rio hits Cena with a suplex on the ramp for another near fall.
Cena gets back control and then he sees Del Rio's car by the ramp. Cena grabs one of the speakers from the entrance way but ADR cuts him off.
They go backstage and we see Del Rio and Cena fighting backstage. Cena misses with a trash can and Del Rio takes advantage.
Cena runs Del Rio into the interview area and the set gets destroyed. Del Rio goes for the CAB but Cena hits the AA on some cartons.
Punk runs out of nowhere and knocks Cena out. He grabs Del Rio and puts him on Cena for the win.
Winner: Alberto Del Rio
I think we all saw that coming, but it was still entertaining. Punk grabs Cena and drops his face on the hood of his car and then stares ar him.
Del Rio vs. John Cena Part 1
We return from commercial to see Del RIo hitting a backbreaker for a near fall. He keeps on Cena in this falls count anywhere match.
Duelling Cena chants break out as he powers his way to his feet and out of a headlock. He kicks Del Rio and they start trading shots.
Del Rio hits a back stabber for another near fall. They have yet to take advantage of the stipulation allowing for the use of weapons.
Del Rio climbs to the rop and Cena dropkicks him out of the air. Something you don't see every day.
Miz puts over Cena for never walking out on the fans like Punk did tonight. Cena goes to work on Del Rio with a series of signature moves.
He hits the Five-Knuckle Shuffle. He sets up for the AA but Del Rio hands onto the ropes and pulls Cena out of the ring.
He throws Cena into the steps and Miz gets excited that things are finally going outside the ring. Miz points out how Del Rio is not the typical luchador. He has had more valuable commentary tonight than Cole.
ADR stays on Cena as he throws him around outside the ring. Del Rio avoids getting thrown into the steps but Cena hits a clothesline over the steps for a near fall outside the ring.
Cena begins clearing off the announce table, but Del Rio hits a big enziguri to the back of his head for another near fall.
Cena almost picks up ADR for the AA but he gets run into the steel post instead. Cena throws Del Rio over the barricade to buy some time.
He goes for the steel steps and puts them by the table to set up for the big AA we have seen so many times before.
Some guys dressed in a nice Macho Man costume at ringside as Cena picks up ADR and walks him to the table.
Cena walks up the steps but Del Rio reverses into a back suplex through the table. Del RIo rolls Cena over and gets a two count.
I don't know if you guys have been seeing all the pictures and videos I have been adding throughout the show. Refresh the page and they will show up. Sometimes when I add it after the initial post it doesn't show up unless you refresh.
We see a tout from David Otunga about what happened to Ricardo earlier. Wait. Another commercial already?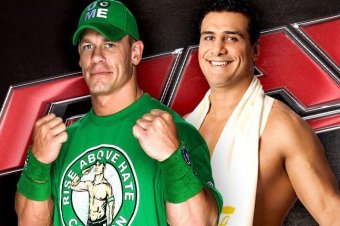 We return to Cole reshowing Punk attacking Lawler from earlier. Miz has done well while filling in for Lawler. We also see Punk deciding to take a personal day.
Miz's mic is a little screwed up when he talks about beating whoever his Night of Champions opponent ends up being. Cole runs down the matches we already know about.
Cena is out first to a mixed, but mostly negative reaction from the Chicago crowd. I wonder if they will boo Del Rio too?
After the breaks we see AJ come out and say the board said she has to apologize and never lay a hand on anyone again.
Vickie makes her apologize twice before slapping her a couple times and leaving the ring. I miss crazy AJ.
Vickie tries to skip but looks like she forgot how. Her laugh over the mic is really annoying. I am shocked she is not getting more heat.
AJ starts pacing in the ring and slams the mic down on the ground. She grabs the chair and starts hitting it against the mat over and over. She screams her head off and pulls at her hair.
This is the kind of crazy I expected. She looks like a truly lost soul as she cried in the middle of the ring.
That was...odd.
Cole plugs Cena vs. Del RIo for after the break
If you didn't get to see Swagger walking out on AJ you can check out the video on YouTube,
Vickie comes out after the match and says she won't leave the ring until AJ comes out to talk to her. She has a chair brought into the ring so she can sit as the crowd sort of sits there not knowing what to do.
We got to commercial like this. AJ should just slap her again and we can go back to the show.
Zack Ryder vs. Heath Slater
I am shocked to see these two in the ring when we return. WWE's red-shirts facing each other should be interesting.
Ryder gets a two count early, but Slater gets him down and starts stomping on him. Slater slaps the back of Ryder's head and Ryder hits him in the gut.
Slater hits a neckbreaker for a near fall. Slater is really playing up the one man band gimmick before he hits a knee to Ryder's face.
Cole and Miz have a good back and forth on commentary during the match. Slater has Ryder in a headlock and he backs him into the corner before Ryder could break out.
Slater runs into Ryder's knees and a missile dropkick. Ryder hits the Broski Boot to the delight of the crowd.
Slater avoids the Rough Ryder, but Ryder slams his face into the mat and hits it on the second try.
Winner: Zack Ryder
Miz freaks out about the fact that Ryder getting a win on Raw is rare. He is being very "tweener" tonight.
Santino vs. Antonio Cesaro US TItle Match
Cesaro is out after Santino with The French Fox, Aksana. Santino gets the early advantage after a slap and a hip toss.
Santino wants to go for the Cobra, but he doesn't use the sleeve and apparently it has no affect without the sleeve on. Lame.
Cesaro is holding Santino back from the sleeve which is on the ground and Cesaro hits his impressive delayed gut-wrench suplex. Is that what you call that move?
Cesaro keeps on Santino and Miz puts him over on commentary pretty well. I gotta give Miz credit, he is doing much better than I ever would have thought tonight.
Santino almost hits the Cobra but Cesaro stops him and hits, what Cole called The Neutralizer, for the win.
Winner: Cesaro to retain
After the match Cesaro makes out with Aksana and Miz says "I don't think they have a problem hugging it out."
Santino is facing Antonio Cesaro after the break in his US title rematch.
WWE has uploaded the attack from Punk to Lawler for those who didn't have a chance to see it.
Not as many Yes chants as you would normally expect. Bryan is trying to hold it together, but Kane's pyro makes him jump. Kane comes out next and it looks like we will see them hug.
I wonder if Josh Matthews will make an appearance since they are showing Kane chokeslamming him from Friday.
Cole gets on the mic and reveals that the choice to win the poll was for Kane and Bryan hug it out. Bryan and Kane both look like they do not care for this decision. Miz wants them to do it.
Bryan starts yelling No at the crowd as they yell Yes right back at him. Kane is the first one to step forward and Bryan slowly meets him in the middle of the ring as a hug it out chant breaks out.
Kane backs away and Miz points out how funny it is that a ref is necessary for this. Bryan holds his arms open for a second but then he starts yelling no at the crowd again.
Bryan gives Kane a chest bump and the crowd does not think it is good enough. The ref says they need to actually hug.
This is beginning to get less funny than when it began. Bryan finally wraps his arms around Kane and then he freaks out because Kane didn't hug him.
OK, it just got funny again as the crowd is now hanting hug him back. Who knew a segment abut hugging could be this insane?
Kane is taking awhile, but they finally hug and the crowd cheers. Now the crowd is chanting one more time. Bryan goes for one last attempt to have them both hug each other.
They finally embrace and they seem to enjoy it. Miz is happy as a clam and Bryan and Kane shake hands afterwards.
They start giving each other playful slaps and Bryan takes it the wrong way and they start hitting each othe harder. Bryan shoves Kane and Kane responds with his own shove.
They look like they want to stop and Bryan tries to calm Kane down, but he just ends up shoving Kane again.
Bryan slaps Kane in the face and now they start brawling. Bryan goes for the No Lock but Kane hits a big boot.
Bryan low bridges Kane and tries to leap off the apron but Kane hits an uppercut. Now they are fighting outside the ring and Kane whips Bryan into the barricade.
Kane grabs a chair and hits Bryan in the gut before they go back into the ring. Kane chokeslams Bryan in the middle of the ring and then grabs the chair and wraps it around Bryan's neck.
Kane goes to the top but three refs get in his way. Bryan ends up hitting Kane with the chair to knock him off the turnbuckle and then he bails to the back.
That segment left me feeling conflicted.
Matt Striker is backstage asking AJ what she will do about the show. She say the Cena vs. Del Rio match is now falls count anywhere.
Bryan's music hits and he comes out in his wrestling gear. The voting was leading with "Hug it out."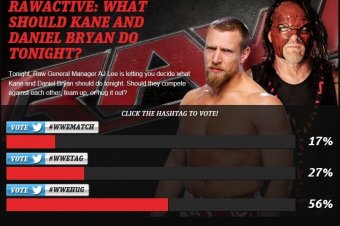 This is how the voting looks so far.
Ryback vs. Jinder Mahal
So I guess this feud is still going on. Ryback has a WWE shirt now. Miz puts Ryback over on commentary.
The Goldberg chants start up immediately, Mahal tries to work on Ryback's arm to take him down, but Ryback throws him off.
Mahal stays on him, but Ryback puts him down again. Mahal gets a knee up as Ryback runs at him twice and he follows up with a knee from the middle rope for a one count.
Miz says Ryback couldn't last in a long match. Cole says Miz would probably spend half the match outside the ring and Miz gets pissed. I kind of like them on commentary together. Miz is acting like how JBL used to act with Cole a little bit.
I miss JBL.
Ryback ends up hitting his finisher for the quick win.
Winner: Ryback
Cole asks how you stop this man and Miz says to make him run. Classic Miz.
Cole talks about Rocky sending some criminals running while filming a movie.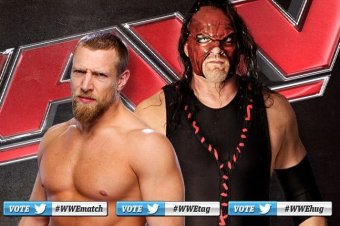 The nightly Twitter vote for Bryan and Kane is #WWEMatch #WWEHug and #WWETag. I want to see them tag together personally.
David Otunga is Alberto Del Rio's lawyer now. I guess he is the new Ricky Ricardo to ADR's Lucy.
YES! Third anger management class. Dr. Shelby is congratulating everyone for completing the course. He singles out Kane and Bryan.
Bryan says he now knows he had an anger problem and he is happy to give Kane a SummerSlam rematch anytime he wants.
Kane says thank you and he will accept the challenge someday and he will do his best not to destroy him. Bryan gets upset and says Kane couldn't do it anyways.
Kane and Bryan both tell Harold to shut up. Awesome. Everyone clears the room as they bicker. Dr. Shelby freaks out and screams at them as he leaves the room.
Kane and Bryan watch him storm off as Kane still holds Bryan by the neck. Good stuff.
Interesting. Jack Swagger is shown walking backstage and AJ asks where he is going. He says he is taking some extended time off and AJ says he can't leave her.
He says sorry and walks away. AJ looks sad as we go to another commercial.
Eve vs. Kaitlyn
Layla joins Miz and Cole on commentary as the bell rings. Eve goes behind Kaitlyn, but Kate reverses and hits a running cross body for a one count.
Miz mocks Layla and the Divas division. Layla says it is actually Eve who is bringing down the division. Layla and Miz argue about her being hot.
Cole is the voice of reason and he talks about Eve showing good sportsmanship in the ring with a hand shake.
Kaitlyn and Eve go back and forth as no one on commentary talks about what is happening in the ring. Eve has Kaitlyn down with a side headlock and Cole finally tries to break things up to talk to Layla.
Eve hits a shoulder block to Kaitly's knee and the ref checks on her. She says she can continue but Eve hits a neckbreaker for the win right away.
Winner: Eve
So Eve beat the number one contender. I guess Kaitlyn is not being groomed to be champion. eve helps Kaitlyn up after the match and shakes her hand.
She goes outside the ring to try and shake Layla's hand and Miz yells that she should. Layla shakes it and the two stare each other down.
After the break we see Ricardo Rodriguez being attended to during the break. I guess it must have been a pretty hard kick.
Eve is out for her match with Kaitlyn.
This article is
What is the duplicate article?
Why is this article offensive?
Where is this article plagiarized from?
Why is this article poorly edited?