Boston Red Sox: 10 Offseason Moves That Would Bring Fans Back off the Ledge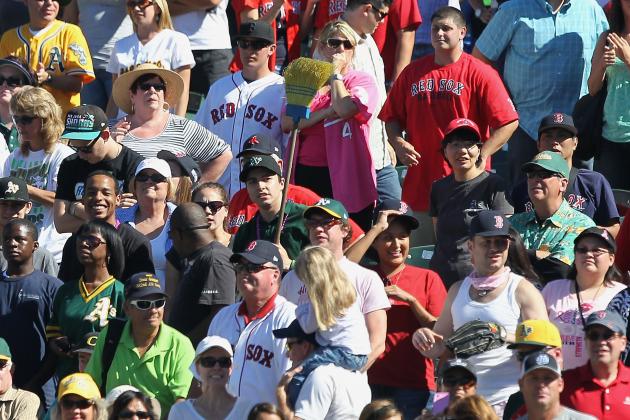 Tony Medina/Getty Images
It has been a troubling season for Sox fans, who have seen their team struggle mightily all season.
After dropping their first six games of a West Coast swing by a combined score of 54-15, the Boston Red Sox can firmly turn their eye towards the offseason.
The honeymoon phase of the post-Dodgers trade Red Sox has worn off, and now fans are left to wonder just how this team is going to rebuild. After the team was trounced in both Anaheim and Oakland, fans' concerns about the Sox's future have never been greater.
Fortunately, the organization has positioned itself so that the horror of the past week (and what will likely continue into September) does not influence next year's team. They are primed to make multiple moves this offseason that will quickly bring the team back to respectability, which at this point is really all fans are asking for.
While it may be a bit of a process to rebuild this team, the low payroll and wealth of prospects give the Sox many options for how to go about building a contender.
Here are 10 things they can do this offseason to jump-start their climb back into the conversation about the best teams in MLB:
Begin Slideshow

»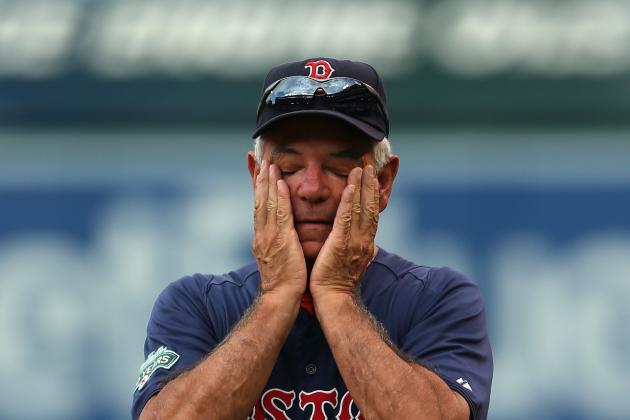 Jeff Gross/Getty Images

While measuring just how much of the team's struggles have to do with Valentine is a fruitless and subjective activity, the fact of the matter is that the Red Sox are posting the team's worst season in 15 years.
That kind of performance starts with the manager.
He may not be the one pitching or hitting, but Valentine sets the tone for this team. Every press conference looks like a funeral, and Bobby V has long since lost the optimism and ever-present smile that fans saw in spring training.
He needs to go.
The lack of respect Valentine receives from his players, ownership and the fans completely undermines any authority he might try to wield. When someone is that ineffective in a position of leadership, a change must be made.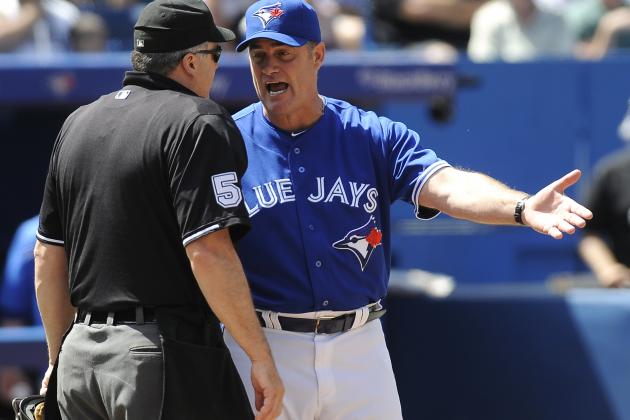 Brad White/Getty Images

Players and fans speak of the Blue Jays' manager in almost reverential terms, and there has undoubtedly been some romanticism of just how great Farrell was as the pitching coach in Boston from 2007 to 2010.
However, the fact remains that this team needs help particularly with its pitchers. Farrell not only has a track record of success (Sox pitchers posted a solid 4.11 ERA over his four seasons), but his years in Boston also gave him personal experience with several key members of the Sox's staff.
While his overall record as a manager (141-154) is less than sterling, Farrell commands the respect of young players and veterans alike. This attitude would not only play better with the fans, but would surely bring better performances out of the players themselves.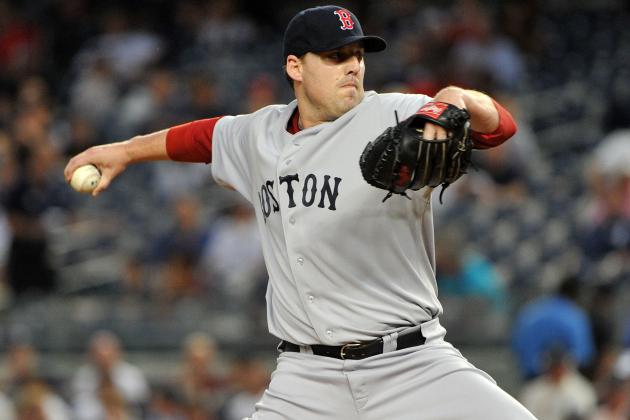 Christopher Pasatieri/Getty Images

A man whose popularity in Boston is roughly on par with Eli Manning and Kobe Bryant, Lackey has simply never fit in during his tenure with the Sox.
After an uneven but decent 2010 season, the right-hander was simply awful last year in recording a 6.41 ERA over 28 starts. Having missed all of this season while recovering from Tommy John surgery, Lackey will have notched a grand total of 26 wins over the first three years of his five-year, $82.5 million deal.
At $15.25 million for the next two seasons, Lackey's salary is quite prohibitive for many MLB clubs. However, due to Lackey missing "significant" time this season with an elbow injury, the club holds an option for a third year at just $500,000.
A three-year, $31 million contract might be a bit easier for teams to swallow, so the Sox may yet be able to find a suitor for the underachieving Lackey.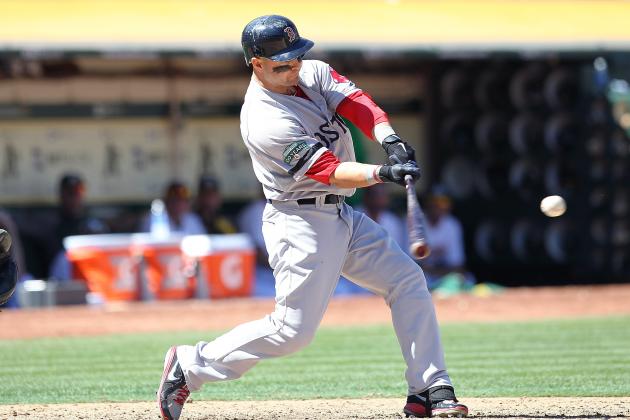 Tony Medina/Getty Images

Ross has been one of the lone bright spots for the Sox this year, and he has rightly earned a big raise over his current $3 million salary.
According to the Boston Globe's Nick Cafardo, the Sox "would like to work out a longer-term deal" with the right fielder. Ross has brought a spark to the clubhouse and a powerful right-handed bat to the lineup, two things the Sox should value going forward.
Fans have grown attached to Ross as well, who has been one of the few players to exceed expectations this year. It would do the Sox a world of good to bring back this fan favorite, whose contract demands will likely be quite reasonable.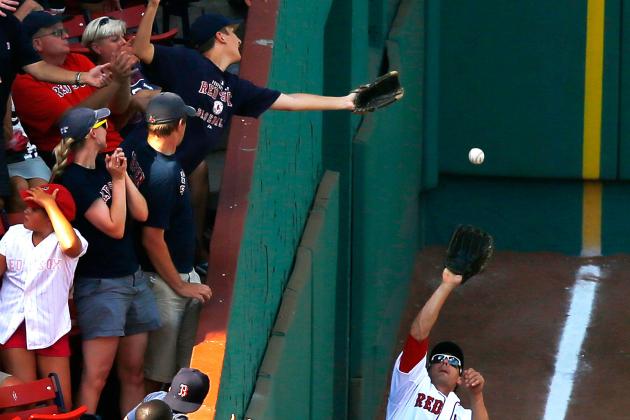 Jared Wickerham/Getty Images

As any local fan can tell you, Fenway Park is outrageously expensive. Even for a terrible seat that faces right field instead of home plate, face value can be as high as $50 per ticket.
These outlandish costs have completely priced out many of the team's most vocal fans, leading to the pink hat revolution that has robbed Fenway of its formerly boisterous, raucous atmosphere.
Now that the team is struggling though, the revolution is over. The fans who were there simply because the team was good and Fenway was the place to be seen around Boston will now find their way to some other event.
The organization needs to bring back true Sox fans by making it financially feasible to attend games again. Lowering ticket prices and actively courting these people will restore some of the mystique that made Fenway one of the toughest places to play in MLB.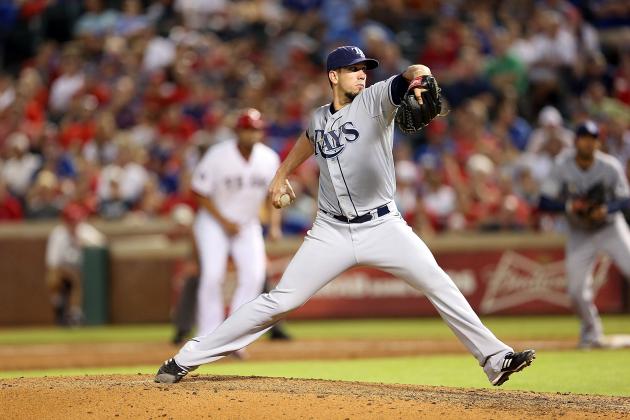 Ronald Martinez/Getty Images

While going for a flashy signing like Zack Greinke may not be in the mix, the Sox would give themselves a huge boost if they added a veteran pitcher to their staff.
James Shields and Shaun Marcum are two players who have extensive experience in the AL East and would likely command a salary substantially lower than Greinke. If the Sox wanted to go even cheaper than those two, Joe Blanton or Joe Saunders could be two other possibilities.
Rather than focusing on which pitcher the Sox end up with, it's more important that they simply sign someone. There's no reasonable way fans can expect a rotation of Buchholz-Lester-Lackey-Doubront-Morales to compete for a division and World Series title.
The depth one of these starters would provide would give the team a huge boost going into the 2013 season.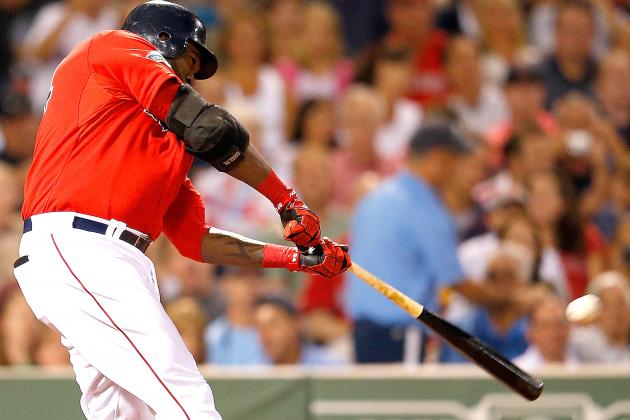 Jim Rogash/Getty Images

Big Papi will once again be a free agent following the season, a recurring theme over the last several years.
Prior to going down with an Achilles injury, Ortiz was enjoying another superb season as he hit .318 with 23 home runs and a 1.026 OPS over 324 at-bats. Given this production, he has rightly earned a multi-year contract that will keep him in Boston for the rest of his career.
Ortiz is the face of this team and a beloved member of its history; a squabble over a few million dollars that would cause the affable slugger to leave town would be a disaster from which this team might never recover.
Given his age (36), it is unlikely Ortiz will live up to the cost of this contract. However, if he leaves town, the legions of loyal fans will likely soon follow.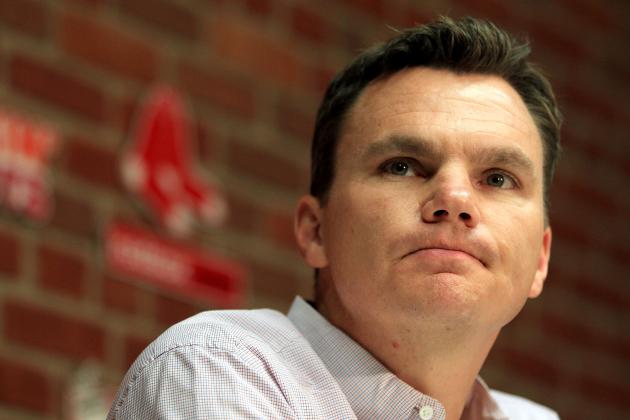 Jim Rogash/Getty Images

It has been no easy feat for Cherington to escape the shadow of his former boss, Theo Epstein. Even though Epstein is now in Chicago, his fingerprints are all over this current team.
It has been difficult, then, for fans to truly view Cherington as an autonomous part of this organization. He has perpetually seemed like an underling, first to Epstein and then with the Bobby Valentine hiring to Larry Lucchino and the ownership group.
The Dodgers trade was a start, but for the Sox to truly seem like they're headed in the right direction, Cherington will need to be granted even more freedom to do as he deems necessary.
Fans' distrust of the ownership group shouldn't leak down to Cherington, whose moves this year have largely been successful. If he can continue to assert himself this offseason, he can build a rapport with fans similar to Epstein's.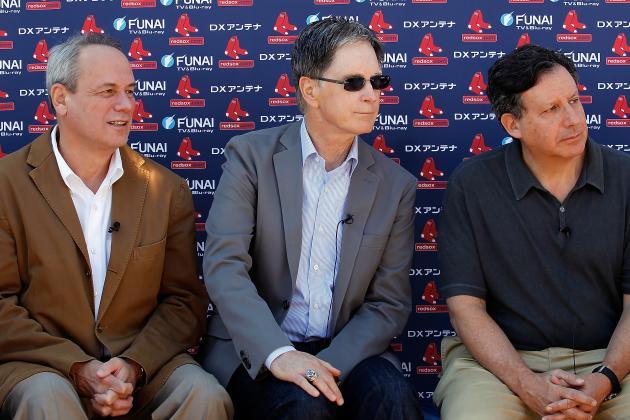 J. Meric/Getty Images

The Sox ownership groups' popularity in Boston has reached an all-time low. After winning two World Series, the owners mistakenly thought they could branch out into other ventures without fans noticing or caring.
Now that the team is struggling, ventures like Roush Fenway Racing and Liverpool FC are no longer acceptable side projects. They are distractions that have played a major role in the Sox going astray from the formula that brought championships to Boston.
To win back fan approval, the owners' job is simple: show up and act like you care.
The Sox organization has seemingly run amok the last couple years, and regardless of whether it's true or not the perception is that this has been a direct result of the owners' neglect. They must assert their presence, then, and vow to restore the glory of their wayward franchise.
Jared Wickerham/Getty Images

While symbolic gestures are largely meaningless until they translate to wins on the field, this is one that the Sox should have made before the current season.
Pedroia's leadership on the field has been exemplary this year; even as the results have continued to get worse, he has played incredibly hard and has indeed been playing his best baseball of late.
The off-field incidents have been largely overblown, and often come down to Pedroia either being a good teammate (defending Kevin Youkilis) or having his actions misrepresented (the New York meeting).
His effort, production and accountability are things the Sox should want out of all their players, and elevating Pedroia to captain would set him as the standard to which all members of the team are held.