UFC 152: Vitor Belfort's 10 Best Career Moments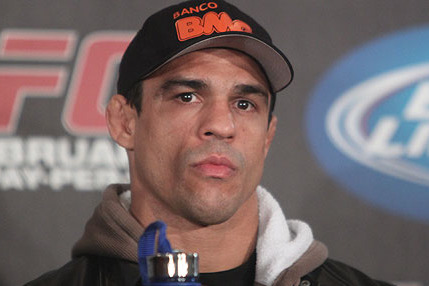 Ken Pishna/MMAWeekly.com
Vitor Belfort has had a solid career, but the former light heavyweight champion would undoubtedly love to wear UFC gold around his waist one more time before he calls it quits. At UFC 152, he'll have an unexpected chance to do that against current light heavyweight titleholder Jon Jones.
Though his past three fights have been contested in the middleweight division, Belfort was offered a late-notice title shot against Jones after it was turned down by top contenders Lyoto Machida and Mauricio Rua. Machida and Rua received their offers after Jones shook off a proposed title fight against Chael Sonnen, who would have stepped in as a late replacement for Dan Henderson at the since-cancelled UFC 151.
Needless to say, this fight against Jones provides a huge opportunity for Belfort, who was still a win or two away from another title shot in the middleweight division. An upset win over Jones would easily leap these 10 moments as the defining accomplishment in Belfort's career.
Begin Slideshow

»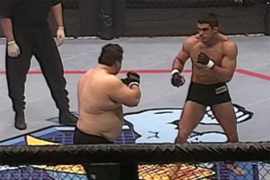 UFC.com
After knocking out Jon Hess 12 seconds into his MMA debut, Vitor Belfort was invited to compete in the UFC 12 Heavyweight Tournament.
In the opening round of the four-man competition, Belfort defeated Tra Telligman via cut in only 77 seconds. Then, Belfort won the tournament with two lightning fast straight left punches in the opening minute of a bout with Scott Ferrozzo.
Belfort didn't beat any marquee names at UFC 12, but it was in this tournament that he put his incredible hand speed on display for the first time.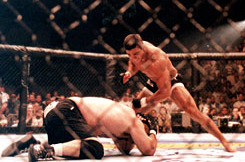 FCFighter.com
Following his success at UFC 12, Vitor Belfort took part in a so-called superfight against Tank Abbott. Though Abbott may not have been one of the more technical fighters in UFC history, his heavy hands rendered him one of the more well-known fighters to compete inside the Octagon in MMA's early years.
Prior to his meeting Belfort, Abbott had never suffered a knockout loss. Nonetheless, Belfort was able to put the brawler away in under one minute.
Winning the UFC 12 tournament was nice, but it was this win over Abbott that really took Belfort's career to another level. Following the win, Belfort was matched up against Randy Couture in a fight for a title shot.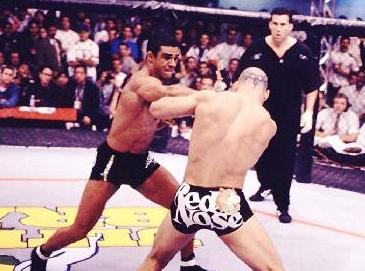 UFC.com
Vitor Belfort would end up losing his first bout against Randy Couture, but it didn't take long for "The Phenom" to get back to knocking out big-name opponents.
Following an armbar of Joe Charles, the first submission win of his career, Belfort was matched up against Wanderlei Silva. The fight marked Silva's UFC debut and took place before "The Axe Murderer" really hit his stride in MMA, but it was still an important fight for Belfort, as he would leave the UFC for Pride in the four years that followed.
In one of his most highlighted performances, Belfort blitzed his opponent with a series of punches until Silva had no more room to retreat. A few more punches along the fence dropped Silva and led to one of Belfort's biggest career wins.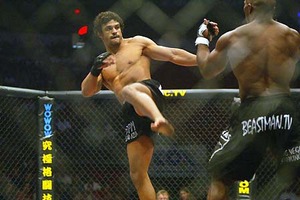 Susumug.com
Following a 4-1 run in Pride, Belfort returned to UFC for a bout against Chuck Liddell in June 2002. Belfort would suffer a decision loss to Liddell, but he remained in title contention heading into his following fight against Marvin Eastman.
Belfort put Eastman away rather quickly, mixing both knees and punches into his finishing blows. It took Belfort only 67 seconds to leave Eastman with one of the nastier cuts in MMA history—a wide gash above the right brow.
It was not only an impressive performance by Belfort, but one that earned "The Phenom" his first shot at the UFC's Light Heavyweight Championship.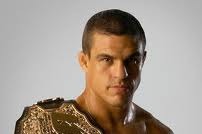 UFC.com
With a win in a rematch against Randy Couture, Vitor Belfort became the fourth man to capture the UFC's light heavyweight belt. Unfortunately, Belfort's win over Couture has been remembered as a fluke for the most part.
In the opening minute of the fight, Belfort landed a grazing punch that caused a cut that impaired Couture's vision to the point that he could not continue competing. Belfort was named the winner and was awarded the 205-pound title, but he ended up returning the belt to Couture in an immediate rematch.
Whether his championship was tainted or not, Belfort accomplished something that only 12 other light heavyweights have been able to accomplish in UFC history. Still, Belfort is striving to win another title in more legitimate fashion, and he'll have his shot at UFC 152.
Jon Kopaloff/Getty Images

After relinquishing his title to Randy Couture, Vitor Belfort fought to a split decision loss against Tito Ortiz before leaving the UFC for a second time. During his absence, Belfort competed in Pride, Strikeforce, Affliction and Cage Rage over a four-year time frame before returning to the Octagon for his current run with the world's premier MMA organization.
Upon his reappearance in the UFC, Belfort met a fellow former champion in Rich Franklin. In knocking out Franklin, Belfort made a huge statement that he was ready to make another run at a UFC title, and UFC responded by offering Belfort a title fight against Anderson Silva in his following appearance.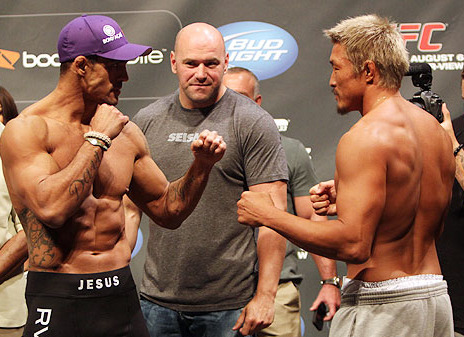 MMAWeekly.com
After he ended up on the wrong side of highlight reels by almost literally eating an Anderson Silva front kick, Vitor Belfort was given a chance to get back on a winning track against Yoshihiro Akiyama.
Belfort overwhelmed Akiyama rather quickly, finishing the fight in under two minutes. For his performance, Belfort earned Knockout of the Night honors.
Had the Brazilian not put together a strong showing against Akiyama, he may have completely fallen out of title contention, but this win kept Belfort's head above water until his next bout against Anthony Johnson.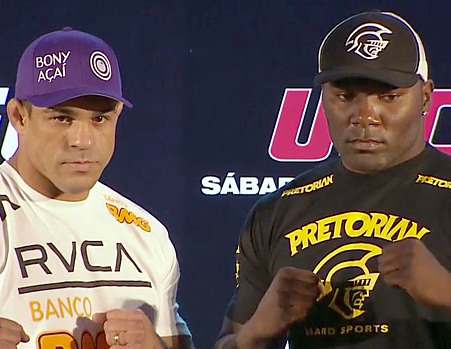 MMAWeekly.com
Anthony Johnson weighed 197 pounds—12 pounds over the 185-pound middleweight limit—when he stepped onto the scale prior to his fight with Vitor Belfort. Not many people would have blamed Belfort for turning down the fight with Johnson at that point, but the same personality trait that would eventually earn him a light heavyweight title shot against Jon Jones drove Belfort to compete at UFC 142.
Belfort not only earned admiration from fans for following through with the fight, but he also went on to submit the much heavier Johnson in the opening round of their fight the following night.
Had Belfort not decided to fight at a significant disadvantage in January, he may not have been offered the opportunity to compete against Jones at UFC 152, as he hasn't been able to compete since his bout against Johnson.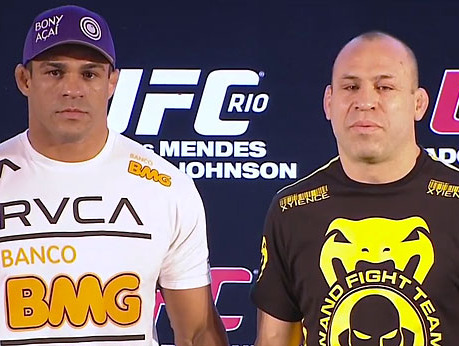 MMAWeekly.com
Vitor Belfort was already a star in the Brazilian community prior to appearing as a coach on The Ultimate Fighter: Brazil. That's part of the reason UFC decided to feature him on the reality series. However, Belfort grew even more in popularity by sharing his knowledge with the young Brazilians who were trying to fight their way onto the UFC roster.
In doing so, Belfort also renewed his rivalry with Wanderlei Silva, who served as the opposing coach on the show. Unfortunately, a coaches fight with Silva fell apart due to injury, but The Ultimate Fighter: Brazil opened the door for the two to meet sometime before they both call it quits.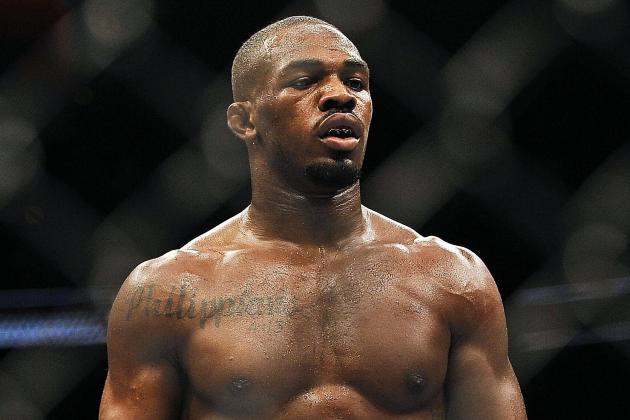 Paul Abell-US PRESSWIRE

Vitor Belfort was one of the few fighters to benefit from the UFC's first ever cancellation of an entire event. As a result of Jones turning down a bout against Chael Sonnen, Belfort would eventually be offered an unlikely (read undeserved) shot at capturing the light heavyweight title for the second time.
Now, the chances of Belfort dethroning Jones are slim to be sure, but no fighter should ever be counted out in this sport. The Brazilian is a single punch away from scoring one of the biggest upsets in MMA history, and a Belfort punch can connect before his opponents even realize it's being thrown.