Jon Jones vs. 5 of the UFC's Best Heavyweights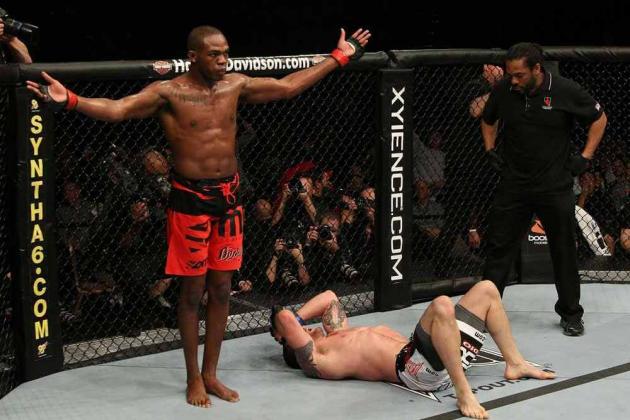 confident.com
It's shocking how a fighter can go from being favored in both the books of the odds makers and in the hearts of fans to being considered a pariah who has more detractors than he has advocates.
Such is the strange case of Jon Jones.
Since he claimed the belt by destroying Shogun Rua, and then proceeded to defend it easily against Rampage Jackson and Lyoto Machida, fans have begun to find things about Jones they simply cannot abide.
Outside of the cage, they don't like his attitude for any number of reasons: he's either too cocky or too fake in his humility or too whatever.
Inside the cage, they hate the fact that he enjoys what seems to be some seriously unfair advantages, mainly based upon his considerable wingspan and reach. Thus, as Jones continues to roll over the opposition at light heavyweight, those detractors continue to call Jones out to the land of heavyweights, where they are positive they would get to see Jones get his comeuppance.
I am not so sure about that. Read on and find out why.
Begin Slideshow

»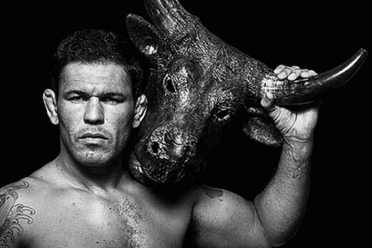 listal.com
Once upon a time, the man known as "Big Nog" was simply one of the greatest fighters on the planet.
He had very good striking, the best submissions in the sport, a granite chin and a love of competition. In short, he had it all.
Of course, no one gets to keep it all forever, and now Jon Jones looks to be his replacement in many ways. We don't know if Jones has the granite chin, but he's got the striking (although very unorthodox), the submissions (again, via unorthodox means—meaning his submission game is more based upon his length of frame and power) and he clearly loves to fight.
If these two men were to fight, this would be more a contest of youth vs. age rather than style vs. style or skill vs. skill.
This fight would stay on the feet—and Nogueira would hold his own here—until Jones decided he wanted to tie Nogueira up, and from there he could toss him to the ground (I know, it sounds as if I think Nogueira is a child compared to Jones, but I don't—toss people to the floor is exactly what Jones does thanks to his length) and get the top position, reigning down elbows until the doctor or the ref calls it.
Winner: Jones via TKO (cut stoppage)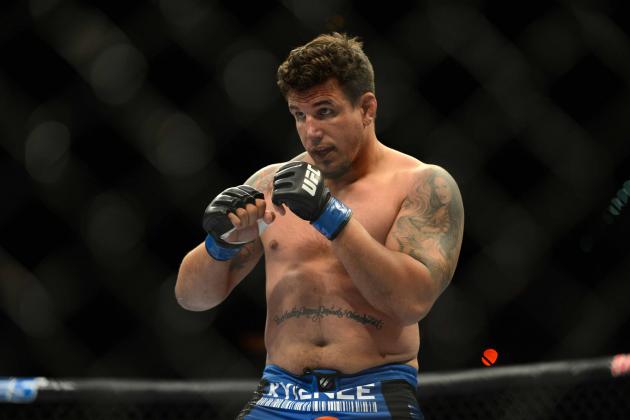 Ron Chenoy-US PRESSWIRE

Much like Nogueira, a battle between Jon Jones and Frank Mir would likely be decided solely in the realm of age. Mir has slowed down a great deal since the early days when he was a submission blitzkrieg machine: I think that version of Mir could honestly submit Jones, probably via kimura.
But now, Jones is the lion and he brings a very difficult skill set to beat. He's faster than Mir, a better wrestler and he's got the ability to take Mir down and from there grind out a decision or a doctors stoppage due to cuts.
I wish I could say Mir has ways to win, but aside from catching Jones with a heavy shot, what is he going to do? Mir has been in the fight game for a very long time now, and he doesn't move about the cage with any real grace. His slow, plodding footwork would basically make him a stationary target for Jones and his unorthodox striking game, blasting Mir at range and moving away.
Also, it's not like Jones is going to let Mir pull the fight to the ground on his own terms, where Mir could get a submission. The only time it would hit the mat is if Jones wanted it to, and that would only be if he could land in a position that would allow him pass Mir's guard easily and quickly, and given Jones frame, that is very possible.
Winner: Jones via UD or TKO (cut stoppage)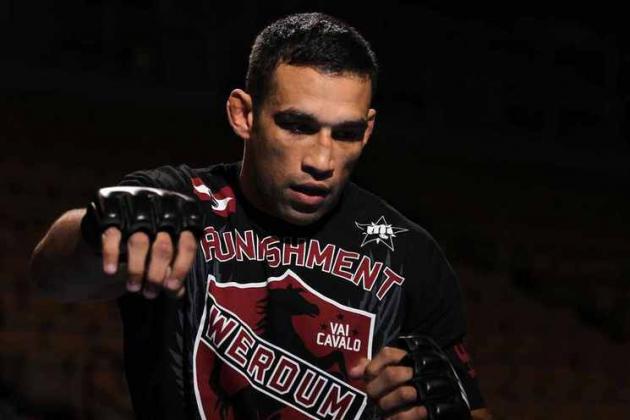 UFC.com
This is a fight that would be much closer than the others as both men are closer in age.
The advantage in raw power and jiu-jitsu skills belong to Werdum, a natural heavyweight who is known for having an excellent ground game that saw him defeat Fedor via triangle leg choke early in their bout.
Speed seems to be even, but I would give a slight advantage to Jones, although not by much.
Striking seems to be about even as well, although I would give Jones a slight advantage in this area as well simply based upon his reach advantage and freakishly adept use of all eight points of contact.
But in the end, the main advantage Jones has is his length, and he uses it like no other, both on the feet and standing. On the feet, he would strike at range and keep Werdum out of his wheelhouse more often than not, and in grappling exchanges, Jones can use his length to exert a great deal of power via simple leverage.
In a very tense, at times exciting and clearly frustrating fight for Werdum, I see it as…
Winner: Jones via UD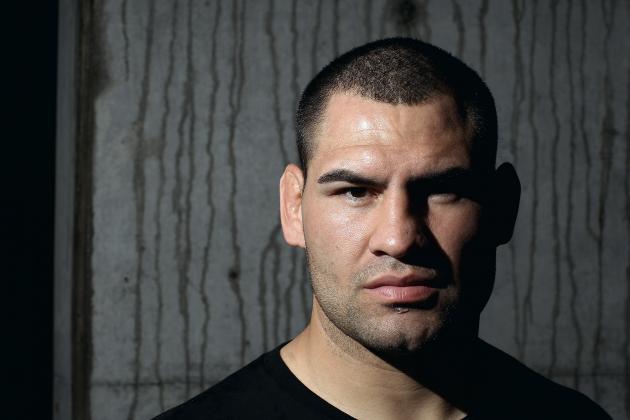 Cameron Spencer/Getty Images

Another fight that is very close due to similar ages is Jon Jones vs. Cain Velasquez.
This is a fight that many Jones haters want to see, although I cannot imagine why. Well, yes I can—it's because they think Velasquez would run all over Jones, especially since he tooled a larger foe in Bigfoot Silva at UFC 146.
Ladies and gentlemen, Bigfoot is no Jon Jones.
In a fight against Velasquez, Jones would enjoy an 11.5-inch reach advantage, in addition to having a sizable target in Velasquez's overly large head. This does not bode well for Velasquez, but we'll get back to those points in a moment.
Velasquez does have some advantages, to be sure. He's probably the stronger of the two (although not by much) and, well…that's about it. His wrestling is great, but the grappling of Jones—while different—is equal to the task, thanks to his reach advantage and the leverage he expertly employs.
Striking? Well, Cain has speed and power in his strikes, but his game is limited to punches and some low leg kicks. Once again, Jones uses all eight points, and he uses them damn well. If Cain had more experience in using his limited (or specified, if you like) striking game, this would be a much closer contest as he would have a much greater chance of delivering the goods to the chin of Jones. But he's still young in the game and getting inside the reach of Jones is damn hard, and staying inside of it is even harder.
Yes, once again, a great deal boils down to reach, even among the ranks of the heavyweights, and I think fans of Velasquez would probably gather after this fight, pile into a bus and drive off a cliff, because after all the pondering is done, and all the talk, Jones still has a reach advantage of damn near a full foot, and no one in the sport of MMA is better at using such advantages as Jones.
Winner: Jones via UD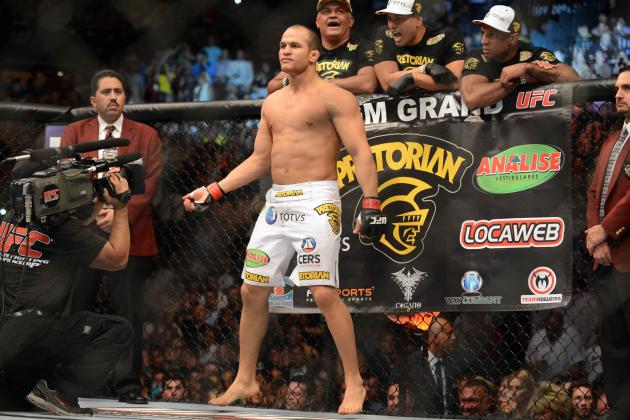 Ron Chenoy-US PRESSWIRE

Now this is a very close match in the areas of age and style, and to be honest, Junior dos Santos looks to be one of the few fighters out there that could give Jon Jones problems and quite possibly knock him out.
Why? The answer is pressure—total and unrelenting pressure.
Dos Santos is about one thing: the knock out. His entire career is based upon this, and in many ways it is his religion, because he has faith that he can deliver the goods. He delivers them best at high speed, going for broke, and that equals pressure.
And that is one thing we've never seen Jones have to deal with.
Thus far, it seems that every one of Jones opponents has tried to out-think and out-maneuver Jones instead of out-fighting him. They all come out, trying to find the right angle or the feint, and all the time they spend looking for that perfect angle or feint, Jones is racking up points and doing some fight math of his own.
Dos Santos wouldn't suffer from that kind of poor game plan, and that would make this a fight for the ages.
I actually see this as two fights. In the first fight, dos Santos is scoring on the feet and winning the fight there, while Jones wins a few rounds with long range attacks and some takedowns that score points but don't really place him in a dominant position to finish. Dos Santos is the aggressor, and Jones is the counter fighter, and in the first fight, the aggressor wins because he's imposing on Jones something he's never had to deal with before. If dos Santos had more experience in striking against someone as elusive as Jones in the world of MMA, I'd say he wins this by KO for sure. But in this case…
Winner: dos Santos via KO in Round 4 or UD (48-47 on all three cards).
In the second fight, the game plan of dos Santos remains the same: attack, attack, attack.
But this time, Jones isn't unprepared and puts his reach to good use by being equally aggressive with long range striking attacks such as hard front kicks to the chest and head of dos Santos, a steady, stiff jab and a strong right hand behind it.
After being hurt by the hands of dos Santos in their first fight, Jones shows he's incredibly motivated to give rather than receive the second time around.
Does any of that hurt dos Santos? Not really, but it does slow his attacks and makes him cover up enough to allow Jones to grab him and toss him to the mat, get top position and go to work ripping into dos Santos face with brutal elbows while maintaining top control through out.
Once again, the reach and leverage of Jones come into play, heavily, and see him secure the day and the victory in the rematch.
Winner of rematch: Jones via UD (49-46 on all three cards)