NHL: The Latest From Twitter on the Potential Lockout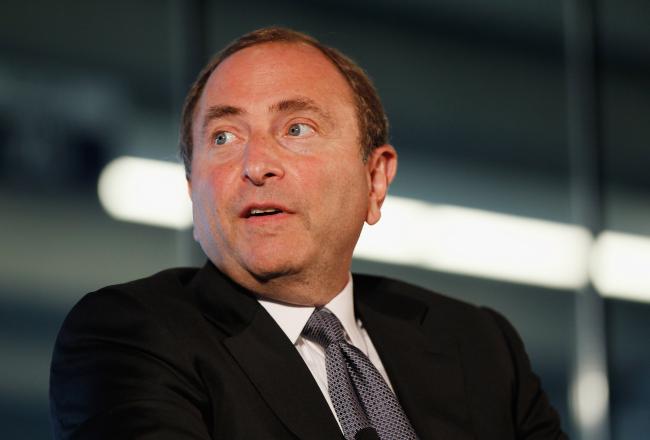 Gary Bettman
Mike Stobe/Getty Images
The NHL and the NHLPA's talks stalled on Friday when the players' new proposal was rejected by the league, and there's no current date for when talks will resume.
NHL saw little or no movement from the players in todays round of discussions and therefore opts to recess CBA discussions.

— Darren Dreger (@DarrenDreger) August 31, 2012
St. Louis Blues star defenseman Kevin Shattenkirk shared his opinion on the outcome of Friday's talks.
Really disappointing to hear the NHL's reaction today, #theplayers put forward another great solution only for it to be brushed aside

— Kevin Shattenkirk (@shattdeuces) August 31, 2012
Darren Dreger of TSN also shared his opinion on Friday's events, and it's hard to disagree with his thinking. In most negotiations, there's rarely a legitimate sense of urgency until the deadline set (September 15 in this case) is just days away.
As ominous as things may seem, the real negotiating won't start for either the NHL or PA until or around Sept 10.

— Darren Dreger (@DarrenDreger) August 31, 2012
September 10 is just one week away, and with the two sides not talking, any optimism that was created last week when NHL commissioner Gary Bettman said there was "meaningful movement" in negotiations is now gone.
Since the talks stalled, and in the days leading up to the halted negotiations, many players, members of the media and fans weighed-in on the possible lockout, and the issues at hand in constructing a new CBA.
Let's look at some of the best tweets on these topics.
Philadelphia Flyers forward Danny Briere talks about the fans during this process (via Tim Panaccio of CSNPhilly.com).
Briere: "We've all heard that Gary [Bettman] thinks the fans don't matter. They're gonna be back whenever we need them. ..

— Tim Panaccio (@tpanotchCSN) August 30, 2012
Larry Brooks of the New York Post shares his opinion on the owners during this process.
NHL approach to CBA negotiations equates to little more than a money grab by and for the league's wealthiest, most profitable franchises

— Larry Brooks(@NYP_Brooksie) August 29, 2012
Andy Strickland of TrueHockey.com makes an interesting point about the owners.
saying the #NHL labor dispute is a battle of the players vs the owners isn't 100% accurate with only a handful of owners on the same page

— Andy Strickland (@andystrickland) September 1, 2012
Player agent Allan Walsh shares with us that Bettman will earn his handsome salary even if there's a work stoppage, which I'm sure will upset fans.
Don Fehr does not collect any salary during a lockout of NHL players. Bettman still collects his $8M.

— Allan Walsh (@walsha) August 31, 2012
Brooks also makes a great point about the owners giving out long-term deals.
7 of last 9 one-way NHL contracts signed are longer than league's own proposed 5-year term limit. Clubs not on board with the Board/Gary.

— Larry Brooks(@NYP_Brooksie) August 30, 2012
While it's easy to call the league hypocritical on this issue, it would be foolish to not sign players like Jordan Eberle and Jeff Skinner to contracts longer than five years when the salary cap hit in their deals isn't very big.
On Thursday, the NHL released its national television schedule, and Mark Spector of Sportsnet.ca shared the opinion of many who don't think we will get to watch some of these games.
The #NHL just released its TV schedule, as if the league is taunting its fans. "Here's what you might be missing..."

— Mark Spector Sports (@SportsnetSpec) August 30, 2012
Minnesota Wild star Zach Parise had some strong comments about Bettman (via Allan Walsh).
Zach Parise: "We're ready to play. We want to play. But Gary''s pretty adamant about his third lockout of his tenure."

— Allan Walsh (@walsha) August 29, 2012
To sum up this piece, I bring to you a fan's reaction on the possible NHL lockout. This fan, along with many others, may actually stop watching the NHL if there is another lockout. It's something that the league and players need to take seriously.
If there is an NHL Lockout I may stop watching NHL hockey.

— Paul (@moorsy04) August 31, 2012
Nicholas Goss is an NHL lead writer at Bleacher Report. He was also the organization's on-site reporter for the 2011 Stanley Cup Final in Boston. Follow him on Twitter.
This article is
What is the duplicate article?
Why is this article offensive?
Where is this article plagiarized from?
Why is this article poorly edited?