Real Madrid vs. Granada: 6 Things We Learned at the Bernabeu
Gonzalo Arroyo Moreno/Getty Images

After a very disappointing start to the league season that included a loss and a draw, Real Madrid finally got their first La Liga victory of the new campaign as they defeated Granada by a score of 3-0.
The visitors to the cauldron of the Santiago Bernabeu stadium did not lie down by any stretch of the imagination. They took advantage of Madrid's lackluster play in the first half to put together some decent attacks on either side of halftime, and it was certainly a performance that Granada could be proud of.
Real Madrid, though, were always more likely to score, and it was clear that the reigning champions were the better team.
While they looked like they completely lacked energy in the first half, Cristiano Ronaldo's second strike in the 53rd minute effectively sealed it, and against 10 men for the final half hour, there was no contest.
So, what did we learn from this important early-season fixture? Let's have a look.
Begin Slideshow

»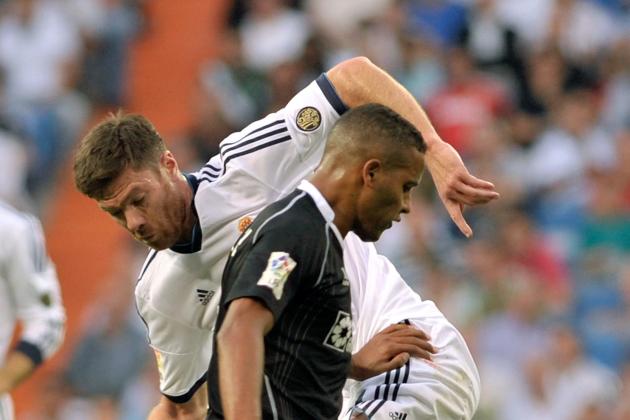 Gonzalo Arroyo Moreno/Getty Images

It was extremely telling that, for long stretches in the first half especially, a crowd of 90,000 at the Santiago Bernabeu stadium sounded as if it was in a huge library.
Such was the boring nature of Real Madrid's play early on, and it took much longer than many had expected for Los Merengues to get into something approaching full speed.
While slick passing and a furious tempo marked the second leg of their Supercopa tie against Barcelona, Madrid simply whacked the ball around their defence and midfield at a lazy pace without even trying to create much.
For more convincing displays in future games, the energy will have to be there for the whole 90 minutes.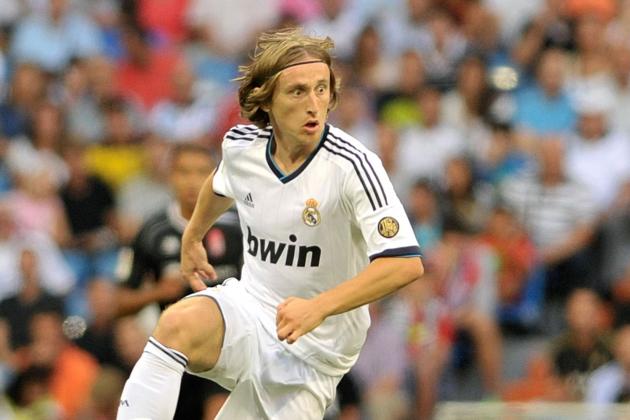 Gonzalo Arroyo Moreno/Getty Images

The only player worthy of my attention in a very sleepy first half (and beginning of the second) was the second-newest addition to Real Madrid, Luka Modric.
Assuming Mesut Ozil's place as the creative hub of midfield, the Croat did not disappoint, with some of the only incisive, crisp passing that was on display early on and a real initiative to get forward.
Despite only having a limited amount of time to build up his fitness and train with his new teammates, Modric seemed like he had been with Madrid for a year, linking up well with the rest of the midfield and reacting instinctively to the runs of his forwards.
I don't see Ozil losing his place unless Jose Mourinho simply gets tired of one of his best players, but Modric is a very viable alternative.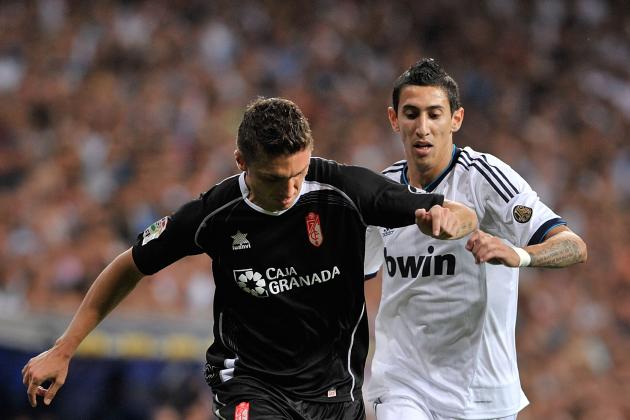 Gonzalo Arroyo Moreno/Getty Images

Make no mistake: This was not one of those games in which the supposed whipping boys suddenly take the game to their opponents and surprise them with great play.
What Granada did do was easily soak up the little pressure that Real Madrid decided to put on from a very early point, and, when their moment came, sneak up on Madrid with some good attacking that, on a different day, could have resulted in a goal.
Not spectacular, I'll admit, and Los Blancos' defence held tight to prevent Iker Casillas from having to do much of anything throughout the match.
But the dangerous mentality of underestimating opponents and contenting yourself with safe play when a goal could easily be pursued is something that Real Madrid will have to shake out of their collective system, and quickly.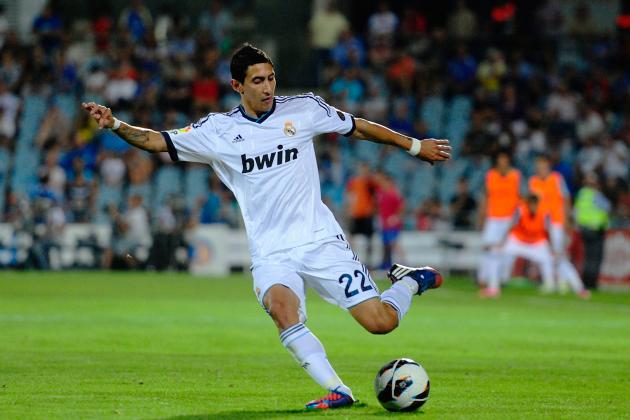 Gonzalo Arroyo Moreno/Getty Images

Jose Mourinho was likely just resting Angel di Maria after an exhausting match against Barcelona a few days ago, but, whenever possible, he should try to get the winger in the starting XI.
When di Maria was brought on for the largely ineffective Jose Callejon at the start of the second half, Madrid's attack almost instantly perked up, and the right wing was suddenly a vein through which most of the team's attacking play flowed.
Especially on the counterattack, the Argentine was outstanding.
It was his excellent ball, after some good running on the break, that set up Cristiano Ronaldo's second, and he was constantly involved when Madrid finally grew into the game.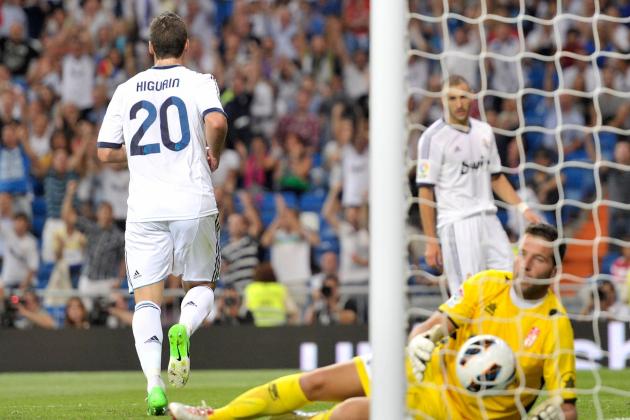 Gonzalo Arroyo Moreno/Getty Images

Again, Gonzalo Higuain could have simply been dropped from the starting XI because of fatigue, but it is clear that he is Jose Mourinho's best striking option at the moment.
Karim Benzema was not terrible, but the Frenchman was one of the main culprits of Real Madrid's lackadaisical approach to the first half that produced only one fluky goal from Cristiano Ronaldo.
When Higuain came on for Ronaldo, he immediately proved to be a nuisance in and around the penalty box, and it was not surprising that his great movement led to his fourth goal in as many games this season from a simple tap-in.
With the form he's in, Mourinho will surely find it extremely difficult to bench him.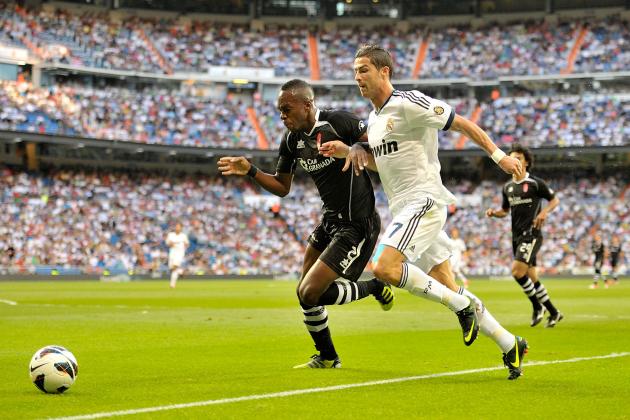 Gonzalo Arroyo Moreno/Getty Images

Cristiano Ronaldo appeared to have what, for him, was a very routine sort of game; a few of his flicks and tricks came off, he saw a lot of the ball and, of course, scored multiple goals.
When he scored his 150th goal for Real Madrid with his second strike, it seemed a tad odd that he did not celebrate it, and, in retrospect, he didn't seem too happy on the pitch.
Well, it appears as though we might have an explanation for that.
Apparently, Ronaldo is dissatisfied with the club (per ESPN Soccernet), and, though he won't say why, it must be something worrisome for him to publicly mention it after a match.
Whatever his gripe is, we saw once again (although we certainly didn't need to) how important Ronaldo is to Real Madrid's success, and how much of it depends on keeping their best player happy.
While this was a solid win for Madrid, it might be overshadowed by something we don't yet know about.