Final Game-by-Game Predictions for the San Francisco 49ers' 2012 Schedule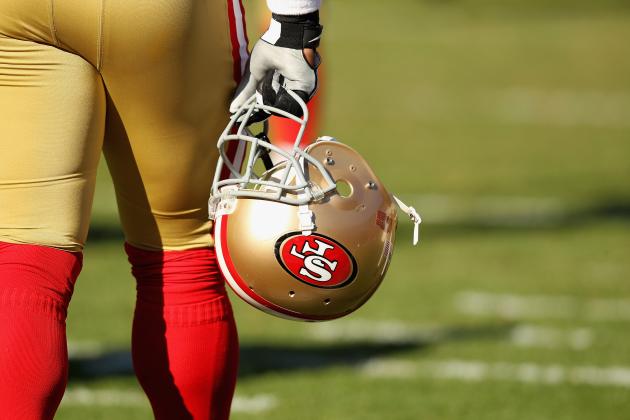 Ezra Shaw/Getty Images

The 49ers are days away from their Week 1 matchup in Green Bay against the Packers.
San Francisco is coming off a successful 13-3 campaign, in which they reached the NFC Championship—a stones throw away from the Super Bowl. After consecutive losing seasons, this organization has done a complete one-eighty, restoring a once-storied franchise to prominence.
This 49ers are now back on the map and will not be sneaking by anyone in 2012. On the contrary, they will be the hunted this year.
Additionally, the team has a much more difficult schedule this season. Even though their above-par level of play may endure, there is the possibility the 49ers fall below double-digit wins in 2012.
What their final record might be is dependent on the question of whether they can match a number of irregularly high statistical categories. The win-loss column will also be reflective of the progress—or lack thereof—on the the offensive side of the football.
For preview analysis and predictions for the 49ers' full 2012 schedule, continue through the following slides.
Begin Slideshow

»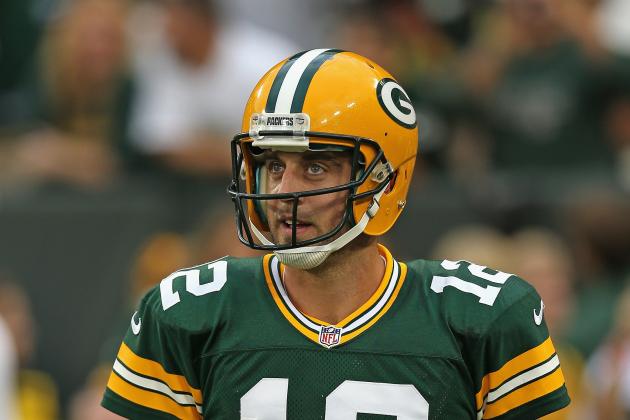 Jonathan Daniel/Getty Images

What a challenging beginning to the 2012 season for the San Francisco 49ers. Yet what an opportunity for them to prove themselves as the new power in the NFC.
The 49ers have the grandest aspirations on their minds, and they know that to achieve their common goal, the road goes through Green Bay.
In Week 1, this match is being set up as America's Game of the Week. One-time league and Super Bowl MVP Aaron Rodgers will be leading the Pack against San Francisco's ultra-physical defense. This will be a showdown between great offense and great defense, where either team could emerge the victor.
In 2011, Rodgers only lost one game—Green Bay was that good. The Packers and Niners had two of the best records in the NFC last year, but they did not face one another.
Given what these two teams are trying to accomplish, this game almost seems necessary. To be the best, you have to beat the best. And while the Giants are the reigning champs, many look to the Packers and 49ers as favorites in the conference.
After defeating teams with potent passing attacks in '11—Detroit, Philadelphia, New Orleans and New York—the Niners have shown they have a formula to limit what makes those teams effective. San Francisco's defensive line enables them to successfully pressure three to four rushers, allowing them to drop the rest into coverage.
The 49ers defensive line versus the Packers offensive line should be the mismatch of the game. To narrow it down further, Justin Smith on Marshall Newhouse is an unfavorable individual matchup for Green Bay.
It also does not help the Packers to be one-dimensional. Although they've acquired Cedric Benson, this team does not run the ball, and it's not like they could against the Niners anyway. Rodgers is going to throw 40 to 50 times in an attempt to simply outscore San Francisco.
If the 49ers limit Rodgers—and thus the team—to three touchdowns and score more than 24 or 28, they can win this one. The Niners should play Rodgers similar to the way they played Drew Brees in the playoffs last year—pressure with few and play tight coverage with many.
Additionally, if the 49ers can win the turnover margin and score touchdowns in the red zone, they should be able to pull off a surprise upset at Lambeau.
Winner: 49ers
Monday's headline:
"Packers fall to Niners, potential new supremacy in NFC"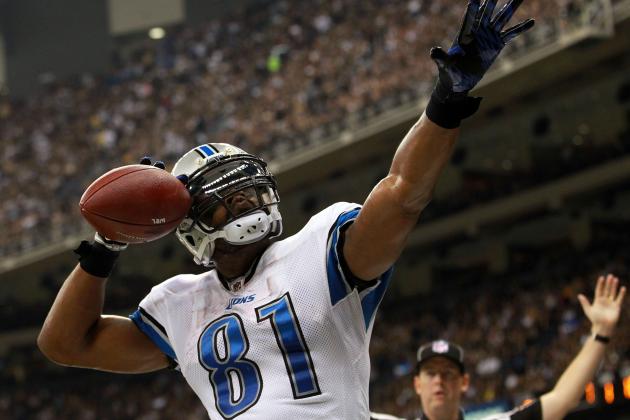 Ronald Martinez/Getty Images

This could be a closer, more competitive match than San Francisco's Week 1 foe.
The Detroit Lions will be traveling to the Bay Area to take on the San Francisco 49ers at Candlestick Park. This will be the 49ers' first home game of the 2012 season, where a lot of new additions will make their debut at the 'Stick.
This game carries with it a sensitive, personal undertone after a emotional grind-it-out game in the Motor City last year.
These teams are similar in that they've made recent surges after being the laughing stock of the NFL. Now competing at a high level in the same conference, Jim Schwartz and Jim Harbaugh may feel there is only room for one of them.
This will be a very physical and confrontational matchup.
Since this game comes early in the season, the Lions roster puts them at a slight disadvantage. They will not be at full strength since they've had suspended players and players with injury. Some of the notable names are Mikel Leshoure, Javhid Best, Nick Fairley and Aaron Berry.
After multiple legal offenses, the Lions were forced to make an example out of someone and did so by releasing CB Aaron Berry. This loss comes as a hit to an already ill-equipped secondary. Leshoure, Best (PUP) and Fairley are also expected to be unavailable in this Week 2 match.
Regardless of the presence of these players, Detroit does pose a serious threat. The Lions offense is focused around its premier weapon, Calvin Johnson.
The 49ers have had relative success against Johnson, who most consider to be the most dangerous offensive weapon in the league. In 2011, they were the first team to keep him out of the end zone after he was averaging two touchdowns a game at a seemingly unstoppable pace.
San Francisco has a number of talented cornerbacks and safeties that can challenge Johnson. Though it will be awfully difficult for the Niners to keep him scoreless for two consecutive games.
The 49ers can help themselves out by keeping him off the field with a steady, methodical approach to the run game. The Niners had a huge day on the ground against them last year, and in 2012, this is a much improved ground unit. Harbaugh and offensive coordinator Greg Roman may really break out their bag of tricks when it comes to creative run plays.
I like San Francisco to play great defense and move the ball effectively on the ground in order to set up their shots against a relatively weak secondary.
Winner: 49ers
Monday's headline:
"San Francisco off to hot 2-0 start with big wins over NFC contenders"
Patrick Smith/Getty Images

The Minnesota Vikings just aren't very good. The truth is they're a couple years away from competing with a team like San Francisco. This does not even strike me as a trap game—the Vikes are just too young, inexperienced and outmatched.
However, there are a couple interesting matchups and storylines to add some flavor to this game.
The first that comes to mind is Jared Allen versus Joe Staley. Allen was the NFL's leading sacker in 2011 with a whopping 22 takedowns. Last season, Allen and Staley both made the Pro Bowl, so this will be a high-caliber matchup all day long.
Vikings star running back Adrian Peterson is also looking to return in a big way this year. Peterson has been recovering from an ugly ACL injury last year, which required surgery. This is arguably the greatest fear for an athlete, as it's been a notorious career-ender. It's hard to be the exact same player after an injury like that, but Peterson is no ordinary athlete.
It will be interesting to see how he comes back. And as two high first-rounders in the 2007 NFL Draft, it will be good to see Adrian Peterson and Patrick Willis clash once again.
Niners' new wide receiver, Randy Moss, will also be suiting up against the team he made his name with. Moss was drafted by Minnesota in 1998, which is when the legend began. That year, Moss set individual records and was part of one of the highest scoring offenses of all time.
It's interesting because, in a year that Moss is looking to define his legacy, he will be in proximity of where his story first began.
Winner: 49ers
Monday's headline:
"49ers steamroll NFC North with three straight wins to start 2012"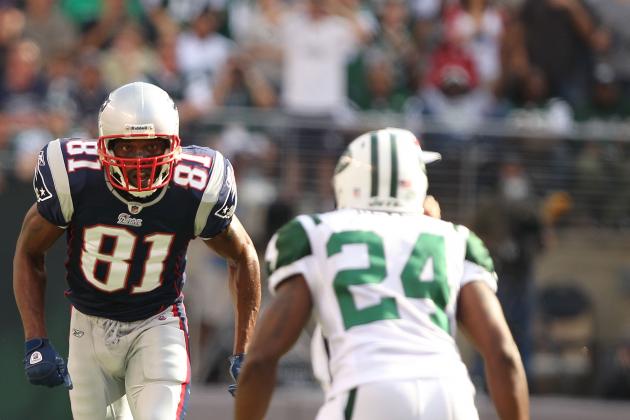 Al Bello/Getty Images

In Week 4, the 49ers (3-0) go on the road to face full-time model and part-time quarterback Mark Sanchez and Cirque du Soleil—err, the New York Jets.
The Jets are outmatched virtually everywhere in this one. Given the depth and talent the 49ers have, it's going to be hard for the Jets to compete. Some of the Jets' biggest question marks on their roster come at such crucial positions.
The "competition" between Mark Sanchez and Tim Tebow is one of the most unimpressive quarterback situations in the entire league.
There are really only two players that stand out, and those are All-Pros Darrelle Revis and Nick Mangold. The Jets have a lot of second-tier players like Santonio Holmes, Antonio Cromartie, LaRon Landry, Dustin Keller and Shonn Greene—but even on paper, it doesn't appear to be enough.
And even when you take a step back and look at the big picture of both organizations, the 49ers are just in infinitely better shape than the Jets. For Gang Green, this offseason has represented nothing but lack of organization, lack of leadership and just general disarray.
In this lopsided competition, the matchup of Moss versus Revis will be the one to watch. These two are familiar with one another and have a history. Moss has gotten the better of the league's best cornerback before, so No. 84 should be a factor.
This is Rex Ryan's "Twilight Zone" matchup.
In this game, the Jets head coach will be confronting the team he was meant to build. In a lot of ways, the schematic of the 49ers is what Ryan's Jets were supposed to look like.
The formula which makes the 49ers a successful ballclub and gives this team an identity is what Ryan has been trying to but failed to establish in New York. He has been trying to build a hard-nosed running team with passing capability, supplemented by an elite defense.
This is the makeup of the 49ers. Ryan's team made it to the AFC Championship twice before with that design, but this squad has since dissipated into something else all together.
Overall, the mismatch of the game here will be the 49ers coaching staff over the Jets coaching staff. And for that reason, I think this match has blowout potential.
Winner: 49ers
Monday's headline:
"Gang Green shutout at home at the hands of Alex Smith and the 49ers"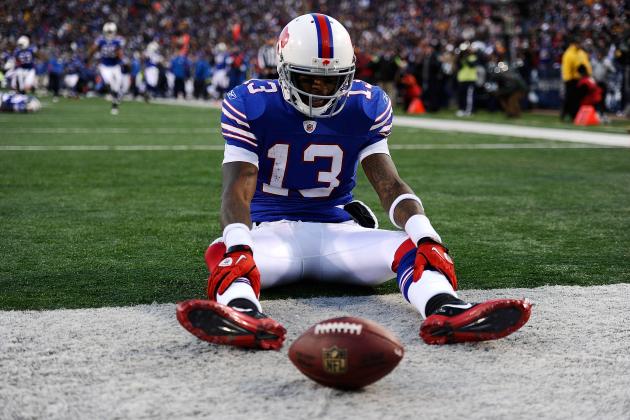 Karl Walter/Getty Images

The 49ers return home high off a big win against the New York Jets. At Candlestick Park, they are set to host a second consecutive AFC East opponent in the Buffalo Bills.
The Niners are carrying over confidence and enthusiasm after a big 4-0 start to the season. And including but not exclusive to big wins over the Packers and Lions, this match will be close to a trap game.
One of the big matchups of the day will be in the trenches where the Bills defensive line takes on the 49ers offensive line. In the trenches, Buffalo's defense could have the advantage over San Francisco. With Mark Anderson, Marcel Dareus, Kyle Williams and Mario Williams, the Bills could quickly turn this game into a sack-fest.
A lot of people also forget that on offense the Bills have a 6'7" pass-catcher in tight end Scott Chandler. The Buffalo TE brings a tremendous size advantage and is primarily used as a receiving target since he lacks ability as a blocker.
On the outside and in the backfield, they also have Stevie Johnson and Fred Jackson—two top-15 players at their position.
The challenge the Bills bring is that they are very balanced, and to the 49ers, they are an unfamiliar team.
Buffalo has an offense that can run-and-gun, and they possess a defense that can pressure and take the ball away. San Francisco plays Buffalo close, but they suffer their first loss of the season at home, dropping to 4-1.
Winner: Bills
Monday's headline:
"Bills knock off formerly undefeated 49ers in sack-o-palooza of Alex Smith"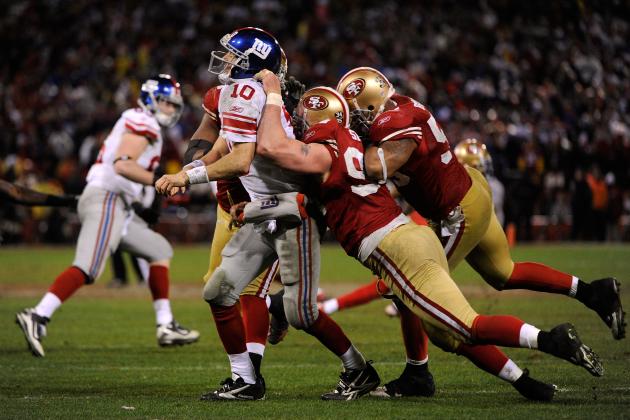 Thearon W. Henderson/Getty Images

The 49ers enter Week 6 furiously motivated, coming off their first loss of the season.
San Francisco will be taking on the defending Super Bowl champion New York Giants at Candlestick for the third time in two years. Needless to say, this matchup will be personal.
After what happened in the NFC Championship, the Niners were left with a bad taste in their mouth. Eli Manning took twenty hits the last time these two faced off, and on more than one occasion, he was looking out of his earhole. But nevertheless, the Giants emerged with the win and went on to win the Lombardi Trophy.
Coming off a loss and being at home, the 49ers have an edge in this one.
San Francisco is 1-1 the last two times they played the Giants. They have the personnel and coaching to take down such a competitive opponent. And while the G-men have been known to get hot in the playoffs, they are not a stellar regular-season team, finishing 9-7 last year.
And since their last matchup, former Giants Brandon Jacobs and Mario Manningham have joined the 49ers, strengthening their offense.
This will be a very close game that should be decided on who can capitalize on the other team's mistakes.
Winner: 49ers
Monday's headline:
"49ers bounce back, secure close win in slobber-knocker"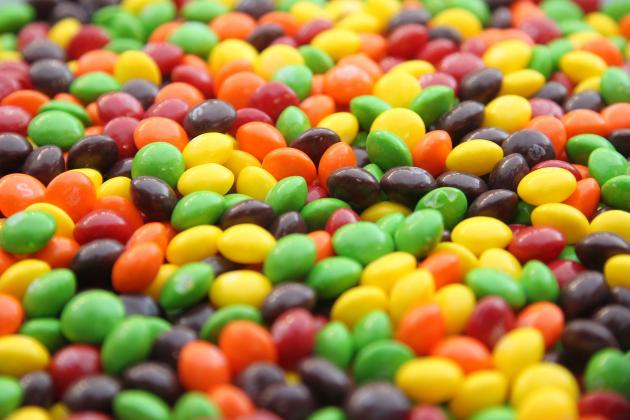 Otto Greule Jr/Getty Images

The Seattle Seahawks have continued to improve immensely. In the NFC West, the 'Hawks pose the biggest threat to the reigning division champion 49ers.
The Seattle secondary has become widely popular, having stability at all four starting spots in their base package. Brandon Browner and Richard Sherman lead the cornerbacks, while Earl Thomas and Kam Chancellor hawk in their defensive backfield.
On offense, Marshawn Lynch is certainly on the 49ers radar as the only player to break a hundred yards rushing and the first runner to break the plane against them in '11. Lynch is a hard runner whose strong-willed style matches the mentality of the 49ers front.
The familiarity and competitiveness between these two teams could yield any outcome.
The edge San Francisco has in this one is the home-field advantage and the fact that Jim Harbaugh has Pete Carroll's number. Stemming back to their days in the PAC-10, Harbaugh and Carroll faced off regularly, leading Stanford and USC, respectively.
In Harbaugh's debut in the NFC West, the rookie head coach led the 49ers past Carroll's 'Hawks twice.
Winner: 49ers
Friday's headline:
"49ers inch out win versus rival Seahawks"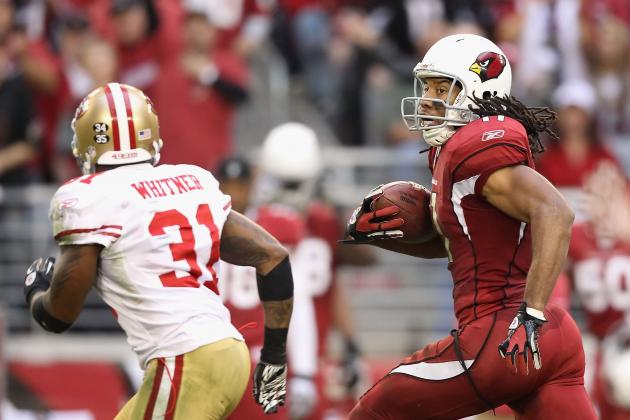 Christian Petersen/Getty Images

On "Monday Night Football," San Francisco will have their second divisional matchup of 2012 against Arizona.
The Niners went 1-1 against the Cards last season, but Arizona appears even shakier entering 2012. They had one of the more recognizably bad offseasons, missing on a major signing and putting on poor exhibition showings.
While the defense has grown, the offense has struggled to find an identity.
In particular, the Cardinals quarterback situation has been a mess and might only be worse by the time Week 8 rolls around. The Kevin Kolb experiment has failed miserably, and it's left the franchise to lean on John Skelton for a second year in a row.
Of course, Larry Fitzgerald is always a threat, no matter who is throwing to him. But with a more legitimate passer and offensive line help, this team is a threat in the NFL. Fitzgerald can only do so much when his quarterback is having difficulty staying vertical.
The 49ers should still put on quite the display against the Cardinals, locking up a third straight win entering the bye week.
Winner: 49ers
Tuesday's headline:
"49ers enter the bye week atop the NFC West"
The 49ers enter the bye feeling good about themselves. Entering their week off, San Francisco is coming off three straight wins, including two straight division victories over the Seahawks and Cardinals. They also managed to win big games against the Packers and Lions to start the season.
With a 7-1 record, the Niners should be atop the NFC and in the upper-echelon of teams in the league.
Entering Week 10, the San Francisco will be well-rested for yet another division opponent in the St. Louis Rams.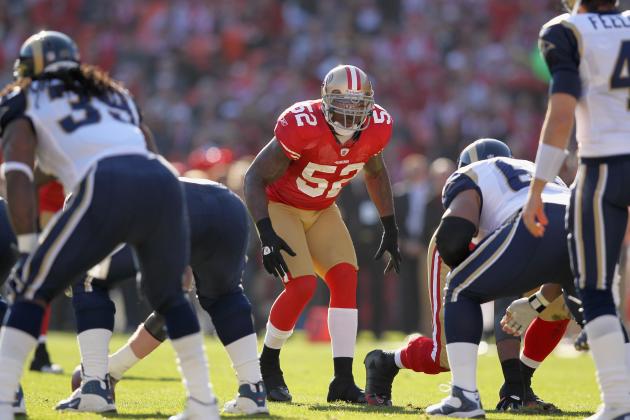 Ezra Shaw/Getty Images

This is a much different Rams team than what was fielded in 2011. They, like the 49ers, have undergone a pretty significant organizational overhaul. With new head coach Jeff Fisher, St. Louis should be a much more focused and competitive group.
The Rams also added an array of talent via the NFL draft and free agency. They brought aboard players like Michael Brockers, Brian Quick, Janoris Jenkins and Cortland Finnegan, who should all be impact players right away.
In Fisher's first match-up against the 49ers as the coach of the Rams, he may experience some growing pains. The Niners are a tough matchup on any day, especially for a team in a brand new situation.
I would expect a bit of a back-and-forth between these two teams, but ultimately, San Francisco should emerge the victor. The Rams are on the right track, but they aren't where they need to be yet. The divisional games between these two should really start to heat up next season after everyone has had time to settle in.
Winner: 49ers
Monday's headline:
"49ers' Moss scores two in win over Rams"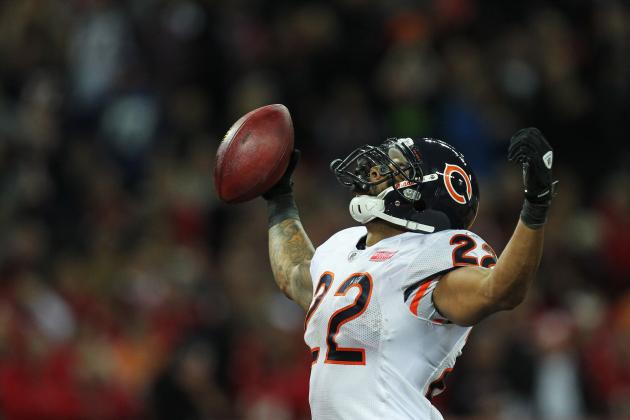 Streeter Lecka/Getty Images

San Francisco comes in over-confident at 8-1, coming off big win against St. Louis.
The Bears are a talented and balanced football team. They had a strong offseason, upgrading their offense to help support their much-depended-on defense. The three major acquisitions of the offseason were Brandon Marshall, Michael Bush and Alshon Jeffery.
Chicago presents an equal threat to run or pass, and that makes them a challenge for San Francisco. The Niners have an edge when they can force teams to be one-dimensional, but the Bears should be able to sustain balance for sixty minutes.
The Bears also have a premier pass-rusher in defensive lineman Julius Peppers. Chicago moves Peppers around, as he could present challenges for both Joe Staley and Anthony Davis. If he has a big day wreaking havoc on the quarterback, the 49ers could be out of this one quick, fast and in a hurry.
Bears shock the 49ers at home on "Monday Night Football."
Winner: Bears
Tuesday's headline:
"Marshall, Bears topple 49ers at Candlestick Park"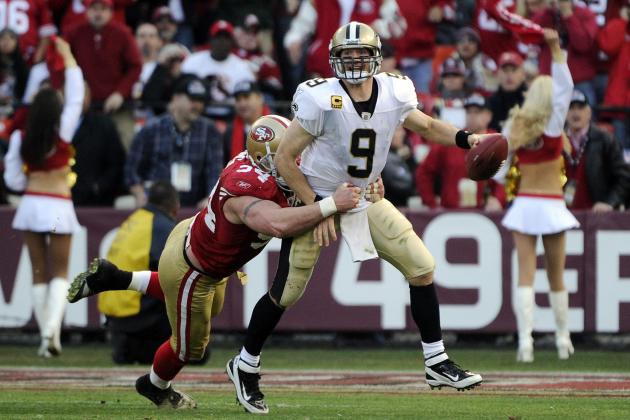 Thearon W. Henderson/Getty Images

The much-anticipated rematch between the 49ers and Saints takes center stage in Week 12.
The Niners will travel to Louisiana to take on Drew Brees and the Saints at the Super Dome. Brees and that high-flying offense operate at a record-setting pace on their home turf. One could say it's a built-for-dome offense.
That same unit was able to come to the spongy grass field in San Francisco and, on a bad day, put up 30-plus against the league's best defense.
The 49ers will be coming hard and have a formula to the beat Brees and the Saints.
Even without head coach Sean Payton, Joe Vitt will be back, and the Saints should have enough to get it done at home against the powerhouse Niners.
Winner: Saints
Monday's headline:
"49ers drop two in a row, Harbaugh's first back-to-back losses in NFL"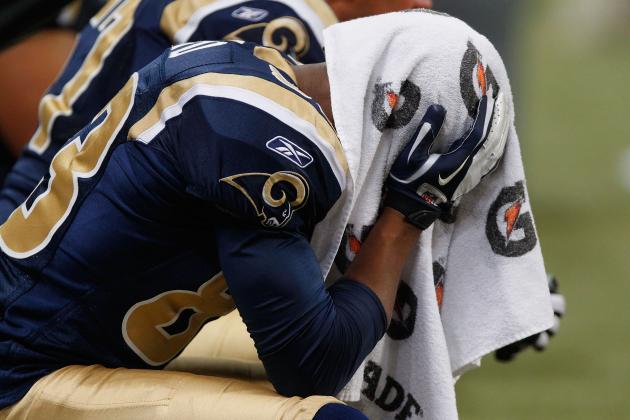 Whitney Curtis/Getty Images

San Francisco just lost two in a row, failing to show up on the big stage against the Bears and Saints. As an NFL head coach, Harbaugh has not allowed his team to drop two in a row—so this would be a first.
The 49ers travel to St. Louis, guns hot, looking to take out some aggression on a rebuilding Rams team. By this point, the Rams have won more games than they did all last season, showing improvement under the new regime led by Jeff Fisher.
But the 49ers are refocused, realizing the end of the regular season is near, and it's about setting yourself up for the postseason.
This should be a very physical game in which the Rams have the wind taken out of their sails.
Winner: 49ers
Monday's headline:
"49ers sweep Rams, move to 4-0 in West"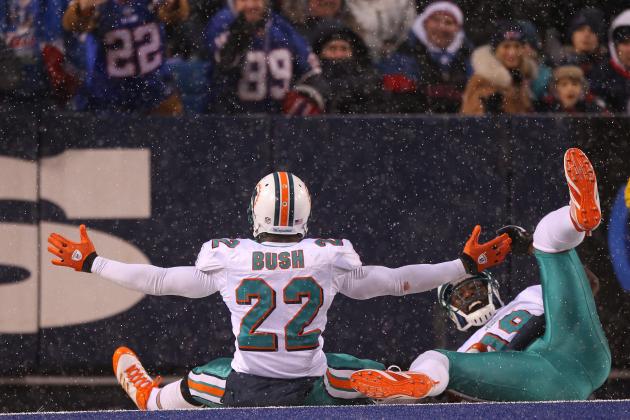 Tom Szczerbowski/Getty Images

The Dolphins, like the Rams, are in a tedious rebuilding process.
This offseason, GM Jeff Ireland and the Dolphins moved Brandon Marshall and Vontae Davis to other teams while releasing Chad Johnson outright. Philbin and company understand this is a long-term rebuilding plan, and they aren't afraid to make harsh decisions.
Unfortunately, those decisions will not help them win in the short-term anytime soon.
Miami is going forward with rookie quarterback Ryan Tannehill, who will be learning by doing in 2012. For him to grow, he will have to endure both the good and bad. The 49ers should bring the fight to the Dolphins in what could be a long day for Philbin's team.
Amidst this unfavorable matchup for Miami, there should be an interesting competition going on between Justin Smith and left tackle Jake Long. These two are arguably the two best at their position and will be going head-to-head.
Winner: 49ers
Monday's headline:
"Jim Harbaugh, 49ers serve up some tuna in Week 14"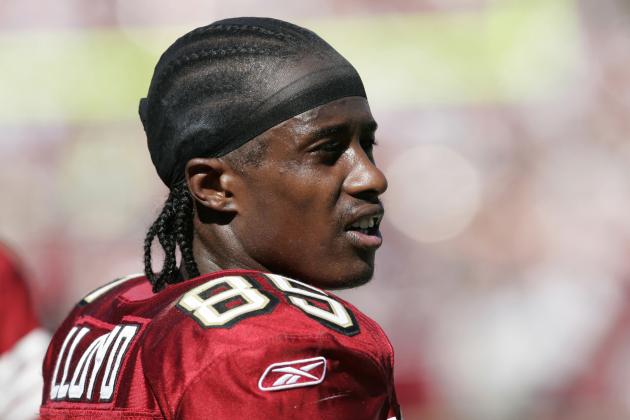 Robert B. Stanton/Getty Images

This has game-of-the-week potential, easily.
This was a potential Super Bowl matchup last year and is a potential championship preview in 2012. First and foremost, it should be a tremendous competitive challenge for these two head coaches. Bill Belichick and Jim Harbaugh are two of the better coaches in the league, hoping to lead their teams to titles this year.
The 49ers will go on the road to face the Patriots in Foxborough. Taking on Tom Brady on his home turf is never an easy feat, but the Niners defense is certainly capable of it. Once again, San Francisco will be facing a one-dimensional offense that they match up well against.
The Niners will have to be on alert for the Patriots pass-catchers. New England has a great corps of receivers and tight ends, so the 49ers defensive backs will have to bring their A-game. Brandon Lloyd should be over a thousand yards by this game; Wes Welker can cut up a defense underneath, and Rob Gronkowski is a mismatch nightmare.
However, stopping them can be done. The 49ers have the tools, competency and fight within them to pull off a huge road win late in the season.
Winner: 49ers
Monday's headline:
"49ers escape showdown at Gillette Stadium in OT road win"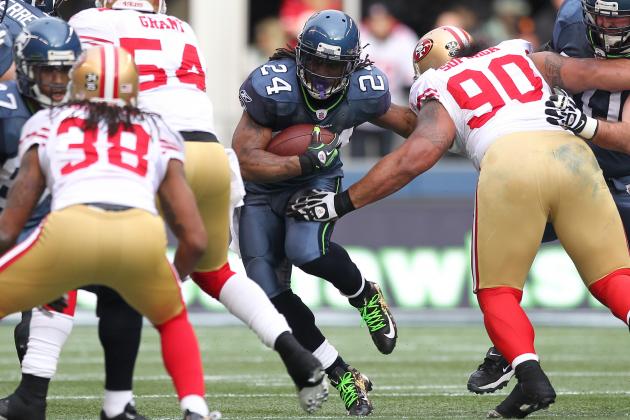 Otto Greule Jr/Getty Images

The 49ers will travel to Seattle to take on the Seahawks for the second time in 2012.
Qwest Field is one of the more difficult to stadiums to play at with their notorious 12th man—the fans—cranking up the decibels on game day. The Niners (11-3), will be battling a 'Hawks team that usually brings the fight to San Fran.
It's going to be an awfully tough game, but as mentioned, playoff implications are on the line. The 49ers want to best position themselves to succeed in the postseason. However, Marshawn Lynch is known to turn it up at Qwest, providing a challenge for any run defense.
Given how good the Seahawks have become, it's hard to see the 49ers sweeping them for a second straight year.
Winner: Seahawks
Monday's headline:
"Alex Smith throws two picks in loss to 'Hawks"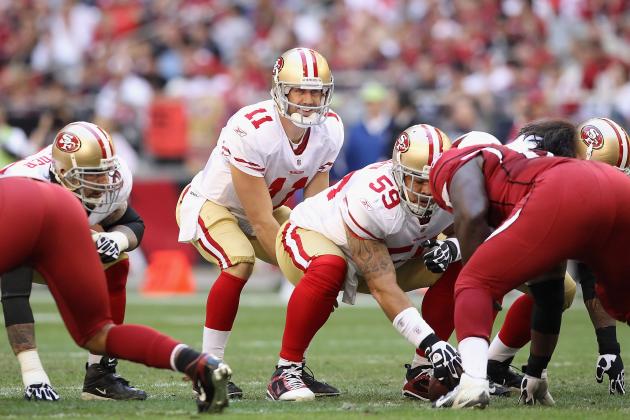 Christian Petersen/Getty Images

And back to Arizona for the finale.
The 49ers coming off a Week 16 loss to an NFC West rival will keep them on their toes in Week 17. The Niners close out the season against Arizona at Candlestick Park.
When San Francisco hosts the Cards, it should make for another fist fight. It is very likely that the 49ers are thinking about the postseason while the Cardinals will be packing up their lockers after this game. This should make for a physical, hard-fought game, with an ugly overall presentation.
I foresee penalties, scuffles and no more than 20-points by either team.
Winner: 49ers
Monday's headline:
"Gore, Niners clobber Cards in season finale"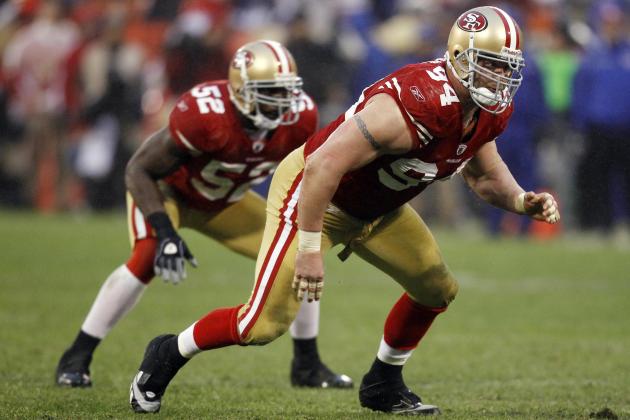 Jason O. Watson-US PRESSWIRE

The San Francisco 49ers should have another strong campaign in 2012. This is a team that will be looking to solidify their presence in the league, and that starts this year.
In this piece, there were a couple of bold yet realistic predictions about the Niners schedule. For instance, the prediction that they go 2-1 against "the big three" (at Green Bay, at New Orleans and at New England). This will be a tough trio of games, but the 49ers are built to last against these teams—it is a more favorable matchup than it appears to be.
We also predicted that the 49ers see double-digit wins again (12-4) but lose one more game than they did last season.
Week 1: W
Week 2: W
Week 3: W
Week 4: W
Week 5: L (Bills)
Week 6: W
Week 7: W
Week 8: W
BYE
Week 10: W
Week 11: L (Bears)
Week 12: L (Saints)
Week 13: W
Week 14: W
Week 15: W
Week 16: L (Seahawks)
Week 17: W
NFC West Record: 5-1, 2012 NFC West Champions
Overall Record: 12-4