WWE: Why CM Punk Will Reign over John Cena at the Top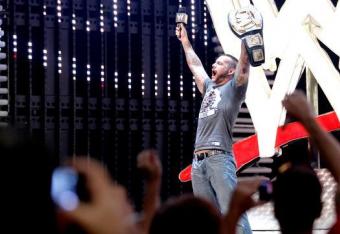 Photo courtesy of WWE

Night of Champions will come down to John Cena vs. CM Punk. The winner could end up with a date against the Rock at the Royal Rumble.
Win or lose though, CM Punk will reign over John Cena at the top in the end.
This year so far has been the Year of Punk. With a solid title reign and great matches against Jericho and Daniel Bryan, Punk has been on the top of his game all year.
Cena on the other hand, has been lackluster. The majority of Cena's momentum so far this year was to build up his match with the Rock at WrestleMania 28.
After WrestleMania and his small feud with Lesnar, Cena has been boring. From a horrible feud with John Laurinaitis, to boring matchups with the Big Show, Cena has been miles behind Punk all year.
CM Punk and John Cena are arguably the two top guys in the WWE. In the end though, Punk will reign over Cena at the top as the WWE moves forward.
The Ability To Be More
When compared to Cena, Punk has the ability to play different roles. We've seen Punk play both the face and heel character. While Cena himself was a heel when he started out in the WWE, he seems stuck in his current "real" face image.
Of course Cena has fans behind him, but he lacks the ability to change, and become more than just one type of role.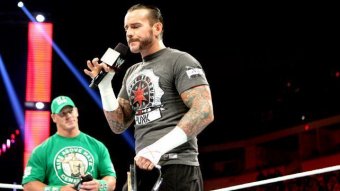 Photo courtesy of WWE
Punk on the other hand, can play both heel and face extremely well. It helps in making him much more valuable to the company.
The current situation going into Night of Champions is a great example of just how important Punk's ability to change is.
The WWE needed a heel to match up against Cena. The Big Show is clearly done, after continuously losing to Cena at pay-per-views, so who better than Punk?
Since Punk, unlike Cena, isn't stuck in his face role, he can shift into the big heel role and still be a dominant wrestler.
Punk can be more than just a face character, so he can avoid getting stale and can shift to whatever role the WWE needs him to be while still being a top wrestler.
Better Wrestler
CM Punk's matches have been some of the best this year. Whether it was against Chris Jericho at WrestleMania, or Daniel Bryan at Money In The Bank, CM Punk has managed to deliver every time.
Cena on the other hand, has had boring matches against the Big Show, and even a ridiculous main event match at Over The Limit against John Laurinaitis.
Punk has had better matches, and has proven to be the better wrestler this year.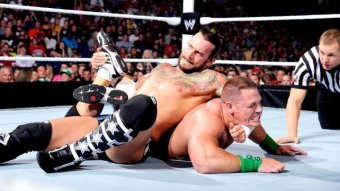 Photo courtesy of WWE
While a lot of wrestlers arguably have the equivalent of
Cena
's "five moves of doom", his matches have ended up being the same thing over and over again. His matches with the Big Show for example, were repeats of all the other times we saw these two face off.
Punk on the other hand put on fantastic matches with Bryan, and even though these two faced off before coming to the WWE, they were still able to give wrestling fans something new.
Punk's ability to put on a great match with almost anyone will help push him in reigning over Cena at the top.
Different Fanbase
John Cena has a lot of younger fans. CM Punk has young fans too, but more importantly his fanbase transcends all ages. Does Cena have older fans? Of course he does, but Punk has become the voice of the voiceless.
Regardless of if CM Punk is a heel or a face, his pipe bomb last June spoke to a big part of the WWE universe when he said he was sick of the idea that Cena was the best.
Punk has come to symbolize someone who went against the grain, and was able to come out on top. Even though now he seems set on a heel run, will fans really boo Punk?
His fan base is different from Cena's, perhaps even bigger. With a huge majority of fans behind him, regardless of face or heel status, it's hard to see how Punk won't reign over Cena at the top.
CM Punk has been dominating throughout the year. There is a reason why, after all, PWI named Punk the No. 1 wrestler on their 500 list.
Punk will reign over Cena at the top regardless of if he wins or loses at Night of Champions. Heel or face, Punk will prove he is the better wrestler.
This article is
What is the duplicate article?
Why is this article offensive?
Where is this article plagiarized from?
Why is this article poorly edited?