Grading the Baltimore Ravens' Entire 53-Man Roster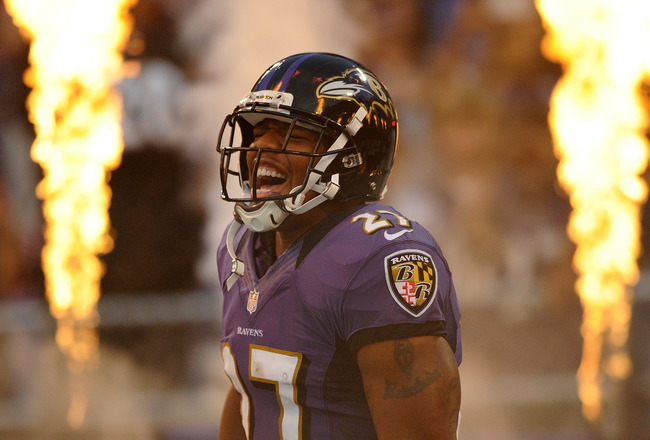 Patrick Smith/Getty Images
The Baltimore Ravens are a really good football team, period.
Despite your analysis or my analysis, the core of this team has repeatedly proven its repute among the NFL's best.
Last season, they were on the brink of greatness before standing stunned and helpless on the sideline after an unthinkable missed field goal.
While 32 percent of the roster is new (17 players), the Ravens return 21 of 25 starters from a year ago (left guard Bobbie Williams and rookie kicker Justin Tucker are currently listed as starters, as are Arthur Jones and Paul Kruger, who played significantly last year).
This week marks the first time in seven and a half months that the Ravens will game plan for an opponent. Through the off-season, they ideally did everything they could've done to mold their roster the way they want it to be.
How did they do?
Here's my take.
Quarterbacks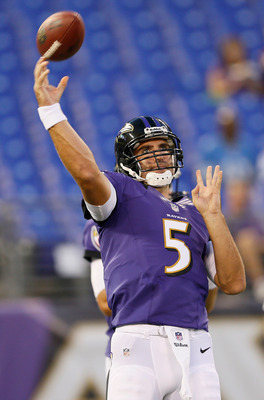 Rob Carr/Getty Images
Grade: A
Analysis: He possesses tremendous arm strength, underrated accuracy, amazing durability and a quickly growing knowledge of and comfort within the offense.
Flacco is poised for the proverbial 'break-out' season in 2012.
Grade: C
Analysis: Taylor has great physical tools, but lacks in-game experience. While he looks good in practice and in games, it remains to be seen how he will perform over an extended period of time.
Overall position grade: B
Wide Receivers/Tight Ends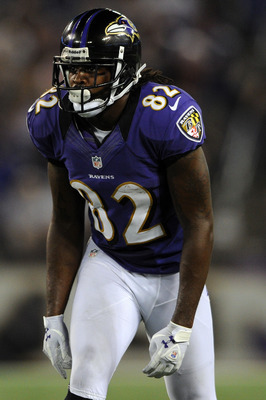 Patrick Smith/Getty Images
Grade: A-
Analysis: While he's still young, Smith has elite speed and is quickly becoming a game-changer when he runs after the catch. Think of a slightly bigger, much faster version of Greg Jennings.
Grade: A-
Analysis: A true veteran who is as physical and dependable as any receiver in the league. Although he's entering his 10th NFL season, it's tough to say when Boldin will slow down. He's in great shape and with the acquisitions the Ravens have made, it will allow him to play at his best position (slot receiver).
Grade: B-
Analysis: A speedster whose forte is returning punts and kicks. Jones' stats may not be where he wants them to be because of so many other targets Flacco will have to choose from.
Grade: C-
Analysis: A young, unproven receiver with good hands. Doss struggled with a hamstring injury during training camp, but impressed coaches enough to be the fourth wide receiver on the depth chart (at a very deep position).
Grade: C
Analysis: Thompson was an undrafted free agent this year, and has made the most of his opportunities in camp. He has elite speed and good hands. He simply needs experience.
As of now, Thompson is the second kick-off return man behind Jones, and should play a lot on special teams.
He's confident and motivated, and has seemed to learn from his mistakes quickly thus far.
Grade: C+
Analysis: Williams is entering his second year with the Ravens, and is just the type of player Baltimore likes. He doesn't complain about playing time, but gives everything he has on every snap and acknowledges he needs to get better every day.
Williams has solid hands, better special teams skills and the ability to fight through injury.
Grade: B
Analysis: A really gifted athlete who started every game for the Ravens in 2011. Dickson runs really well compared to any tight end in the league, will make a tough catch, take a hard hit and hang onto the ball.
Grade: B
Analysis: Pitta is becoming one of Flacco's top targets with his precise route-running and sure-handed catches. He's another athlete who can play tight end, split end, or even in the slot.
Grade: C+
Analysis: Bajema signed with the Ravens in the middle of training camp after Dickson and Pitta suffered injuries. He's a seven-year veteran who does the 'dirty work' well, and has also caught about every pass that's been thrown his way.
Overall position grade: B+
Running Backs/Fullback
Patrick Smith/Getty Images
Ray Rice
Grade: A+
Analysis: All aspects considered, Rice is the best running back in the NFL. Running, receiving, blocking, durability, ball security, etc.
Rice routinely lines up as a wide receiver, which many pass-catching running backs don't do.
Since he was in college, he's been able to handle a heavy work load. When he gets in space, Rice is a shiftier version of Maurice Jones-Drew.
And by the way, Rice is becoming a proud pillar of the Baltimore community.
Bernard Pierce
Grade: B-
Analysis: With his size, youth and one-cut-and-go running style, Pierce figures to be just the player the Ravens wanted to back up Rice.
Now that his hamstring injury is behind him, Pierce will have plenty of opportunity to prove the Ravens right for drafting him as Baltimore faces the Bengals in Week 1 (Cincinnati finished 2011 with the 10th best run defense).
Bobby Rainey
Grade: C-
Analysis: A tireless worker is an accurate description of Rainey. From the early portion of special teams practice until the last team rep, Rainey seemed to be everywhere in camp.
He clearly showed his desire to play on this team throughout the preseason. Rainey will have to keep up that enthusiasm and determination if he wants to see extended playing time.
Vonta Leach
Grade: A+
Analysis: Like Rice, Leach is the best player in the league at his position. Over the last two years, Leach has blocked for the player who has led the league in yards from scrimmage.
And when he receives the ball, it's like watching a human bulldozer. No one wants to (and probably can't) tackle him one-on-one.
Overall position grade: A
Offensive Line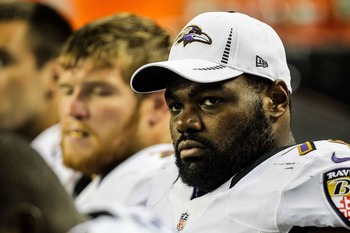 Daniel Shirey-US PRESSWIRE
Grade: C
Analysis: When he's on, he's a really good pass blocker. If he's out of shape, he's out of position, which is something the Ravens can't afford considering the caliber of pass rushers they face in the AFC North.
Grade: C+
Analysis: Entering his 12th season, Williams is faced with the task of replacing Pro Bowl left guard Ben Grubbs. Williams played the last eight seasons with the Bengals, so he knows full well what type of physicality is expected of him playing in this division.
While not as good as Grubbs, Williams should be a strong run blocker, which is something the Ravens can't get enough of.
Grade: C
Analysis: Simply, age is the main concern with Birk. At 36, he's nearing the end of his career. However, on March 16, the Ravens signed Birk to a three-year contract, suggesting they're satisfied with where he's at.
Grade: A+
Analysis: As good and as tough of an offensive lineman as there is. Yanda is able to play right tackle, but is best at right guard, where he was named a second-team All Pro in 2011.
He personifies what it means to 'play like a Raven'.
Grade: B
Analysis: Oher is an exceptional athlete who needs to increase his consistency and decrease his penalties.
Oher has started every game of his three-year career. He's also been able to switch back and forth between right tackle and left tackle with uncommon ease.
Grade: Incomplete
Analysis: A mammoth, raw prospect who has yet to see NFL action. Harewood was drafted by the Ravens in 2010, but has spent the last two seasons on injured reserve.
For now, we don't know what Harewood is capable of. In training camp, he lined up at left tackle, right guard and right tackle at certain points. Right now, he's listed as a left tackle.
If Harewood can get some experience this season and mold his game to where a starter's game should be, he could be Baltimore's left tackle of the future.
Grade: C-
Analysis: Like Harewood, Reid is a giant whose career has been plagued by injury. He played right tackle in college, but is currently listed as the backup left guard.
Time will tell where Reid best fits along the offensive line.
Grade: C
Analysis: Gradkowski is a smart but slightly undersized player. He needs experience, although he got a lot of reps in the preseason. He looks to be the next center in line after Birk.
Grade: B+
Analysis: The Ravens hit a home run when they drafted Osemele in the second round of the draft this year. He was a first-team All-American at Iowa State last season and shows few signs of slowing down.
Osemele plays with a mean streak. He has a good punch and sustains his blocks through the whistle. He has the potential to be great.
Overall position grade: C+
Defensive Line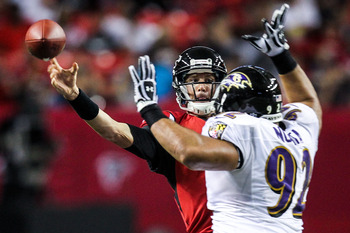 Daniel Shirey-US PRESSWIRE
Grade: A+
Analysis: The best defensive lineman in the NFL in the prime of his career. Ngata weighs in at 330 pounds, and still possesses an incredible combination of strength and quickness.
Whatever position exists along the defensive line in this defense, Ngata can dominate at that position. He routinely draws double-teams and still makes plays.
Grade: B-
Analysis: Cody's weight/endurance was the main question about him coming out of college. Since then, he's improved steadily. His weight is in-check and he plays with strong leverage.
Cody is a force in the run game and holds his own against the opposing centers in the division, who are all very good players in their own right.
Grade: B
Analysis: Jones has tremendous strength and leverage and hustles on every play. Now in just his third year, he's scheduled to start on a defense that finished last year ranked third overall.
Jones will set the edge on run plays well and is crafty with his hands, causing opposing offensive lineman to get off-balance.
Like Ngata, Jones is a versatile defensive lineman who's an underrated athlete for his size.
Grade: C
Analysis: Hall is a backup defensive tackle who will probably fill the hole left by Brandon McKinney, who made 37 tackles in the last four seasons with Baltimore.
As far as stats go, don't expect much. But coaches will say Hall is a valuable member of this unit.
Grade: B-
Analysis: Now in his second stint with the Ravens and after missing all of last season due to injury, Kemoeatu looks like he's healthy, in shape and ready to do some damage to opposing offenses.
Listed as the heaviest player on the team (364 pounds), Kemoeatu is also probably one of the strongest players on the team. He should be given ample opportunity to show his talent.
Grade: B+
Analysis: A rising star on the defense who is poised for a strong season. McPhee was a fifth-round pick one year ago, and while he didn't make any starts, he still recorded six sacks.
If people are looking for pass rush help during Terrell Suggs' absence, they mind find it from McPhee.
Grade: C
Analysis: Tyson was a seventh-round pick this year and has made the most of his reps in the preseason. He's played multiple positions, and players and coaches talk about how he keeps getting better.
Overall position grade: A
Linebackers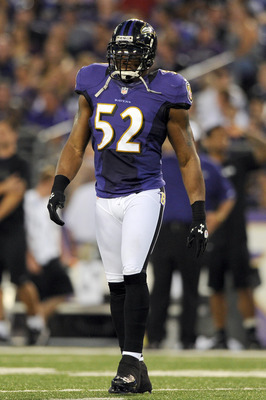 Patrick Smith/Getty Images
Grade: B
Analysis: McClellan is a player who not many know about right now, but will know about at the end of the season. He won the job of replacing Suggs at the 'rush' linebacker position.
In camp, he's lined up at defensive end and at outside linebacker. While he only has 19 career tackles (in 2011, his rookie season), McClellan is going to be a big part of this defense going forward.
Grade: B+
Analysis: McClain is the second best linebacker on this team. He is a willing hitter and is above-average in pass coverage. He still has room to improve, but in each one of his four NFL seasons, his tackle total has increased by at least 13 every year.
Grade: A
Analysis: The NFL is not a track meet. So what if Lewis isn't as fast as he used to be? Usually, men aren't as fast at 37 as they are at 21, much less football players.
Lewis was 21 when he burst into the NFL. Now 37, he reported to camp under 240 pounds (his lightest weight ever in his NFL career).
As one of the best defensive players of all-time (Lawrence Taylor, Dick Butkus, Reggie White, Deion Sanders), his knowledge, leadership and instinct are priceless. He's an excellent player that truly elevates the play of those around him.
Grade: B
Analysis: Kruger is evolving fairly well, but will need to expedite the process this season with the loss of Suggs.
Although he didn't start at all last season, Kruger still racked up 5.5 sacks and had two forced fumbles (not including a sack of Tom Brady in the AFC Championship game).
As of now, he is the starting 'sam' (or strong side) linebacker for the Ravens, the position Jarret Johnson held down for the previous nine years.
Grade: B
Analysis: Upshaw simply needs to get healthy and stay healthy. His talent is undeniable, but whether he's able to stay on the field and play effectively will determine his role on this team.
Grade: C+
Analysis: While his forte is on special teams, Ayanbadejo is able to take a dozen or so snaps per game at linebacker.
Grade: C+
Analysis: A run-stopper who won't hesitate to tackle. Ellerbe provides depth and a little experience to the Ravens defense. He's another player that's had some injury issues in the past but, as of now, is healthy.
Ellerbe started three games last season while Lewis was out.
Grade: C-
Analysis: If you've followed Kindle's time in Baltimore, you know how many chances the Ravens have given him to succeed.
At times in practice this preseason, I saw Kindle look great, beating tackles and taking direct paths to the quarterback. At other times, I saw him get folded up and pancaked by tackles during one-on-one blocking drills.
The jury is still out on Kindle. With Suggs out indefinitely and with the multiple looks this defense presents, this may be the perfect year for Kindle to show what he's all about.
Overall position grade: B+
Cornerbacks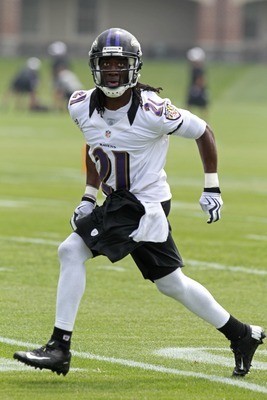 Mitch Stringer-US PRESSWIRE
Grade: A+
Analysis: Webb had better statistics last year than Darrelle Revis, whom many consider to be the best cornerback in the game. Webb is quickly becoming one of the best defenders in football and has proven to be a dynamic punt returner.
Webb's cover skills and ball skills are superb, and he's also a sound tackler. The Ravens made the right decision when they signed him to a six-year deal worth almost $53 million earlier this offseason.
Grade: B
Analysis: Good size, good tackler, but in 39 career games has zero interceptions. Williams' pass coverage is good, not great.
Starting opposite Webb, he figures to get the majority of passes thrown his way in 2012.
Grade: B+
Analysis: At 6'2", 210 pounds, Smith is a huge cornerback, even by NFL standards. He intercepted Tom Brady in the AFC Championship game, and seemed to just scratch the surface of his potential.
What seemed to be a back injury limited Smith's practice time in the preseason. Although he's listed as a backup, he will get a lot of work as the Ravens' defense uses a lot of different looks and formations.
Smith will be especially counted on this season because Baltimore will play against quarterbacks who've won a combined eight Super Bowls.
Grade: B+
Analysis: Graham came to Baltimore from Chicago where he missed only three games in five years. In Chicago, Graham was an excellent special teams player and last year he intercepted a career-high three passes.
So far in Baltimore, Graham has been confident and has shown tight coverage throughout the preseason.
Grade: C-
Analysis: Brown is a young corner who will help mostly on special teams and in sub packages. Last year, he played in seven games and made four tackles.
Right now, the Ravens aren't looking for him to be a main contributor.
Grade: C
Analysis: 'Ace' as his teammates and coaches call him was drafted in the fifth-round this year, and will have to work really hard for playing time, especially since he's on one of the deepest units on the team.
As the seventh and last corner and the third punt returner, Jackson has an uphill battle ahead of him. On the bright side, he beat out other good corners for a spot on the active roster, and received a lot of quality work in training camp.
If he keeps up his work ethic the coaches have praised, good things are in store for him.
Overall position grade: A
Safeties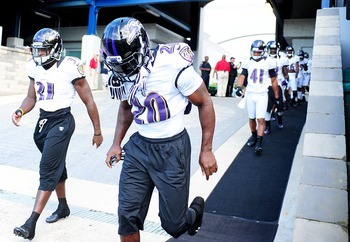 Evan Habeeb-US PRESSWIRE
Grade: A
Analysis: Reed is still an elite player. His tackling isn't what it used to be, but he still drastically influences where quarterbacks can go with the ball.
Grade: A-
Analysis: An intimidating hitter who plays with maximum intensity. Pollard is in his prime, moves well and fits well into Baltimore's defensive scheme. He can cover, but is a better hitter and tackler.
Pollard is one of the few remaining defensive backs that doesn't back down from contact.
Grade: C+
Analysis: As mostly a leader on special teams units, Considine will back up Pollard at the strong safety position.
After suffering a concussion against the Jaguars on August 23, both the Ravens and Considine should be cautious as to what units he's on and how much he plays.
Grade: C-
Analysis: Thompson was the Ravens' fourth-round draft pick in 2012. He is obviously young and unproven. With time, he could be a solid player. However, as the third-string strong safety he will have to make his mark for now on special teams.
Grade: C+
Analysis: Ihedigbo is entering his fifth NFL season after playing the first three years with the Jets and last year with the Patriots. He adds needed depth at the position, and will be a strong contributor on special teams as well.
Overall position grade: B
Special Teams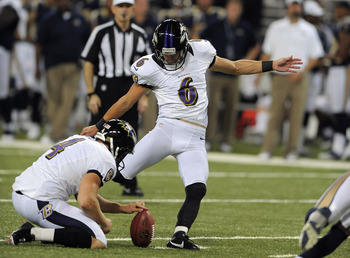 Jeff Curry-US PRESSWIRE
Justin Tucker (kicker)
Grade: B+
Analysis: A very strong, accurate leg. Tucker can also punt if need be. He consistently strikes the ball well, and it is often still ascending when it goes through the uprights.
At the same time, he has yet to play in a meaningful NFL game. All the signs point to him being a standout for years to come.
Sam Koch (punter)
Grade: A+
Analysis: An elite punter who can execute any kind of punt. He can flip field position with power or placement or both, which is especially vital considering the weather and defenses the Ravens encounter each season.
Morgan Cox (long snapper)
Grade: B
Analysis: Cox is only entering his third season in the league, but he's been an unheralded contributor to the Ravens' special teams unit.
Sure, the only time you'd probably notice him is if he did something wrong. The fact you may not know him means he's doing his job well.
Overall position grade: A-
Recap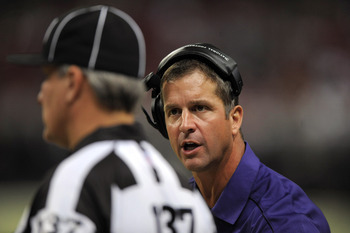 Jeff Curry-US PRESSWIRE
Overall team grade: A
The Ravens have youth, depth, leadership, experience and a bunch of versatile athletes.
Their coaching staff, led by John Harbaugh, is right up there with the best in the NFL.
Although the loss of Terrell Suggs will be tough to overcome, the Ravens have made a living off of replacing injured defensive stars. And according to Suggs, he will be back this season:
"I will be in a Baltimore Ravens uniform in 2012. The only question is when."
Sure the schedule is tough. The Ravens were 9-0 at home last season (including the playoffs) and split (4-4) on the road, which is a common NFL team goal.
Perhaps the most telling stretch of the season will be the 15-day span from November 18-December 2, when the Ravens will travel to Pittsburgh, to San Diego and host Pittsburgh in successive weeks (Something tells me Suggs will return for that December 2 home game versus the Steelers. Just a hunch.).
Before all of that, the Ravens' sights are set on the Bengals.
One week from tonight, the Ravens return to football for real.
*A+ grades: Rice, Leach, Yanda, Ngata, Webb, Koch. That grade suggests the player is or is extremely close to being the best player in the NFL at their position.
Keep Reading

Baltimore Ravens: Like this team?