Why Alabama vs. LSU in First BCS Title Game Rematch Already Has Legs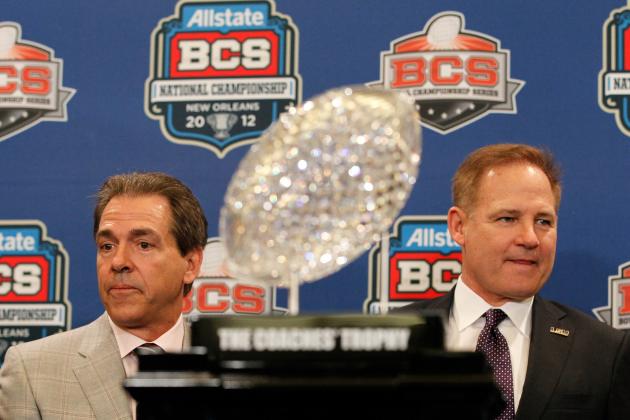 Kevin C. Cox/Getty Images

After the first week of the season, it's already evident that LSU and Alabama are on a collision course for the 2013 BCS National Championship.
Whether you like it or not, these are the two premiere programs in the country right now, and they played like it in their season openers.
Both clubs gave up a few long pass plays because of mental mistakes, but other than that, each team did what it wanted when it wanted to do so. Alabama defeated Michigan 41-14, while LSU defeated North Texas by the same score.
College football fans haven't seen the last of LSU and Alabama playing for the national championship. Oh no, not by a long shot.
Begin Slideshow

»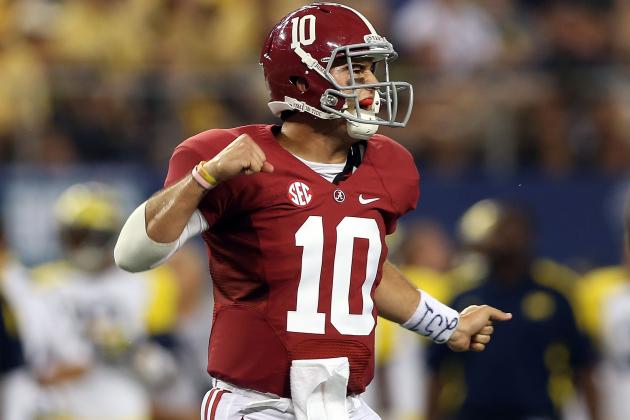 Ronald Martinez/Getty Images

Call it cocky, but the SEC is clearly playing on a whole different level than everybody else.
Alabama proved that in its surgeon-like decimation against Michigan. The Crimson Tide picked the Wolverines apart piece by piece, and it became hard to watch.
Because the media and fans were getting sick of the SEC's dominance, many got behind the possibility of Michigan upsetting Alabama and proving that the SEC is overrated. Rather than a Michigan upset, though, Alabama dismantled the Wolverines and made Denard Robinson look less Heisman-like and more Jordan Jefferson-esque.
The SEC overrated? Alabama nipped that in the bud real quick.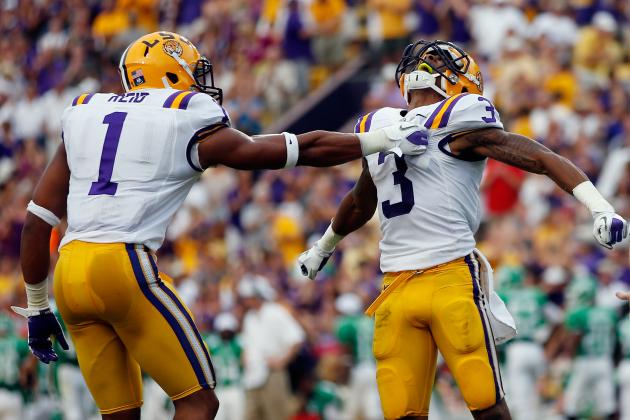 Chris Graythen/Getty Images

Alabama and LSU's rosters are ridiculous.
Only Alabama could lose five starters on defense to the NFL draft and come out and dominate one of the most explosive offenses in college football. The Tide forced Denard Robinson to have one of the worst games of his career with two interceptions and 27 yards on 10 carries.
And what about LSU? The Tigers lost their star player in Tyrann Mathieu and added what seems to be another lockdown corner in Jalen Mills. And as for it effecting the return game, well, Odell Beckham took two punt returns to the house against North Texas, but did have one called back.
With depth at every position on the field, LSU and Alabama are primed to wear down every opponent they'll face in 2012.
Leon Halip/Getty Images

Going into the season, it looked as if the SEC East might gain some ground on the SEC West this season.
Spoiler alert: That's not the case.
South Carolina didn't look like a Top 10 team against Vanderbilt Thursday night, Georgia went through the motions against Buffalo and Florida's offense looked egregious against Bowling Green.
And for those hanging their hats on Arkansas to upset both LSU and Alabama in the SEC West, you might better rethink your prediction.
Arkansas' defense looked less than spectacular in their 49-24 win against Jacksonville State, as it allowed 322 yards and 20 first downs.
The SEC still belongs to the Tide and the Tigers.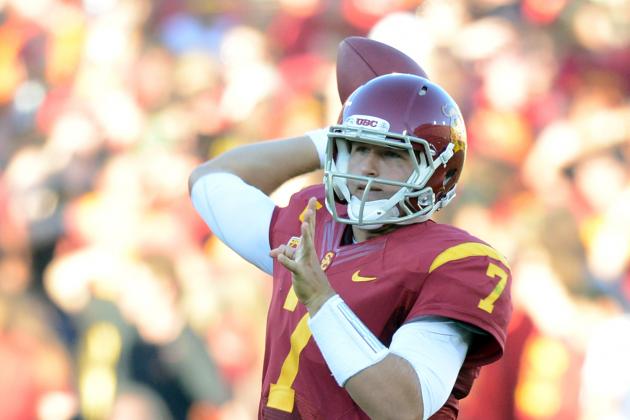 Harry How/Getty Images

Look, USC and Oregon are fantastic squads, but are they worthy of making the title game over a one-loss LSU or Alabama team?
Both will barely be tested in the Pac-12 except for when they play each other, and should either of these teams slip-up during the regular season, the SEC should get the nod.
As for the Big 12, there's no true dominant team in that conference, and they should take each other out. Expect the same in the Big Ten—or better yet, expect Ohio State to take out some of the top dogs in the conference with Urban Meyer giving direction to Braxton Miller.
Florida State's schedule is too easy to believe it won't walk into the national championship game, but don't sleep on Clemson pulling off an upset. With upsets sure to be on the horizon, this season could turn out to be just like last season.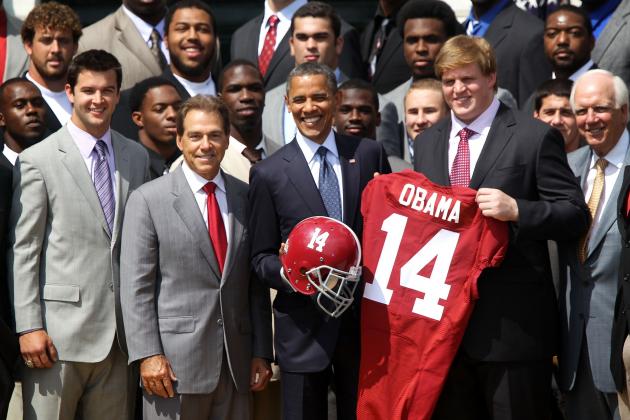 Alex Wong/Getty Images

Think you can win in the trenches against these guys?
After watching Alabama muscle Michigan around, a thought crossed the mind: 'Hey, these guys may never lose again.' And after thinking long and hard about it, such a thought is not all that crazy to believe.
But after processing everything from Week 1 and the 2011 season, it was clear that there's only one team that can take out Alabama: LSU. And you could even say vice versa.
Alabama and LSU have two of the best offensive lines in college football, and they will clear paths for their excellent running backs and trample defenses. It's an unavoidable fact. So it'll take an incredibly gifted defensive line or front seven to stop this from happening.
Judging from yesterday's action, these look to be the only two teams that can do so.
Andy Lyons/Getty Images

A winner knows how to win.
Common sense, right?
It's not exactly mind-blowing insight, but it's so overlooked. When a team (or a conference, in the SEC's case) becomes dominant, it expects to win and to become champion.
The same happens with losing teams and their mentality. It's all about the culture, which is why Alabama and LSU fans are already booking their tickets to Miami in 2013.
Both teams expect to play for the national championship, and both have good enough squads to make it there.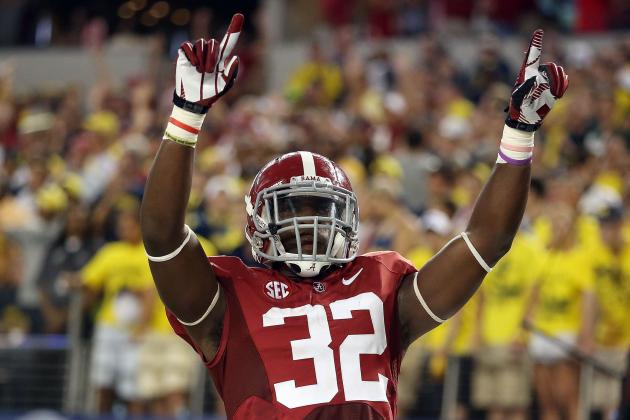 Ronald Martinez/Getty Images

Defense is the name of the game for these two clubs.
"Trust us, we know. We had to suffer through those terrible 'Game of the Centuries' last season!" Big 12 fans shout.
Obviously, a rematch between LSU and Alabama in the championship game wouldn't be widely accepted—not only because they're from the same conference, but people generally don't like defensive classics anymore.
It's all about the offensive glamor these days, so two dominant defenses going against one another is about as attractive as Sarah Jessica Parker. Nonetheless, it wins championships, and both squads once again have two of the best in the country.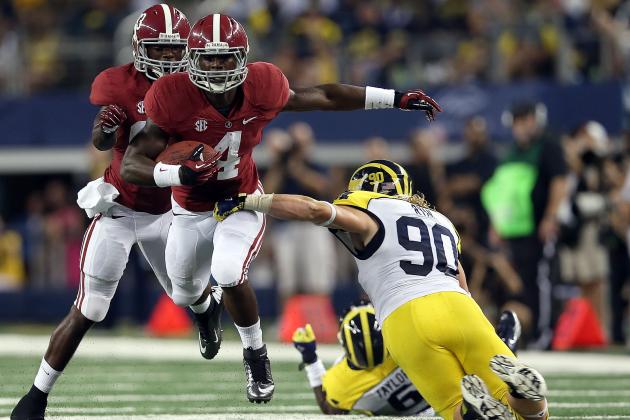 Ronald Martinez/Getty Images

Even though LSU lost Rueben Randle and Alabama lost Trent Richardson and Marquis Maze, they aren't without playmakers at the skill positions.
Jarvis Landry has stepped up in a big way to fill Randle's shoes for LSU, and after watching T.J. Yeldon, Jalson Fowler and Eddie Lacy rush against Michigan, Alabama's in great hands offensively.
It's well-documented how strong LSU's stable of backs are. In the Tigers' victory against North Texas, both Kenny Hilliard and Alfred Blue went over 100 yards rushing. That's a feat that hasn't been done by LSU since Dalton Hilliard and Garry James did it in 1982.
As for Alabama receiving, DeAndrew White and Kevin Norwood stepped up and made big plays to assist Kenny Bell on the outside.
Both Les Miles and Nick Saban recruit so well, and when they lose a player to the NFL draft, they replace them with players that are just as good. Both teams truly are an NFL factory.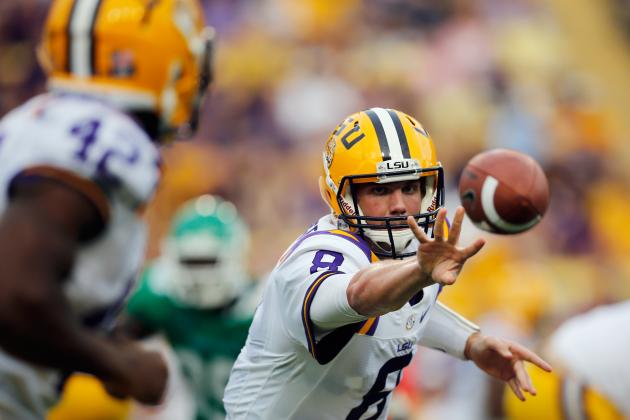 Chris Graythen/Getty Images

LSU is no longer handicapped.
The Tigers now sport a pro-style quarterback in Zach Mettenberger, and though his performance against North Texas wasn't all that impressive, he was held back in the game.
After Mettenberger got his bell rung by North Texas and exited the game, he came back in and threw one short pass after another. Even in doing so, Mettenberger reeled off a couple of nice down-the-field throws to show off his strong arm and nice delivery.
As for A.J. McCarron, he silenced any criticisms he may have had. Against Michigan, McCarron threw for 199 yards and two touchdowns.
With both teams now having a true passing threat, these teams might not have a weakness to their name.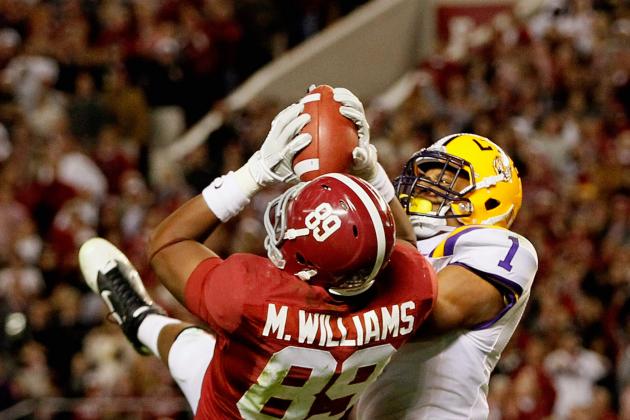 Kevin C. Cox/Getty Images

Alabama and LSU dominated every opponent they faced last season except for each other.
LSU had a close game with Mississippi State, and Alabama had a close one with Penn State, but both clubs still won all phases of those games.
But when they met on Nov. 5 last season, it truly was like watching an unstoppable force meet an immovable object. The championship game was a little bit different, but as mentioned earlier, LSU is no longer handicapped at the quarterback position.
A true fan of the sport should want to see the two best teams in the country go at it. And if you want to see the best teams in the country play against each other, look no further than LSU and Alabama.