Tiger Woods at Deutsche Bank 2012 Tracker: Day 3 Highlights, Updates and More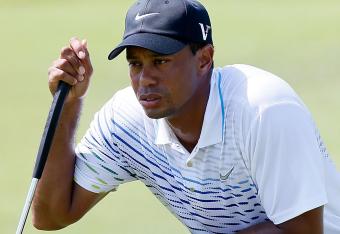 Sam Greenwood/Getty Images
After two very good days, is this the weekend Tiger Woods can put it together in his chase to capture the FedEx Cup?
All the action from just outside Boston will be right here.
It will be a six-shot deficit as Oosthuizen birdies 18 to fire an eight-under 63.
Rory also birdies the last to post 16-under and three back with a round left.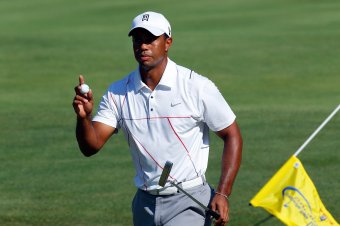 Jim Rogash/Getty Images
Twenty feet left for Tiger and he just misses it right.
A three-under 68 today for Tiger as he converts his par.
He will need to make up a five-shot deficit at least to win.
TIGERBOARD

| | | | |
| --- | --- | --- | --- |
| POSITION | SCORE | HOLE | TODAY |
| T3 | -13 | 68 | -3 |
He will be with Dustin Johnson in the next to last group tomorrow.
Oosthuizen loses one at 17. He hit his approach into a thick juicy area right of the green.
Rory's par cuts the lead to three. 18-under to 15-under.
Tiger has a full wedge that spins near the hole back to set up a lengthy par putt.
No question the greens have firmed up.
With a three-under 68 the most likely score today, it did not seem like his game was as crisp as yesterday.
He did not give himself a lot of scoring chances.
Tiger only hit his drive 279 and has 255 left.
Odds are lay up and Tiger does.
It rolls all the way through the fairway and it is sitting up for his third from the first cut.
The closing hole is another reachable par-five.
While the green has been reduced by about a third in size, the fairway should be easy to hit.
Back on 17, Oosthuizen seems to be flexing his shoulder like it is tight.
Tiger's drive on 18 does not cut and it misses the fairway left.
While the blimp shot shows ball, it is hard to say it is sitting up for sure and a lay up is probable.
Tiger has 20 feet left for birdie.
It will be up a terrace to the pin.
Tiger was not firm enough and it stayed out short and left.
A par though and a likely date with Dustin Johnson tomorrow.
TIGERBOARD

| | | | |
| --- | --- | --- | --- |
| POSITION | SCORE | HOLE | TODAY |
| T3 | -13 | 17 | -3 |
ShotLink was a bit inaccurate as Tiger's shot was actually in the first cut of rough, but Tiger finds the front of the green and has an uphill putt for birdie coming up.
Rory gets back his dropped shot with a birdie on 16. Four back of Oosthuizen, who pars.
Tiger's drive on the 17th barely stays on the right edge of the fairway.
With the sharp angle that faces the approach, however, he should be in good shape to reach the center of this green.
Just 157 left after a drive of 265.
Rory drops a shot at 15 and Oosthuizen's lead goes back to five shots.
Louis at 19-under teeing off on 16.
Six feet left for Tiger.
He almost played it too far left, but it goes into the hole on the left edge.
Another birdie for Tiger.
TIGERBOARD

| | | | |
| --- | --- | --- | --- |
| POSITION | SCORE | HOLE | TODAY |
| T3 | -13 | 16 | -3 |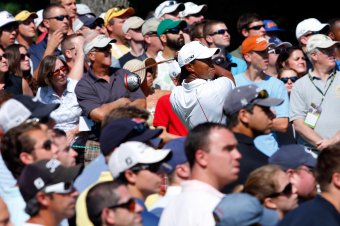 Jim Rogash/Getty Images
The 146-yard par-three 16th is next.
Woods has a cut pitching wedge to the front-right pin and he lands it a couple yards above the hole and it spins back a touch closer.
We are seeing some rain drops now, but nothing remotely heavy.
Tiger has only four feet left for a birdie.
This will be a bit downhill.
He reads it right and goes to 12-under.
TIGERBOARD

| | | | |
| --- | --- | --- | --- |
| POSITION | SCORE | HOLE | TODAY |
| 4 | -12 | 15 | -2 |
Woods cannot see the whole flag, but hits it just right as there is a small bowl the flag area was in.
He finds that bowl and just has a few feet left for a birdie.
Tiger's drive ends up going 305 yards while never getting 20 feet above the ground.
He just has 103 left.
Tiger hits a ground-hugging three-wood off the 15th tee that finds the fairway right in the center.
At 421 yards, the pin is front-left and has sand left.
Rain is coming, but no lightning is expected.
From about 75 feet, Tiger judges his chip distance very well and has just three feet above the hole for par.
The green had a terrace to navigate that Woods did very well from above the hole.
He makes his par.
TIGERBOARD

| | | | |
| --- | --- | --- | --- |
| POSITION | SCORE | HOLE | TODAY |
| 4 | -11 | 14 | -1 |
McIlroy and Oosthuizen par the 13th and are both in the fairway on the 14th.
Woods had an awful lie, but the ball was sitting on an upslope.
His shot bounced on the green, but it rolls all the way through and settles on the left side behind the green in the rough.
He has plenty of green to work with for his third.
His drive does go 309 yards and he has 195 left.
He is on the right side of the hole but that bunker is a factor.
Dustin Johnson finishes with an unlikely birdie at 18 and comes in with a six-under 65 today and 13-under through 54 holes.
The 14th is a long 495-yard par-four.
The fairway curls right-to-left.
The pin is cut front-right and has a bunker in front to protect.
Tiger yanks his driver well right, but it looks like he has found an area that has been trampled down by the gallery at the edge of a cart path.
Just 12-and-a-half feet left for Tiger left of the pin.
He had the right line, but too much speed as the ball lips out left-edge.
With three feet left, Tiger converts.
TIGERBOARD

| | | | |
| --- | --- | --- | --- |
| POSITION | SCORE | HOLE | TODAY |
| 4 | -11 | 13 | -1 |
Tiger can see the whole flag stick.
He lofts his wedge a couple yards past the hole where it checks up immediately.
Still a good birdie chance to come.
McIlroy birdies the 12tn to get to 15-under and four back as Oosthuizen makes a par.
Lost in Louis' incredible run is that Rory is three-under today after a few shaky holes before the turn.
Jim Rogash/Getty Images
The 13th hole is a 465-yard par-four that offers really no challenge on the drive.
Tiger nails his drive to the left side of the fairway 317 yards and has just 130 left to a front-left pin.
Oosthuizen not only found the green, but is caught the slope and it rolls back into a real birdie chance.
Woods has 19 feet left for his birdie chance.
Woods played it to break right, but it stayed left all the way for a tap in par.
Oosthuizen has missed the fairway right on the 12th and the ball has settled into what looks like a birds nest on the ground.
A par here would be amazing.
TIGERBOARD

| | | | |
| --- | --- | --- | --- |
| POSITION | SCORE | HOLE | TODAY |
| 4 | -11 | 12 | -1 |
This article is
What is the duplicate article?
Why is this article offensive?
Where is this article plagiarized from?
Why is this article poorly edited?