St. Louis Rams: Breaking Down the Rams' Blueprint for Winning the NFC West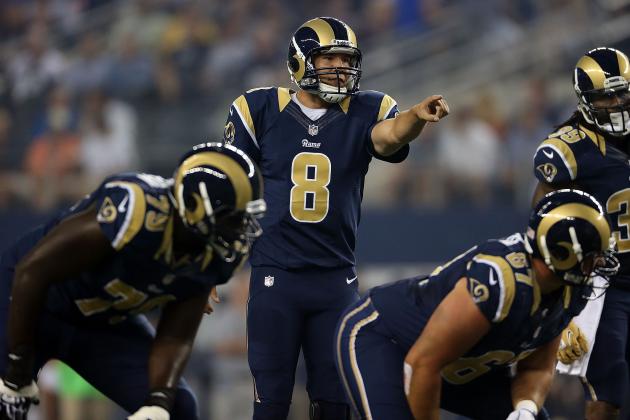 Ronald Martinez/Getty Images
Can Sam Bradford and the St. Louis Rams win the NFC West?
How about this for a team profile heading into the season...
New head coach. Embattled QB who was the No. 1 pick in the NFL draft. Promising young defense. Strong running game. Not many people picking them to win the division.
Sound familiar? It should. That pretty much describes the San Francisco 49ers a year ago.
So while I don't blame you for laughing at me for saying the Rams might win the NFC West, I'll also remind you that a year ago, nobody was picking the Niners to go 13-3.
Instead, most people were picking the Rams, and it was easy to see why.
On paper, they had a good-looking young defense. On paper, they had a franchise QB in place. On paper, they had a promising offensive line. On paper, they had a terrific coaching staff led by a head coach that was a rising star in the NFL.
Unfortunately for Steve Spagnuolo and the 2011 Rams, NFL games aren't played on paper.
So now the Rams find themselves in an identical situation—new head coach, embattled QB who was the No. 1 pick in the NFL draft, promising young defense, strong running game, not many people picking them to win the division.
Today I'm going to break it down for you and show you the blueprint for how the Rams can win the NFC West in 2012. As always, thanks for reading.
Begin Slideshow

»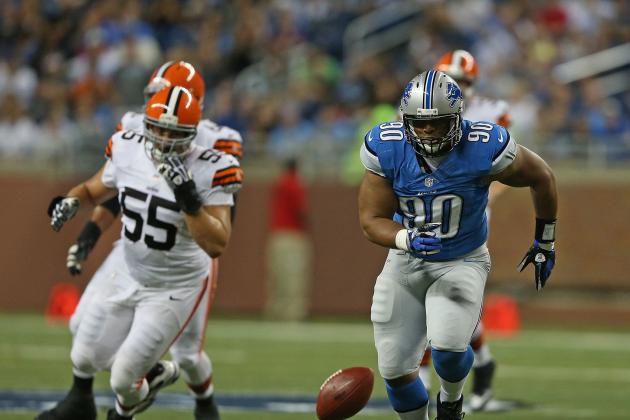 Leon Halip/Getty Images

The Rams played a brutal schedule last season, the toughest in the NFL by almost every way you can judge a schedule.
The Rams' opponents had a combined 151-105 record, the best in the NFL by an eight-game margin.
When you factor in the way the Rams secondary and offensive line was decimated by injuries, it's easy to see how the Rams finished 2-14 against such a tough slate of games.
The Rams' schedule in 2012 is not quite as unforgiving as last season, but it's not going to be easy.
The Rams play the fourth-toughest schedule in the NFL, according to ESPN.com. With games against the Lions, Bears, Patriots and Packers, and two games against the Niners, the Rams have six games against teams with a chance to go deep into the playoffs.
Throw in playoff hopefuls Tampa Bay, Buffalo, the New York Jets and two games against Seattle, and the Rams have a total of 11 very tough games on their schedule.
For them to even have a chance to win the NFC West, they're going to have to find a way to win 10 games. So who are the 10 teams the Rams might beat?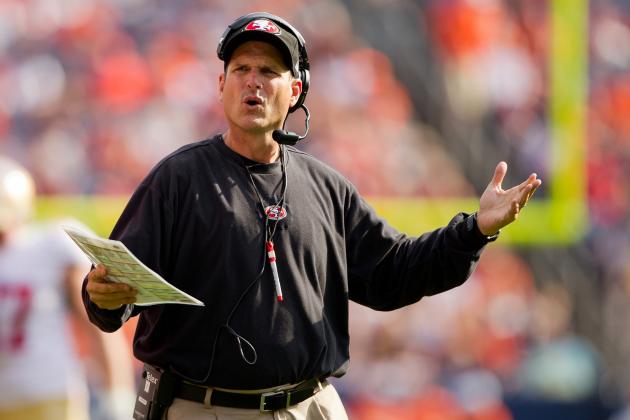 Justin Edmonds/Getty Images

For the Rams to get to 10 wins, they're going to have to protect home field in the division (go 3-0), and they have to steal one on the road (go 1-2).
That gives us a 4-2 record before we start getting into the non-division schedule.
From there, the Rams have to win the games they're supposed to win, and they need to steal one from somebody they're not supposed to beat.
Sounds simple enough, right?
2012 Predictions
Week 1, @ Detroit - Loss (0-1)
Week 2, Washington - Win (1-1)
Week 3, @ Chicago - Loss (1-2)
Week 4, Seattle - Win (2-2)
Week 5, Arizona - Win (3-2)
Week 6, @ Miami - Win (4-2, momentum building)
Week 7, Green Bay - Loss (4-3)
Week 8, New England, game @ London, England - Loss (4-4)
Week 9, Bye Week - After the trip to London (thanks, Stan Kroenke), perfect timing for the Bye
Week 10, @ San Francisco - Loss (4-5)
Week 11, New York Jets - Win (5-5, most important game on the schedule, to stop the bleeding).
Week 12, @ Arizona - Win (6-5, this is the Rams' road win in the division)
Week 13, San Francisco - Win (7-5, realistic shot at the division and/or playoffs now)
Week 14, @ Buffalo - Win (8-5, this win would be a steal because Buffalo will be a very good team)
Week 15, Minnesota - Win (9-5)
Week 16, @ Tampa Bay - Win (10-5, another tough road win)
Week 17, @ Seattle - Loss (10-6, the Rams never play well in Seattle)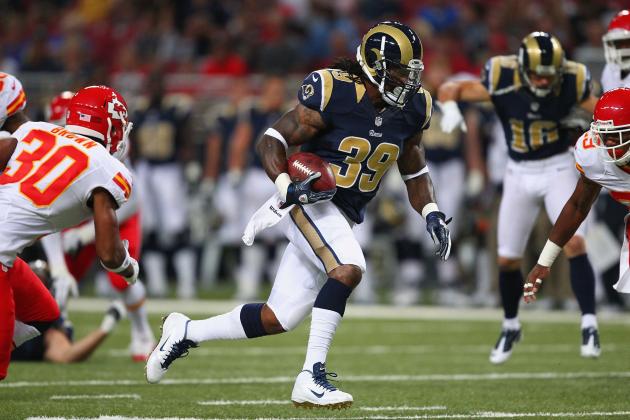 Dilip Vishwanat/Getty Images

The best teacher I ever had, Dr. Tim Rademaker, used to always say that good teams "focus on the process, not the outcome."
So in trying to get to 10 wins (the outcome), exactly how will the Rams play football (the process) to get this done?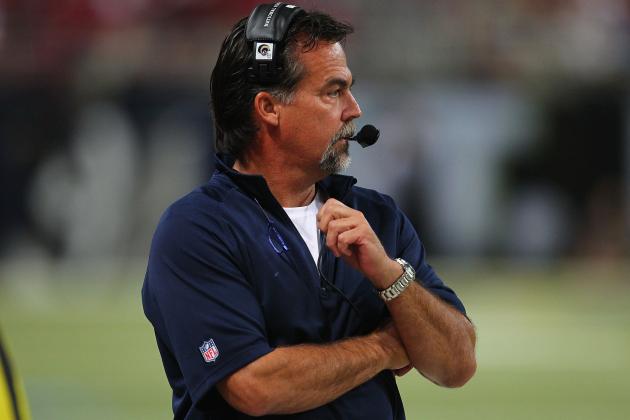 Dilip Vishwanat/Getty Images

Jeff Fisher plays old-school, smash-mouth, run-it-down-your-throat football.
This is exactly the way the St. Louis Rams should play, given their personnel.
Starting in 1995, his first full season as head coach, the Oilers/Titans were ranked in the top 10 in rushing attempts nine times (five times in the top 5). They were ranked in the top 10 in rushing yards eight times (four times in the top 5).
Jeff Fisher loves to run the football.
The Oilers/Titans were also known for being a hard-nosed, hard-hitting defense. The Rams have a lot of young talent on their defense. It is exciting to think about what the Rams might become if Fisher can develop the talent on that side of the ball.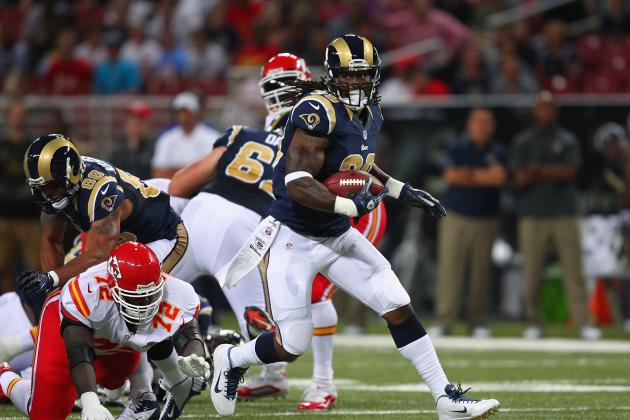 Dilip Vishwanat/Getty Images

If the Rams are going to win 10 games, they're going to have to ride Steven Jackson.
The 29-year-old running back is entering the twilight of his career, but make no mistake about it—he is still one of the best running backs in the NFL.
Jackson has ran for more than 1,000 yards for seven straight seasons—his entire career as a starter.
I'll give you two numbers that illustrate the kind of season Jackson is about to have: 4.4—the yards-per-carry average Jackson had a year ago, proving he is still an elite back, and 1,528—the number of rushing yards Jackson had the last time Paul Boudreau was the Rams' O-line coach.
Boudreau is back in St. Louis coaching the O-line, so expect Jackson to come close to that mark again this season as Jeff Fisher installs his run-heavy offense.
The key to all of this is the offensive line, which is the most scrutinized area of the team. Personally, I think this group is much improved over the unit the Rams had a year ago.
Rodger Saffold is healthy and shows a lot of promise at left tackle. Rookie Rokevius Watkins will be an upgrade at left guard. Scott Wells was a Pro Bowl center last year in Green Bay. Harvey Dahl was the Rams' only good offensive lineman last year at right guard. Barry Richardson is better at right tackle than Jason Smith was, which is why the Rams finally traded the underachieving Smith to the Jets for Wayne Hunter.
If Boudreau can get this O-line to play better, the Rams have a fighting chance. I think this group still has a long way to go in pass protection, but they could be great in the running game. These guys are maulers, built to plow straight ahead and pancake guys rather than backpedal and step-slide.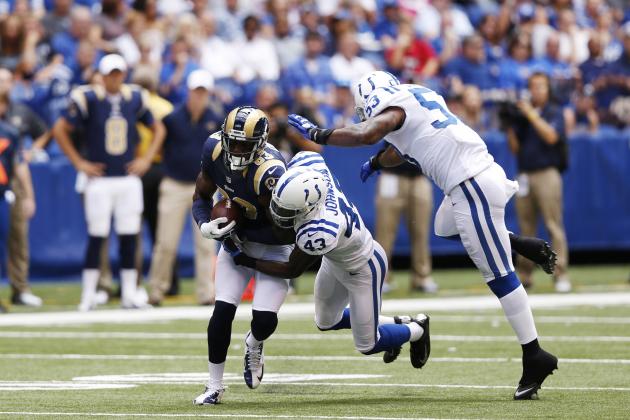 Joe Robbins/Getty Images

This is another area of the team that Rams fans, including yours truly, love to criticize.
The Rams were awful in the passing game a year ago, but this is a brand new group of receivers.
Danny Amendola missed virtually the entire 2011 season with a dislocated elbow.
Steve Smith, who led the NFL in receptions back in 2009, was in Philadelphia last year.
The Rams also added two rookie receivers to the group—Brian Quick and Chris Givens.
When you factor in that Austin Pettis (WR) and Lance Kendricks (TE) are only second-year players with a full offseason under their belt this year, you have to believe that the Rams are going to be much better in the passing game than they were a year ago.
Smith and Amendola are both easily capable of 80-90 catches if they can stay healthy. Pettis looked very good in the preseason. Givens will provide a couple of big plays every week. Quick, the Rams' most talented receiver, could be the best player in the bunch by midseason. Kendricks has the talent to be a major weapon from the tight end position.
The running game should help open the passing game up. Of course, all of that depends on Sam Bradford.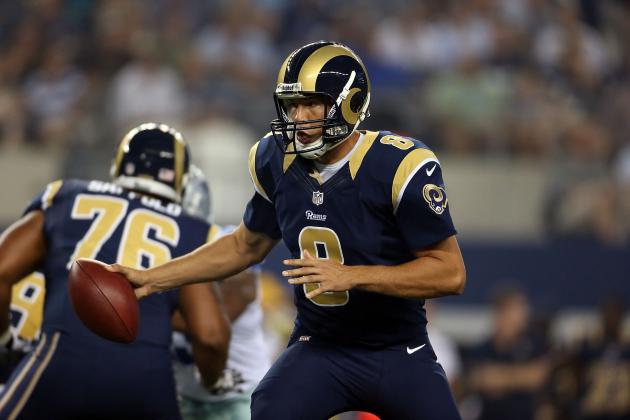 Ronald Martinez/Getty Images

Sam Bradford had a 2011 to forget.
He got beat to a pulp behind an O-line that got wiped out by injuries, which eventually led to Bradford also missing six games due to a high ankle sprain.
To complicate matters, he was trying to run a complex offense (his second OC in two years) in a lockout-shortened offseason with a bunch of young receivers.
All of that is true, and at this point, none of that matters.
Bradford's O-line isn't great, but it's better. His receiving corps isn't the best in the NFL, but it's better. As Bradford enters his third season, no matter how bad the circumstances around him have been, he has to step up and play better football.
The great QBs in the NFL anticipate the rush, they have a sense of timing and they know how to get rid of the ball. Bradford has to learn when to step up in the pocket, when to roll out and improvise and when to simply find the hot receiver rather than taking a drive-crippling sack.
Bradford is a talented QB. In my opinion, he could be on the same level as a Matthew Stafford in Detroit. The Lions did a great job surrounding Stafford with weapons (Calvin Johnson, hello!), whereas the Rams thought it was a good idea for Sam to take on the NFL with Brandon Gibson and Mike Sims-Walker.
None of that matters now.
If the Rams have any shot at winning the NFC West, Sam Bradford has to play better—period. If we're still trying to rationalize Sam's poor play again this time next year—blaming the O-line, the receivers, the coaches—the Rams will be picking very high in the draft next April.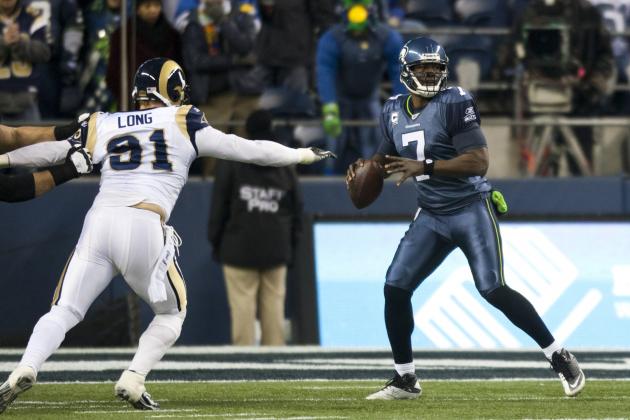 Jay Drowns/Getty Images

The Rams D has a chance to be among the best in the NFL sometime during the next three years.
Will it happen in 2012? Maybe, but if they even come close to their potential, the Rams defense could complement the running game and help them win the NFC West.
The secondary, decimated by injuries a year ago, is now a team strength.
Cortland Finnegan (free agent) and Janoris Jenkins (rookie) have a chance to be one of the best cornerback duos in the NFL. Bradley Fletcher and Trumaine Johnson give the Rams the kind of depth at corner that other NFL teams envy.
The defensive line has a chance to be special. Chris Long had 13 sacks last year from his defensive end spot. Robert Quinn, his bookend, has the look of a player who can put up those kind of numbers and then some. Kendall Langford is one of the strongest defensive tackles in the league, and rookie Michael Brockers (high ankle sprain, will miss the first four games) is a run-stuffing mountain of a man in the middle of the defensive line.
The big question marks are at linebacker and safety.
James Laurinaitis is a star at middle linebacker. He is flanked by Jo Lonn Dunbar, who shows promise, and Mario Haggan, who is a stopgap player. This group isn't going to wow anybody, but it is a major improvement over the linebackers the Rams put out there a year ago, by far the worst LB corps in the NFL.
Quintin Mickell is still an above-average NFL safety, but opposite him, the Rams have one giant question mark. Craig Dahl is currently the starter, with Darian Stewart recovering from a hamstring injury. Neither player has been particularly impressive.
I think the Rams will bring in somebody else as the other starting safety. There just has to be a better option out there than the Rams currently have on their roster.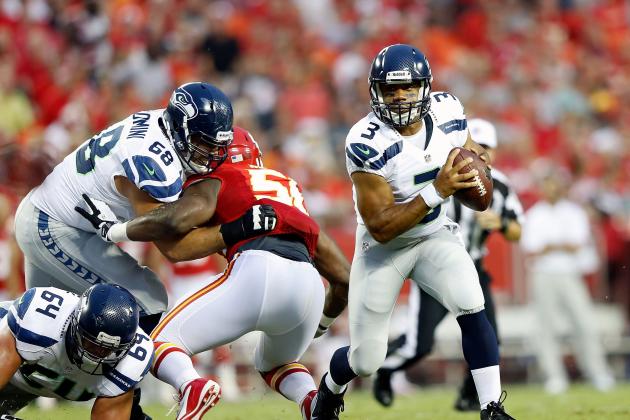 Jamie Squire/Getty Images

When considering the Rams' strengths on defense (great cover corners, fierce pass rush), you have to take note of the QBs they will face this season.
Sure, they play Aaron Rodgers, Tom Brady, Matthew Stafford and Jay Cutler.
They also play Robert Griffin III, Russell Wilson (twice) and Ryan Tannehill. That's four games against rookie QBs.
They also play two games against Arizona (John Skelton), two against the Niners (Alex Smith), the Jets (Mark Sanchez), Buffalo (Ryan Fitzpatrick), Minnesota (Christian Ponder) and Tampa Bay (Josh Freeman).
Of all those QBs, only Freeman stands out as a QB that might carry his team to a win.
That means the Rams D could potentially carry this team by harassing 11 below-average QBs. With a stout defense and a strong running game, the Rams are going to be playing in a whole lot of close football games.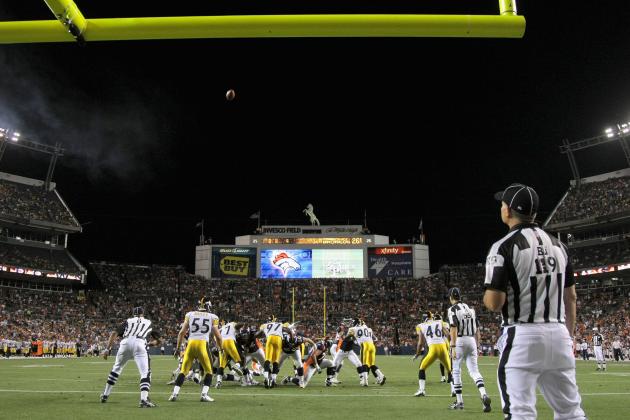 Doug Pensinger/Getty Images

To use a basketball phrase, "Greg Zuerlein has in-the-gym range."
Heck, this dude could probably make field goals from the parking lot.
The Rams are going to grind teams down with a powerful running game. They're going to control time of possession. They play 11 average to below-average QBs, and all of those QBs have to throw into a terrific secondary while facing a fierce pass rush.
My point is, the Rams' schedule and roster point towards a lot of close games.
If the Rams are going to be in a lot of close games, then they need an edge on special teams. Greg "The Leg" Zeurlein is that secret weapon. He has hit multiple 50-plus-yard field goals in the preseason already, with his lone miss coming up just short from 62 yards!
Again, if we use history as our guide, look back at the Niners last year, and look at some of the really close games they won. A four-point win in football means you had one big play that went your way instead of the other way around. A two- or three-point win means that maybe you made a field goal while the other team missed one.
If the Rams can keep it close, Greg Zeurlein could be the difference between seven and 10 wins. Even as a rookie, he's that good (fantasy football owners, you're welcome).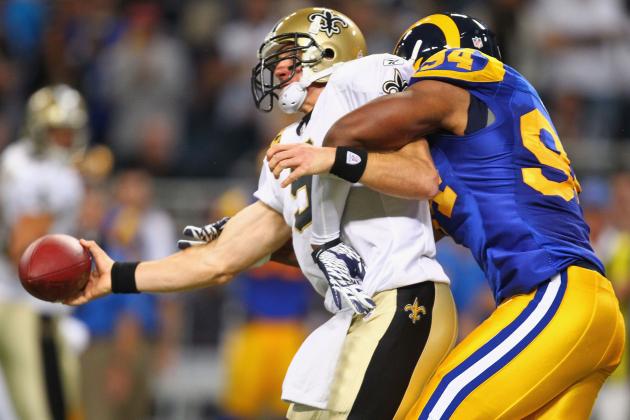 Dilip Vishwanat/Getty Images

It happens every season.
Some team comes out of nowhere to make the playoffs.
It's going to happen again this year. The only question is Which team will it be?
The Rams are a long shot. I know that.
I'm just saying, this is more possible than the average football fan thinks it is. The average football fan sees "2-14 last year." I see "7-9 two years ago, on the verge of making the playoffs, and got completely derailed by a brutal schedule and too many injuries to count last year."
And here is the key point—this Rams team is far more talented than the team that went 7-9 in 2010.
So can they win the NFC West? Can they get to 10 wins?
That's the outcome. Like Dr. Rademaker said, I'm looking at the process. If the Rams can get to the QB (they can) and defend the pass (they can) on defense, then pound the run (they can) and improve their passing game just a little bit on offense (they can), they're going to be in a lot of close games.
If they can play a little better on special teams (they can), they're going to win more close games.
The Rams can do this.
On paper.
Thanks for reading, and I always enjoy the comments.