Wisconsin Badgers Football: 7 Bold Predictions for the 2012 Season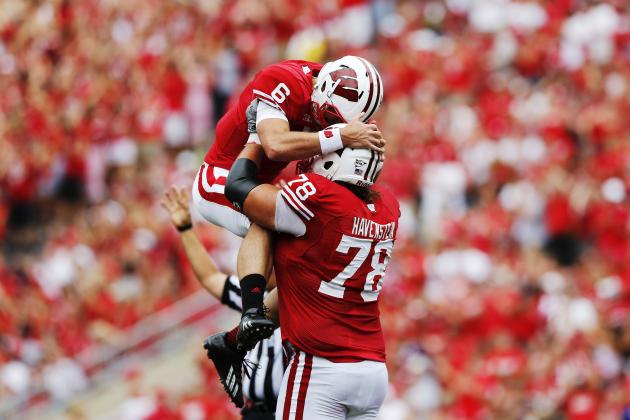 Tom Lynn/Getty Images
The 2012 Wisconsin Badgers are coming off of two straight Rose Bowl berths.
This was an interesting offseason in Madison, to say the least.
Of course, the positives were that the Badgers won the Big Ten Conference for a second straight year, won the first ever Big Ten Championship Game in Indianapolis, and went to a second straight Rose Bowl.
That's where the positives end, however. The Badgers were defeated in Pasadena—their second straight loss at the Rose Bowl—and people began to grumble on the Isthmus that Bret Bielema can't coach in big games, as evidenced by his 2-4 bowl record.
This team enters the fall full of change. Gone are six assistant coaches, most notable among them is offensive coordinator Paul Chryst. Also gone is quarterback Russell Wilson. Last year, the N.C. State transfer set the NCAA record for passing efficiency in a season with an astounding 191.78.
The Badgers have many questions entering this season and here are my 7 bold predictions.
Begin Slideshow

»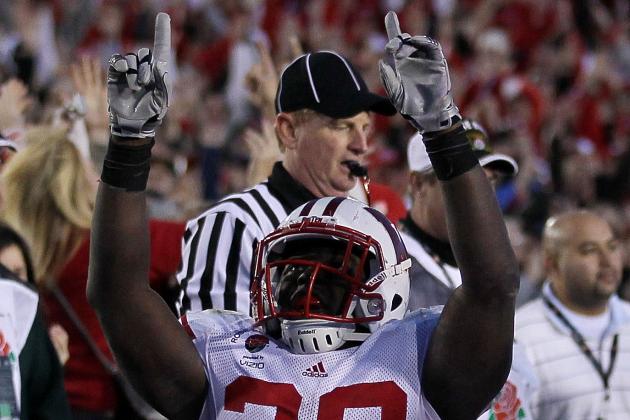 Stephen Dunn/Getty Images
Montee Ball scored 39 touchdowns in 2011, tying Barry Sanders' 1988 NCAA record.
Montee Ball sure made his presence felt in a hurry last season. On an offense that scored 44 points a game, Ball got into the end zone 39 times.
And he also tossed a touchdown to Russell Wilson just for good measure.
After starting just four games in 2010, Ball became dedicated to himself and his team by sculpting his body into a touchdown machine.
Last year, he started all 14 games and racked up 1,923 yards on the ground. And even though he got jumped by several people a week before the Badgers' fall camp started, he still racked up 120 yards rushing and a touchdown in the season opener vs. Northern Iowa.
Ball impressed so many people in Madison that there have been whispers of putting his name on the Camp Randall Stadium facade—but only if he can get the 1,237 yards still needed to overtake Anthony Davis for second on the Badgers' all-time rushing list.
Ball tied Barry Sanders' 1988 NCAA record with 39 touchdowns last year. He now needs 17 more touchdowns to break the NCAA record of 78 career touchdowns scored by Miami of Ohio's Travis Prentice.
With a trip to Oregon State, followed by visits from Utah State and UTEP, Ball will have at least eight touchdowns heading into the Sept. 29 night game at Nebraska. Ball should put up multiple touchdowns against Big Ten foes Minnesota, Indiana and Penn State which will be more than enough for him to get to 79.
He got off to a rocky start against Northern Iowa because he missed time with a concussion after getting getting jumped before camp, but even that won't stop him from getting the record.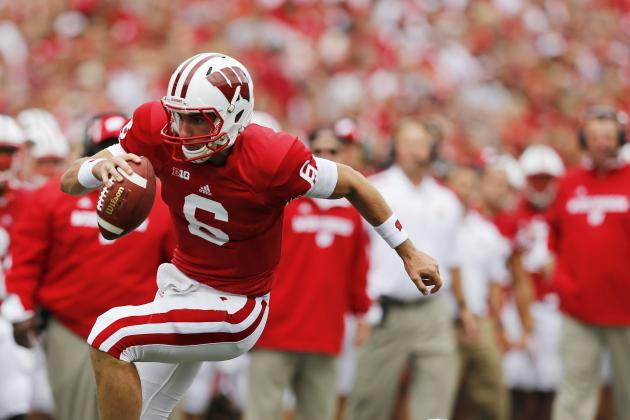 Tom Lynn/Getty Images
Maryland transfer quarterback Danny O'Brien became the second straight transfer quarterback to start for the Badgers.
The moment word came out this past spring that Bret Bielema had found another transfer quarterback to lead the Badgers, many people were skeptical.
There were whispers that Bielema couldn't develop his own talent and even more far-fetched whispers that he couldn't even unearth it.
Since Danny O'Brien graduated from Maryland with a degree in business management, he became eligible to play at another Division I institution right away, which is exactly how Russell Wilson was able to transfer from N.C. State after graduating. NCAA rules state that as long as you graduate from your previous school and still have eligibility remaining, you can play at another Division I school without having to sit a year.
O'Brien isn't Wilson. Let's get that out of the way right now.
O'Brien won't beat you with blazing speed or with a dynamic play here or there. What O'Brien does possess is the ability to be smart when defenses don't present many opportunities.
When he won ACC Rookie of the Year as a freshman in 2010, O'Brien completed 57 percent of his passes and threw 22 touchdowns and just 8 picks.
After seeing O'Brien in the season opener, he reminds me a lot of Scott Tolzien, who is fourth on the Badgers' all-time single-season passing list. Tolzien completed 64 and 73 percent of his passes his final two years, which is similar to O'Brien's season opening line of 19-of-23 (83 percent) with two incompletions the result of drops.
O'Brien understands that he's playing behind another great offensive line and has a tremendous running game. He will not lose games. He is a cerebral quarterback that will pick his spots and not take many chances.
He's not Wilson but O'Brien's consistent play is a replacement for Wilson's dynamic play.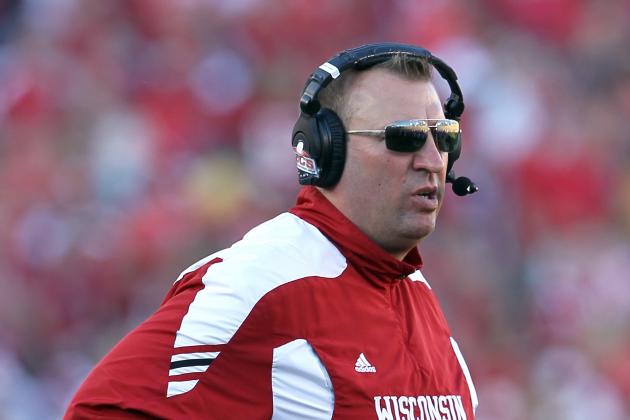 Stephen Dunn/Getty Images
Bret Bielema enters his seventh season as the Badgers' head football coach.
Normally, Bret Bielema would have taken a lot more grief after following a legend and Hall of Famer as head football coach at the state's flagship school.
He didn't, though, because Barry Alvarez hand picked Bielema, his former defensive coordinator, to serve as the team's head coach when Alvarez decided to step down as coach and stick to AD duties.
Bielema has taken the Badgers to a 61-19 record, an astounding winning percentage of .763.
He has done it by maintaining the blueprint that was left by Alvarez: run the ball behind the state's hulking farm boys on the line and complement that with a menacing defense that won't break.
The Badgers have won at least 10 games four times under Bielema's watch and have played in four January bowls and two straight Rose Bowls. Even though he is 2-4 in bowls, Bielema has vaulted the Badgers into national prominence by beating No. 1 Ohio State in 2010, the school's first win over a top-ranked team since 1981. The Badgers also laid the wood to Indiana in 2010 by laying 83 points on the hapless squad.
This is the year Bielema will prove himself even more. With his defensive coordinator Dave Doeren taking a head coaching job at Northern Illinois last year and Paul Chryst taking over the head job at Pittsburgh this year, Bielema has been forced to adapt to coaching changes.
This season, he's got six new assistants. And nothing speaks to the character of a person more than how he handles change and adversity. Chryst was credited for being the mad scientist behind Wisconsin's offensive renaissance. Now, Bielema has to overhaul everything, with a transfer quarterback to boot.
Bielema has been underrated as a coach, but this season he will prove why he deserves to be talked about with Oregon's Chip Kelly, Southern Cal's Lane Kiffin and Boise State's Chris Petersen.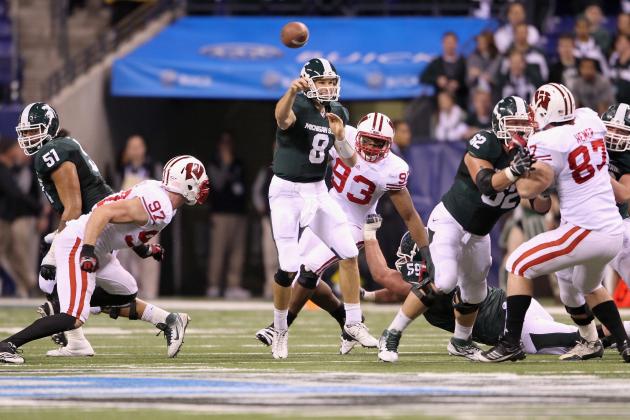 Andy Lyons/Getty Images
The Badgers' secondary was exposed last season by Michigan State's Kirk Cousins (above), Oregon State freshman Sean Mannion and Ohio State freshman Braxton Miller.
Last year, the Badgers had a Hail Mary prayer get answered for Michigan State as Sparty got a thrilling last second win at East Lansing. The Badgers also lost in the waning moments to Ohio State. The Buckeyes were kicking the tires on their freshman quarterback Braxton Miller and he got a gift with a wide open receiver to beat Wisconsin.
According to Football Outsiders the Badgers were ranked fifth overall in terms of efficiency and 49th in terms of defensive efficiency last year. To put it in perspective, the Badgers allowed a first down rate, which is the percentage of offensive drives that result in at least one first down or touchdown. The Badgers percentage was .656.
After holding Northern Iowa to just 47 yards on 15 plays in the first half, the Badgers hemorrhaged touchdown passes of 55 and 31 yards in the second half. The culprit? The old fashioned wheel route.
The passing game has increased dramatically over the last five years, but amazingly the Badgers haven't done enough to stop it.
This year, the Badgers will take on Taylor Martinez, who looked much improved after tweaking his mechanics in the offseason, Nathan Scheelhaase and Braxton Miller. Those three signal callers will make you pay if you miss an assignment or if you flat out just get beat.
With the defensive line improving steadily thanks to switching Chris Borland to defensive end, the secondary needs to hold up its end of the bargain.
Unfortunately, that won't be the case again this year.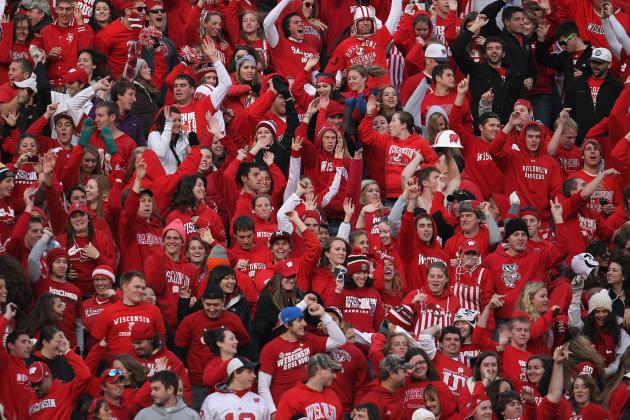 Jonathan Daniel/Getty Images
The Camp Randall Stadium student section is very boisterous and has been lightly reminded to refrain from its poor language in the past.
Now I know we've heard this before, but the Camp Randall Stadium student section contains some of the craziest fans in all of college football.
For 11 a.m. kickoffs, students can be seen kicking off their day with 7 a.m keggers. All that liquid courage leads to a truncated vocabulary, which ultimately ends up inside the stadium.
Athletic director Barry Alvarez and coach Bret Bielema know that the profanity is at high levels and have asked the students to stop in e-mails.
Alvarez and Bielema know that's basically all they can do, because they can't legally eject someone from the stadium for swearing. Numerous season ticketholders are grumbling that spending over $5,000 on tickets isn't worth it if you can't take children.
Badgers brass and students are at an impasse. With the tradition of some of the things going inside Camp Randall's walls, I don't expect the students to start putting a muzzle on their mouths.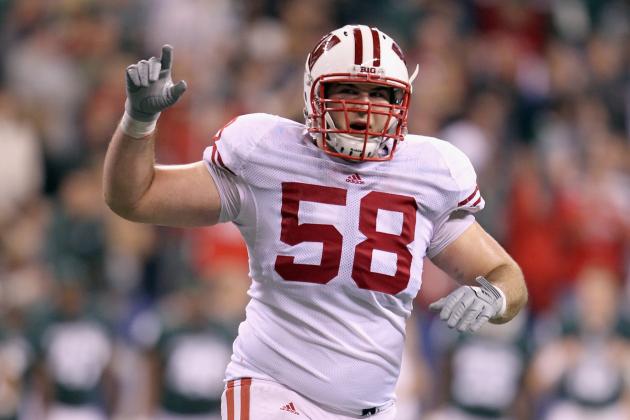 Andy Lyons/Getty Images
Badgers left tackle Ricky Wagner has been a Big Ten honorable mention the last two years. He is poised for a big season this year.
The Badgers offensive line has been an important stable of "Big Uglies," as coach Bret Bielema calls them.
In this year's NFL Draft, Kevin Zeitler and Peter Konz went in the first two rounds. In 2011, Gabe Carimi went in the first round.
Ricky Wagner will continue that tradition by being the first offensive lineman drafted in the 2013 NFL Draft.
He is the leader on a unit that brings back one of the nation's best running backs and NFL scouts have proven that they trust what Wisconsin is doing to prepare young blockers.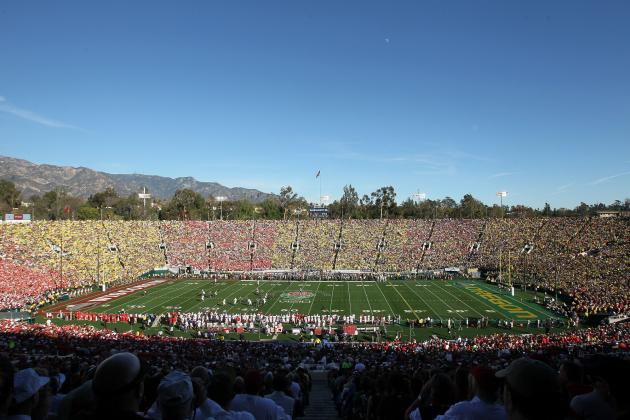 Jeff Gross/Getty Images
The Badgers lost to Oregon 45-38 in last year's Rose Bowl. Wisconsin will return to Pasadena this season.
The Badgers have plenty of memories from the past two seasons. Winning a pair of Big Ten titles and getting to the Rose Bowl are high on the list.
Coming back from Pasadena empty-handed, however, isn't something to be remembered in the scrapbooks.
This year, the Badgers are looking to become the first Big Ten to advance to three straight Rose Bowls since Michigan did it from 1976-78.
This team has a smart quarterback, a deadly running back that can break the home run at any moment, and a No. 1 wideout in Jared Abbrederis that is slowly carving out an NFL resume.
With Penn State and Ohio State dormant in the playoffs, the Badgers are a shoe-in to get to Indy for the Big Ten Championship and represent the Leaders Division.
Once Michigan advances from the Legends Division, I expect a lot of scoring, but eventually the smarts and poise of Danny O'Brien will prevail and the Badgers will be off to Pasadena for a third-straight year.