West Virginia Football: What We Learned from Week 1 Win over Marshall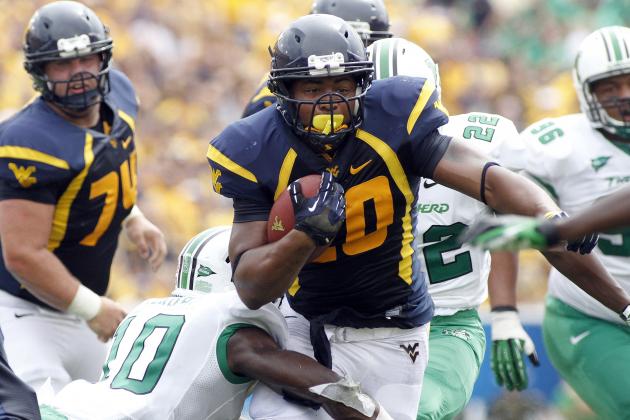 Justin K. Aller/Getty Images

The West Virginia offensive machine whirred, whistled and hummed, looking unstoppable on its way to a 69-point performance in its season opener against in-state rival Marshall.
WVU improved to 12-0 all-time against the only other Bowl Subdivision team in the state of West Virginia in what will be the last matchup between the teams in the foreseeable future.
We knew that the Mountaineers would have a dangerous passing attack, which was confirmed against Marshall, but we also learned a lot about just how balanced this offense will be.
The defense carried the most questions going into the season, but we also learned a lot about the group that debuted a new 3-4 defensive scheme.
All around, it was a solid Week 1 performance from WVU—here's what we learned from it:
Begin Slideshow

»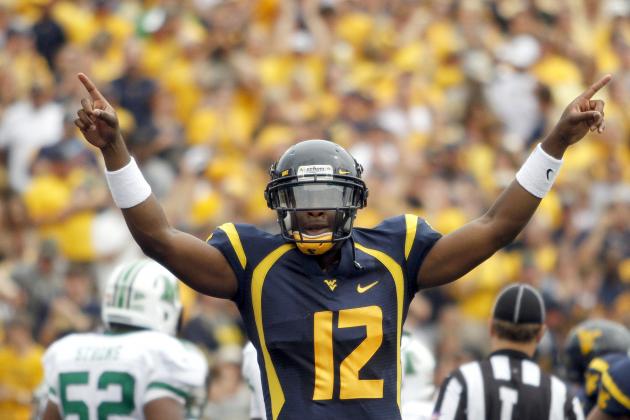 Justin K. Aller/Getty Images

We knew quarterback Geno Smith was good, but on Saturday, we learned that he's better than good.
He entered his senior campaign looking bigger, stronger, faster and sharper than ever—and it showed in the stat column and on the scoreboard.
The Miramar, Florida native was nearly flawless, finishing 32-of-36 with 323 yards through the air. He did it with his legs too, running eight times for 65 yards, including taking a broken play 28 yards to the house.
At the end of the day, he had accounted for more touchdowns (five) than incompletions (four).
He distributed the ball to six different receivers, five of which had 30 receiving yards or more.
Smith solidified himself as a legitimate Heisman Trophy contender and showed the country that WVU has the offensive firepower to compete in the Big 12 Conference.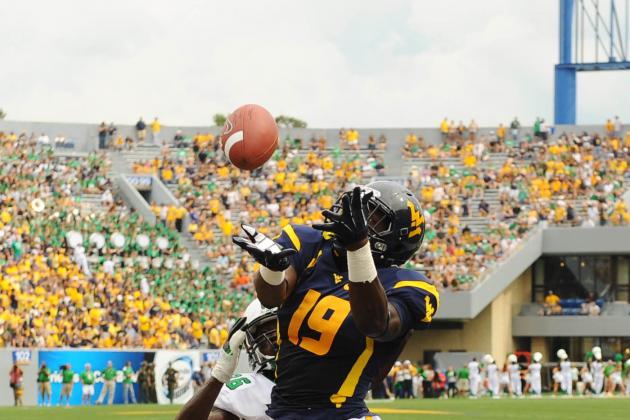 James Lang-US PRESSWIRE

One widely-accepted fact about WVU going into the season was the talent of its two stud receivers, Tavon Austin and Stedman Bailey, both of whom did their part against Marshall.
The duo combined for 19 receptions for 157 yards and three touchdowns, while Austin also added what was arguably the play of the day, a 70-yard run which set up his touchdown reception.
Throughout the game, Smith and second-string quarterback Paul Millard spread the ball to seven receivers, including two freshmen.
Four different receivers hauled in the five touchdown passes, but the story of the day in the receiving corps was J.D. Woods. The senior had seven receptions for 75 yards and a touchdown, already eclipsing his production from the entire 2011 season (7 REC, 67 YDS, 0 TD).
Head coach Dana Holgorsen was pleased with the distribution of the offense in its first game (via John Antonik, WVUSports.com):
"We spread the ball around to a lot of people," Holgorsen said. "What makes this offense pretty good is about having multiple weapons, not just having one or two guys."
On the day, eight offensive players accounted for touchdowns: Smith, Millard, Austin, Bailey, Woods, freshman receiver K.J. Myers and running backs Shawne Alston and Andrew Buie—I'd say that's more than "pretty good."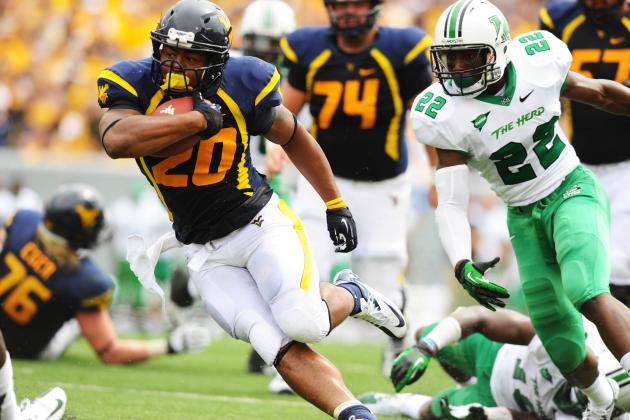 James Lang-US PRESSWIRE

What if I would have told you on Friday that WVU would have more rushing yards than passing yards against Marshall? You probably wouldn't have believed me.
I know I wouldn't have believed me, but once I saw Shawne Alston touch the ball just once, it was plain to see that he's a completely different monster than we've ever seen.
The Mountaineers threw for 324 yards, but led by Alston, they netted a total of 331 on the ground.
Alston was hampered by a neck injury last year, but he came into his senior season bigger, faster and running harder than ever, something he takes great pride in (via AP, ESPN.com):
I think I'm the baddest dude on the field. It's just an attitude that you have to have. Any game that I go into, I just feel that they can't stop me. I know what I can do on the field and I don't think that anybody can stop me.
Marshall certainly couldn't stop him, as the Hampton, Virginia native trucked his way to a career-high 123 yards and two touchdowns, averaging 7.7 yards per carry.
Joining him out of the backfield was sophomore Andrew Buie, who averaged 13.3 yards per carry on his way to 80 yards and a touchdown to go with 31 receiving yards.
In total, Alston, Buie, Austin and Smith combined to average more than 10 yards per carry on the day.
A common knock on the West Virginia offense heading into the season was its lack of a running game, but those claims were silenced on Saturday.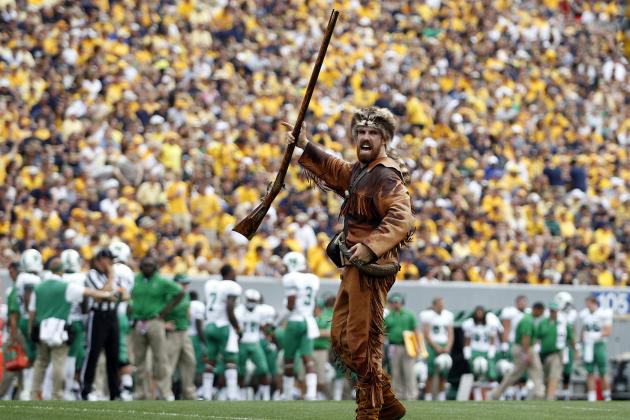 Justin K. Aller/Getty Images

I couldn't find a picture that did enough justice to how well the West Virginia offensive and defensive lines played against Marshall.
We knew the experienced offensive line would be solid, but even they exceeded expectations.
Smith wasn't sacked a single time on the game and had enough time to find an open receiver pretty much every time he dropped back. Millard took just one sack in relief of Smith, but the two combined for an average of 8.3 yards per attempt and 9.5 yards per completion.
On the ground, WVU averaged 9.5 yards per carry while compiling a total of 331 yards—a higher total than all but one game from 2011.
Defensively, we weren't sure just how strong WVU would be in the trenches with the loss of its top two defensive ends, Bruce Irvin and Julian Miller.
However, the newcomers came through and controlled most of the action up front defensively. Marshall gained only 2.9 yards per rush for a grand total of 132 yards.
At times, the Mountaineer pass-rush looked strong, but overall, they could have used more consistent pressure on the quarterback. In all, WVU fans have to be pleased with how the young defense up front responded in game one.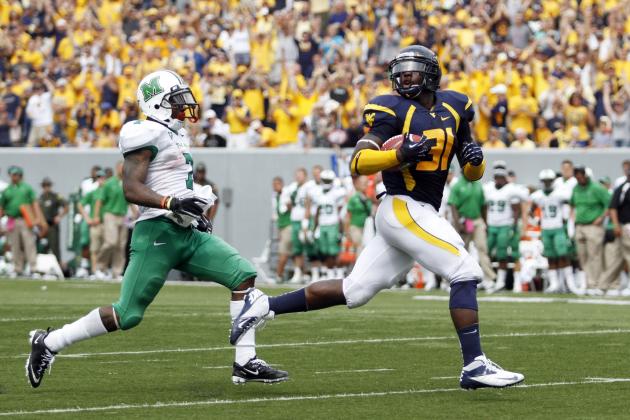 Justin K. Aller/Getty Images

One of the most notable departures from the 2011 West Virginia squad was defensive end Bruce Irvin, a cult hero in Morgantown who was selected in the first round of the 2012 NFL draft.
He was a pass-rushing fiend who registered 22.5 sacks in just two years at WVU and was arguably the biggest playmaker on the Mountaineer defense. Understandably, fans were worried as to how he would be replaced.
Well, it appears as though the West Virginia coaching staff has found another Bruce—red-shirt freshman linebacker Isaiah Bruce.
In his first start, Bruce recorded a team-high 16 tackles, joining Anthony Leonard and Marc Magro as just the third WVU player since 2002 with 16 tackles in a single game (via Tony Dobies).
Late in the third quarter, Bruce's fellow linebacker, Terence Garvin, knocked the ball loose while sacking Marshall quarterback Rakeem Cato. Bruce scooped the ball up and took it back 43 yards to the house, giving the Mountaineers a 54-17 lead.
Then, the home crowd in Morgantown let out its customary "Bruuuuuuuce!" cheer—the one it used to yell out in praise of Irvin.
The best part? WVU only had Bruce Irvin for two years, but it looks like Isaiah Bruce will be a defensive staple in Morgantown for some time to come.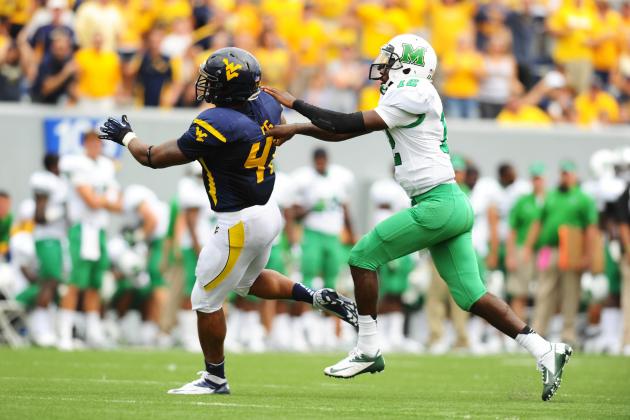 James Lang-US PRESSWIRE

Aside from Bruce, West Virginia found a few other defensive playmakers.
Terence Garvin, the "star" linebacker converted from safety who forced the fumble for Bruce, finished No. 2 with 12 tackles, including WVU's only sack and two tackles for a loss.
Another linebacker, Doug Rigg, had West Virginia's lone interception, which he returned 43 yards to the Marshall three-yard line, setting up Paul Millard's touchdown pass to K.J. Myers.
In total, 30 players recorded tackles for WVU, and seven of them combined for 10 tackles for a loss.
The other starting defensive freshman, safety Karl Joseph, ended up with seven tackles, two of which were for a loss.
Senior Josh Francis—who was billed as the next Bruce Irvin when he was recruited to Morgantown—finally began to show his potential. He had two tackles for a loss, including one of the biggest defensive plays in the game, delivering a big hit for a loss on third down.
In a similar play, Shaq Petteway sniffed out and blew up a Marshall screen to force the Herd into a three-and-out.
The WVU defense was far from perfect, but there were numerous opportunities where players came through big when it counted.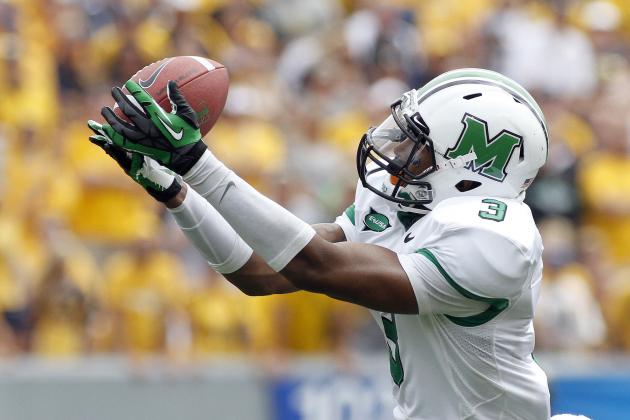 Justin K. Aller/Getty Images

Perhaps the biggest takeaway from this game was that the West Virginia secondary has room for improvement.
As well as Geno Smith played, Marshall quarterback Rakeem Cato ended up with more completions and more yards. The sophomore went for a career-high 413 yards and two touchdowns, spreading the ball to 13 different receivers.
His top three receivers, Eric Frohnapfel, Tommy Shuler and Aaron Dobson, combined to haul in 15 receptions for 179 yards and two touchdowns.
The WVU defensive backs seemed to give the Marshall receivers plenty of room to work throughout the game, a mistake Cato and the up-tempo Herd offense took advantage of often.
Marshall even averaged more yards per completion, at 10.9, than West Virginia.
The Mountaineers will need to tackle better and cover better, or they will surely be exploited again by the talented passing offenses of the Big 12.