New York Giants: Odds on David Wilson Completing His 2012 Goals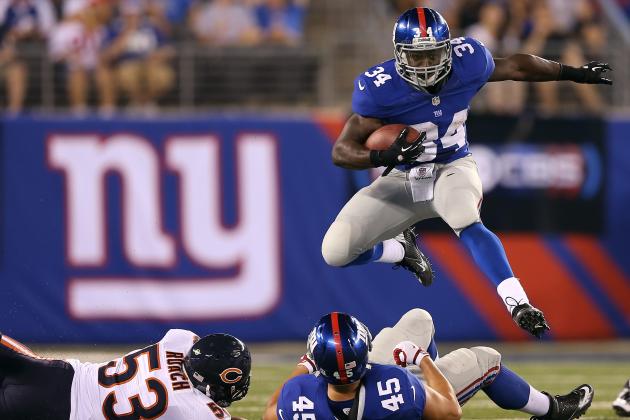 Elsa/Getty Images

Before each season, New York Giants' rookie running back David Wilson sets a list of goals for himself for the upcoming season.
Some are more realistic than others, but the set of goals serves as a motivation factor for the ex-Virginia Tech backfield standout.
Wilson recently shared his goals for his first NFL season with ESPN, to which Ohm Youngmisuk shared in the Giants' blog on ESPN New York.
Wilson has set some lofty goals for himself in 2012, so we're going to go through each goal and give you the odds of him completing the task.
Begin Slideshow

»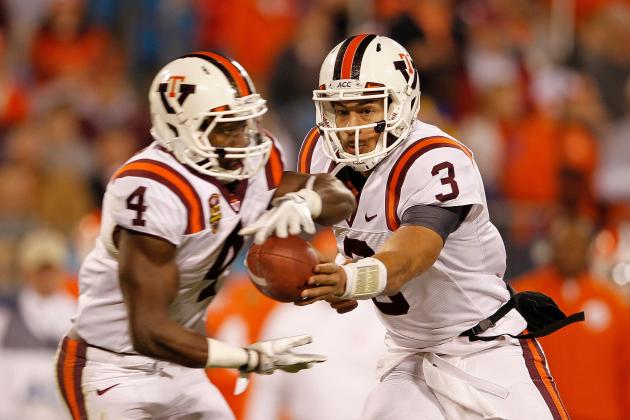 Mike Ehrmann/Getty Images

Wilson had some trouble hanging onto the football last season at Virginia Tech, so the odds of him not coughing one up all season long are against him.
Top NFL backs like Arian Foster, Michael Turner Maurice Jones-Drew, Marshawn Lynch, Frank Gore and Ray Rice each had at least two fumbles in 2011.
The speed, strength and tenacity of NFL players is a lot different than that of college football players, and that was evident for multiple rookie RBs last season.
Rookies Daniel Thomas, DeMarco Murray, Roy Helu, Mark Ingram and Delone Carter all received 100-plus carries and fumbled the football at least once.
Chance of completing goal: 15 percent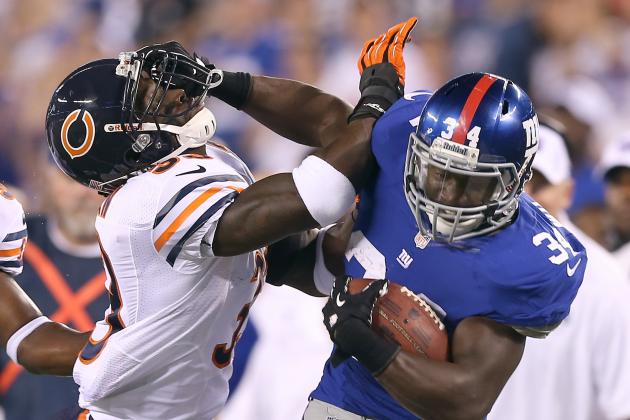 Elsa/Getty Images

Of the six rookie running backs from 2011 that received at least 100 carries (Thomas, Murray, Helu, Ingram, Hunter and Carter), only one of them averaged more than five yards per carry, and that was the Dallas Cowboys' DeMarco Murray, who had a 5.5 YPC average.
In all three seasons at Virginia Tech, Wilson averaged at least 5.5 YPC, but as we all know, college statistics don't always transcend into the NFL.
Wilson has put his explosiveness on display this preseason, most notably in preseason performances against the Jacksonville Jaguars and Chicago Bears, where he sported 6.1 and 9.8 YPC averages on at least five attempts.
To put Wilson's goal in perspective, none of the top 10 rushers from the 2011 NFL season averaged a 5.0 YPC average.
While Wilson won't see nearly as many carries as the top NFL backs, it's still unlikely for him to boast a 5.0 YPC average in 2012.
Chance of completing goal: 20 percent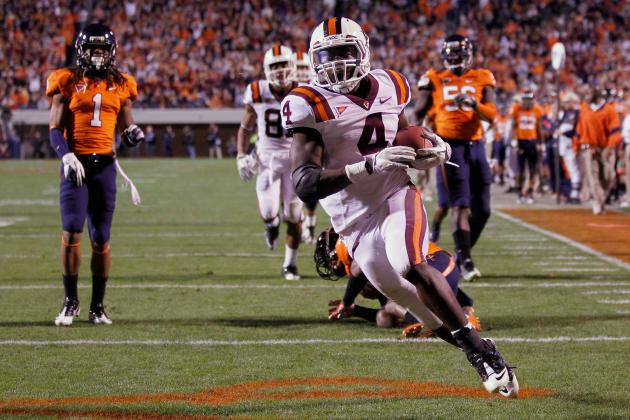 Geoff Burke/Getty Images

David Wilson has set some towering goals for his 2012 campaign, but I think this is one that he has a shot to achieve.
With the Giants cutting D.J. Ware, Wilson is all assured the backup running back spot behind Ahmad Bradshaw, and given the Giants' propensity to run the football with multiple backs, Wilson is going to see his fair share of carries.
But it's not just his rushing ability that makes him a threat—it's also his talent as a receiver out of the backfield.
The preseason saw Wilson grab three balls for 35 yards while his collegiate career at Virginia Tech saw him make 37 receptions and score five touchdowns in the receiving game.
Wilson scored 10 touchdowns in 2011 and will have a shot at achieving his goal by playing alongside Eli Manning this season.
Chance of completing goal: 35 percent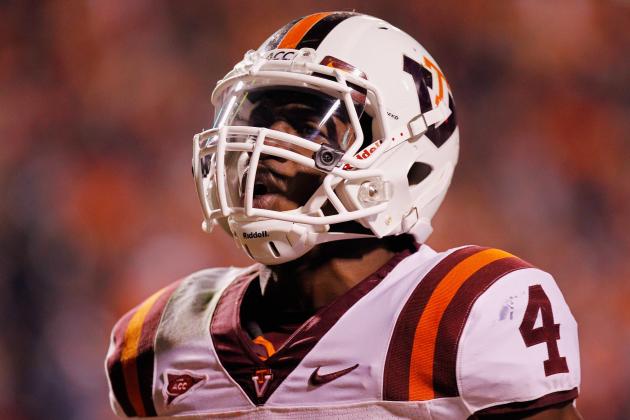 Geoff Burke/Getty Images

At 5'9", 205 pounds, David Wilson is built to help out in the pass-blocking game for quarterback Eli Manning.
He's looked good during the preseason protecting his quarterbacks, but he also hasn't been playing against the best of the best that each NFL defense has to offer.
This is going to be an extremely tough goal for Wilson because of the size of the opposing defenders he's going to be responsible for.
We all expect rookies to make mistakes while dealing with the learning curve in the NFL, and I think it's just going to be too difficult for Wilson to not allow a sack all season.
Chance of completing goal: 15 percent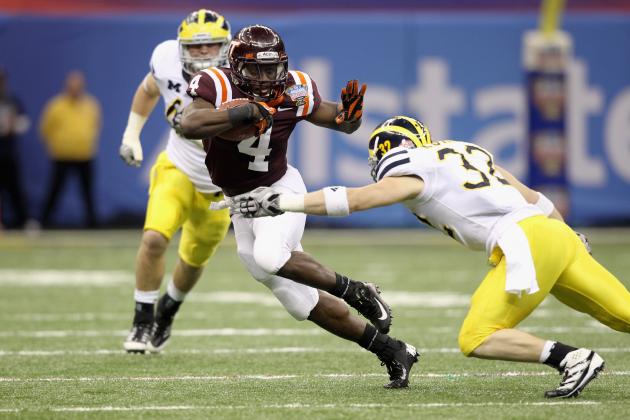 Matthew Stockman/Getty Images

This is easily the toughest goal that David Wilson has set for himself in 2012.
This is probably more of a motivation thing for Wilson than it is reality; no running back had more than 14 plays of 20-plus yards in 2011, with that being the Philadelphia Eagles' LeSean McCoy.
It's just not realistic for Wilson to have a play of at least 20 yards in every game for the Giants this season, but as a Giants fan, you have to like his positive attitude and drive to be a top back in the league.
As much as I would love to see this, it's just not going to happen.
Chance of completing goal: 10 percent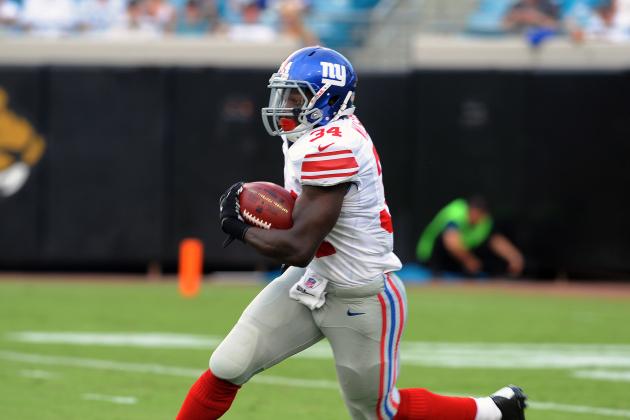 Al Messerschmidt/Getty Images

Again, every goal that Wilson has set for himself is pretty high, but this is a goal I can actually see him achieving.
Just from what he showed against the Jaguars and Bears this preseason, we know Wilson has the speed, strength and vision to rack up the yards.
Wilson rushed for 100-plus yards in all but three games as a junior at Virginia Tech last season, and while I don't put too much stock into college statistics, it just goes to show that he's no stranger to the triple-digit rushing days.
Behind Ahmad Bradshaw—who has a history of injuries—Wilson will be given enough opportunities to accomplish this goal.
Chance of completing goal: 35 percent
Follow me on Twitter and we'll talk NYG football: Follow @Pete_Schauer