An Early Look at the Miami Dolphins' 8 Biggest Upcoming Free Agents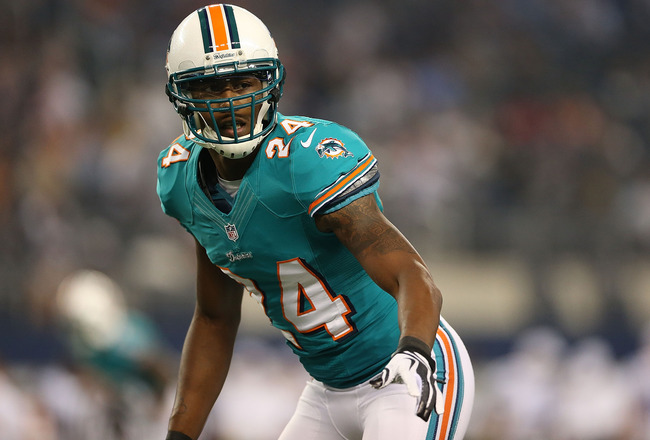 Ronald Martinez/Getty Images
With a new set of coaching staff in place, as well as a brand new quarterback in rookie Ryan Tannehill, 2012 is going to be a season of transition for the Miami Dolphins.
The team is now fully in rebuilding mode, and the tandem of Jeff Ireland and Joe Philbin are slowly ridding themselves of those who don't fit with the new direction, such as Brandon Marshall and Vontae Davis, in exchange for pieces that will help in the future.
Even on the newly-announced 53-man roster, though, there may be some key players present who aren't necessarily going to be a part of the long-term plan, with a bunch of players whose contracts run out at season's end.
These players will undoubtedly try to raise their game here in their contract year—as so many players do—which will leave the Dolphins with a number of tough decisions to make once free agency comes around next year.
I'm going to take you through each of the Dolphins' major impending free agents and predict whether or not they will earn a new contract with the team, and if the 'Phins will be willing to pay them the type of money they'll be looking for.
Jake Long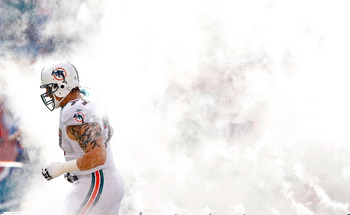 Mike Ehrmann/Getty Images
As the team's best overall player, Jake Long is obviously the biggest name hitting free agency in the summer of 2013.
But as good as Long has been, there's still a significant chance that the Dolphins will at least be reluctant to put pen to paper on a new deal.
Long will simply be looking for a lot more money than the Dolphins will want to commit to a left tackle who has shown shades of being injury-prone over the last few years, especially when the money could be used to cover some of their other weaknesses.
That's not to say that Long isn't worth the money, though, just that a team should definitely be wary of giving away this much money to any player.
Ultimately, Jake Long is way too good for the Dolphins to let go of so soon after drafting him with the No. 1 overall pick, so the Dolphins will either have to bite the bullet and pay him, or look for a trade before the deadline to make sure they don't lose him for nothing.
Randy Starks
Marc Serota/Getty Images
Since joining the Dolphins in 2008, Randy Starks has quietly been one of the Dolphins' better defensive players, manning both the defensive tackle and defensive end positions.
On a team that has been up and down during his tenure as a Dolphin, Starks has been a rare consistent force and has never missed a single game with Miami.
But despite all this, there's still a chance that Starks could be let go, as the Dolphins may look to go with a younger—and cheaper—direction on the interior of their defensive line.
Tony McDaniel, whom the Dolphins signed to a two-year contract extension in 2011, is a player who could possibly start inside in Starks' absence, freeing up some money for Miami to spend on a more pressing need.
If Olivier Vernon manages to impress in his rookie season, another option for the Dolphins would be to play impressive third-year man Jared Odrick inside, with Vernon taking his position as the starting defensive end.
Starks would definitely be a better option than both of these, but if the Dolphins can get by without him, that would be the smarter move, as there are plenty more positions that are in dire need of some money spent on them in 2013 free agency.
Tony McDaniel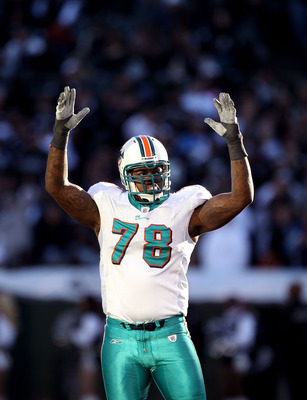 Ezra Shaw/Getty Images
If the Dolphins are to let go of Randy Starks in 2013, then re-signing Tony McDaniel will be essential.
The Dolphins' D-line could quickly go from a position of strength to a position of weakness if both players are let go, so at the very least one needs to come back.
If it ends up being a choice of one or the other, both Starks and McDaniel have strong cases for and against.
Essentially, Starks is the better player, but McDaniel will be much cheaper, so the Dolphins front office will need to decide what is more important to them in the context of next offseason.
Reggie Bush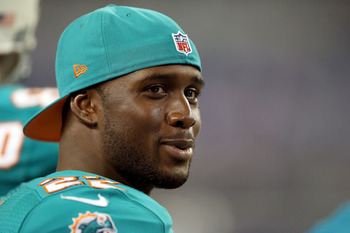 Ronald Martinez/Getty Images
Reggie Bush justified the Dolphins' two-year, $10 million gamble for him last season, and if he keeps it up, he'll be worthy of a second contract with the 'Phins.
Bush has proven now that he can be an every-down back for an entire season, but what he needs to prove now is that he can do it for consecutive seasons.
If Bush can reach a 1,000-yard rushing total for the second straight season, he'd become the only back in franchise history to do so besides Larry Csonka and Ricky Williams, and that should be enough for the Dolphins to want to invest in him long-term.
In a league where most teams have their backs, or can find reasonably good options in the draft, the market for Bush won't be too big, so if they want him, it should be easy for the Dolphins to bring Bush back.
His ability to act as a wide receiver could raise his value on the open market, but not to the point where Miami would be forced to let him go.
Sean Smith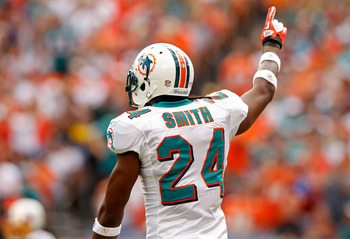 Mike Ehrmann/Getty Images
In the absence of Vontae Davis, Sean Smith now takes the role as the Dolphins' most talented young corner, and now would be a good time to act on that talent.
Much like Davis, Smith has been erratic so far as a Dolphin, but has shown his quality at times and has even beaten out Davis for the No. 1 corner position on multiple occasions.
There's a lot of pressure on Smith to step up to the plate and be the elite corner he can be, and whether he does or not will dictate what kind of contract he'll get from the Dolphins.
It's almost a certainty that Smith will be back with the team that drafted him next year—it's way too early to give up on him. The question is more about what type of contract he'll be in.
Anthony Fasano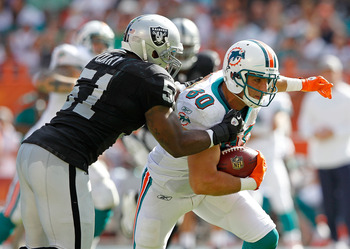 Mike Ehrmann/Getty Images
Anthony Fasano has been a solid player so far in his Dolphins career, but he's slowly losing his value, especially with the change to the West Coast offense and the emergence of Charles Clay.
As the season progresses, Fasano will slowly lose his snaps to Clay, eventually becoming the clear-cut second string tight end.
If Michael Egnew also shows the talent that made the Dolphins spend a third-round pick on him, Fasano could be in a real struggle for playing time.
As a result, re-signing Fasano won't be a priority for the Dolphins next offseason.
If Fasano does return, it will be more because he's a cheap option than because he's someone the Dolphins really value and need on the roster.
Brian Hartline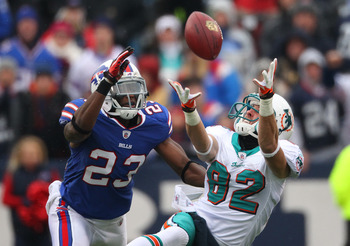 Tom Szczerbowski/Getty Images
Believe it or not, Brian Hartline is the Dolphins' best wide receiver right now—with the exception, of course, of slot receiver Davone Bess—but that's more of an indication of the team's lack of talent than his abundance of it.
Hartline is a solid second or third receiver, but when he's lining up against the opposition's best cornerback, he's simply being put in a position to fail.
Even if he does fail, though, the Dolphins should understand that Hartline can still be a useful piece of the offense, if the team addresses their need of a true No. 1 receiver to go along with him.
He'll be a cheap option and a player who'll probably return, albeit in a much smaller role than he'll be playing in this season.
Chris Clemons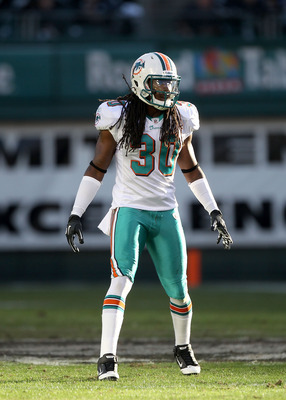 Ezra Shaw/Getty Images
Safety is a position of weakness for the Dolphins, and though he isn't terrible, Miami could certainly do with an upgrade over Chris Clemons.
Clemons is still young, and 2012 could very well be a breakout year for the former fifth-round pick. It will need to be if he's to keep his starting role in future years.
Whether or not Clemons will come back as the team's starter will depend mainly on how deep the safety class is in the 2013 draft and whether or not there are any good, affordable options for Miami in the free agent market.
Even if a replacement is found, Clemons could still have a spot on the roster as a backup.
Keep Reading

Miami Dolphins: Like this team?