Breaking Down the Seattle Seahawks Blueprint for Winning the NFC West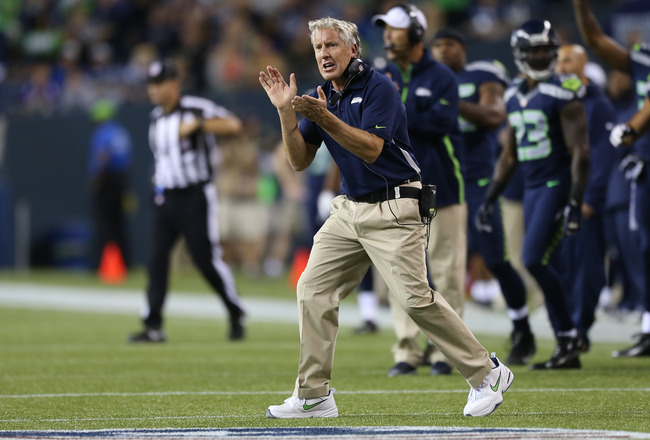 Otto Greule Jr/Getty Images
Finally, it's time.
No more speculation, no more excuses, no more idle chatter.
Back in December of last year, I outlined 10 ways the Seahawks could win the division in 2012. I figured right before the 'Hawks kickoff the season this weekend, it might be entertaining to revisit that article to see how much of the thinking involved there remains true.
Funny how things can change over the course of a few months, especially with Pete Carroll in charge. Not only has the team jettisoned their starting quarterback from last season, but they've replaced him with a rookie selected in the third round of this year's draft.
With that in mind, some might have serious doubts about the 'Hawks this season, and while they certainly have their issues, in order for the team to take the division, they will also need to have quite a few things going for them as well.
Today, I'm hoping to take all of these pieces to weigh the good, the bad and the ugly in order to break down the blueprint needed for the Seahawks to win the NFC West.
Both the Rams and Cardinals Will Need to Struggle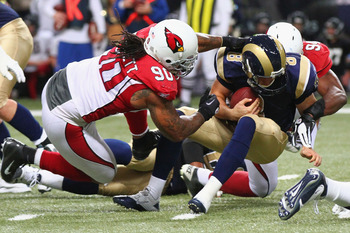 Dilip Vishwanat/Getty Images
To kick things off, we need to take a look at the division rivals first.
For the Rams, a few months ago, I saw them as a last place team with some talent, but a lot has changed for them since December.
I like the Jeff Fisher hiring and believe he has as good a shot as any to get the team back on track following last year's 2-14 disaster. Fisher's presence, the continued maturation of quarterback Sam Bradford and a major turnover of the team roster should help St. Louis improve; however, it still won't be enough to help them get past the 'Hawks, Niners and Cardinals.
Speaking of the Cardinals, they are a wild card in 2012. They still could be scary, but the question is whether or not their fans will be terrified at the sight of what they've become by the end of the season.
Right now, John Skelton is getting the nod at quarterback over Kevin Kolb, but who knows how that will work out?
To some, that may be oversimplifying the situation, but until either Skelton or Kolb settles into the starting role with a sense of authority, the Cardinals will be lucky to play .500 football.
So with the Rams and Cardinals hopefully out of the way, what about the 49ers?
49ers Will Not Go 13-3 Again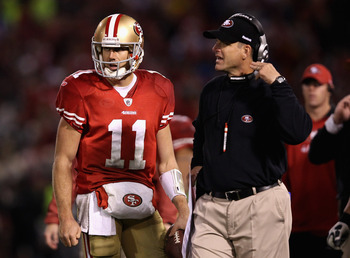 Ezra Shaw/Getty Images
The 49ers are good, and in order to win the division, the 'Hawks are going to have to beat them.
However, I still have a hard time seeing this crew go 13-3 again.
The schedule is tough, and unless Alex Smith takes what he did last year and builds upon it to become an elite quarterback, I'm not quite sure the Niners can go any further than they did in 2011.
Assuming everyone stays healthy and plays up to fair expectations, I'm expecting a dogfight until the end, as the Niners defense is one of the best in the business.
Defense Needs to Be Top-Notch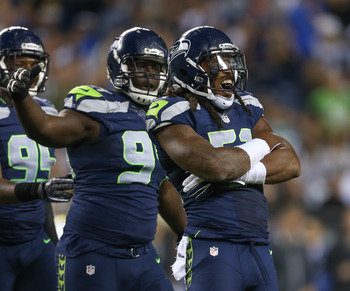 Otto Greule Jr/Getty Images
Speaking of defense, welcome to the party, Mr. Irvin.
Through the better part of the preseason, Bruce Irvin left 'Hawks fans waiting in anticipation of something—or anything for that matter. Finally, against Oakland, we got to see something tangible.
It's not much, but it's a start, and for this team, it's hopefully a positive sign for what plagued the 'Hawks defense all of last year. Without the ability to rush the passer, the Seahawks could still have a very good defense, but a very good defense probably won't be enough to win the division.
With the ability to rush the passer, stuff the run, show serious improvement at the linebacker position and the continued development of the secondary, this defense could go from being a well-known secret in the Pacific Northwest to a unit well-known from coast to coast.
If the preseason has shown us anything, it's the fact that the best offense is a good defense, as this unit can score as many points as they give up.
As we turn the corner to the regular season, their role will become all the more critical. Simply put, while the offense gets itself sorted in the coming weeks, this unit will need to hold down the fort.
This of course is no small task, but for today, I have confidence they will continue to morph into a unit that can bend but won't break even against some of the NFL's best.
If they can get past the start of the season in one piece, they might just give the 'Hawks the momentum to fight for the division.
The 1-2 Punch at Running Back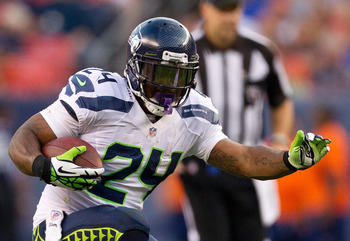 Justin Edmonds/Getty Images
While the defense holds things together, the offense will need to sort out a few details that currently remain a work in progress.
First up on the list is the running game, which I've been skeptical of for some time now.
Months ago, I envisioned Marshawn Lynch gaining 2,000 all-purpose yards, but recently I began to wonder if Lynch is capable of shouldering that much responsibility.
Complicating matters further is a DUI offense that could potentially cost him a game and back spasms that have kept him off the field for some time now.
Now, if you recall the early portion of last season when Lynch wasn't fully functional, the 'Hawks were hard to consider anything more than potential candidates in the "Suck for Luck" sweepstakes.
Once Lynch got on track, things changed, but the prospect of Lynch missing significant time remains a scary thought.
That is unless Robert Turbin can become Beast 2.0.
Throughout the preseason, the rookie out of Utah State has looked pretty good at times, yet in order for the 'Hawks to grab the division, Turbin will need to make everyone in Seattle a believer. Depending on how Lynch looks this Sunday, Turbin might just get his shot sooner rather than later.
Receiving Corps Will Need to Be More Than Just Healthy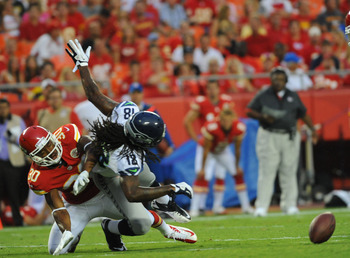 Denny Medley-US PRESSWIRE
There, I said it; this crew must show us something more than a clean bill of health in order for the 'Hawks to win the division.
Before the 'Hawks have even started the season, key cogs—like Sidney Rice, Golden Tate and Doug Baldwin—that factored into the team's plans have all missed time or could possibly miss playing time early on.
Instead, we could very well be left relying on Braylon Edwards, Ben Obomanu and Charly Martin to hold down the fort and provide support to Russell Wilson if the law firm of Rice, Baldwin and Tate can't play.
Yet even if they can play, this group will need to step up and deliver by making not only big plays but by helping to block downfield and to provide Wilson with one set of hands after another capable of getting significant yardage after their catches.
Quite frankly, they scare me, yet I really hope they prove me wrong sooner rather than later.
The Offensive Line Needs to Protect and Serve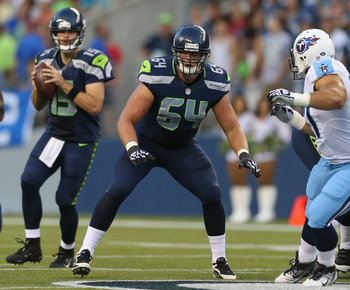 Otto Greule Jr/Getty Images
Whether it's protecting quarterback Russell Wilson or paving the way for Marshawn Lynch, the offensive line will need to be rock-steady for the 'Hawks to win the division.
Ever since the team drafted Russell Okung to serve as the cornerstone at left tackle in 2010, the line has experienced its fair share of ups and downs, but compared to this time last year, this group looks much, much better.
Okung—we can only hope—will finally take the steps necessary towards becoming the rock Pete Carroll used his very first draft pick in Seattle for. Meanwhile, on the opposite end of the spectrum, one of Carroll's final picks in this year's draft, J.R. Sweezy, looks like a keeper after playing on the defensive line in college.
Alongside them is a mix of lunch-pail grinders who will need to protect and serve from Week 1 in order for the 'Hawks offense to function. By the end of last season, we started to see this group come together, and with everyone a year older and hopefully healthier, they could be ready to do the job.
Russell Wilson Shocks the World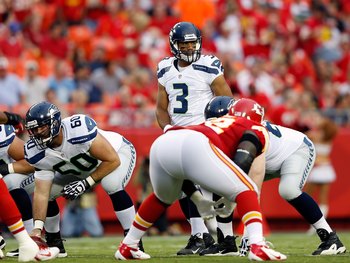 Jamie Squire/Getty Images
Well, perhaps Wilson won't shock everyone if you wish to include Pete Carroll, general manager John Schneider and former NFL head coach and current quarterback guru Jon Gruden on the list of believers.
But beyond them, there are a lot of people out there that have doubts, including myself, who still thinks Matt Flynn might need to be ready at some point if this experiment fails.
And yet if Wilson is for real and all of the other pieces fall into place, this could be one wildly entertaining football team to watch.
In just a few short weeks, Wilson has captivated fans in Seattle and stolen the thunder away from Matt Flynn and Tarvaris Jackson. And he now has people curious to see if the Seahawks can do more than scratch past .500 under Pete Carroll.
For years, fans in Seattle have waited to bury the ghosts of Rick Mirer and Dan McGwire with someone capable of not only winning hearts and minds but actual games.
Is Russell Wilson that guy?
If so, the division could be within reach.
If not, Pete Carroll could be coaching college kids this time next year.
Keep Reading

Seattle Seahawks: Like this team?