Real Madrid vs. Granada: Madrid's First League Win as It Happened
David Ramos/Getty Images
La Liga—Real Madrid vs. Granada
Real Madrid 3-0 Granada
Cristiano Ronaldo 27', 54'
Gonzalo Higuain 77'
Full Time
Lineups:
Real Madrid: Iker Casillas; Sergio Ramos, Pepe, Marcelo, Arbeloa; Xabi Alonso, Sami Khedira, Luka Modric (Ozil 58'); Cristiano Ronaldo (Higuain 65'), Jose Callejon (Di Maria 46'), Karim Benzema
Subs: Kaka, Raul Albiol, Higuain, Ozil, Adan, Di Maria, Varane
Granada: Tono; Borja Gomez (Red Card 60'), Inigo Lopez, Guilherme Siquiera, Allan-Romeo Nyom; Moreno Mikel Rico, Santos Iriney, Fabian Orellana (Hurtado 75'), Juan Manuel Ortiz (Torje 69'); Antonio Flores, Youssef El Arabi (Mainz 63')
Subs: Moises Hurtado, Roberto, Gomez, Mainz, Torje, Angulo, Machis
LIVE BLOG END
That will do it for me, and I thank you for joining me on your Sunday afternoon or evening for this game of football.
Keep an eye out for more coverage of this match from me and my fellow writers right here on Bleacher Report throughout the rest of today and tomorrow.
Until next time, have a great day and I hope to have your company again soon.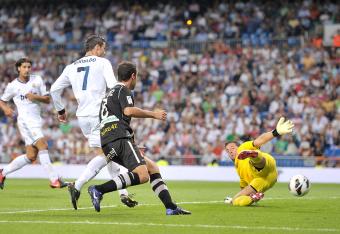 Post-match:
As I said, a satisfying display for Real Madrid, who gratefully collect their first win of the season and move three points closer to what they believe is their rightful place at the top of the table.
Granada put up a good fight for as long as they could, but at 2-0 it was essentially over, and any momentum they might have had left was well and truly killed when Borja Gomez was sent off.
90+2—We're just about there now, as we move into the final 30 seconds or so of this match and Granada mount one last attack for their dignity.
90'—Overall, I think the Real Madrid faithful will be satisfied with a 3-0 win, the first in the league for Los Blancos, despite a very flat first half display and some help from Borja Gomez' second yellow during the second half.
There will be two minutes of stoppage time.
90'—Ooh, Di Maria whipped in a lovely cross towards Karim Benzema and Tono missed the ball when he came out to punch it away, but the striker couldn't get his head to it, otherwise it would have been Madrid's fourth goal.
87'—Madrid just passing it around Granada and the midfielders are having a bit of fun at the moment. Occasionally, someone will make a decisive move through Granada's defence, but there's little will for it at this point.
85'—If my Spanish is still good, my foreign announcers are saying that the news on Ronaldo is positive, and his knee should be alright after coming off in some pain.
Great news for Madrid, and this win will not come at a much larger cost.
83'—Oooh, Higuain should have had his second there, what a chance. Marcelo slipped a great ball into him and he found himself one-on-one with the keeper on the left side of the box, but his chip went just wide.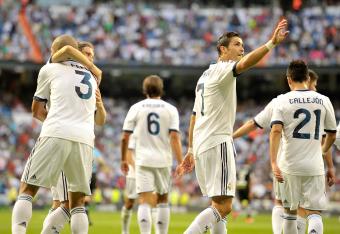 80'—There's still no less attacking impetus from Madrid, as they continue to shoot, push players forward and take threatening set-pieces.
This is how we all expected them to play from the start of the game, and it's really something to watch.
77'—GOAL!!!
Gonzalo Higuain continues his fine form with another goal, and even I could have scored this one.
Ozil spread it out wide for Karim Benzema, who slid the ball across for Higuain to tap into the empty net for Real Madrid's third goal.
Game over.
76'—Granada substitution:
The visitors make their final change of the day, as Orellana comes off for Moises Hurtado.
74'—Madrid have a corner after Di Maria hits the ball off Mainz while falling down in the penalty box.
Nothing comes of it, as it's headed away and Sergio Ramos fouls his marker on the return ball.
71'—My stream is being a little spotty, so I'm sorry for any delay, folks. It looks like I've got a good Spanish one though, so don't worry.
70'—Granada substitution:
Gabriel Torje on for Juanma Ortiz in a like-for-like change.
69'—Madrid continue to attack, press and retain possession, and, if Granada had any real momentum earlier in the second half, it is now completely gone.
Real Madrid are very much controlling things at the moment.
67'—Higuain has scored three goals in as many starts this season, so don't be surprised if he gets on the scoresheet against a battered 10-man Granada side today.
It looks like Ronaldo's injury is to his left knee, but, with some ice applied to it, he looks to be alright.
65'—Real Madrid substitution:
Gonzalo Higuain comes on for Cristiano Ronaldo, who looks to have picked up a knock, but nothing too bad. Better safe than sorry in a game that is essentially over from Jose Mourinho's point of view.
63'—Granada substitution:
Mainz is on and El Arabi is off. That's a center back for a striker to try to fill Borja Gomez' hole in defence.
63'—Meanwhile, Angel Di Maria storms into the penalty box, but some good defending eventually knocks him off the ball.
60'—Borja Gomez is sent off.
He had picked up a yellow card very early on, and a cynical foul on Cristiano Ronaldo gets him a deserved second yellow, and Granada will have to play out the last 30 minutes of the match a man down.
Getting the points is an impossible task, surely.
58'—Real Madrid substitution:
Mesut Ozil on for Luka Modric. A good shift for the Croat new boy, and Ozil will take his usual place as the creative hub of the attack.
58'—Now Madrid are playing a bit more like we know they can, and Granada are straining a bit under the quality of Ronaldo and the entire attack.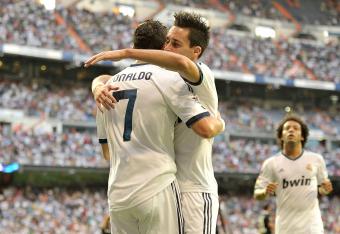 56'—That goal was a bit tough on Granada, who have been the better side recently, but when Angel Di Maria sprung the counterattack and the ball went to Ronaldo, there was little doubt about what was going to happen.
The pure speed of that move was just a bit much for Granada to handle, and now they have themselves a huge hole.
54'—GOAL!!!
It's Ronaldo again! That's his 150th goal for Real Madrid, and he got it on a counterattack after his first shot deflected off the goalkeeper and the second attempt went into a nearly empty net.
Now Madrid have a little more verve and spring in their step, and Granada have a Herculean task before them.
This article is
What is the duplicate article?
Why is this article offensive?
Where is this article plagiarized from?
Why is this article poorly edited?

Real Madrid: Like this team?