UFC 152: Burning Questions Heading into Jon Jones vs. Vitor Belfort Fight Card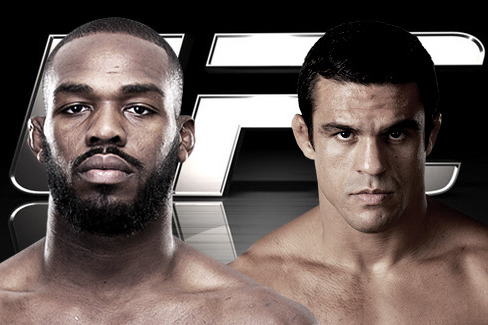 There's no reason to rehash the sordid story that left us with the first event ever to be canceled in UFC history. All we need to know is that when the full history of the UFC is written, there will be an asterisk next to UFC 151, noting that the event never took place.
All the fights on that ill-fated fight card have found a new home, which is a positive. The negative is that the main event between UFC light heavyweight champion Jon Jones and former Pride and Strikeforce champion Dan Henderson is not going to take place, due to a knee injury Henderson suffered while training. Instead, Jones will defend his title against Vitor Belfort in the main event of UFC 152.
The full lineup for the Sept. 22 fight card, which will take place at the Air Canada Centre in Toronto, Ontario, looks like this:
Jon Jones vs. Vitor Belfort
Joseph Benavidez vs. Demetrious Johnson
Michael Bisping vs. Brian Stann
Matt Hamill vs. Vladimir Matyushenko
Charles Oliveira vs. Cub Swanson
Vinny Magalhaes vs. Igor Pokrajac
Evan Dunham vs. T.J. Grant
Lance Benoist vs. Sean Pierson
Marcus Brimage vs. Jimy Hettes
Seth Baczynski vs. Simeon Thoresen
Mitch Gagnon vs. Walel Watson
Charlie Brenneman vs. Kyle Noke
What follows are questions we have heading into UFC 152.
Begin Slideshow

»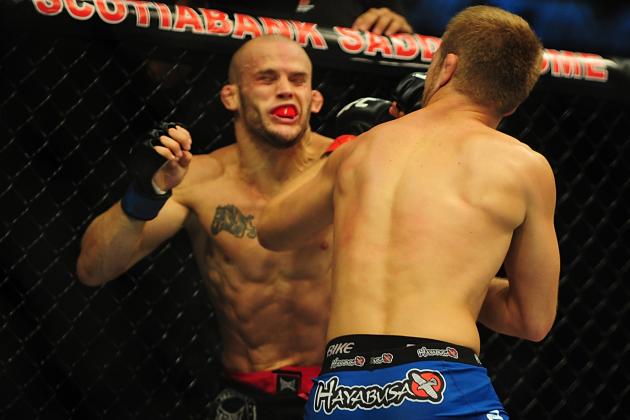 Anne-Marie Sorvin-US PRESSWIRE

Mitch Gagnon made his UFC debut at UFC 149 when he faced Bryan Caraway on the night's preliminary card.
Gagnon came out fast and took the fight to Caraway, showing the submission skills that he used to win eight of his previous nine professional bouts, but Caraway served notice that Gagnon was now fighting in the big leagues, avoiding Gagnon's submission attempts.

Gagnon also showed that, when given an opening, he could use his striking as well, exhibiting some strong ground-and-pound.

What Gagnon did not show was a very robust gas tank. Gagnon looked to be running on fumes by the end of the first round. By the time Caraway slapped on a body triangle and then worked the rear naked choke early in the third round, it was only a matter of time before the tap came.

Perhaps Gagnon fell victim to Octagon jitters, or maybe it was the fact that the Ontario-based fighter was making his UFC debut in front of a Canadian crowd. Whatever the reason, Gagnon's cardio is suspect, and he needs to show that he has corrected that issue when he fights in his home province of Ontario on Sept. 22.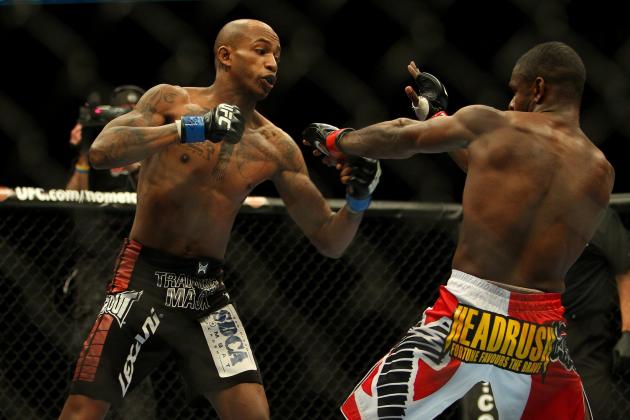 Tom Szczerbowski-US PRESSWIRE

Walel Watson made his UFC debut at the Verizon Center in Washington, D.C., when he faced Joseph Sandoval on the UFC Live: Cruz vs. Johnson fight card.
Watson, a 5'11" bantamweight, used his length to his advantage in that fight, dropping Joseph Sandoval with a head kick before finishing him at the 1:17 mark of Round 1.
Since that win, Watson has gone 0-2, dropping decisions to Yves Jabouin and T.J. Dillashaw.
Watson may be facing a must-win situation at UFC 152 when he faces Mitch Gagnon. In fact, after dropping his fight to Dillashaw in one of the most lopsided decisions in UFC history (30-25, 30-25, 30-26), I would say he is definitely facing a must-win.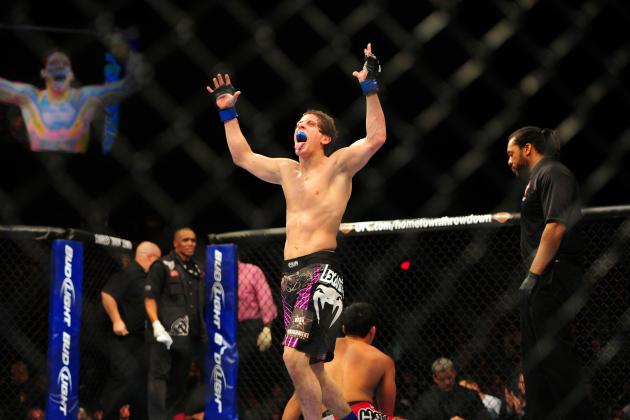 Mark J. Rebilas-US PRESSWIRE

Fans and pundits have been singing the praises of Jimy Hettes for some time, and rightfully so. After all, "The Kid" is 10-0 in his professional career, including wins in his first two UFC bouts.

Hettes has shown a strong affinity for Brazilian jiu-jitsu in his two UFC battles. He's almost fearless and definitely tireless in his pursuit of submission holds. If he continues to progress with his BJJ, he could become one of the more feared practitioners of the art in the featherweight division.

It appears the UFC is bringing Hettes along slowly as he has moved from Alex Caceres to Nam Phan to his UFC 152 opponent, Marcus Brimage, who is 5-1 in his professional career with two decision victories inside the Octagon.

Hettes seems to be on the correct career trajectory, and if he can show more of the same stuff he did against Caceres and Phan when he faces Brimage, it may be time to start jumping on the Hettes bandwagon if you haven't already done so.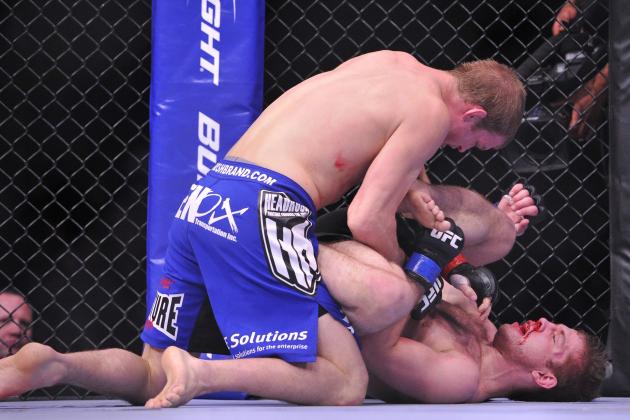 Mike Dinovo-US PRESSWIRE

Evan Dunham was originally scheduled to face Edson Barboza at UFC 146, but an injury knocked him from the card. If he watched the May 26 fight card, he saw his replacement, Jamie Varner, shock the MMA world when he handed Barboza the first defeat of his professional career, earning a TKO victory in the first round.

One cannot blame Dunham if he sat there and thought to himself, "Damn, that could have been me."

Healthy and ready to battle with TJ Grant at UFC 152, Dunham may be looking to make the same type of statement that Varner did against Barboza.
While Barboza's name may have been "sexier" in the eyes of the fans, the fact is that Grant is a higher-ranked fighter, and a win over Grant should propel Dunham into the top 20 of the lightweight division. If he can stop Grant in dominating fashion, his ascent up the rankings could be quicker.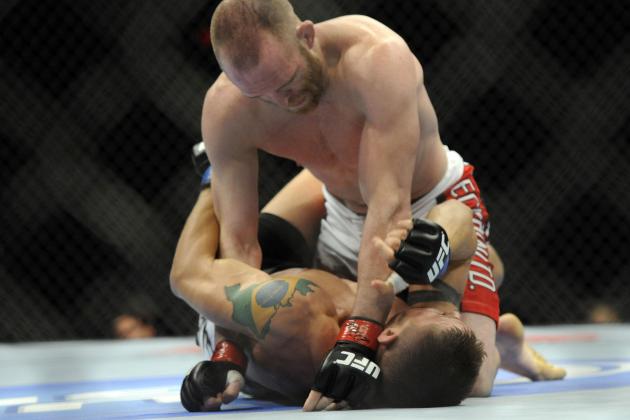 Rafael Suanes-US PRESSWIRE

Speaking of Evan Dunham and TJ Grant, you may want to catch that fight when it appears on FX. You see, when the Jon Jones vs. Vitor Belfort bout was given main-event status at UFC 152, one fight had to be removed from the pay-per-view portion of the card. That fight was Dunham vs. Grant.

I don't know about you, but if I was looking at appearing on the pay-per-view portion of a fight card and got bumped down to the preliminary card, I would carry a little bit of an attitude with me. Scratch that, I think I would carry quite a bit of chip on my shoulder, and that anger would only grow as Sept. 22 came closer.

Dunham and Grant have a great opportunity here to show the UFC that a mistake was made in deciding to move their fight from the pay-per-view portion of UFC 152.
In 31 combined victories, the two have 24 stoppage wins between them, but only three "Fight Night" bonuses. Look for these two to try to up that bonus number at UFC 152.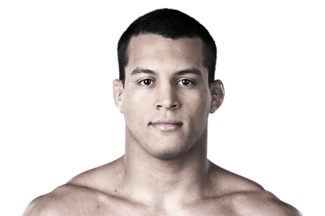 Vinny Magalhaes captured the M1 Global light heavyweight title in April 2011. He then defended the title once, defeating Mikhail Zayats in October. After that, Magalhaes said thanks, but no thanks to M1 and never fought for the promotion again. Well, he wasn't that diplomatic, but considering the circumstances, who could blame him?

After working through the debacle with M1, he signed with the UFC in July of this year, coming back to the organization he last fought for at UFC 97. During his brief stint with the UFC in 2008-09, he was a finalist during Season 8 of The Ultimate Fighter, losing to Ryan Bader by TKO. He lost his UFC 97 bout to Eliot Marshall via unanimous decision.

Since that loss to Marshall, Magalhaes has gone 7-1, going the distance only once, dropping a decision to Pedro Galiza in that bout.

Magalhaes, a highly decorated black belt in Brazilian jiu-jitsu, will face Igor Pokrajac at UFC 152. Pokrajac is on a three-fight winning streak, with his last loss being a unanimous decision defeat at the hands of Stephan Bonnar.

While waiting to be clear of his M1 contract, Magalhaes lobbied for a spot in the UFC. Now that he has it, it's up to him to make the most of it.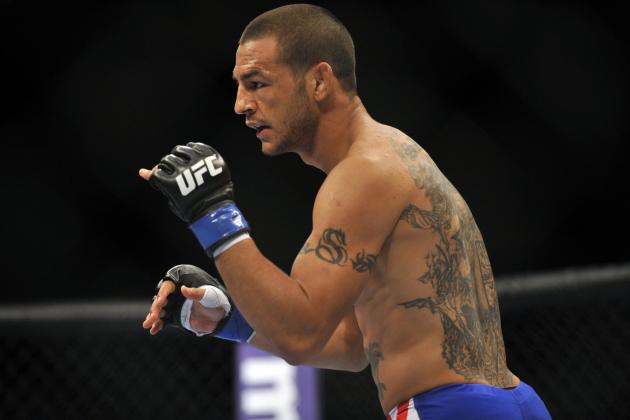 Joe Camporeale-US PRESSWIRE

The featherweight bout that will open the pay-per-view card is an intriguing one. In this fight, we will see Cub Swanson (17-5) face Charles Oliveira (16-2-0-1). Both fighters are on two-fight winning streaks, and both are also lurking just outside the top 10 in the division.

Swanson enters the fight with two consecutive TKO victories to his name, while Oliveira comes in with two consecutive submission wins, including one that will surely by a submission-of-the-year candidate, his January calf-slicer submission of Eric Wisely.

Swanson, a long-time veteran of the WEC/UFC, has performed well in the past against low to mid-tier opponents, but when he faces the big names, he tends to struggle, as his record shows losses to Jose Aldo, Chad Mendes and Ricardo Lamas.
His current two-fight winning streak, the first winning streak he has had since 2007-08, may help to increase his confidence level heading into his bout with Oliveira.

Oliveira is only 22 years old, and after starting his UFC career at lightweight, where he went 2-2-0-1, he dropped to featherweight for his last two fights. Many fans and pundits expect big things from the man known as "Do Bronx," and Swanson should prove to be a solid test for the BJJ brown belt.

Let's face facts here: The featherweight division is not the deepest in the UFC as evidenced by a newcomer to the division, Frankie Edgar, getting an immediate title shot (sure, it was due to injury, but still).
A dominant win here could very well put one of these fighters on the path toward a title shot in the not-too-distant future.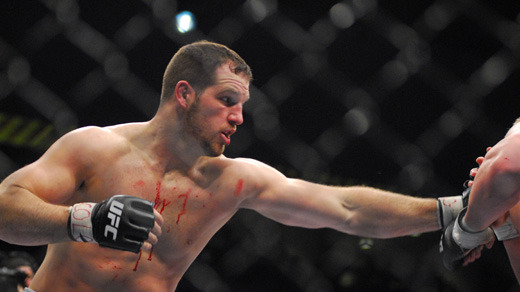 April Pishna for MMAWeekly.com
Matt Hamill stepped away from the UFC in August 2011, announcing that he was retiring from mixed martial arts after consecutive losses to Quinton "Rampage" Jackson and Alexander Gustafsson. Those losses put his career record at 10-4. His other two losses came against Michael Bisping and Rich Franklin.

All but one of Hamill's professional fights came in the UFC, and he has claimed victories over fighters such as Tim Boetsch, Mark Munoz, Keith Jardine and Tito Ortiz. He is also the only fighter with a victory over current UFC light heavyweight champion Jon Jones, but that win, by disqualification, should have a pretty big asterisk next to it.

When Hamill retired, he was 35 years old and beat up. However, the time off has allowed him to reflect. According to an interview with Yahoo.com's Kevin Iole, he said:
I'm older and wiser than I was and I've gotten a lot smarter. I realize now, after I stepped away from it for a while, that it's not how bad ass you are, it's what you know and how you use your intelligence.
When he steps into the Octagon on Sept. 22, he will face Vladimir Matyushenko, a 41-year old veteran of the sport who will be looking to show Hamill that he made the wrong choice in coming back.

It's always an odd situation when any athlete comes out of retirement to compete again. One has to wonder about the motivation. Is it the fact that they miss the spotlight and the attention, is it based on money, is it based on the feeling that they want to give it one more try to see if they still have it, or is from sheer boredom?

Hamill told Iole that he was having regrets about his retirement and that he did not want to have those regrets for the rest of his life. I'm not sure if that's the best reason to get back in the cage.
Sure, it's always better to regret something that you did than something that you didn't do, but does that hold true when it includes getting punched in the face by a 6'1", 205-pound man?

We'll find out if Hamill is 100 percent invested in his return on Sept. 22.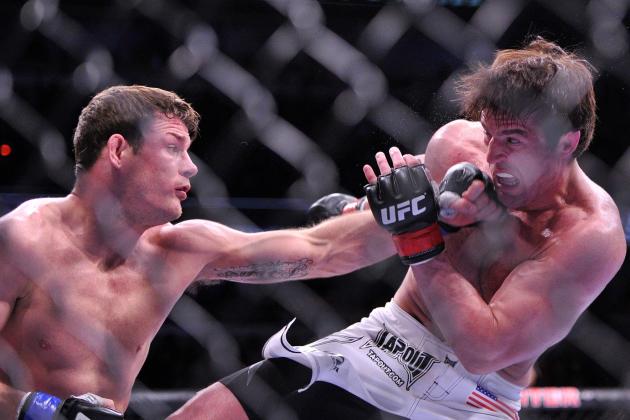 Mike Dinovo-US PRESSWIRE

Michael Bisping and Brian Stann are not cut from the same cloth. Stann is a humble fighter who prefers to let his actions in the Octagon do his speaking for him, while Bisping is a tireless self-promoter, never afraid to let you know who he is better than or why he deserves a shot at the UFC middleweight title.

This is an intriguing matchup as both fighters have strong name recognition, something that seems to be a prerequisite for the next fighter that middleweight champion Anderson Silva competes against.

It looks like Silva will not be fighting again until 2013, which means the winner of this fight may be under consideration to face Silva, or perhaps the winner faces rising star Chris Weidman in a title eliminator.

This is not a fight where the only thing on the line is a win or a loss.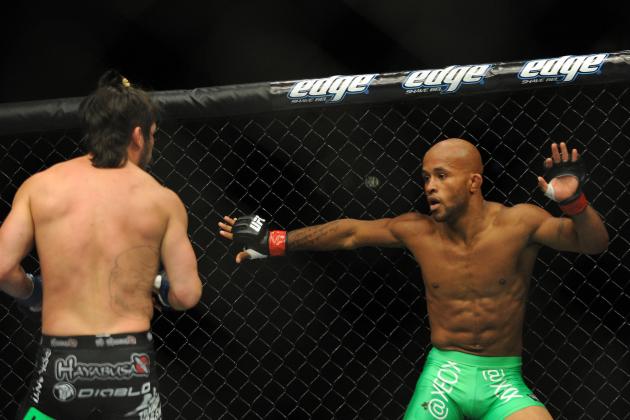 Steve Mitchell-US PRESSWIRE

The UFC will crown its first flyweight champion on Sept. 22. Fighting for the freshly-minted title strap will be Joseph Benavidez and Demetrious Johnson, two of the more entertaining competitors in the UFC.

This fight has "Fight of the Night" potential. Not only are the two fighters very fast with their hands, they both have the ability to end the fight via knockout or submission. Between them, they have 33 wins, with 21 coming via stoppage, and if fighting for a UFC title isn't enough, they have the added fuel of being bumped from the evening's top slot.

This fight was the original main event for UFC 152, but when UFC 151 fell apart, Benavidez and Johnson were moved to co-main event status to make way for Jon Jones vs. Vitor Belfort, a fact that has to eat at the fighters just a little bit.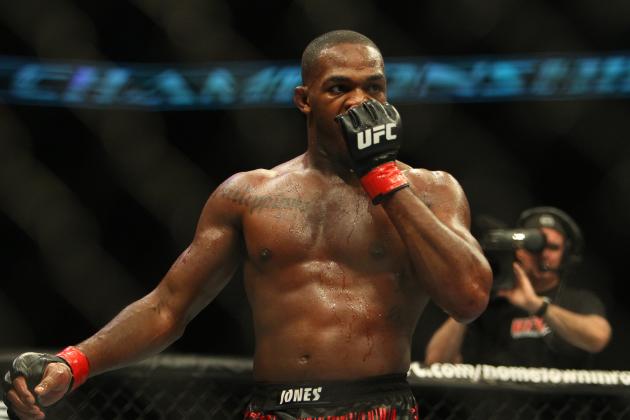 Tom Szczerbowski-US PRESSWIRE

Not too long ago, UFC light heavyweight champion Jon Jones lamented that he had no desire whatsoever to face Lyoto Machida for a second time. Jones told ESPN:
I don't want to fight Lyoto Machida. He was my lowest pay-per-view draw of last year. No one wants to see me fight Lyoto Machida. I don't want to fight Lyoto again. Lyoto is high risk and low reward.
Lucky for Jones, Machida opted not to take the fight at UFC 152. Another fighter that turned the bout down was Mauricio Rua, leaving Jones to face a man who has not fought at light heavyweight in the UFC since losing a split decision to Tito Ortiz back in February 2005.
One has to wonder how much interest this fight is going to drum up from the pay-per-view buying public.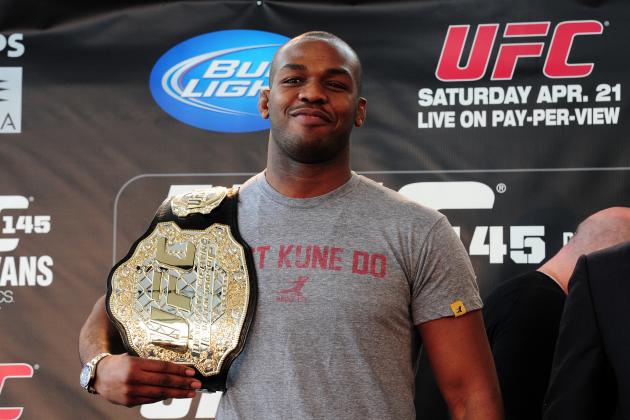 Scott Cunningham/Getty Images

The Jon Jones train seems very close to coming off the rails.
Early in his career, Jones looked like he was going to be the first mixed martial artist to have huge crossover potential. He appeared poised to be the first big mainstream star of the sport, but then the tide turned, and the man who now wears the UFC light heavyweight crown finds himself in a very strange position.
Some fans have turned totally against the champ. They find him arrogant and self-centered, something his recent refusal to fight Chael Sonnen as well as comparing himself to Jesus and then blaming Dan Henderson for the cancellation of UFC 151 did not help.
Other fans, and these fans seem to be the smaller of the two groups, dismiss his detractors as "haters" who just want to see the young champion fall from grace.
One thing is for sure: Jones is not winning any fans as of late, and a recent poll on this website showed the overwhelming majority of fans who voted would be actively rooting for Jones to lose to Vitor Belfort at UFC 152.
This makes you wonder, are those fans rooting for Belfort or just against Jones?