With the transfer window closed and the La Liga season now in full swing, Real Madrid have made some big moves as usual, with several of them coming in the midfield.
The long-running transfer saga of Luka Modric finally came to a close with Madrid securing the services of the Croatian midfielder for a reported transfer fee of £33 million.
Also joining Madrid is Ghanaian midfielder Michael Essien. Essien, who emerged as a true star under Mourinho's tutelage at Chelsea, joins Madrid on loan after he was deemed a surplus to requirements at Chelsea.
It wasn't all good news as Madrid loaned out both Nuri Sahin to Liverpool as well as Lassana Diarra to Russian club Anzhi Makhachkala while Esteban Granero was sold to EPL club Queens Park Rangers.
With the status of former World Player of the Year Kaka also in limbo, Real Madrid's midfield looks to be quite different from last season's group.
Despite the changes, Madrid's midfield figures to be one of the best, if not the best midfield in all of Europe. However, here's how the recent changes affect the midfield:
Improved Depth
It may seem odd that Madrid improved their depth despite losing more players than they gained, but that is exactly what happened.
Despite their respective abilities, neither Sahin nor Diarra seemed to fit into Jose Mourinho's tactics and formations. Diarra was a fine defensive midfielder, but he couldn't bring up the ball and play it well like an Alonso or Khedira, while Sahin struggled as Mourinho's 4-2-3-1 formation does not cater well to a pure central midfielder.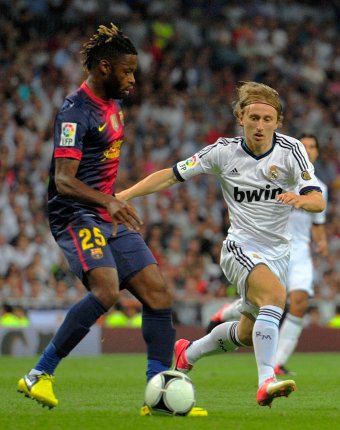 Gonzalo Arroyo Moreno/Getty Images
Both were often forced out of position, and their form suffered greatly.
With the pair struggling, Sami Khedira, Xabi Alonso and Mesut Ozil were required to play extended minutes in almost every game. This workload definitely affected Madrid, as the midfield seemed to suffer from fatigue towards the end of the season. The Champions League exit and the slump near the end of the season were, in my opinion, by-products of fatigue.
With Modric and Essien now in the fold, those fatigue issues can be dealt with as Mourino has the ability to employ a midfield rotation without sacrificing quality of play.
Modric and Essien are both world-class players who can match the skill of a Xabi Alonso or Mesut Ozil.
Furthermore, Mourinho has a lot more trust in Michael Essien than he ever had with Sahin or Diarra.
The reason why Sahin or Diarra never started an important game was not purely based on their skill, but rather Mourinho's lack of trust in them to do what he needed them to do.
Modric and Essien may not start every match, but they will definitely provide valuable depth to the midfield, which will ensure that the team will not be fatigued by the end of the season.
Increased Flexibility
Whether it be with Porto, Chelsea, Inter Milan or Real Madrid, Mourinho is renowned for the use of the 4-2-3-1 formation, and he has achieved great success with it.
Unfortunately with last season's squad there just weren't enough players who fit the formation.
Nuri Sahin didn't fit the formation as he was too attack-minded and wasn't fast enough to play upfront. Meanwhile, Lassana Diarra was great defensively in midfield but struggled to distribute the ball like Mourinho needed him to.
Furthermore, when Angel Di Maria went down due to an injury, Madrid as a team struggled to fill his position, and too much was asked from Cristiano Ronaldo to create and score.
That should change this season as both Luka Modric and Michael Essien are among the most versatile midfielders in the world.
Modric in particular can play anywhere in the midfield and has shown in Tottenham and for Croatia that he can play the No. 10 role, on the wing, central midfield and holding midfield. His arrival should allow Mourinho the opportunity to periodically rest Mesut Ozil without sacrificing a high level of play.
Essien on the other hand can be the player that Mourinho wished Lassana Diarra was.
A hard-nosed physical player in the midfield, Essien has ball skills that separate him from regular defensive midfielders. Essien can play every ball in the book and has a powerful shot as well.
The flexibility that Modric and Essien bring to Madrid's midfield gives Mourinho the chance to rotate his midfield without forcing players to play out of position.
All things considered Madrid is a better and more complete team than they were two weeks ago. A slow start withstanding the last two weeks should be viewed as a positive for Real and their fans, and the acquisition of two world-class players should bode well for the future of Real Madrid.