Denard Robinson: Grading the Michigan QB Against Alabama's Deadly Defense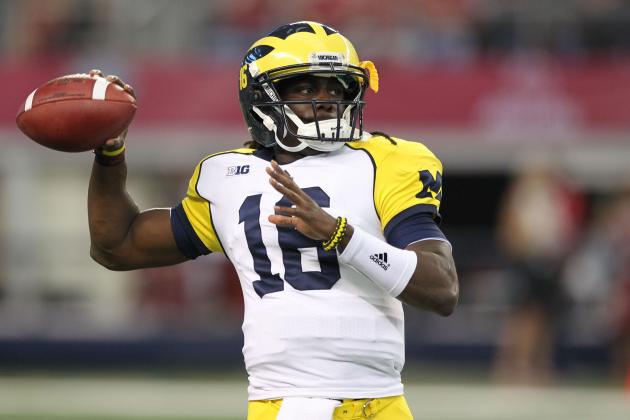 Matthew Emmons-US PRESSWIRE

Well, that was not the opener that Michigan and senior quarterback Denard Robinson were hoping for.
On a night on which Alabama looked like it could hold its own against the Sunday inhabitants of Cowboys Stadium, the Crimson Tide crushed Robinson and the Wolverines, 41-14.
Nick Saban's Tide dominated the game from the get-go, putting up 21 first-quarter points, absolutely manhandling the Wolverines' lines on both sides of the ball and even taking their collective foot off the gas in the fourth quarter.
Robinson showed his customary and momentary flashes of brilliance, but the man known as Shoelace struggled mightily against Alabama's brutally tough defense.
How bad was it? Let's run through the facets of Denard's night.
Begin Slideshow

»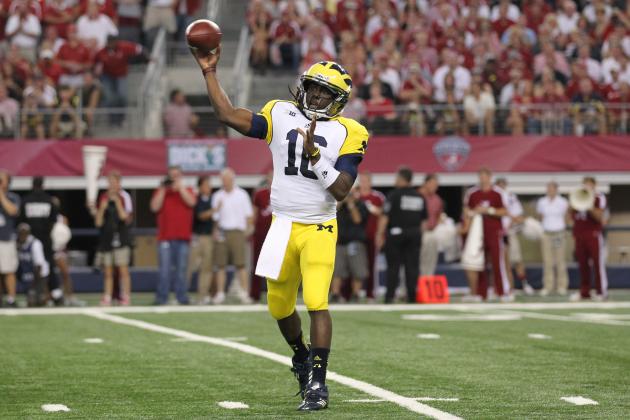 Matthew Emmons-US PRESSWIRE

Early on, there was some promise in Michigan's passing game. Robinson wasn't completing many balls downfield, but he was showing poise behind the offensive line. He looked confident. It was clear he'd worked on not throwing the ball off his back foot, a trait for which he was much maligned last season.
But his throws were always just a bit off.
He had quarterback-turned-receiver Devin Gardner open twice, once down each sideline. But Robinson led him to the wrong side, overthrew him or couldn't loft it in accurately enough.
In all, Robinson had trouble completing a ball downfield. Yes, he was facing a brutally tough secondary, but he continued to underthrow the ball with amazing regularity. He finished 11-for-26 for 200 yards, a score and two interceptions.
The first pick wasn't really his fault, but the second was horrendous. On 3rd-and-9 from Michigan's 2-yard line, I predicted the interception before the play even started (ask my wife). In trying to find a cutting receiver over the middle, Denard was "so anxious to get the ball out of his hands," said Kirk Herbstreit on ABC, all C.J. Mosley had to do was read his eyes, step to his left and make the play. Six points. Easy peasy.
Even on the big-gainer plays, like the 20-yard completion to Drew Dileo starting off the second half and the 44-yard touchdown pass to Gardner, his throws were off or underthrown.
It seems as if Robinson's success in the passing game will continue to be largely reliant on the big play. That's OK if he's solid in other aspects of the game, but...
Take the 71-yard bomb to Jeremy Gallon and the TD to Gardner out of the equation, and Denard's stats are far less impressive: 9-for-24 for 85 yards.
Not the progress over last season that Michigan fans were hoping for.
Grade: D+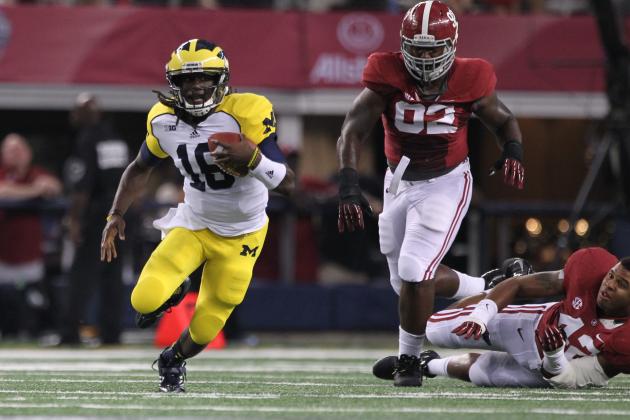 Matthew Emmons-US PRESSWIRE

ABC announcer/numbskull Brent Musburger, following Alabama's second straight touchdown in the first quarter, asked, "What can Denard Robinson do to get Michigan offense going?"
"He's got to make some plays with his feet," responded Herbstreit.
Well, duh.
With starting tailback Fitz Toussaint suspended for the game, Alabama was out to stop Robinson at all costs. And they did a pretty good job of it.
Thomas Rawls was swallowed up by the Tide defense, and Vincent Smith didn't fare much better, so Robinson needed to be the guy.
It didn't happen.
But neither Michigan's play-calling nor their offensive line did much to help. Offensive coordinator Al Borges didn't try to get Robinson out into the open field until the second half, and the line got absolutely manhandled.
Denard had a little more room to juke and jive in the second half, but the game was already decided by then.
In all, he ended up with a wholly unimpressive 27 yards on 10 carries. Most of Robinson's struggles on the ground can be attributed to the O-line, but it was not a good night on any level.
Grade: C-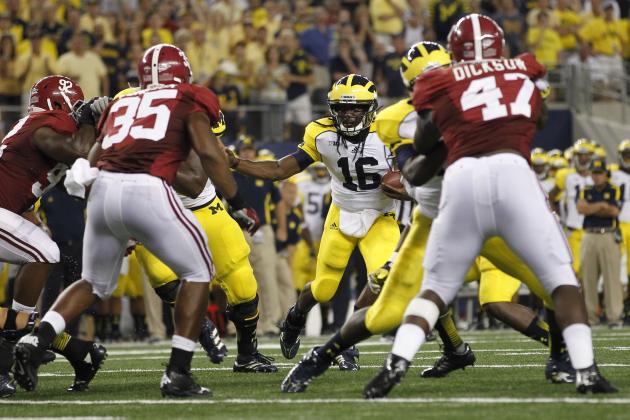 Tim Heitman-US PRESSWIRE

After Alabama's first-quarter touchdowns, I joked that it was a shame that Robinson couldn't play defense.
But leave it to Denard to give it a shot. And leave it to Denard to hurt himself in the process.
After floating a bad interception to Dee Milliner—a play on which the 'Bama D-back shoved the Michigan receiver down and out of bounds—Robinson was clearly ticked off. He lined up Milliner along the sideline and tried to stick him before he brought it back to the house.
He gave Milliner a shot, fell down and ran off the field with a dinged up shoulder...but at least he made the "tackle."
Grade: B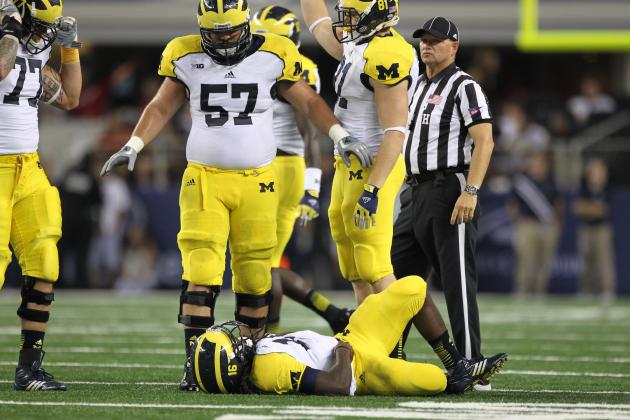 Matthew Emmons-US PRESSWIRE

It's hard not to celebrate a player for going all out on every down.
So I will.
It's hard to fault a quarterback for trying to lay the smack down on an opposing player who just intercepted his pass.
So I won't.
But the Michigan coaching staff probably won't be too excited about Denard's tenacity in either case.
Robinson is rivetingly quick and strong for his size. But he's not a big man: He's listed at just 6', 197 pounds, which means, in reality, he's probably shorter and lighter.
Trying to run the ball against a defense like Alabama's is, by its very nature, a dangerous proposition. But at his size, it's potentially deadly.
Robinson roughed up his shoulder making a stop on Milliner after his interception, and he gave himself what appeared to be a hip stinger stretching for a first down in the third quarter.
But he came back each time and played…well, his normal game.
Robinson will continue to play his game, get dinged up and, hopefully, bounce back. But he'll have to keep the longer-term goal of staying healthy in the back of his mind.
Grade: C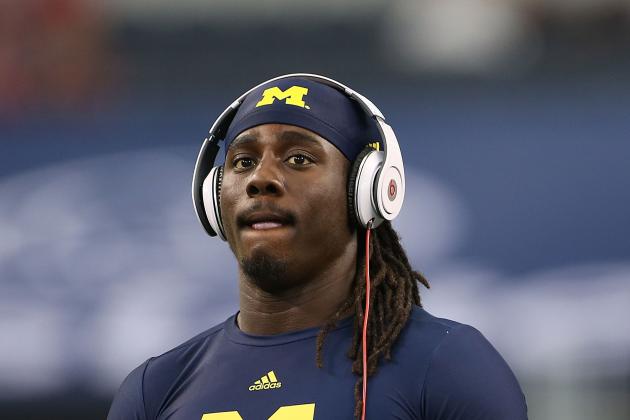 Leon Halip/Getty Images

Again, I give Robinson a ton of credit for coming back twice from injury.
He's a bright guy with a fantastic personality and a great attitude. It's no wonder that both fans and his teammates love him.
But he played terribly.
While opposing quarterback AJ McCarron showed poise, made great adjustments, hit his receivers and led his team up and down the field with ease, Denard did none of it.
Yes, he may be a "tough little rascal," as Brent Musburger said late in the game. (Seriously.) But if he can't move the offense, that leadership could start to ring false with the other players.
Grade: B-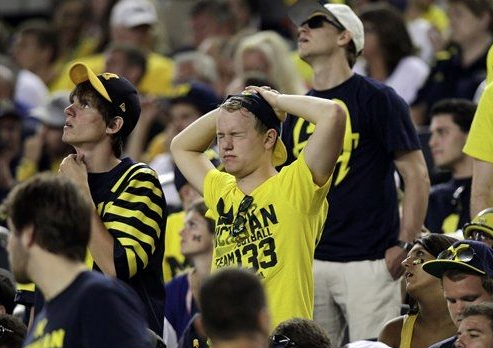 (AP Photo/LM Otero)
The Heisman?
For Denard Robinson?
Haha.
No.
On Saturday, Robinson played a gutsy game and made a lot of fans with his toughness, but he posted largely horrible numbers as his team got shellacked on national television. It'll be tough to bounce back from that.
Yes, the Michigan quarterback—provided he stays healthy—will put up big numbers against lesser opponents, make some fabulous runs, post a lot of yards and score a lot of points for Michigan this season.
But after this performance, no, Robinson won't win the Heisman.
Grade: D+