Grzegorz Proksa vs. Gennady Golovkin: WBA World Middleweight Title Fight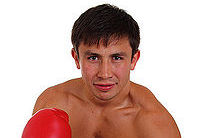 Tonight, live from the Turning Stone Casino in Verona, N.Y., undefeated WBA world middleweight champion Gennady Golovkin (23-0, 20 KOs) will make his North America debut as he faces European middleweight champion Grzegorz Proksa (28-1, 21 KOs). The fight will be broadcast on HBO.
Also on the televised card will be a matchup between undefeated prospect Jonathan Gonzalez (15-0, 13 KOs) and once-beaten contender Sergiy Dzinziruk (36-1, 24 KOs). This bout was originally supposed to be for the WBC continental Americas super welterweight title, but the rumor I heard in the press room a little while ago was that Gonzalez had come in about nine pounds heavy.
I will be blogging live from media row once the broadcast begins.
Unbelievable. Golovkin by TKO. Proksa is a world class talent and Golovkin destroyed him.
He is a handful for anybody in the world at 160.
Proksa has heart all night just to have made the bell on that round. Proksa trapped him on the ropes and brutalized his body, than floored him coming off the ropes when he went upstairs to the head. I thought Proksa was done. He got up and gutted it out, but took a bunch more punishment.
I'd call that Proksa's best round yet...landed a couple nice counters. It was still Golovkin's round. He trapped him on the ropes and doubled up with a vicious hook to the body. Every time he connects, even with a jab, it looks like a very rough punch.
30-26 after three
Proksa's hands-low style is very dangerous against Golovkin. Proksa is a quick, agile counter-puncher, and he is taking away Golovkin's body attack so far. But Golovkin is tagging him and it feels like sooner or later Proksa will be back on the canvas.
Welcome to upstate New York, GGG! Proksa tries to be elusive, stays away from Golovkin's stalking for most of the round...but Golovkin can put you on hurt street in a blink. Drops Proksa near end of round.
Proksa recovers well. But that looked like an omen to me.
10-8 Golovkin
Golovkin has just entered the ring. I can't see any way possible this doesn't end up being a great fight.
Wow. A draw. One judge scores 117-111 for Gonzalez, just a point off my card. A second judge went 115-113 for Dzinziruk, the third 114-114.
It wasn't the easiest fight to score. Dzinziruk often looked like the more skilled, solid boxer, and Gonzalez started slow. But from round two on, I saw him scoring more consistently hard punches.
Just looking at the two of them when it was over (which doesn't necessarily mean anything conclusive) you would guess that Gonzalez had won, even if you hadn't watched the fight.
Good final round for both men. Once more Gonzalez is landing the shots that move Dzinziruk's head. Hard fight overall to score but I think Gonzalez must have won.
I gave the last round to Gonzalez to end up 116-112 for Gonzalez.
Gonzalez slows up during round, throws some wild puches that miss. Dzinziruk doesn't really hurt him at all, but lands some accurate blows and controls movement.
10-9 Dzinziruk
Dzinziruk is not giving the young guy an easy night's work. He appears to have the better footwork and control of distance. Gonzalez sometimes seems frustrated a little. But again he has the quicker hands ad lads more solid.
10-9 Gonzalez.
Good round. Gonzalez landed some good punches, but Dzinziruk pressed action and did a good job keeping Gonzalez off him and off-balance.
10-9 Dzinziruk
Hard round to score. Dzinziruk is staying game. I had him winning the round most of the way but Gonzalez looked like he might have earned it at end-I had a bad angle to see what was landing.
10-9 Dzinziruk
Gonzalez looking more confident as fight progresses. Dropping hands and taunting. He is less busy but lands more solid punishment.
10-9 Gonzalez
Now Dzinziruk doing more of the backing up. A solid, action round with both men landing good shots. At one point Gonzalez nodded, like "you got me." But he is landing more hard punches. He looks like what he is, the younger fighter.
10-9 Gonzalez.
More action in the center of the ring this round. A lot of decent exchanges. Gonzalez's punches seem to move Dzinziruk's head more often. Close round.
10-9 Gonzalez. I believe the rumor I heard about him coming in heavy was correct. They did not announce this as a title fight. And Gonzalez's midsection looks doughy.
New round, same story. Dzinziruk coming forward, Gonzalez timing him with better hand speed. Ref warned Gonzalez for straying low during the round.
10-9 Gonzalez. But he nearly seems lethargic at times during the rounds, while Dzinziruk is constantly working.
Gonzalez moves back and circles away most of round. Let's himself get trapped in corner, but when it happens he does a good job of timing Dzinziruk's punches with his own counters and still lands more overall, I believe. The fight is not thrilling the crowd.
10-9 Gonzalez
Starting to get a little bit more of a fight now. A number of stiff uppercuts and straights from Gonzalez find their way though Dzinziruk's guard. Dzinziruk still coming forward, but his face is flushed from the shots.
10-9 Gonzalez
Very slow first round. Gonzalez continually circling away, pawing with the jab.
10-9 Dzinziruk, based on coming forward. Not much to really score on.
We are now moments away from the start of the Boxing After Dark broadcast start. The first fight should be a good one. Former WBO junior middleweight champion Sergiy Dzinziruk of the Ukraine will be making his first appearance since 2008 after a lengthy contract dispute.
He is well supported by a very vocal group of his fellow countrymen.
He will meet undefeated prospect Johnathan Gonzalez from Rio Piedras, Puerto Rico.
Junior welterweight prospect Tony Luis of Cornwall, Ontario just improved to 15-0 when he stopped Andres Ledesma (16-21, 13 KOs) with a blistering left hook in round one.
Luis was probably the under card fighter I was most looking forward to seeing. He is a very solid looking prospect, a former WBC Continental Americas lightweight champ who has already tested himself against some very solid journeymen and fringe contenders. In June of 2010 he knocked out Adrian Valdez on an ESPN Friday Night FIghts card.
A little less than an hour to go before broadcast time and the Turning Stone event center is starting to reach capacity. I just watched two good six round under card fights featuring a pair of undefeated prospects from the Bahamas.
Light-heavyweight Ryon McKenzie improved to 11-0 with 10 KOs when he stopped 3-12 Bornood Washington of Queens, NY. McKenzie now lives and trains in nearby Canastota, home of the Boxing Hall-of-Fame, so he was greeted as a hometown star by the Turning Stone's early crowd.
Super-middleweight Taureano Johnson put on a rugged display. He engaged 3-9 opponent Clevin Ishe of Los Angeles, CA at close range, pounding Ishe's body to set up stinging uppercuts and thudding hooks. Ishe showed a decent chin but lost on cuts inside of three.
This article is
What is the duplicate article?
Why is this article offensive?
Where is this article plagiarized from?
Why is this article poorly edited?