JBL Suggests Brock Lesnar vs. Undertaker Inside Octagon at WrestleMania 29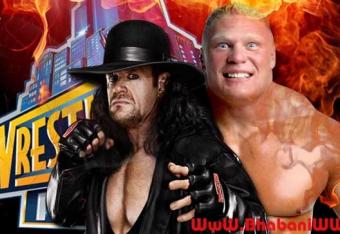 Image courtesy of bhabaniwwe.in

Before Brock Lesnar even made his long-awaited return to WWE, fans had been clamoring for an eventual clash with Undertaker.
The speculation reached a crescendo when Lesnar and the "Dead Man" had a face-to-face encounter at the close of UFC 121.
Now that Lesnar is under contract to WWE, mere talk has become a very real possibility.
The Undertaker's unmatched legacy is coming to an inevitable end and who more "dominant" than Lesnar to test the vaunted WrestleMania undefeated streak?
Members of the WWE Universe aren't the only ones to discuss the topic either.
On his very own YouTube channel, JBL (John Layfield) brings up the idea of Lesnar and Undertaker facing one another at WrestleMania 29.
However, it wouldn't be just any run-of-the-mill match, but a fight inside the famed Octagon.
JBL, who disavows any inside information, compares the suggested battle to a similar match type having precedent in WWE—the Lion's Den.
The Octagon is, of course, not only much larger, but arguably the UFC's defining characteristic.
Assuming Lesnar vs. Undertaker were to transpire inside the contraption, WWE would perhaps need clearance from UFC President Dana White so as to avoid infringement.
At this time, such a notion is a tall order, but undoubtedly Brock and the "Phenom" would be in favor of seeing their mock confrontation from two years ago culminate in grandiose fashion.
As for it actually happening, though, is anyone's guess.
That being said, JBL's conjecture is much more credible than 99.9 percent of the wrestling world.
After all, he and Undertaker have been known to be confidants over the years (h/t Nick Paglino of WrestleZone.com via AfterMath Radio).
Follow me on Twitter @ImaanJK
This article is
What is the duplicate article?
Why is this article offensive?
Where is this article plagiarized from?
Why is this article poorly edited?