Arkansas State at No. 5 Oregon: Live Score, Analysis and Results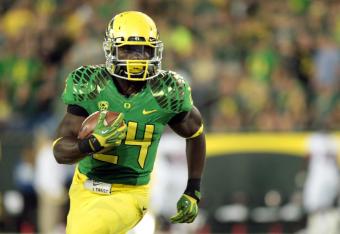 Oregon 57, Arkansas State 34 - Final.
We are officially final here at Autzen Stadium in the beautiful Willamette Valley with a final score of 57-34 in favor of the Oregon Ducks.
Marcus Mariota, making his first start for the Ducks, more than impressed the college football world as he worked his way to 216 yards through the air and three touchdowns with no interceptions. He also scampered for 24 yards on four carries.
Superstar De'Anthony Thomas accounted for three touchdowns and greatly aided in the Oregon offensive slaughter that put up 43 points in less than a quarter-and-a-half.
Arkansas State battled their way back in the second quarter against the Oregon reserves as Ryan Aplin showcased why he could be a dark horse Heisman candidate.
In the end, however, this game could have been much uglier than it was.
The Ducks will take on Fresno State next weekend while Arkansas State will face off against Memphis.
Final. Oregon 57 Arkansas State 34
Here are the stats for both teams:
Total Yards
Oregon: 605
Arkansas State: 531
Passing Yards
Oregon: 316
Arkansas State: 305
Rushing Yards
Oregon: 289
Arkansas State: 226
Turnovers:
Oregon: 1
Arkansas State: 3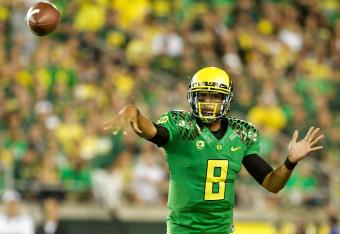 Looking back to the start of the game, Mariota really showed us why he is hyped up as the greatest quarterback of the Chip Kelly era.
Let me tell you why that statement is true.
First off, Jeremiah Masoli and Darron Thomas (the two starting QBs under Chip Kelly) were mainly running quarterbacks. Though they could throw the ball, the two would much rather create plays with their legs than their arms.
Mariota differs from them in that he can also accurately pass the ball. Thomas and Masoli could be fairly inconsistent at times, missing passes high or dropping them off behind receivers.
Mariota has better top speed and a better arm and pocket presence than the other two.
He is one of the most dangerous spread option quarterbacks in college football and he is just a freshman.
Sure, he may have a long way to go and many things to learn, but things are already looking up for this young quarterback.
David Oku is now the leading rusher for the game with 89 yards on the ground.
Oregon 57 Arkansas State 34 (4:30 4th quarter)
Arkansas State is once again almost in the end zone. Hope east coast voters don't see this as a close game. Oregon could have taken the Red Wolves to the cleaners.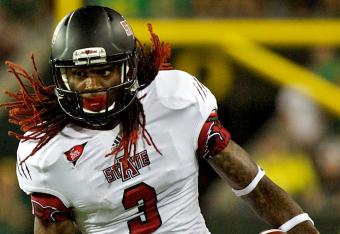 Luckily for Oregon, this game is won by adding both first half and second half scores.
The Red Wolves have outscored Oregon 17-7 in the second half.
Once again, however, Oregon's reserves are still in.
Man, even when I try to compliment the Red Wolves I can't help but downplay them a little. This world is cruel.
4th and 2. Where are the Patriots when you need them?
Ryan Aplin now has 305 yards and three touchdowns and one interception. Yes, he is quite good.
Great recovery from the young man and it is great to see him remain poised.
It still should be noted that the reserves are in for Oregon.
Ryan Aplin has a great arm. Oregon secondary has its reserves in.
With all that said, the Red Wolves have just scored again.
Oregon 57 Arkansas State 27 (8:48 3rd quarter)
Any suggestions as to what Oregon should wear for their next uniform combo? How much better are these helmets compared to the yellow ones they wore against Boise State in 2008?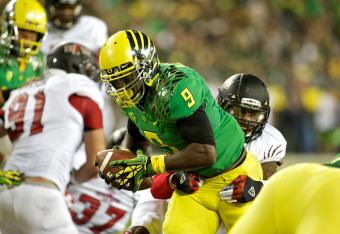 Bryan Bennett is now 9 for 16 for 100 yards, one touchdown, and one interception (although the interception should be credited to the receiver more than Bennett).
Ryan Aplin has now thrown for 242 yards, two touchdowns, and one interception.
Oregon has also once again put up more than 500 yards in a football game. These Ducks are just as good as last year.
Bennett is showcasing his athletic ability on this drive. Great for the young kid to get that confidence and show fans he's a true athlete.
And he follows my comments up nicely with a touchdown of his own.
Oregon 57 Arkansas State 20 (11:36 4th quarter)
The Ducks and Red Wolves are now entering the 4th quarter with the Ducks up 50-20.
In honor of The Blues Brothers, which was filmed at the University of Oregon, here is a unique tradition of Autzen Stadium.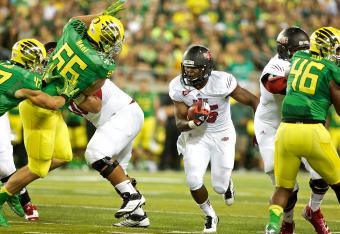 Oregon 50 Arkansas State 20 (1:53 3rd quarter)
If anything, it's great to see that Arkansas State is still out there competing and fighting for every yard. And with that being said, the Red Wolves have just scored to give them 20 points on the night.
The Oregon second stringers are notably second stringy.
Anyways, not trying to stray too far away from the Oregon game, Oklahoma has widened their big lead a whole three points.
They are now up 10-7 on UTEP late in the third quarter.
What's that chant they like to do again? I believe it starts with an O- and ends with an -verrated.
Arkansas State definitely looks A LOT better than when they started this game. Well, minus that fumble, of course.
Who, besides De'Anthony Thomas, Kenjon Barner, and Marcus Mariota, has impressed you most on the Oregon Ducks football team?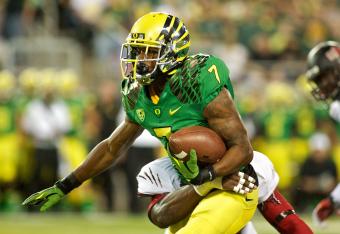 The Oregon offense and fans have notably really calmed down. Kind of unfortunate for Bennett because this is the type of atmosphere he can expect for most of his appearances.
Arkansas State will be getting the ball back and looking for yet another impressive drive. This could really be the time for the Ducks to show off their new and powerful defense and improved secondary.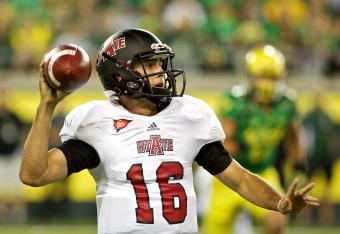 Oregon 50, Arkansas State 13 (10:46 3rd quarter)
Arkansas State puts together an impressive drive but falls short of the end zone yet again as Ryan Aplin tries to set the screen.
Typical Oregon defense by Nick Aliotti just showcased: Bend but for the love of god please don't break.
Here is something that is sure to make a fan of any team smile:
My thoughts on what Arkansas State should do in the second half: hope the Oregon third-stringers come in.
And we are now back for the second half of the game. Thank you for those who have stuck around in this one, there is still plenty of great action to come in the second half.
This article is
What is the duplicate article?
Why is this article offensive?
Where is this article plagiarized from?
Why is this article poorly edited?