North Texas at LSU: Live Score, Analysis and Results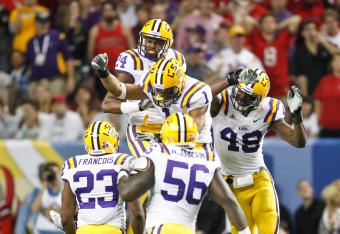 Final Score: LSU 41, North Texas 14
LSU flexed its muscles against a physically overmatched North Texas team tonight.
Although the Tigers made their fair share of mistakes, they managed to use their size, speed and strength advantage to prove their superiority over the Mean Green.
LSU running backs Alfred Blue and Kenny Hilliard were the true stars of tonight's game, as they combined to rush for 264 yards.
QB Zach Mettenerberger finished 19 of 26 and showed some intriguing flashes of his potential, but he did also make a few bad decisions.
The offensive line did not play well, and that effort can't be tolerated. It's just that simple.
It was hard to gauge the defense, considering North Texas isn't exactly an offensive juggernaut, but there were clearly some mistakes that will have to be corrected during practice this week.
Ultimately, LSU did what it had to do in front of a rather lackluster crowd.
I said it was going to be a vanilla offensive game plan, and that's exactly what it was.
We should get a better feel for where this team is really at next week when QB Keith Price and the Washington Huskies make the trip down to Baton Rouge for an interesting SEC-Pac-12 showdown.
Final Score Update: LSU 41, North Texas 14
LSU takes a knee to close out a somewhat sloppy, yet also encouraging season-opener.
Not counting the players there are currently 178 people left in the stadium going into the final minute.
Score Update: LSU 41, North Texas 14 Fourth Quarter. 2:20
Fullback J.C. Copeland plunges into the end zone on a five-yard dive to push the Tigers over 40 points for the night.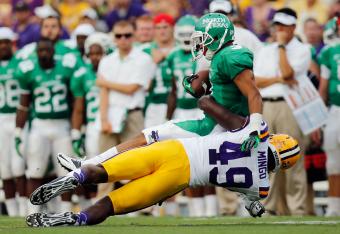 Score Update: LSU 34, North Texas 14. Fourth Quarter 7:48
Derek Thompson hits WR Brelan Chancellor for a 15-yard touchdown on 3rd and goal to cut the Tigers' lead to 20.
Wow, so that's what happens when you put the ball in the hands of your best offensive playmaker.
Maybe the Mean Green actually should have tried that a few more times tonight.
LSU's tunnel screen call on 3rd and 12 just got surpassed for the honor of worst play call of the night by North Texas' end around call from the five on second and goal.
It would have been better if Derek Thompson just took a knee instead.
I haven't been overly impressed with LSU's defensive tackles tonight.
Anthony Johnson had a few nice bull-rushes in the first half, but other than that, they haven't really done much.
There's no reason North Texas should be rushing for six yards a clip up the middle. That's inexcusable.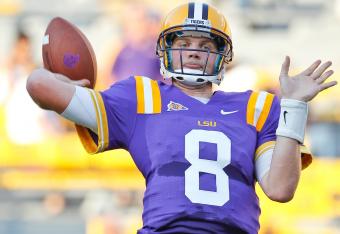 Score Update: LSU 34, North Texas 7, 4th Quarter 14:51
Zach Mettenberger finally shows off his terrific passing prowess, as he hooks up with WR Kadron Boone for a 34-yard scoring strike to excite an otherwise bored crowd.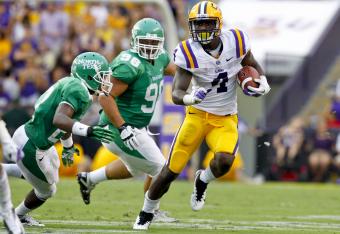 End of Third Quarter Score Update: LSU 27, North Texas 7.
A largely uneventful third quarter that once again saw Alfred Blue and Kenny Hilliard reel off some impressive runs, but nothing much else happened.
It seems the Tigers are content with basically sleepwalking through this game, giving North Texas a nice paycheck for making the trip and getting this over with.
Alfred Blue has expended so much more energy than his offensive line has tonight.
I wonder just how big of a game he would have had if he actually had some great blocking up front.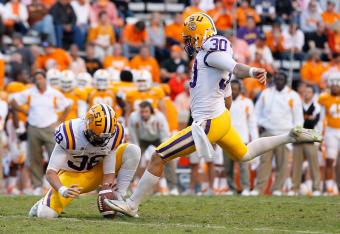 Score Update: LSU 27, North Texas 7. 3rd Quarter 2:10
Drew Alleman boots a 30-yard field goal to put the Tigers up 20.
A tunnel screen on 3rd and 12?
Who's calling these plays?
I guess Greg Studrawa must have made his way out to the parking lot to hang with the LSU fans who stopped caring about this game after halftime.
LSU's offensive line probably outweighs North Texas' defensive line by 50 pounds per man. There's absolutely no excuse why any of them should be penetrating into the backfield and making a play behind the line of scrimmage.
Did Matt Stinchcomb just say he knocked down an "elderly" receiver?
Kenny Hilliard is way more athletic than a running back that size should be.
Hilliard and Michigan State's Le'Veon Bell might be the two best 240-plus-pound backs in college football.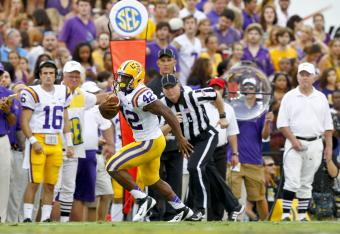 Am I the only one who sees a strong resemblance between Michael Ford and former Auburn star running back Cadillac Williams?
Even those three girls in the front row on camera coming back out of the commercial break seemed like they were just faking excitement to be on TV. Everyone else in the stands was sitting and looking bored.
I think I counted three people sleeping.
Maybe its just the lack of sound on the broadcast, but Death Valley sounds completely dead and devoid of any energy for this game.
Definitely not the typical night game atmosphere at Tiger Stadium that we've been used to seeing.
I'm not sure why North Texas wouldn't try to get the ball in Brelan Chancellor's hands every single chance it gets.
He's the team's most dynamic and explosive weapon, yet he's only touched the ball four times so far.
LSU goes three and out on its first drive of the second half.
Not an encouraging start for Zach Mettenberger right there.
Right Tackle Alex Hurst has not even looked like a starter in this game, let alone a potential All-American.
Hurst has been a big disappointment so far.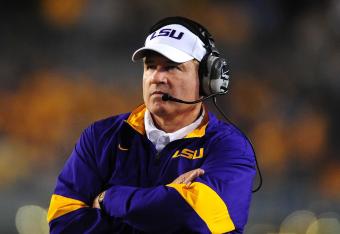 Halftime Score Update: LSU 24, North Texas 7
LSU running backs Kenny Hilliard and Alfred Blue were the two stars of the first half, but other than them, it's really been a rather unimpressive showing for the Tigers so far.
The offensive line has gotten Zach Mettenberger crushed, and the defensive line hasn't really pressured Derek Thompson nearly as much as it should have.
Overall, Mettenberger's first-half performance can be categorized as average at best.
That type of performance isn't going to win the Tigers an SEC championship, but given that it's the first game of the season, some sloppiness was to be expected.
So of course Whitfield would be the one who comes up with the goal line interception to keep LSU out of the end zone.
Wow, what was Mettenberger thinking right there?
Judging by his decision, he was thinking, "Hey, let me throw a terribly inaccurate pass to a receiver who's blanketed by a defensive back. That should work."
Well, it didn't.
Kenny Hilliard showed some shake and bake after barreling down the field for 61 yards on that run.
That was a sick move that really embarrassed North Texas DB Zac Whitfield.
Shades of Trent Richardson against Ole Miss last year.
Score Update: LSU 24, North Texas 7, Second Quarter. 1:55
Well, North Texas doesn't have 26 total passing yards anymore. WR Brelan Chancellor sneaks underneath LSU's pass coverage and takes a pass 80 yards for a Mean Green touchdown.
The Tigers' secondary was caught sleeping on that one. Big mistake by safety Eric Reid.
Something tells me Reid will make up for it in the second half, though.
Now we'll be treated to North Texas' 2-minute drill.
This should be impressive, considering the Mean Green have a whole 26 total passing yards tonight.
Drew Alleman pushes the straight away 35-yard field goal wide right, keeping the score at 24-0.
That was ugly.
I hit a 7-iron at the driving range last night that followed that exact same path.
This article is
What is the duplicate article?
Why is this article offensive?
Where is this article plagiarized from?
Why is this article poorly edited?