Hawaii at No. 1 USC: Live Score, Analysis and Results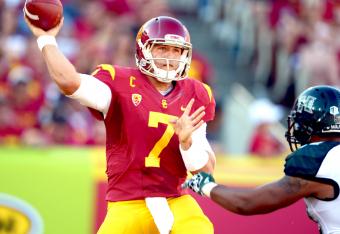 USC wins 49-10.

For the Trojans there is a lot to be taken from this game.
While the defense played well in the first half, they gave up quite a few yards to a Hawaii offense that is trying to find its way under first year coach Norm Chow.
However, there were some revelations as defensive end Morgan Breslin dominated throughout the game and will be a welcome addition to the depleted defensive line.
On offense, Matt Barkley had a nice game but had some errant throws and some drops as well.
USC will need to work on their running game which largely disappointed.
Lane Kiffin and his staff will have a lot to work on before the Trojans head east to play a Syracuse team that almost beat Northwestern at home today.
At the end of the day, this was a nice win but the Trojans will have to play much better as the season progresses if they want to play in the national championship game in January.
Hawaii appears content to run out the clock. Good move.
Trojans playing a bunch of youngsters.

Another nice drive by Hawaii comes up short with an interception by Josh Shaw. Will we see Max Wittek now?
USC 49-Hawaii: 10, 12:58 left in the fourth quarter: Barkley hits Telfer with a short touchdown pass. Nice drive with some decent runs. At least they mixed it up a bit.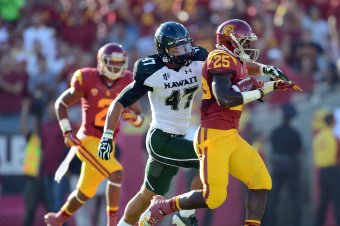 Harry How/Getty Images
USC 42- Hawaii 10, end of the third quarter: The Trojans seem unbalanced in this game. The running portion of the offense will need much attention going forward if USC doesn't want to turn into a one dimensional team.
Meanwhile, the defense looked much better in the first half although some of this might be due to the younger players seeing time.
Finally the Trojans run of first down. Not much there though.
USC 42-Hawaii 10, 4:40 left in the third quarter: Hawaii kicks a field goal after another nice drive. However, the Trojans are playing a bunch of younger players including linebackers Scott Starr and Anthony Sarao and defensive tackle Leonard Williams.
Ref's blow another call on a dropped pass by Hawaii's receiver....meanwhile, the Trojans defense is starting to look shaky.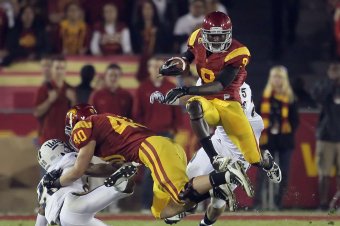 Jeff Gross/Getty Images
USC 42-Hawaii 7, 10:00 left in the third quarter: Marqise Lee is putting on a show after returning the Hawaii kickoff 100 yards.
Wow!
USC 35-Hawaii 7, 10:11 left in the third quarter: Hawaii puts an impressive drive together to open the second half which culminates in a nice Schroeder touchdown pass!
Barkley is 17-32 for 283 yards and three touchdowns
Robert Woods has two touchdowns and the USC defense has held the Warriors to 83 total yards.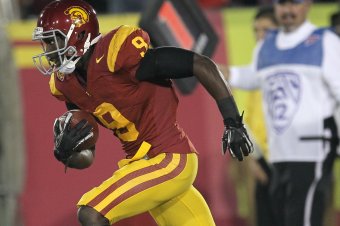 Stephen Dunn/Getty Images
USC 35-Hawaii 0, end of the first half: A field goal by Heidari tops off a solid first half by the Trojans against a clearly over-matched opponent.
The Trojans defense looks good but this may not be a good indication of how effective they will be against a better team.
Offensively, USC needs to get the run game going after looking impressive with the pass.
USC needs to get the running game going. Nice pass and catch to Lee again though...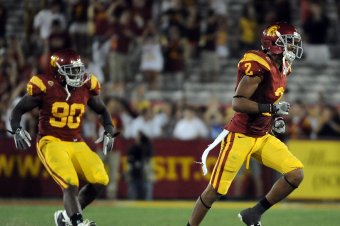 Harry How/Getty Images
USC 32-Hawaii 0, 5:00 to go in the second quarter: Marvelous catch by Robert Woods for yet another touchdown.
But another two point conversion attempt crashed and burned....
Give Hawaii's Scott Schroeder credit, he has been hammered by the Trojans but he keeps getting up.
USC 26-Hawaii 0, 7:02 to go in the second quarter: Trojans fail on a fourth and one.
So far, the running game is not very impressive.
Nice fake punt by Chow! Give "Uncle Norm" some credit!
But all for naught after an illegal shift.
Morgan Breslin looks like the real deal at defensive end.
Maybe the defensive line won't be a big worry in 2012?
USC 26-Hawaii 0, 11:03 to go in the second quarter: Barkley with three bad throws in a row. How many times has that happened?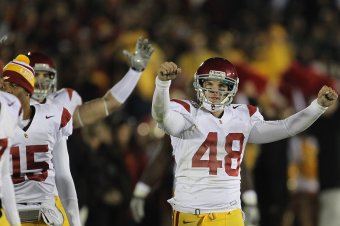 Jonathan Daniel/Getty Images
Great sack by Greg Townsend jr....
Now we find out why the Trojans are going for two. Apparently, kicker Andre Heidari isn't quite right.
UCS 26-Hawaii 0, 13:31 to go in second quarter: Kiffin goes for it...and Silas Redd delivers. Nice TD run for the Penn State transfer.
Two point conversion no good...anyone else hate the two point conversion?
USC 20-Hawaii 0, End of the first quarter: The Trojans have had a few hiccups but so far, look good. As for Hawaii...it's going to be a long game...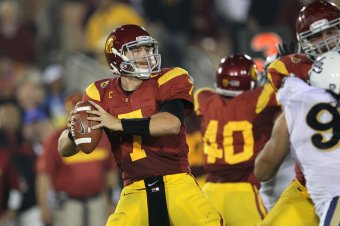 Stephen Dunn/Getty Images
Great Pass and catch by Barkley to Grimble.
Trojan pass game looks in mid season form...
Great catch by Hawaii's Stuttzman is followed by yet another defensive penalty by USC.
Wheres the discipline on Monte's boys?
USC 20-Hawaii 0, 3:22 to go in the first quarter: Fumble by Redd is followed by a Trojan interception for a score which was then followed by a missed two point conversion.
Too much action for these old fingers to type!
This article is
What is the duplicate article?
Why is this article offensive?
Where is this article plagiarized from?
Why is this article poorly edited?