50 Best Sports Signs Ever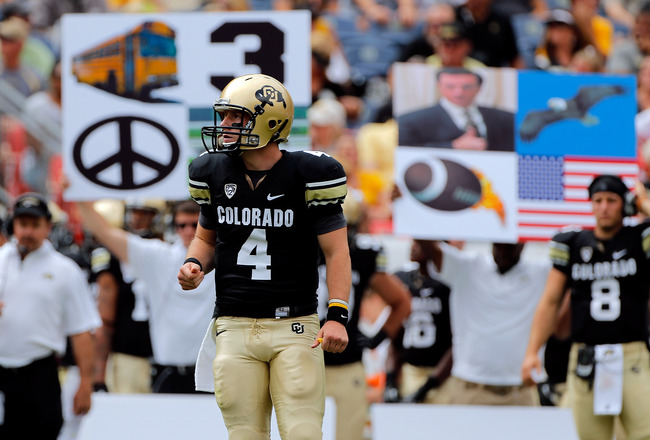 Doug Pensinger/Getty Images
Sports signs come in all shapes and sizes, and some of them are particularly funny.
From Drew Brees to Tim Tebow to Fig Newtons, sports fans creatively make fun of anything and everything at the game. It's one of the best parts of going to sporting events.
Here are the rankings of the 50 best sports signs of all time.
No. 50: The Ugly Girls
Courtesy of Bleacher Report
The classic, and chauvinistic, college sports sign.
You have to wonder, though: How many of those fans proved to be hypocrites after the game?
No. 49: Pregnancy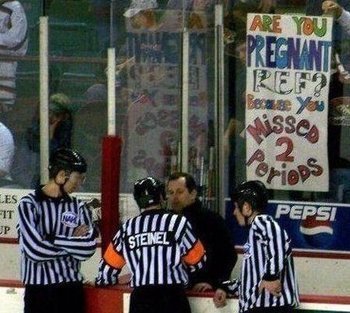 Courtesy of Bleacher Report
Those fans nailed one possibility.
But considering those refs' age, it's probably menopause.
No. 48: Albert Pujols Walks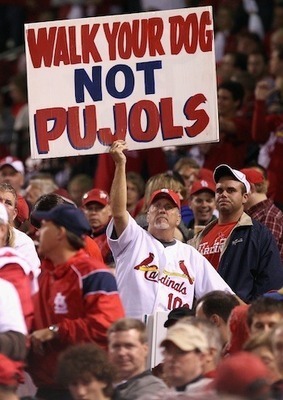 Courtesy of Bleacher Report
The question the opposing pitcher is asking: Why wouldn't I walk Albert Pujols?
No. 47: Fig Newtons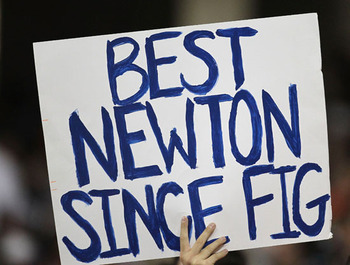 Courtesy of Bleacher Report
A great sports sign because it's universal.
Who hasn't heard of Fig Newtons?
No. 46: Duke vs. Maryland Rivalry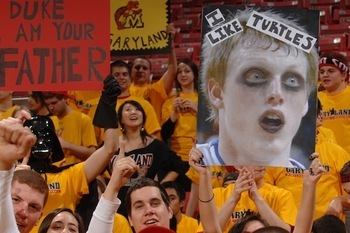 Courtesy of Bleacher Report
It's always good to honor an old rivalry.
That is what Maryland did when they put up a sign making Duke star Kyle Singler look like a crazy punk rocker.
No. 45: Underwear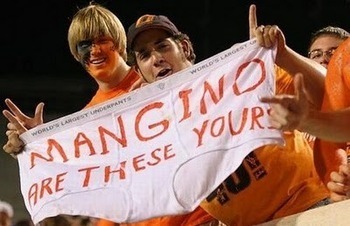 Although he's not slim, those probably didn't belong to Mangino.
The big question is: Where did those kids find someone who actually uses underwear like that? Were they made for a blue whale?
No. 44: Manning-Lite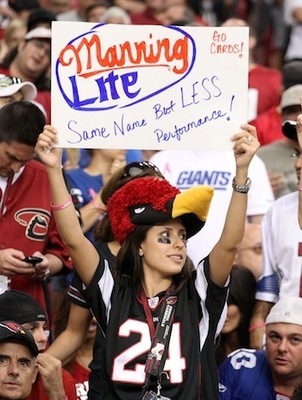 Courtesy of codebuyblog.mtv.com
Not after those two Super Bowl-winning performances, sweetheart.
No. 43: No Boise State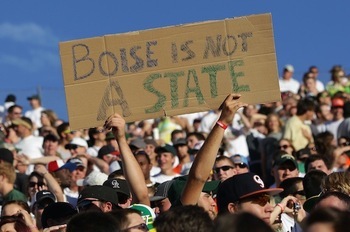 It's true, Boise isn't a state.
But, sadly for those fans, the Broncos are not any less dominant because of it. What they lack in statehood, they make up for in total dominance on the football field.
No. 42: Dirk Love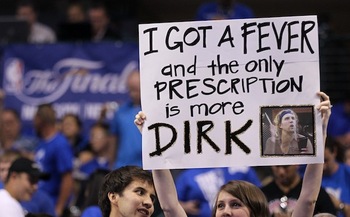 Courtesy of guycodeblog.mtv.com
He's perennially underrated, but is there a more beloved NBA player in his home city?
No. 41:Garry Bettman's Mastercard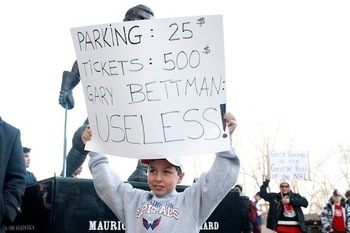 Nice to see someone verbalizing a widely held sentiment.
Will NHL commissioner Gary Bettman lock this kid ou,t too?
No. 40: The Matthews Sack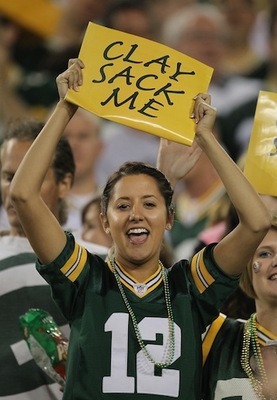 Courtesy of guycodeblog.mtv.com
You can just hear Jay Cutler saying, "OK, baby, you can take my place in the line of fire!"
No. 39: Occupy ESPN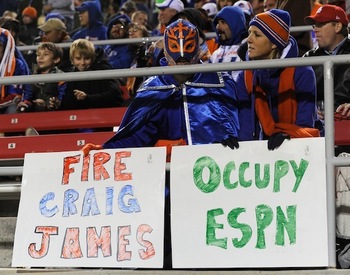 Courtesy of guycodeblog.mtv.com
Is there a less popular sports figure anywhere than Craig James?
Maybe if ESPN fires James, no one will want to occupy the network.
No. 38: The Ryan Braun Conundrum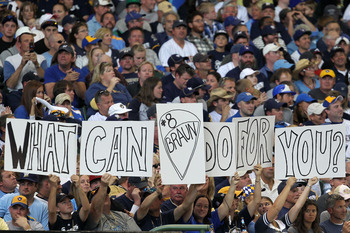 Well, he could win you an MVP—or embroil you in a cheating scandal.
Just depends on your perspective, right?
No. 37: Last Gasp of a Twins Fan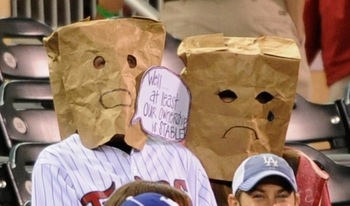 Courtesy of guycodeblog.mtv.com
Said the Twins fan to the Dodger world during the Frank McCourt saga.
But, after $200 million of spending by new, loyal Dodgers owners, who is laughing now?
No. 36: Who's Got Em'?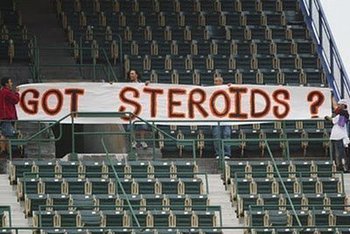 It's one of baseball's biggest questions, even now.
In a truthful poll, how many baseball stars would raise their hands?
No. 35: Married to Jesus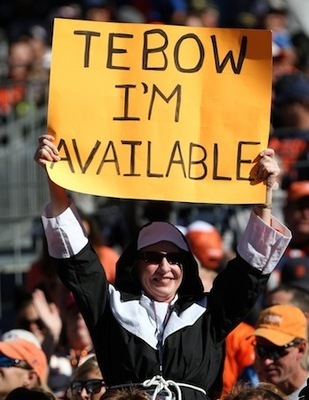 Courtesy of guycodeblog.mtv.com
Perhaps Tim Tebow behaves so like Jesus that she got the two mixed up?
Or maybe she's just a horny nun.
No. 34: Put Us on TV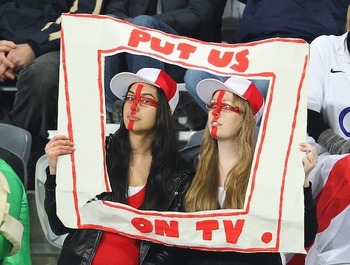 Courtesy of guycodeblog.mtv.com
Clearly, that wish was granted.
Was it the sign or its holders that prompted the cameraman?
No. 33: Wrong Direction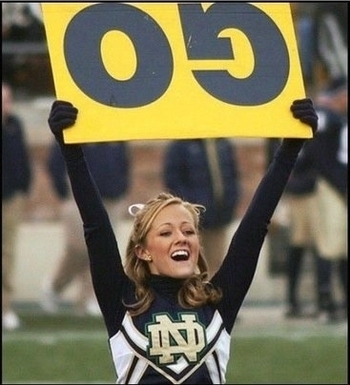 She's got it a little confused, pointing upside down in the wrong direction.
Just like Notre Dame's title hopes since the 1980s.
No. 32: Biggest Idiot Ever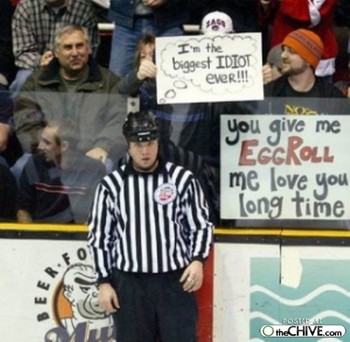 Courtesy of http://thechive.com/2009/04/02/20-greatest-funny-sports-signs/
The bumbles for thought was a nice touch.
Do fans take hours to write these, treating them as works of art? Sometimes I wonder.
No. 31: Don't Texxxt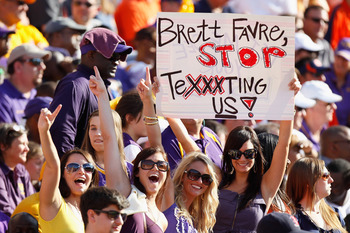 Cheeky funny.
You've got to wonder, though: How many would actually resist a Hall of Fame NFL quarterback?
No. 30: Overpriced Beer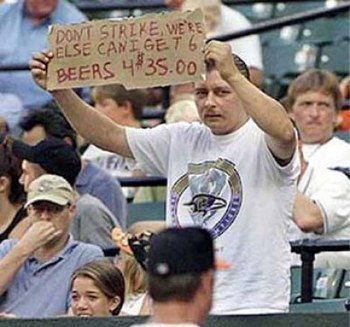 This charming sign made me think of Cubs fans everywhere.
After all, what fan in the Wrigley Field bleachers spends less than $35 on beer?
No. 29: The Doghouse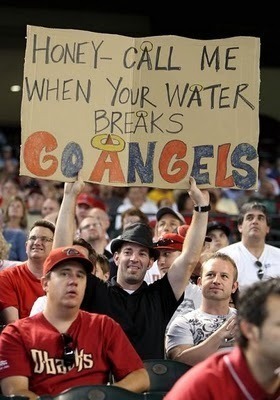 That baby will be in college before he gets out of her doghouse.
No. 28: Changing Fortunes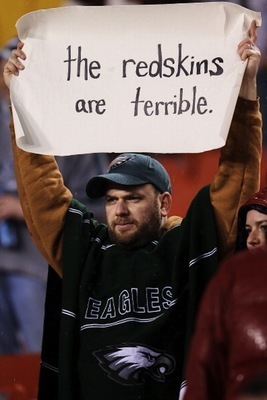 This sign has been true for oh-so-many years.
Will Robert Griffin change things in Washington forever?
No. 27: Brown Blues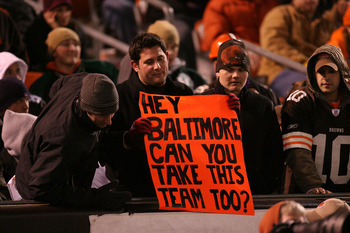 The hard part for Cleveland: Their former Browns, the Baltimore Ravens, are now one of the best teams in the NFL.
And the real Browns of Cleveland? Nope, they're still awful.
No 26: ESPN vs. BCS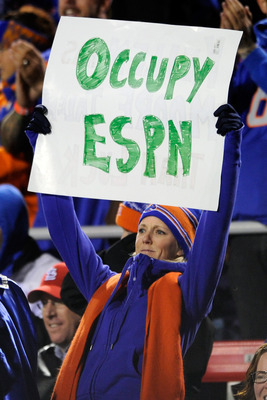 This is a Boise State fan...so did she actually mean to write "Occupy the BCS" in honor of the rankers who have ruined her school's title hopes for the last half decade?
No. 25: Boogerfest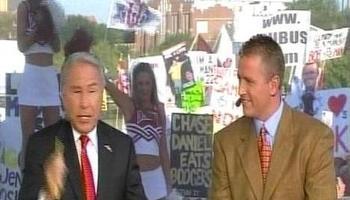 Boogers are always good for a laugh...in kindergarten. Or as an adult, since it cracked me up.
But seriously, who actually makes an anti-Chase Daniel sign? The guy isn't exactly Tom Brady on the hate scale.
No. 24: Lou Holtz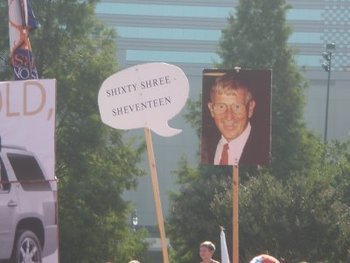 Somewhere in Michigan, where fans hate Notre Dame, children are solving a math problem.
"If you add up the number of "s's" Lou Holtz uses on TV in a year, how many millions do you get?"
No. 23: The Shame of Losing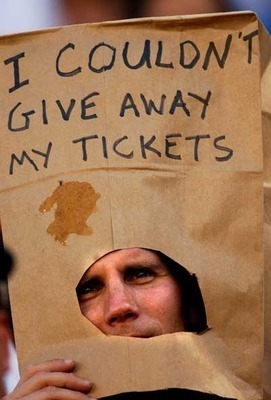 As bad as your team is, I'm sure someone wants them. After all, sports fans are sports fans...we like to watch the game.
Even if it's sometimes un-watchable.
No. 22: Start Your Engine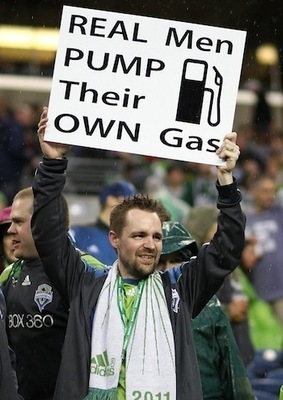 Courtesy of codebuyblog.mtv
Who wants to pay people a tip to do it anymore? In this economy, even fake men get out of the car and pump their own gas.
No. 21: Who Needs Basketball?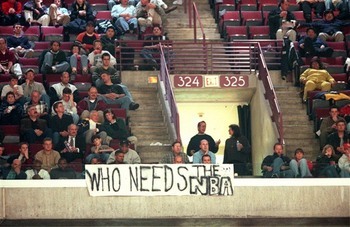 Thankfully, the NBA lockout is over.
But, isn't it funny how much the average fan prefers football?
No. 20: Where Is Chris Bosh?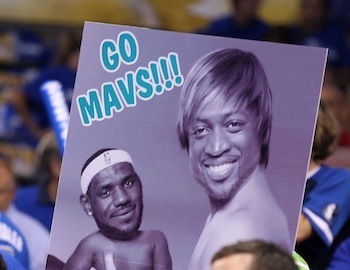 Courtesy of guycodeblog.mtv
Yet again, Chris Bosh gets snubbed.
Where is his Justin Bieber hairdoo?
No. 19: Pat Summit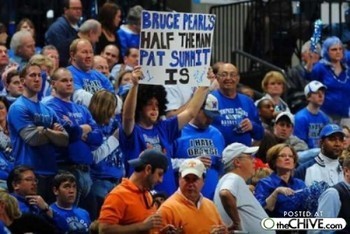 Pat Summit is incredibly tough—Bruce Pearl should be so lucky to come close.
No. 18: Old Man's Slam Dunk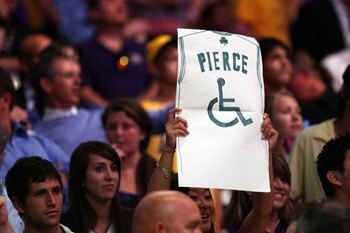 Sure Paul Pierce may be getting up there in age.
But don't tell him that or he'll stare you down and knock down a pretty jumper from the top of the key.
No. 17: More Time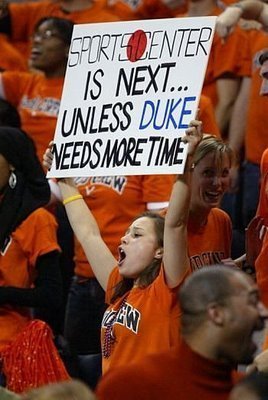 Anti-Duke signs are some of the most creative in college basketball.
That may be because the school's combination of wealth, elitism, and soft treatment from officials gives haters plenty of material for jokes.
No. 16: Sacked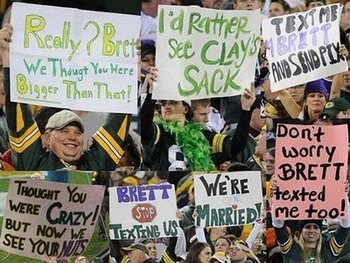 Brett Favre's sexting scandal always left me pondering one question: Was he wearing Wrangler jeans when he snapped the picture?
No. 15: Everyone's a Sex Addict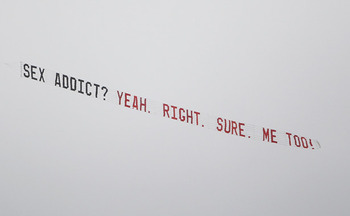 One man's take on the Tiger Woods sex scandal.
How many golf fans would say he is dead on?
No. 14: Ball-Handling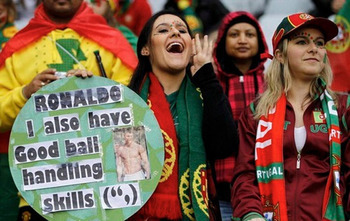 For an anti-Ronaldo fan, she certainly chose a flattering poster.
Makes you want to reassess your own workout routine, doesn't it?
No. 13: Penile Similarities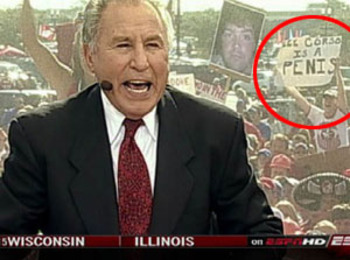 It's hard to say if that is an insult or a compliment.
If you looked like a penis, what would you say?
No. 12: Air Tribute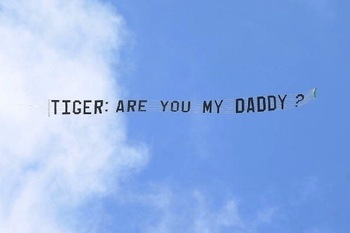 While many former fans have mocked Tiger Woods since his sex scandals rocked the golf world, how many did it from the air?
No. 11: Tebow's Clothing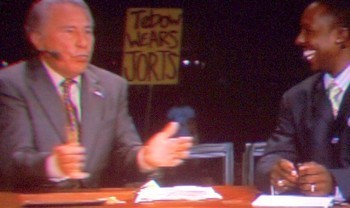 First it was his religion, now it's his clothes.
Is Tim Tebow the most scrutinized athlete of this generation?
Maybe, but jorts are simply unacceptable—just like Tebow's passing accuracy.
The big difference: Tebow can improve but jorts will always be awful.
No. 10: SARS or Boredom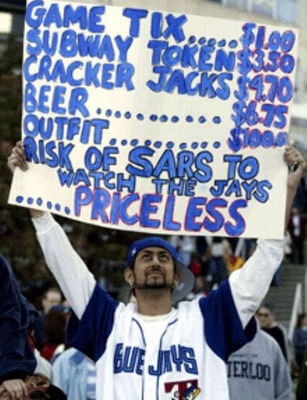 The SARS epidemic may be long gone, but the risk of boredom from a Blue Jays game remains an ever present danger.
No. 9: Mocking OJ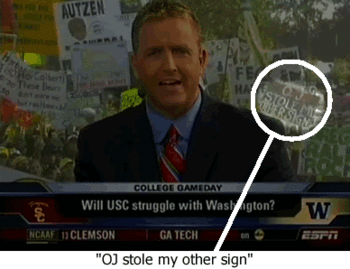 Let's play, "Where's Waldo." With OJ Simpson.
Can you identify the subtle dig at OJ in the picture?
No. 8: Thomas Edison Loses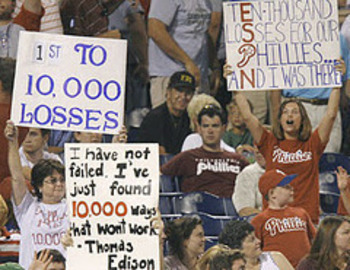 Kudos. Whenever you can link your team's historic losing benchmark to one of the greatest inventions in the history of mankind, it's impressive.
What sign will an enterprising, inspired Cubs fan draw up?
No. 7: Butler Service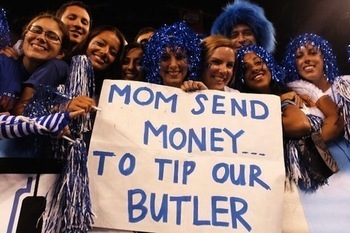 Give those Duke fans credit: Their school really was a class above Butler in that game.
And, Duke is a school for rich kids after all, so maybe they actually had real butlers to tip.
No. 6: Jest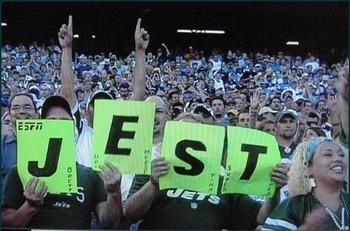 Well, now everyone knows which New York football fan base is smarter.
Or was this spelling error just that, a "jest"?
No. 5: Basketball Llama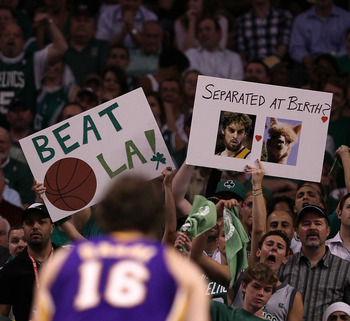 The resemblance between Pau Gasol and that Ilama is striking.
Has the Spanish star ever launched a spit projectile at an opponent on the court?
No. 4: BJ Flop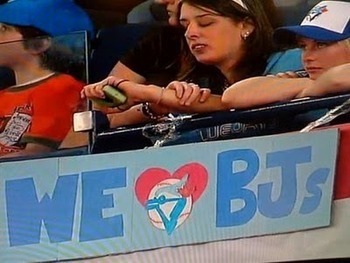 What a spelling error!
Or, perhaps Blue Jays games are not so boring after all.
No. 3: Hard Georgia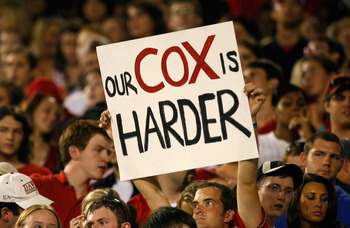 I guess being harder is what it takes to succeed as the quarterback of Georgia football.
But on the field or at a frat party?
No. 2: Multiple Conferences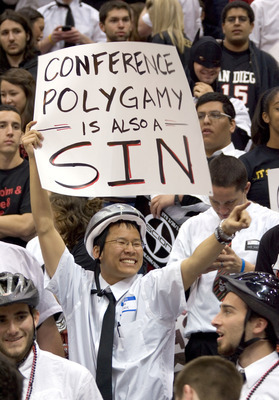 BYU is part of two conferences: the Mountain West and the Mountain Pacific Sports Federation.
But two terrible conferences don't equal one good one, so perhaps BYU should just join the Big East.
Wait, did I just imply that the Big East is a good conference?
No. 1: Solving the Mystery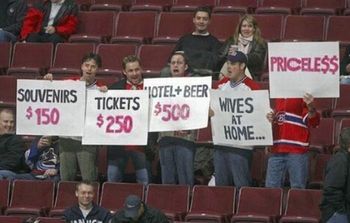 Why do men love sporting events?
I think this sign just solved that timeless mystery.
Keep Reading