3 Players the Dallas Cowboys Should Not Have Cut
Tim Heitman-US PRESSWIRE
The Dallas Cowboys' final 53-man roster is set, and it's pretty much the best players on the team, but there were a few players that were released who shouldn't have been cut.
When rosters dwindle down there are always tough choices for teams to make. No matter if you're a Super Bowl contender or in rebuilding mode, the final few cuts are always the most difficult.
There really isn't a lot of separation between last man to make the roster and the third guy cut, which makes it extremely hard for a coach to make his final decision. This often results in the coach going with a player who could fill a position of need rather than the best overall player remaining.
In the case of the Cowboys, Jason Garrett had to make a few of these gut-wrenching decisions. He did a good job overall, but he ended up cutting a few notable players who deserved the opportunity to wear the star on their helmet.
So, let's examine the individuals who were shafted when the roster got dwindled down to 53.
Lance Dunbar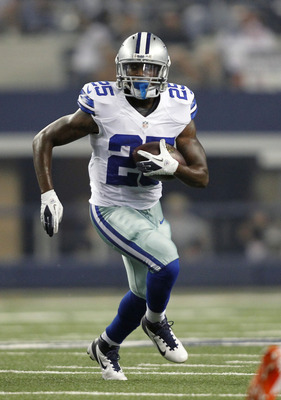 Tim Heitman-US PRESSWIRE
Lance Dunbar did everything he could to make the final decision difficult for the Cowboys' coaching staff.
But in the end, even a highlight-filled 105-yard, one touchdown performance in the final preseason game against Miami wasn't enough to keep him on the squad.
Dallas only wanted to keep three running backs, and they decided Phillip Tanner was a better fit for the roster.
Thing is, Dallas should've kept four.
Both DeMarco Murray and Felix Jones have had injury issues throughout their careers. Jones has only played a full 16-game schedule one time in his four-year career, and Murray missed three games in his rookie season. Even Tanner, the third-string back, missed the last few games of 2011.
Running backs get hurt, it just comes with the territory, and considering the injury history of the Cowboys' backs, it would have been a good idea to keep a fourth one around.
Plus, Dunbar isn't exactly a chump—the guy can play. He has the potential to make plays and displayed excellent quickness in tight spaces during the preseason.
Thankfully for Dallas, Dunbar cleared waivers and will join the practice squad. But, when the Cowboys hit the middle of the year and the running backs start dropping, they're going to wish they had Dumbar under their complete control.
Danny Coale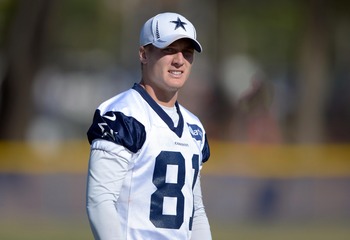 Kirby Lee-US PRESSWIRE
For the second season in a row, the Cowboys have waived their fifth-round draft pick.
Last season it was cornerback Josh Thomas, and this year the axe came down on wide receiver Danny Coale.
Coale, who was highly lauded coming out of Virgina Tech, was expected to compete for the third wide out spot on the Cowboys' roster. Instead his camp never really got started after he suffered a stress fracture in his foot during the offseason.
He did play in the final two preseason games, but he didn't make much of an impact in either of the contests. Also, hurting his case was the play of the other young wide outs on the roster. Cole Beasley emerged as a solid slot option during camp, Dwayne Harris looked strong and Andre Holmes showed flashes of brilliance.
This left Coale on the outside looking in, but in reality, he never had a chance.
For a player like Coale, who relies on sharp route running and quickness to get to his spots, an injury like a fractured foot is difficult to come back from. And it showed—he never looked particularly sharp when he got back on the field, and he looked nothing like the slot threat he was at Virgina Tech.
Dallas should've given him the benefit of the doubt and retained him on the roster. Coale is exactly the type of player who would've have been a major asset to Tony Romo. He'd always run solid routes, and he could have turned into Romo's Wes Welker.
Now, Coale is sitting on the Dallas practice squad and is available for any team to pick up. The former Hokie just might turn out to be a steal for another franchise, which would leave Dallas remembering what could've been.
Stephen McGee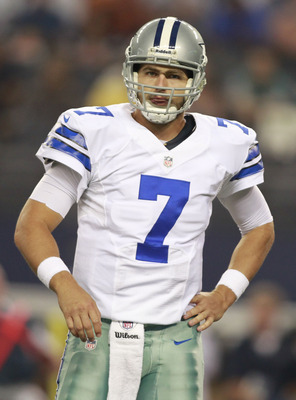 Tim Heitman-US PRESSWIRE
OK, Stephen McGee isn't the best quarterback in the world; actually, he's probably one of the worst third-stringers in the NFL.
But, the thing is, the third QB spot is a necessary one.
McGee may not be brilliant, or even adequate, but he provided a level of insurance in case the Cowboys suffered a multitude injuries at the most prominent position on the field in one game.
Now, the Cowboys have made the decision to carry only two quarterbacks on their roster—Romo and Kyle Orton—using the spot usually reserved for a third-string QB to provide extra depth at o-line and wide out.
On paper this seems like a great idea.
If Romo gets hurt, the Cowboys feature the best backup QB in the NFL, so why waste a roster spot and valuable cap space on a below-average signal caller like the former Aggie?
However, this really is a risky proposition.
In the NFL, injuries happen, and you never know when a couple of huge hits are going to force a team to call on their backup, or in some cases, their backup's backup.
Thing is, Dallas no longer has a third-stringer to save the day. If Romo and Orton both get hurt, who will play quarterback?
Dez Bryant?
He's got a cannon for an arm, but I'm sure Dallas wants him splitting out rather than taking snaps under center.
It's not likely that this situation ever happens, but you never know.
McGee may not have been everyone's favorite, but his spot on the roster was a necessary one.
Keep Reading

Dallas Cowboys: Like this team?