Boston Bruins: Who's in the Prospect Pipeline?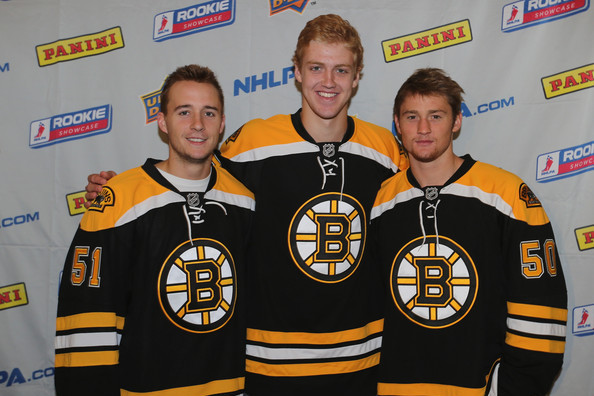 Spooner, Hamilton, Knight
With the negotiations between the players and the league at a stalemate and a lockout looming in the NHL, rather than focus on the negative, I can't help but look ahead to bigger and better things from the Boston Bruins.
There is no better time than now to see how some of Boston's most promising prospects are performing. We will be seeing some of these guys in a Bruins jersey sooner rather than later.
So let's take a closer took.
Begin Slideshow

»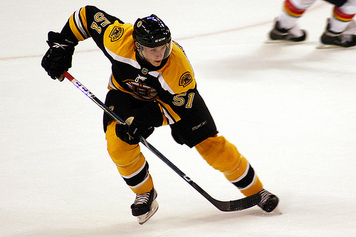 Ryan Spooner
Boston selected Spooner in the second round of the 2010 NHL draft. He has appeared in 123 games for the Peterborough Pirates over the course of two-and-a-half seasons and has recorded 131 points.
Spooner has slowly made his way around the OHL, also playing for the Kingston Frontenacs and the Sarnia Sting. He has appeared in eight games over two seasons for Boston's farm team in Providence, where he has accumulated a total of seven points.
Spooner is a small forward at 5' 10" and weighs only 175 pounds, but he is extremely quick and creative with the puck. He has made some noise in Bruins camp. Coach Claude Julien praised him, saying that his intelligence level was extremely high.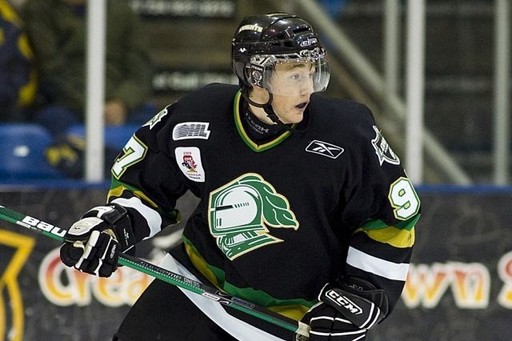 Jared Knight
Knight was also selected in the second round of the 2010 NHL draft in 2010 at No. 32, only 13 spots ahead of Ryan Spooner. Knight has played for the London Knights in the OHL since 2008 and has recorded 209 points in 250 games. In 2010, Knight played three games for Boston's farm team in Providence and recorded two assists.
Knight has the size, 5' 11" and 205 pounds, to play in the NHL,but he is still rough around the edges. He is fearless when it comes to attacking the net but is not the most creative while controlling the puck.
Knight would benefit from being paired with a Patrice Bergeron-esque player to help him reach his full potential.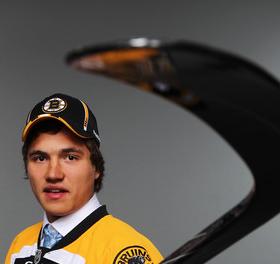 Alexander Khokhlachev
Khokhlachev was the youngest player drafted in 2011 and is the player that I am most eager to see in a Bruins uniform. At only 18 years old, he has tremendous upside.
Khokhlachev left Russia in 2010 to play for the Windsor Spitfires of the OHL. Over the course of two seasons, he amassed 145 points in 123 games.
Khokhlachev made the news in Boston this past summer when he decided to leave the OHL to play for his father in the KHL. Warren Rychel, his former head coach in Windsor, disagrees with the decision and does not believe that Khokhlachev is ready for the type of hockey played at that level.
Bruins general manager Peter Chiarelli stands behind Khokhlachev. With Khokhlachev's speed, agility and knack for finding the back of the net, he could, one day, make a name for himself in the NHL.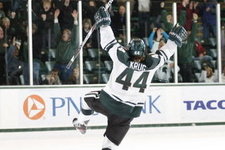 Torey Krug
Krug signed with Boston in March of 2012 as a free agent out of Michigan State. He played three seasons for the Spartans and was voted captain for both his sophomore and junior seasons.
Through 114 games, he recorded 83 points and an overall plus/minus of +7. His junior season he was a Hobey Baker finalist as well as a finalist for the CCHA Player of the Year. Krug appeared in two of Boston's final games last season, recording one assist.
Krug is a tiny blueliner, standing only 5' 9" and weighing 175 pounds. I do not think it is fair to compare his offensive output to that of Dougie Hamilton's, but it is safe to say that Krug can put the puck in the net.
He is an offensive defenseman with high hockey intelligence. With a little bit of work in the minors, Krug can eventually make an impact on the Bruins' back end.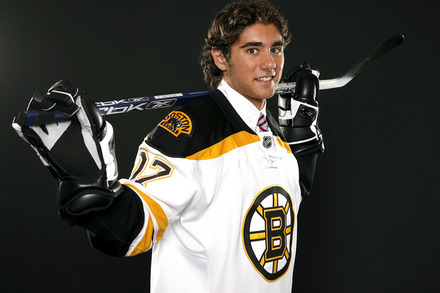 Tommy Cross
Cross has been in the Bruins system for quite some time now. He was drafted in the second round in 2007 and recently finished his senior season at Boston College. In four seasons with the Eagles, Cross tallied 60 points in 134 games. In his four seasons, Cross helped lead the Eagles to three Beanpot Classic titles and two national championships.
Look to see Cross playing for Boston's farm team in Providence this season. He had a small taste of the AHL last year when he dressed for two of Providence's games.
Cross is not flashy and does not always put up big numbers, but he has a strong shot and is an anchor on defense. His intelligence is above average.
He could make a nice career for himself in the role of a Dennis Seidenberg-type of player.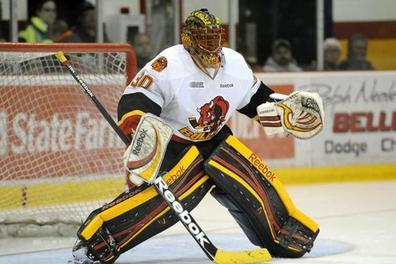 Malcolm Subban
Boston drafted Malcolm Subban, the brother of hated Montreal Canadiens defenseman P.K. Subban, in the first round of this year's draft. Subban has played with the Belleville Bulls of the OHL for the past three seasons. Last season, Subban appeared in 39 games and posted a respectable GAA of 2.50.
I am not sure if Boston would have taken Subban if Tim Thomas had not decided to leave. But regardless, the Bruins were able to take one of, if not the best goaltenders in the draft.
Subban did suffer a mid-season groin injury last year, but he seems to have been able to bounce back. It seems at this point that he will be the Bruins' goalie of the future.