2012 Ohio State Football: 10 Things We Learned from Game 1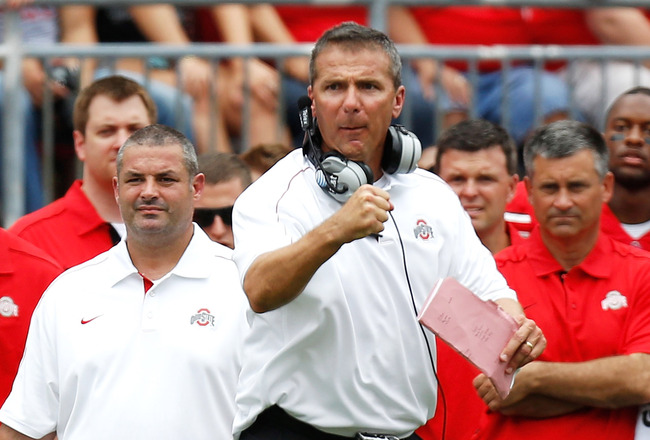 Kirk Irwin/Getty Images
It's official, the Ohio State football team finally started its highly anticipated 2012 season. Even though things started slowly for the Buckeyes, they woke up in the second quarter and ended up putting a thumping on the Miami of Ohio Redhawks.
While there are still many uncertainties about this young Buckeye squad, here are 10 things that we learned from today's season opener.
10. Corey 'Philly' Brown Is Going to Make Some Noise This Season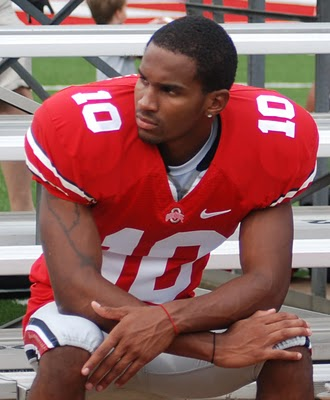 Speedy and versatile Corey Brown has the type of speed that Ohio State hasn't had since guys like Santonio Holmes suited up for the Bucks. He's not a bad route runner either and has great hands.
Look for Brown to have a very successful season, especially if he continues to put up numbers like he did Saturday. He caught six passes for 84 yards and a touchdown.
9. DBs Travis Howard and Bradley Roby Are for Real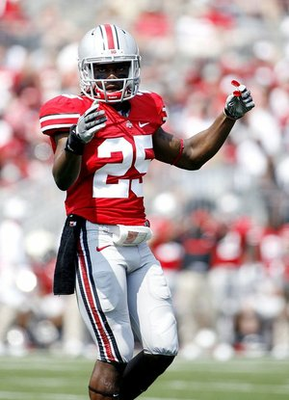 Ohio State seems to always have a good set of defensive backs. Cornerback Travis Howard is one. To deny that he is a playmaker you would almost have to be a Michigan fan.
In Saturday's debut, Howard seemed to be in on every play, whether he was making a tackle or dropping back into coverage. He made two interceptions.
Sophomore defensive back Bradley Roby had a pretty good game as well. He had six tackles, two pass-breakups and recovered a fumble for a touchdown.
8. Ohio State's Defensive Line Needs to Pick Up the Pace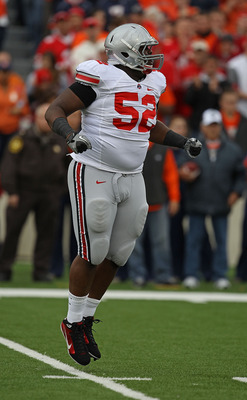 Jonathan Daniel/Getty Images
As deep and talented as Ohio State's defensive line is, it was a bit disappointing Saturday afternoon. While there have a boatload of studs on this unit, they didn't dominate as much as expected.
To put things in perspective, there wasn't a single sack by an Ohio State defensive lineman until halfway through the fourth quarter.
7. Kenny Guiton Is a Pretty Good Backup Quarterback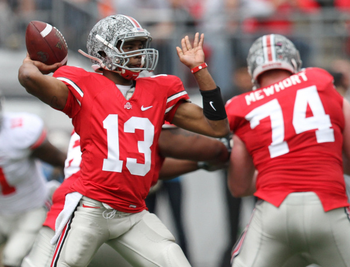 When Braxton Miller left the game, backup QB Kenny Guiton was thrown into the fire and was impressive.
A dual-threat guy, Guiton went 5 of 9 for 37 yards, with three of his passes going for first downs. He has enough speed to be a legitimate threat in the ground game as well.
6. Urban Meyer Will Have an Aggressive Offensive Approach
Eric Francis/Getty Images
While Ohio State will always be a rush-first team, there is more aggression in Ohio State's offensive approach. We actually got to see passes on first down Saturday for the first time in God knows how long.
It will be exciting to see how the play-calling will evolve by the time the Buckeyes enter conference play.
5. The Offensive Line Looked Pretty Darn Good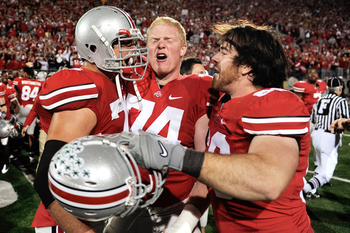 After losing key components such as Mike Brewster and Mike Adams from the 2011 offensive line, the 2012 group looked pretty good. They didn't allow a sack and thanks to their efforts, the offense averaged 5.6 yards per carry.
4. There Is Finally Going to Be a Productive Offense at Ohio State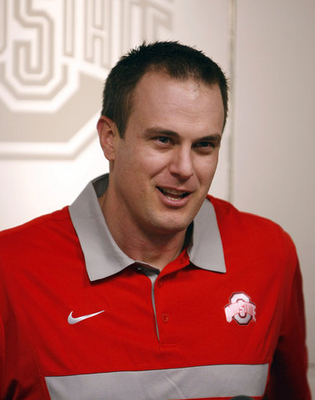 Over the last decade or so, Ohio State has had a mediocre offense at best. However, under first-year offensive coordinator Tom Herman, things are bound to change.
After averaging 318 total offensive yards per game a year ago, the Bucks look to turn things around in 2012. They got off to a good start, gaining 538 yards in Saturday's season opener.
3. Ohio State's Defense Knows How to Make Adjustments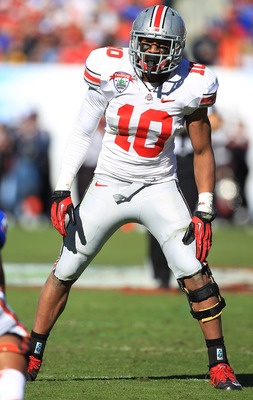 Scott Halleran/Getty Images
After allowing the Redhawks to gain 172 offensive yards in the first quarter, the defense adjusted very nicely, holding Miami to an average of just 47 yards for the remaining three quarters.
When you consider all the different offenses the Buckeyes will face, defensive adjustments will be crucial to their success.
2. Everything Starts with QB Braxton Miller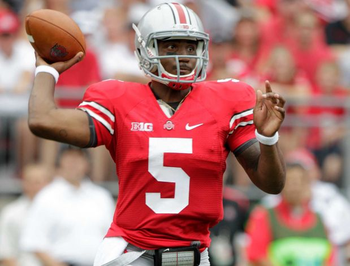 Once again Braxton Miller showed why he is the focal point of the Ohio State offense. The sophomore signal-caller managed the game nicely and looks comfortable in the spread.
Before he had to leave the game with cramps, Miller shredded the Redhawks defense for 205 passing yards, 161 rushing yards and three touchdowns.
1. This Buckeye Football Team Will Show No Mercy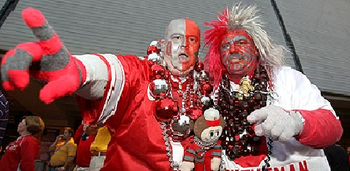 Even when the Buckeyes were ahead big in the fourth quarter and they were without their starting quarterback, Urban Meyer was still calling passing plays.
Does this show arrogance? Is it "kicking a man while he's down"? Not in my opinion. To me, it's a message to the rest of the teams on Ohio State's schedule that the Buckeyes will give it their all until the final whistle.
This relentless attitude is something that Ohio State has lacked in recent years.
I'm so glad it's finally back!
God bless and GO BUCKS!
Keep Reading

Ohio State Football: Like this team?