Southern Miss at No. 17 Nebraska: Live Score, Analysis and Results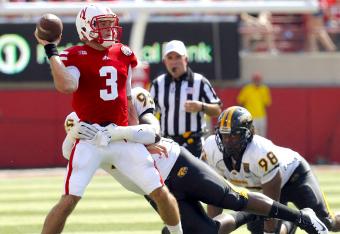 Nebraska 49 Southern Miss 20 Final
The Nebraska Cornhuskers extended their streak of winning their season opening game to 27. The Cornhuskers came out of the game with a star quarterback, but an injury to running back Rex Burkhead.
Nebraska started slow, but took off after halftime. Southern Miss needs to find a quarterback before they can get to where they were last season.
It will be interesting to see how Nebraska and Southern Miss build upon this game in the future.
Nebraska who was a 20 point favorite,wins by 29.
Next week Nebraska travels to the Rose Bowl to take on UCLA.
Southern Miss gets a week off before they play East Carolina on September 15.
Nebraska Stats
Taylor Martinez 26/34 349 yards and five touchdowns
Ameer Abdullah 15 carries 81 yards, four receptions 39 yards and one touchdown
Quincey Enunwa six receptions for 65 yards
Southern Miss Stats
Chris Campbell 6/11 69 yards and one touchdown
Anthony Alford 16 carries 76 yards
Tracey Lampley 100 yard kickoff return
Nebraska 49 Southern Miss 20 Final
What a game by Taylor Martinez!
T-Magic for the Heisman Trophy!
Ron Kellogg III now in at quarterback for Nebraska. It is nice to see the walk on from Omaha get some playing time.
The way Southern Miss has changed quarterbacks today, I would not be surprised to see Brett Favre come in on the next series. I don't know if he has any eligibility left.
Nebraska 49 Southern Miss 20 7:47 Fourth Quarter
T-Magic strikes again!
Martinez throws his fifth touchdown pass of the day. This one to Ameer Abdullah.
Did anyone see this coming from Martinez today? I didn't!
Wide receiver Kenny Bell looked like he was wearing a Southern Miss uniform on that long pass play.
He was mugged!
Nebraska 42 Southern Miss 20 13:03 Fourth Quarter
Southern Miss adds a field goal. Nebraska's defense is starting to play much better in the second half.
If Nebraska can add a score on the next drive, Tommy Armstrong may come in at quarterback to end the game.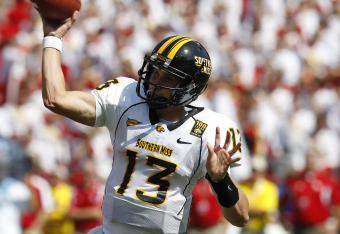 Nebraska 42 Southern Miss 17 End of Third Quarter
Southern Miss keeps going to their bullpen, trying to find a quarterback who can take control of the offense. Maybe they should bring in the lefty!
Nebraska 42 Southern Miss 17 2:40 Third Quarter
Welcome to the party Braylon Heard! The young running back just took the hand off 10-yards for the touchdown!
Nebraska is now in charge of this game.
Will Nebraska fans get to see quarterback Tommy Armstrong before the game is over? Some fans wanted him to start over Taylor Martinez.
It looks like Nebraska is starting take over this game.
Taylor Martinez now has 338-yards passing and four touchdowns. So far he is keeping his promise of completing 70% of his passes this year.
Just think what he might do with a healthy Rex Burkhead next to him!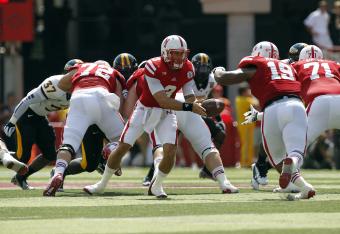 Nebraska 35 Southern Miss 17 7:35 Third Quarter
Taylor Martinez is playing the best game of his career today!
We all knew he could run, but now he can pass as well? That will make Nebraska a very dangerous team!
So, is T-Magic back in Lincoln, Nebraska?
We heard the ABC announcers say, "Taylor Martinez for Heisman" during the halftime show.
Maybe the University of Nebraska will have to change the name on the Burkhead for Heisman website.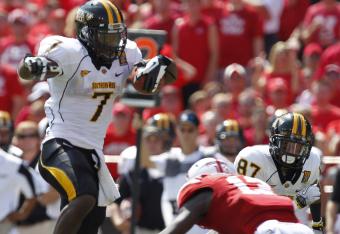 I just do not understand why Southern Miss keeps rotating quarterbacks?
I think it would be better to let one the quarterbacks find their rhythm and move the ball down the field.
Southern Miss is only a touchdown away from making this game very interesting.
The break that the Nebraska defense needed! Alford fumbled the hand off and Nebraska recovered.
Let's see if the Cornhuskers can capitalize on the Golden Eagle's mistake.
Nebraska Stats
Taylor Martinez 18/23 242 yards passing and three touchdowns
Rex Burkhead three rushes for 68 yards and one touchdown
Quincey Enunwa five receptions for 63 yards
Southern Miss Stats
Chris Campbell 5/8 54 yards and one touchdown
Desmond Johnson eight rushes 50 yards
Tracey Lampley two receptions for 20 yards
Looking at scores from around the country... many teams are struggling today. The polls should be interesting next week as voters get their first peek at the 2012 teams.
Time to go get the halftime snacks and get ready for the second half.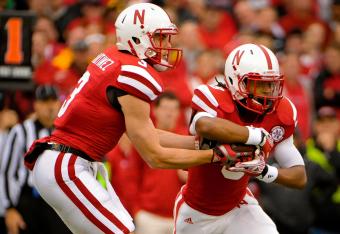 Nebraska 28 Southern Miss 17 Halftime
Bo Pelini just said on ABC/ESPN2 that the injury to running back Rex Burkhead is not serious. Let's hope he is right. Burkhead is one of the great role models in college football.
Nebraska looked good offensively in the first half, but struggled on defense. Maybe Southern Miss is better than most people thought.
It should be an exciting second-half of football.
Nebraska 28 Southern Miss 17 1:03 Second Quarter
Is that Aaron Rodgers wearing No. 3 for the Cornhuskers?
Taylor Martinez just threw his third touchdown pass of the half!
Martinez also has 242 yards passing! I guess his hard work over the summer is paying off!
Nebraska 21 Southern Miss 17 1:37 Second Quarter
Nebraska dodged a bullet there! The Blackshirts brought an all-out blitz and Southern Miss just missed a wide receiver screen.
How would the mood have been in Lincoln if Nebraska was tied with Southern Miss at half-time?
Instead Southern Miss hits a 45-yard field goal.
It looks like this game will be won by the team who performs the best in the second-half. Nebraska will probably be happy to come out with a slight edge on the scoreboard and no more injuries.
Southern Miss comes out with a new quarterback. What was wrong with the one they had? Let's see what Anthony Alford can do.
Nebraska 21 Southern Miss 14 4:54 Second Quarter
Brett Maher misses another field goal.Where is Alex Henery when you need him?
How many times will Mike Patrick call Nebraska's quarterback Tyler Martinez?
Wow...the band is overheating? Burkhead is injured and now Jamal Turner limps off the field.
I bet Nebraska fans were not expecting this today.
This article is
What is the duplicate article?
Why is this article offensive?
Where is this article plagiarized from?
Why is this article poorly edited?