NFL Rookie of the Year Rankings: Updated Odds for Top Contenders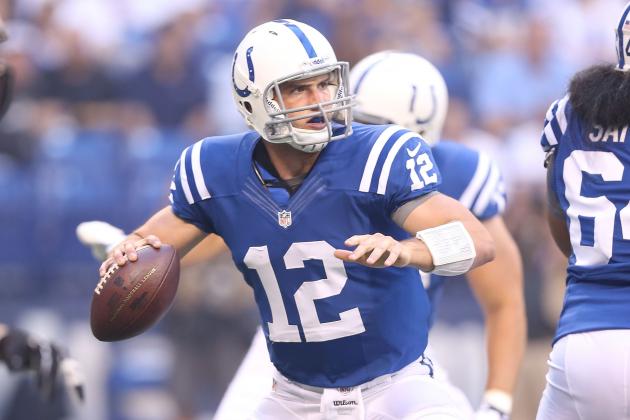 Andy Lyons/Getty Images

Projecting rookies is always tricky business, as no one is quite sure how they will react under the bright lights. Sure, there is preseason to go off of, but those games are more like glorified practices, as teams are not unleashing the full potential of their playbook.
Still, one can project the winners of the OROY and DROY based on how quickly they will assume a starting position and how quickly their skills will translate into the NFL.
Here are the latest odds for who the top candidates are to win the OROY and DROY in 2012.
Begin Slideshow

»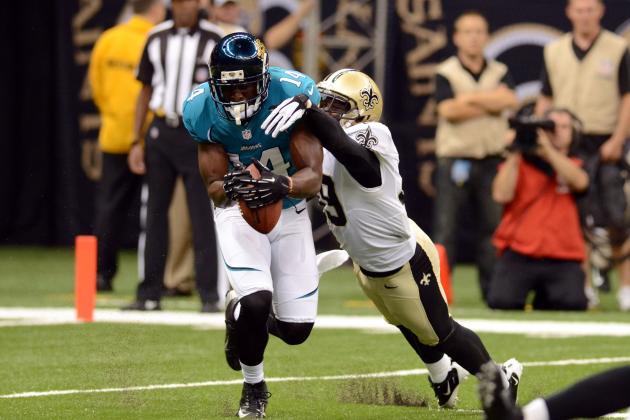 Chuck Cook-US PRESSWIRE

It is easy to overlook Blackmon because of the DUI he got over the summer, but he was taken fifth overall for good reason.
Despite showing up late to training camp over a contract dispute, Blackmon has been rather dominant in the preseason, showing off his incredible strength that drove the Jaguars to trade up for him in the draft. He already has 10 receptions for 136 yards in limited action.
Quarterback Blaine Gabbert has looked exceptionally better this preseason, and Blackmon's presence is a big reason for it.
His biggest competition from other receivers will come from Kendall Wright, but Wright will be playing with a first-year starter in Jake Locker, who has well-documented accuracy issues.
As long as Blackmon can stay out of trouble, he could be exactly what the Jaguars need to boost their passing attack, and he could be a sleeper candidate to win OROY.
Odds: 10 percent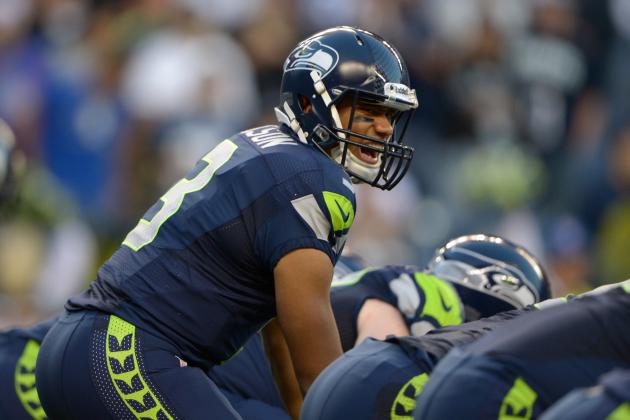 Kirby Lee-US PRESSWIRE

When Pete Carroll said back in May that Wilson would be in the running for the starting quarterback job, most observers shrugged it off and assumed that Matt Flynn would be the starter.
Wilson, however, seized the job with an excellent preseason outing, leaving Carroll no choice but to name Wilson the starter.
The biggest knock on Wilson coming out of Wisconsin was his height. So far, his physical limitations have not held him back one bit. He seems unusually calm in the pocket for a rookie and has great escape ability.
If the preseason is any indication, Wilson should be able to pile up stats with both his legs and his arm.
It will be an uphill battle to beat out RGIII and Andrew Luck for the award, but then again, no one would have thought Wilson would be the unquestioned starter in Seattle by now, either.
Odds: 15 percent
David Richard-US PRESSWIRE

Unfortunately, we have not been able to see Richardson in action this preseason, as he suffered a knee injury that could potentially keep him out of the lineup for Week 1.
This is a real shame, because Richardson was arguably the best overall player to enter this year's draft. Rarely do teams spend high draft picks on running backs anymore, but not only did the Browns take him third overall—they even traded up to ensure that they would not miss out on him.
Richardson's OROY chances depend more on his health than anything else. If he is able to avoid missing time and can still operate at 100 percent when the season starts, he can be regarded among the league's best running backs within a few weeks.
However, Richardson had knee surgery in the weeks leading up to the draft, which caused him to miss the combine. The Browns, who obviously were willing to overlook his health concerns, are hoping that these knee issues are isolated incidents.
Assuming he comes back soon, Richardson will see a ton of carries as a rookie and not come off the field on third downs, allowing him to rack up unusual numbers for a rookie.
Odds: 20 percent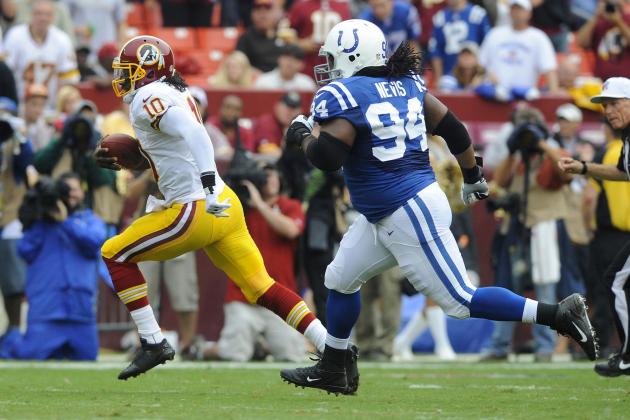 Brad Mills-US PRESSWIRE

While he has not been quite as impressive as Andrew Luck in his first few starts as the Redskins quarterback, there is plenty to be excited about if you are a Redskins fan.
With each passing week, Griffin looks more comfortable in Mike Shanahan's offense. His running ability allows him to throw against simpler coverage schemes as opposing defenses have to waste bodies in a "spy" to contain his scrambles.
Still, it is easy to stereotype Griffin as a run-first quarterback. What makes him so unique is that he only runs if there is truly no other option, and throws with great accuracy, power and anticipation.
The Redskins have probably held back some of the unique plays they have designed for Griffin's unique blend of talents for the regular season. Look for more creativity from the Shanahans to get the most out of Griffin in his rookie year.
Odds: 20 percent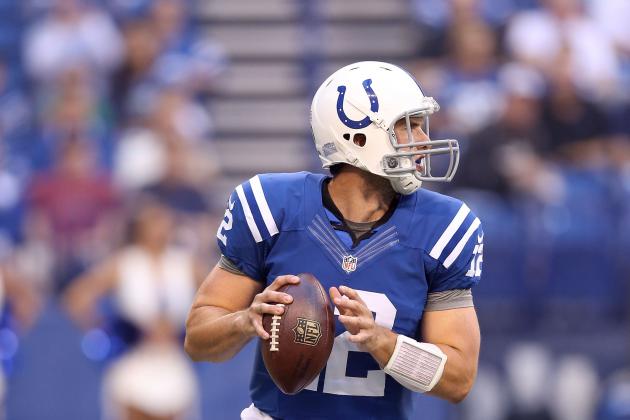 Andy Lyons/Getty Images

Somehow, Luck managed to slip under the radar all summer—until he stunned the football world in his preseason debut.
Luck has qualities most quarterbacks do not develop until they are far into their careers (if they develop them at all). Already, he knows how to look off safeties, make proper checks at the line, and can throw with plenty of arm strength and accuracy.
What is more impressive is that he is doing it all behind a poor offensive line with young, inexperienced receivers and tight ends (outside of Reggie Wayne) to throw to.
On the rare occasion that he does make a rookie mistake, he immediately puts it behind him and moves on to the next play.
While it can be easy to overrate the preseason, Luck's performance was enough to make him the clear-cut favorite to win Offensive Rookie of the Year.
Odds: 25 percent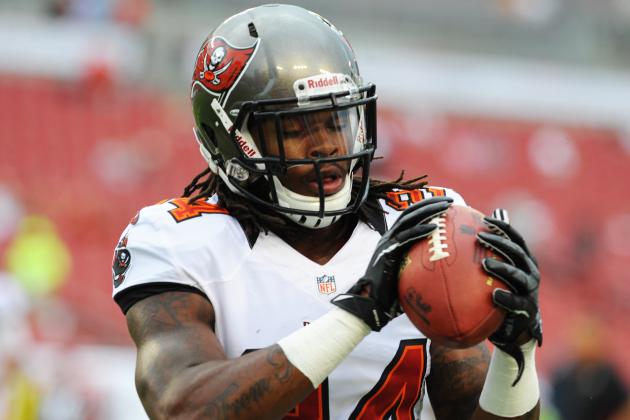 Al Messerschmidt/Getty Images

Safeties (and defensive backs in general) face an uphill battle to win these kinds of awards simply because they are not always involved in every play.
However, Barron's blend of physicality and play-making ability could vault him to the top of the ballot. He has the potential to be a Troy Polamalu-type of player that does a handful of things for a Bucs defense that is in desperate need of talent.
He has already begun to make plays, as he returned a 22-yard interception for a touchdown against the Patriots.
If he can continue to make "splash" plays for the Bucs' defense, he could be a viable dark-horse candidate for DROY.
Odds: 10 percent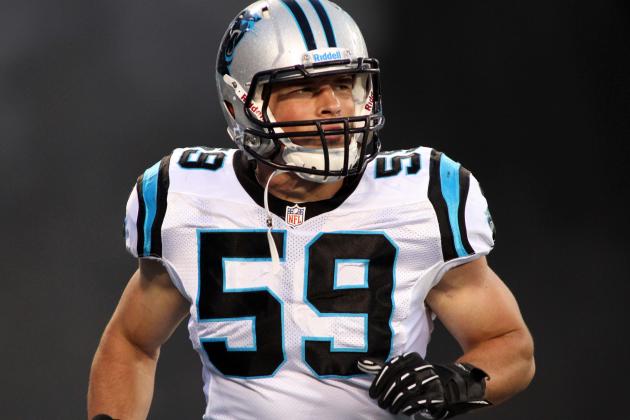 Jeremy Brevard-US PRESSWIRE

Of all of the linebackers drafted, Kuechly is in the most ideal position to rack up huge tackle numbers. As the team's weak-side linebacker, Kuechly excels at sifting through garbage to find ball carriers before they can get too far.
You won't see Kuechly make a ton of "splash" plays or make tackles for loss, but his sheer tackle numbers will be enough to put him on the ballot.
While there may have been several defenders drafted before him, Kuechly will see the most action and be in the best position to make plays.
Odds: 15 percent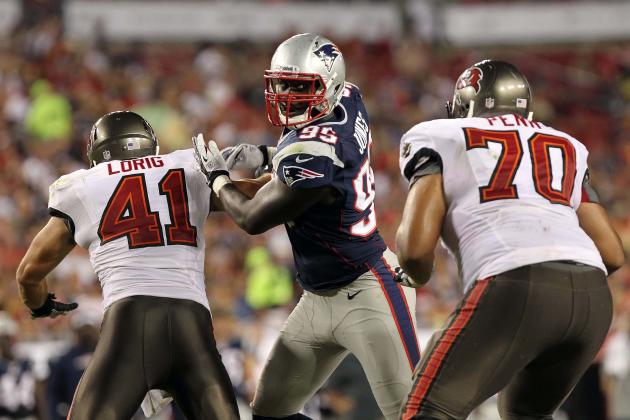 Kim Klement-US PRESSWIRE

So far, Jones is looking like he can be the edge rusher that the Patriots have been craving for so long.
He has even earned the respect of his opponents, as Saints tackle Jermaine Bushrod was impressed with what he saw from Jones during their matchup (via Mike Reiss of ESPNBoston.com):
I think he's going to be a good player in this league. It was a battle out there. I think he has a bright future ahead of him. He definitely looks the part, a good physical specimen.
Coming out of Syracuse, Jones' physical ability was never really in question. He was just unable to stay healthy in college for long enough to put together dominant stretches of play.
Now with the Patriots, he appears to have found some luck in the health department and he is finally getting a chance to show what he can do.
Assuming the Patriots are their usual dominant selves on offense, Jones is going to get plenty of chances to pin his ears back and put up big sack numbers as opponents play catch-up.
Odds: 20 percent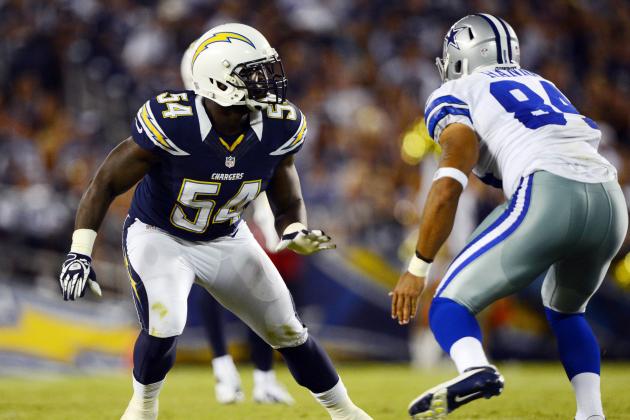 Christopher Hanewinckel-US PRESSWIRE

Before suffering a thigh injury against the Vikings, the Chargers' first-round pick was looking the part.
His short arms were part of the reason why he slipped to the bottom half of the first round, but Ingram's unique blend of speed and strength was on display in his first NFL action.
He already has a sack to his name in limited action and brings consistent pressure, showing the ability to beat tackles one-on-one with polished moves.
While it will not be easy for him to get on the field as much because of Shaun Phillips and Jarrett Johnson around him, he will certainly get a chance to make his mark on third downs.
Before you say that part-time players can not win DPOY, consider that Aldon Smith of the 49ers was almost exclusively used on third downs. Had it not had been for Von Miller, Smith would been a shoo-in for the award.
Odds: 20 percent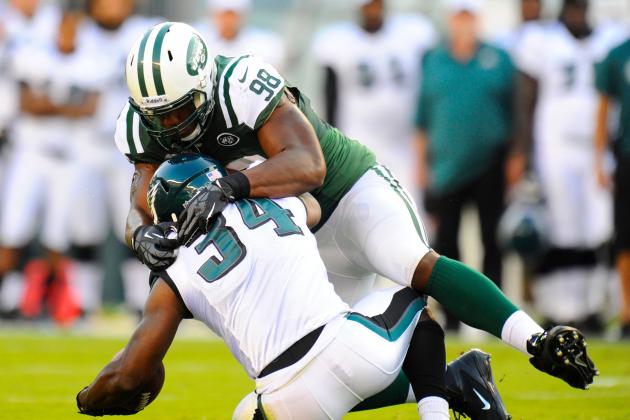 Dale Zanine-US PRESSWIRE

Many draftniks balked at the Jets' selection of Quinton Coples in the first round, as his production declined during his senior season at North Carolina.
So far, Coples has made Mike Tannenbaum and the Jets brass look smart for going against the grain and rolling the dice on the immensely talented defensive end. He is tied for the league lead in sacks with 4.5 this preseason, and he is doing it all from the 3-4 end position, where double teams are rampant.
Not only is Coples putting up big sack numbers, but he is improving each week with his technique while he pushes around guards like rag dolls.
Much is made about their offensive woes, but the Jets' defense has a chance to be truly special if Coples continues his upward trend and continues to improve his technique to get the most out of his physical gifts.
Odds: 25 percent
Ryan is a National and NY Jets FC at Bleacher Report. He is also the Editor for NYJetsDraft.com