Richmond vs. Virginia: Live Score, Highlights and Analysis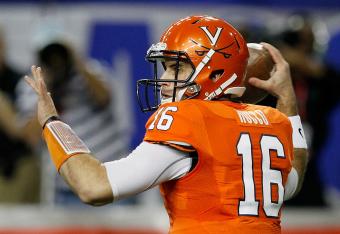 Kevin C. Cox/Getty Images
Final Virginia 43, Richmond 19

In many ways, Virginia did exactly what it had to do against the Richmond Spiders.
The Cavaliers had superior talent and pressure to not let the easiest game on their schedule slip away from them.
Quarterback Michael Rocco needed to prove that he was the same player he was in November when he helped lead the Cavaliers towards a bowl game with victories over Miami and Florida State.
He responded with a career-high 311 yards and although he looked shaky at moments, he did what he had to do to get Virginia a comfortable victory.
Cavalier returner and third-string running back Khalek Shepard stole the show with 52 yards on the ground and some strong returns off kickoffs. However it was sophomore Kevin Parks who led the way with two touchdowns on the ground.
Coming into this season we knew that the offense would have to carry Virginia and the team seemed to click on all cylinders in that regard. Even when highly touted back-up Phillip Sims came in and went 5-of-6 for 50 yards.
The defense showed some holes in the linebacking corps, particularly in pass coverage but diminutive cornerback Demetrious Nicholson showed some real physical toughness out there.
His inspired play leaves Virginia with a good feeling going forward. Yet this is not the time to get too confident.
Penn State is on the horizon, a team full of pride and with something to prove. Despite an opening loss to Ohio, the Nittany Lions are not going to just throw in the towel.
They will look to Virginia as a make or break game, the Cavaliers must respond in kind.
Final Virginia 43. Richmond 19
Good day for former Virginia Cavalier Michael Strauss.
The back-up quarterback at Richmond transferred after all the incoming talent this off-season for the Cavaliers. He rejected an offer from Penn after defensive coordinator and former Richmond coach Jim Reid suggested he join the Spiders.
His reward was being part of two of the three scoring drives in this game for Richmond.
Virginia gets to just run out the clock and start the year off with a critical victory.
Considering the consternation many top teams had to go through this week, Virginia has to be happy not only to win but to get through the game relatively healthy.
Quarterback Michael Rocco was limping in his final drive of the game but appears to be okay moving forward.
His back-up Phillip Sims certainly looked strong in his limited action.
As for the running game, we saw what we expected. The tandem looked impressive.
Moving forward to Penn State, Virginia must be cognizant of short passes and their linebackers will be tested.
They were far from perfect against Richmond, but with a week to adjust, Virginia can be ready for a big test.
Virginia has blown things open with a superior effort from running back Khalek Shepard and our reward is the debut of quarterback Phillip Sims.
In just one drive, the highly touted signal-caller looks as good as advertised. His arm strength is amazing, snapping the ball back with ease and he has been very accurate.
With a 5-of-6 drive for 50 yards, Sims tantalizing potential makes Virginia fans ecstatic. As he learns the offense more and more, the future of Cavalier football may be up in the air.
Considering that most of his familiarity with the offense came through a DVD, Sims makes a strong debut in limited time. What he does moving forward will be very interesting.
4th Quarter 15:00 Virginia 29. Richmond 12
While Virginia's offense has not been as dominant as it was in the first quarter, they are at least winning the time of possession battle.
Wearing down this clock will put pressure on Richmond as long as this deficit remains. Virginia cannot help the cause by turning the ball over but solid play should be enough to help the Cavaliers come away with a victory.
The depth at running back and Rocco's patience to check down in the passing game adds up to lengthy drives.
The only disappointment is that quarterback Phillip Sims may not make his debut today like most expected.
3rd Quarter 5:03 Virginia 29, Richmond 12
Richmond clearly thinks that playing no-huddle can take away some of their depth disadvantages.
On this drive, they were right.
Quarterback John Laub picked apart the slower defensive players, particularly Steve Greer, en route to a critical passing touchdown to keep the game within reach.
Virginia could not get the young man out of rhythm and now the pressure goes back to the offense to keep the margin up.
Considering some of the holes we have seen already, that pressure on the offense could be constant this season.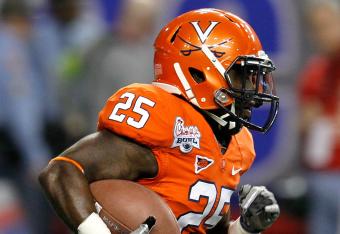 3rd Quarter 8:21 Virginia 29, Richmond 6
After finishing the first half one-of-five, offensive coordinator Bill Lazor gave his charge Michael Rocco shorter routes and it paid off with a busted coverage play that Tim Smith was able to take inside the ten-yard line of the Spiders.
The junior wide receiver has been the preferred target here in the second half and is one of the players fans are looking at towards measuring Virginia's success this season.
Richmond's front seven has really answered the call in the second half, not allowing the Cavalier running backs much room at all. However, they did not have enough to stop Kevin Parks from entering the goal line on fourth-and-goal from the two.
Virginia's stubborn, but they were effective.
11:28 3rd Quarter, Virginia 22, Richmond 6
A great kick return by Khalek Shepard is ruined by a failed fourth down attempt inside the 25-yard line of the Spiders.
I know the announcers thought it was a no-brainer but when you are losing momentum quickly, any points would be a nice thing.
Throwing away three points may not matter in this game, but it was an odd decision given the game situation by head coach Mike London.
Of course, considering the game management against Virginia Tech, maybe I should not be surprised.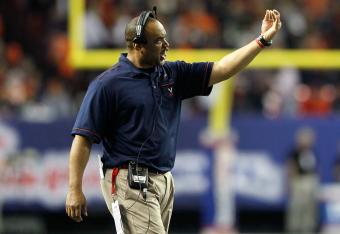 An important stop to finish the half by the Virginia Cavaliers and they enter halftime with a 22-6 lead.
While that score seems perfectly reasonable, Virginia had an opportunity to blow the doors off early.
Quarterback Michael Rocco, who started 4-of-4 missed his final four passes of the half and Richmond is gaining confidence after a shaky start.
The Cavaliers need to rely on their running game to try and wear out Richmond in the second half and rest up their defense.
The much maligned secondary had a few openings late in the first half but have looked solid overall.
Will John Laub be able to bring the Spiders into contention?
Can Kevin Parks and Perry Jones continue to rack up yards and salt the game away?
Will turnovers seal the game's fate?
Coach Mike London knows he has to refocus his troops, perhaps this challenge will prepare them for future threats this season.
2:36 Virginia 22, Richmond 6
Three incomplete passes and the momentum has turned quite a bit in the past few minutes.
Quarterback Michael Rocco has looked a bit shakier on his throws and Virginia seems to be going away from its size advantage by abandoning the running game.
With two timeouts and momentum, Richmond will want to make something on potentially the final drive of the half.
2nd Quarter 2:55, Virginia 22, Richmond 6

Richmond quarterback John Laub is making only his fourth career start, and for the first half it has looked like it.
The nerves and the tightness was something that forced coach Danny Rocco to go over to his offense and implore them to loosen up after Virginia took a 22-0 lead.
It worked.
For the first 18 plays of this game, Richmond had amassed -1 yards on offense.
On this possession, the Spiders looked poised and confident. Laub had time in the pocket and connected with his receivers.
It was former Virginia Cavalier Michael Strauss though, forced into the game after Laub lost his helmet the play before, who threw a wild touchdown pass in traffic to make this a game once more.
Richmond marched down the field, despite a few potential drive-killing blocks in the back and showed some resiliency.
Now it is time to see if Virginia can show some mental toughness of its own.
2nd Quarter 6:51, Virginia 22, Richmond 0
A disappointing field goal after marching down the field to inside the ten-yard line, but tight end Jake McGee's circus catch made the drive more than thrilling.
Virginia has four tight ends on the roster, all of whom are expected to see plenty of playing time this season.
Interestingly enough, running back Clifton RIchardson has still not entered the game to take his turn against this under-sized Richmond team.
Still, with well over a half of football to go, he has more than enough time to show up and make his mark.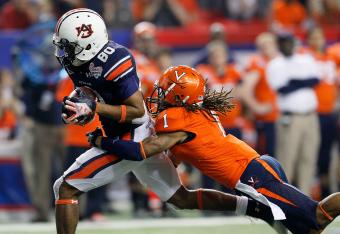 Virginia's defense has absolutely crushed the Richmond running game, having them at around -20 yards in the first 20 minutes of the contest.
The secondary has also looked solid as evidenced by Demetrious Nicholson's open-field tackle to preserve Virginia's perfection on third down stops and forcing Richmond into yet another three-and-out.
The Cavaliers have introduced eight freshman into the game already.
How many more will get a chance before this game is through?
2nd Quarter 12:37 Virginia 19, Richmond 0
Virginia gets on the scoreboard again.

THE GOOD: We get to see Khalek Shepard's running game. Buried in the depth chart, Shepard did not disappoint showing both speed and strength.
We also got to see the first career field goal by Drew Jarrett, giving fans a needed sigh of relief over the all-new kicking roster on the team.

THE BAD: Quarterback Michael Rocco threw his second dangerous pass of the game, a wheel route to Shepard that almost went the other way.
Rocco followed that up by overthrowing Jennings on third down.
Still, a very solid game overall. If things continue this way, how much more will Perry Jones and Michael Rocco play?
1st Quarter :39, Virginia 16 Richmond 0
On the last two possessions, Richmond got their first first down and Virginia missed their first third down conversion, cooling down the red hot Cavaliers.
Despite the toughness of Richmond's quarterback, it will take more than his feet to get things going in the right direction.
Virginia's defensive front seven are simply pinning their ears back and busting through the smaller Spider offensive line.
Misdirection could be one solution, but three years under defensive coordinator Jim Reid has made the unit much more aware on reading offensive packages and their familiarity with one another has led to a dangerous unit.
Considering Virginia was able to hold them to three-and-out in the length it took to write this should prove just that.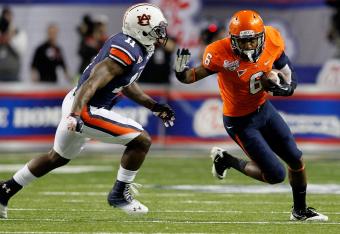 1st Quarter 3:53 Virginia 16 Richmond 0
In the first game of the year, you would expect nerves.
Both teams have had some bobbles, but Virginia's superior athleticism has become apparent.
Quarterback Michael Rocco looks calm in the pocket and Perry Jones has too much speed for Richmond to handle.
With discipline on defense, the Spiders are going to need help to keep up.
With a 16-0 deficit, Virginia can just play smart and make things very difficult for their opponents.
The highlight so far, an amazing juke and speed move by Darius Jennings the sophomore wide receiver.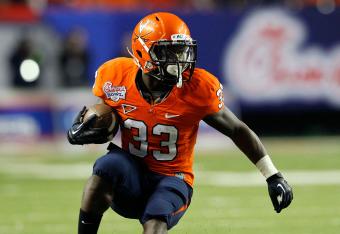 Less than two hours to go before the Virginia football season kicks off.
While all the emphasis has been on the Cavalier quarterback situation, expect the running game to be a big focus in this game.
Senior Perry Jones, the all-around speedster, has shown his big play ability last season. However, Kevin Parks and Clifton Richardson should both see extended time in this game, particularly if Virginia can pick up an early lead.
Virginia will want to wear down their opponent, just as they did in 2010 when big man Keith Payne ran for 114 yards on 16 carries for four touchdowns.
That victory was the first victory for London with the Cavaliers. The former Richmond coach knows that these two teams have a strong familiarity with one another.
Will Virginia's talent override that knowledge or can the Spiders force the Cavaliers into some early mistakes and put some pressure on them?
The running game could be an early answer to that question.
This article is
What is the duplicate article?
Why is this article offensive?
Where is this article plagiarized from?
Why is this article poorly edited?