Miami (OH) at Ohio State: Live Score, Analysis and Results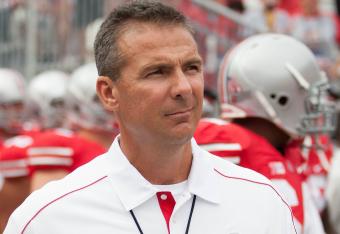 Rob Leifheit-US PRESSWIRE
Final Score: Ohio State 56, Miami (OH) 10
Urban Meyer coaches his first game in Columbus as head coach of the Ohio State Buckeyes as the team looks to maintain its winning streak against Ohio programs.
Miami University looks to be the first team from the state of Ohio to beat Ohio State since October 8, 1921 when Oberlin topped the Buckeyes, 7-6.
That wraps it up for the B/R Live Blog of Miami (OH) at Ohio State.
Solid performance by Ohio State in Urban Meyer's debut. A few things to work on, but overall, Buckeye fans have to be very enthusiastic about the Meyer era in Columbus.
Make sure to check out the Ohio State page and Big Ten section for further analysis.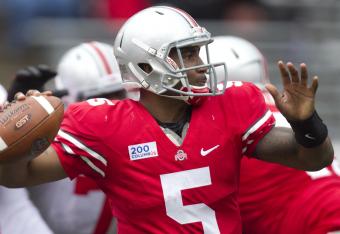 Ohio State Final Grades
Braxton Miller: A-
Over 200 yards passing, a pair of touchdowns, added to over 160 yards of rushing makes for a very productive afternoon. Miller appears to be as good as advertised.
Offense: B+
The Buckeyes have some serious weapons on offense. The trick will be to utilize them as effectively as possible with superweapon Miller taking the snaps.
Defense: B
The defense was supposed to be amazing this season, but Miami exposed a few flaws that need to be smoothed over before the start of the Big Ten schedule. A lack of quarterback pressure against teams like Michigan, Wisconsin, or Michigan State will be fatal.
Urban Meyer: B+
Good adjustments made as the game progressed, and Meyer is now 1-0 at Ohio State. Nothing spectacular from the Buckeyes keeps Urb out of the A's.
Live Blog Final Grade: B+
Miami (OH) Final Grades
Zac Dysert: A-
There's not too much to complain about with Dysert's performance. The problem is he's relied on too much.
Offense: C
Way too one-dimensional. The RedHawks need to establish some sort of running game to take some of the heat off of Dysert.
Defense: C+
A solid a capable defense held Ohio State in check for the first quarter. Then the talent and depth of the Big Ten took over, and a MAC roster just can't compete at the same level.
Live Blog Final Grade: C+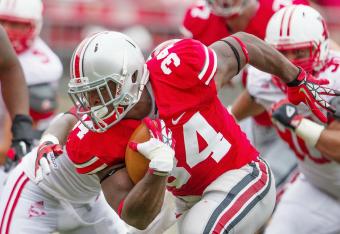 That does it. Urban Meyer is now officially 1-0 as head coach of the Ohio State Buckeyes.
We'll have some final grades and closing comments in a moment...
Another Ohio State score.
Buckeyes running it up a bit, now leading 56-10.
Make sure you check out the Big Ten and Ohio State pages here on B/R following the conclusion of the game for a recap, analysis, and final grades.
There's Urb again!
He's already up to a half dozen camera shots in the fourth quarter. Can we make it to double digits?
As expected, the young guys are getting their reps in here late in the fourth.
Gratuitous Urban Meyer camera time!
BTN again highlighting Devin Smith's catch as the "catch of the year." We get it. It was awesome.
But with so much football left to be played in 2012, do you agree that Smith's one-hander will stand up as the Ohio State catch of the year?
Kenny Guiton in at quarterback for the rest of the afternoon... and he's looking like a very solid backup quarterback.
Ohio State doesn't take long to extend the lead again, 49-10.
Zac Dysert has thrown 53 passes this afternoon.
Does he have anything left in the tank? Get the ice bath ready!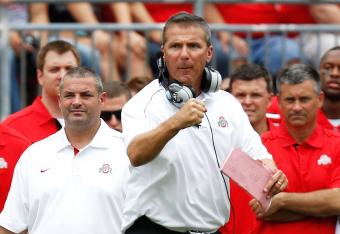 With the game now completely in hand, what's the over/under on the number of times the Big Ten Network's cameras go to a shot of Urban Meyer?
One play later, Ohio State punches it in from 8 yards out.
Carlos Hyde gets his second TD scamper, and Ohio State pushes the lead out, 42-10.
An Ohio State interception to start the fourth quarter puts a nice little bow on this game for the Buckeyes defense.
3rd quarter is over, and Ohio State has this one under control.
Time for the youngsters to get some reps.
Braxton Miller back in the game for the Buckeyes.
Ohio State fans can breathe easy; appears to just be cramps.
Miami's run game is clearly taking the game off.
The RedHawks are just too one-dimensional with the ball to be any real threat to Ohio State's defense.
Ohio State forced to punt after a really bad snap. Miami takes over at its own 20, with perhaps a bit of desperation setting in.
With around 18 minutes of game time left, the RedHawks can't settle for anything less than a touchdown on this drive.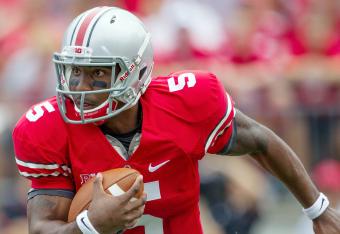 Braxton Miller leaves the game with an apparently minor injury.
Hopefully we'll get an update soon... Maybe this is a signal for Urb to start subbing out the starters.
Ohio State has 24 passing plays to 30 run plays.
Good balance so far, but is it too soon to infer that Ohio State can be a balanced offense against teams from the Big Ten?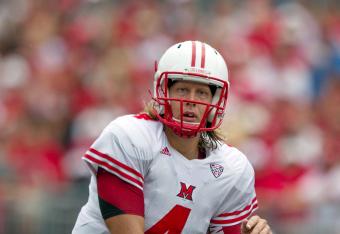 With the composure Dysert is showing, is it possible he'll be the next great NFL quarterback to come out of the MAC?
He's already 27-for-45, and is closing in on 300 yards.
Ohio State didn't have much urgency on that drive. Maybe the Buckeyes are getting a little complacent with such a large lead in the 3rd quarter...
The defense needs to make a stand here.
Okay, Miami forces an Ohio State punt.
If the RedHawks can engineer another scoring drive, they can start clawing their way right back into the game.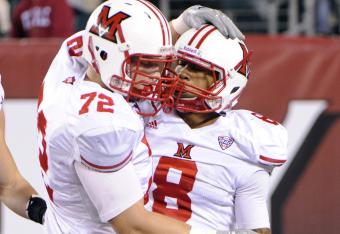 Miami finally gets back on the board with a beautiful touchdown throw from Dysert to Nick Harwell.
Miami cuts into the lead a little, 35-10.
Now, the RedHawks need to find a way to stop the Buckeyes on offense, otherwise, this touchdown won't mean jack.
Now we're going to see what kind of Ohio State coach Urban Meyer will be.
Does he pull the chute or keep his foot on the gas? Will the freshmen and sophomores get some playing time this early int he third, or does he keep the upperclassmen in?
Any predictions on a point total for the Buckeyes?
This article is
What is the duplicate article?
Why is this article offensive?
Where is this article plagiarized from?
Why is this article poorly edited?

Ohio State Football: Like this team?