US Open 2012: Best Moments of the First Week in Flushing Meadows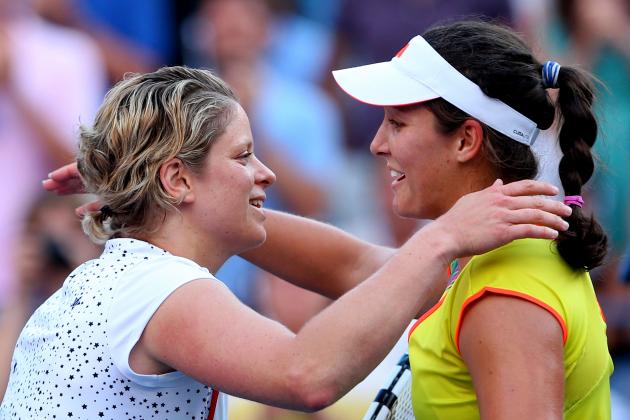 Cameron Spencer/Getty Images

Week 1 of the 2012 U.S. Open had a little bit of everything. Some bright stars dimmed, blinking out early, while a number of new stars captured some reflected glow.
The end of two great careers and the emergence of several budding talents have dominated the story lines at Flushing Meadows.
Two prominent almost-30-somethings decided to call it quits while others of equal or greater age have professed their intention to keep playing on.
One troubling aspect of outdoor tennis stayed away, allowing scheduled matches to progress unhindered. The rains that complicated both the French Open and Wimbledon were absent from Flushing Meadows, except for Day 1 and Sunday night as action concluded on Arthur Ashe.
The U.S. Open is on schedule, which is excellent news for tournament organizers. Of course, there is always Week 2.
The tournament's night matches have presented a few moments of drama, including Venus Williams' battle with German Angelique Kerber, as the American lost in three sets. Of course, Sunday night's action on Arthur Ashe involving Maria Sharapova and John Isner had plenty of drama.
Week 2 will undoubtedly present more competitive matches for New York's enthusiastic night-time fans.
Here are the best moments so far at the 2012 U.S. Open.
Begin Slideshow

»
Al Bello/Getty Images

While there have been many blowouts on the courts at Flushing Meadows, there have also been many thrillers.
In total, there were 15 five-set matches in the first round and seven five-setters in Round 2.
Of those, 10 have been cliff-hangers—when players have been on the brink of defeat only to come back and win the match in five sets.
German Philipp Petzschner was down 1-6, 4-6 to Frenchman Nicolas Mahut but stormed back 6-4, 7-5, 7-6 to win. Paul Henri Mathieu, another Frenchman turned the tables dispatching Russian Igor Andreev after being down, winning 2-6, 4-6, 7-6, 7-6, 6-1.
Croat Marin Cilic (12) was on the verge of defeat as Australian Marinko Matosevic took the first two sets, but Cilic mounted a successful comeback and won 5-7, 2-6, 6-4, 6-2, 6-4.
Janko Tipsarevic (8) found himself in the same straits in the first round, on the brink of defeat. Finding his Grand Slam legs, the Serb fought his way back to victory 4-6, 3-6, 6-2, 6-3, 6-2.
In a very exciting first-round encounter, Tommy Haas of Germany (21) met Latvian Ernests Gulbis and had a iron grip on the match. Haas broke out to a two-sets-to-love lead when Gulbis took control, overtaking the German and winning the match 3-6, 4-6, 6-4, 7-5, 6-3.
Russian Mikhail Youzhny (28) was not so fortunate when leading two sets to love, Gilles Muller of Luxembourg came back to win in five—2-6, 3-6, 7-5, 7-6, 7-6. It is hard to lose under those conditions, but even harder to win when you are down two sets.
Fabio Fognini also had to come back against Frenchman Edouard Roger-Vasselin 3-6, 5-7, 6-4, 6-4, 7-5.
Juan Monaco (10) suffered a dismal first-round defeat. After leading early, the Argentine went down 6-3, 6-1, 4-6, 6-7, 6-7 to Guillermo Garcia Lopez of Spain.
Jesse Levine of the United States shot out to an early lead over Alexandr Dolgopolov of Ukraine (14), only to see his lead slip away as Dolgopolov took charge 3-6, 4-6, 6-4, 6-1, 6-2 to win the match.
In the second round, Mardy Fish (23) did the same to defeat Russian Nikolay Davydenko 4-6, 6-7, 6-2, 6-1, 6-2.
These were down to the wire, exciting matches to witness. If winning was easy, then why would we bother to watch?
In this day and age when everything in tennis seems to be geared to fit television and its limited space, it is wonderful that the Grand Slam events still employ the five-set format because without it, all 10 of these matches would have been over before the eventual winner even got into the match.
Long live the five-set format!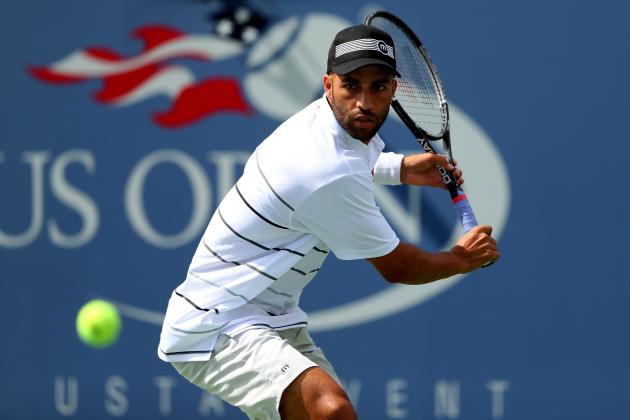 Cameron Spencer/Getty Images

Of the 32 male players that started Round 3, one quarter were age 30 or older. Players such as Roger Federer, Mardy Fish, Feliciano Lopez, James Blake, Lleyton Hewitt, David Ferrer, Andy Roddick and Julien Benneteau were all left standing trying to extend their stay into Round 4.
The gray line is receding for the men. Age 35 is becoming the new age 30. We became aware of that fact during Week 1 of the U.S. Open.
Why are the men redefining the retirement age in tennis? What has happened to extend the typical age of the men playing today?
It is true that there have always been a few men who have played a long time—like Andre Agassi who retired at age 36 and Jimmy Connors who was still one of the game's best at age 39, retiring at age 44.
Bill Tilden reportedly played tennis professionally into his 50s and the great Pancho Gonzales played into his 40s, retiring at age 46.
But today, male players in general play longer and more successfully.
That has to do with conditioning first and foremost. Like Federer learned early on, before you can win consistently, you must be prepared to go the distance physically.
Besides being able to play five-set matches, being fit also means fewer injuries. When your body is prepared for the rigors of playing tennis, it is less likely that you will be hurt extending yourself to unaccustomed heights.
Experience is often the difference in longer matches, as many of the men are using their experience to outclass the younger pros.
For the ladies, however, in case you were wondering, the average age of the 32 remaining to do battle in Round 3, was 25.0625. Three of the ladies were 30—only two were under 20.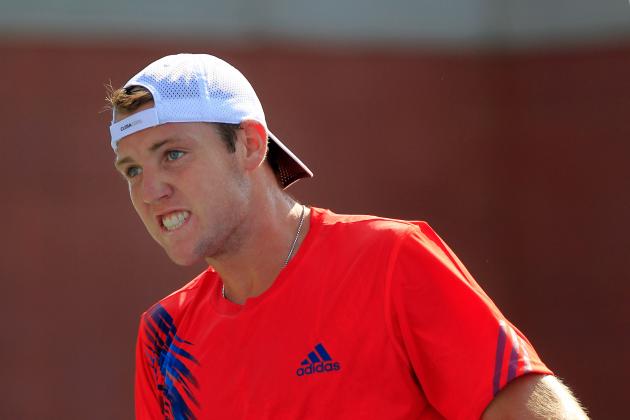 Mike Stobe/Getty Images

The promising play of some newcomers made the 2012 U.S. Open very exciting during the first week of competition.
American Steve Johnson, like countryman John Isner, finished college before he began competing on the professional tour in earnest. During his last two seasons at USC, Johnson won back-to-back NCAA singles championships.
At this year's U.S. Open, he won his first-round match over Rajeev Ram 6-3, 7-6, 6-3, sending him on to the second round, where he upset Ernests Gulbis 6-7, 7-6, 6-3, 6-4. That sent Johnson into the third round to face Richard Gasquet, seeded No. 13. But that was the end for Johnson, losing 6-7, 2-6, 3-6. Still, it was a good tournament for the American.
Nineteen-year old Jack Sock lasted just as long, getting by German Florian Mayer in the first round, leading 6-3, 6-2, 3-2 when Mayer retired. In the second round, Sock rocketed past Flavio Cipolla of Italy 6-2, 6-2, 6-4.
But in the third round, the teenager came up against the No. 11 seed, Nicolas Almagro. Their remarkable match started with three tiebreaks—with Sock only winning one of them. After that, Sock ran out of gas in the fourth as the Spaniard pulled away 6-1.
The promise is there and once the fitness follows, Sock could become the heir apparent to the retiring Andy Roddick.
Of course, for the ladies we saw newcomer Mallory Burdette, a senior at Stanford, entering the Open as a wild card. In the first round, she took out Swiss Timea Bacsinszky 6-4, 6-3.
Following that win, Burdette defeated Lucie Hradecka of the Czech Republic 6-2, 6-4. That meant that in the third round she would face the No. 3 seed, Maria Sharapova. Meeting her first seeded player, however, Burdette fell meekly to the Russian 6-1, 6-1.
Teenager Sloane Stephens kept us riveted as play progressed until finally falling in the third round to former world No. 1 Ana Ivanovic.
Teenager Laura Robson is not really new to the world stage, but new to her current form. The Brit made it to the fourth round before falling to Sam Stosur.
Hopefully the new faces we enjoyed during the first week will be back next year to thrill us with more highlights from the U.S. Open.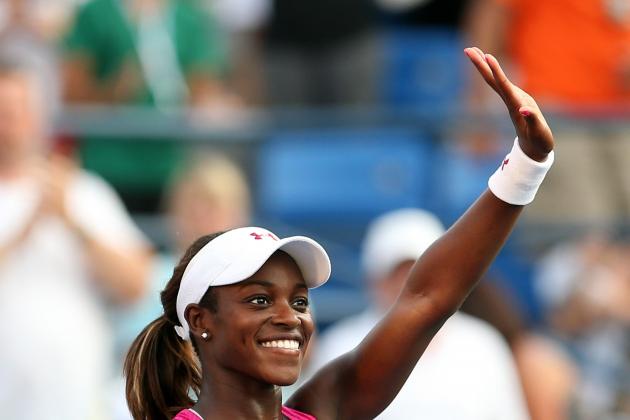 Matthew Stockman/Getty Images

When Sloan Stephens entered the 2012 U.S. Open, she had achieved her highest ranking to date—world No. 44. Expect the 19-year old's ranking to shoot even higher after the Open concludes.
In her opening-round match, Stephens upset the No. 22 seed Francesca Schiavone 6-3, 6-4, advancing to the second round. Schiavone, of course, won the French Open in 2010.
In Round 2, Stephens faced Tatjana Malek of Germany, winning that match 5-7, 6-4, 6-2.
The youngster from Florida moved on to the third round, where she played another French Open champion, Serb Ana Ivanovic.
There Stephens' magical run through the women's draw ended. After stealing the first set away from her more experienced opponent in a tiebreak, Stephens had opportunities to take the match in the second set.
It seemed, however, that the moment finally caught up to her as she faltered, allowing Ivanovic to capture the second set.
Stephens fell 7-6, 4-6, 2-6. With more experience, she will undoubtedly be able to close out matches against tougher competition.
Stephens has a commanding serve that will only improve as her game matures. Playing from the baseline, she possesses excellent movement and foot speed.
Her forehand is powerful and her two-handed backhand is solid. Stephens may well be the face of U.S. tennis in due time.
Her play has been one of several bright spots for Americans at this year's Open.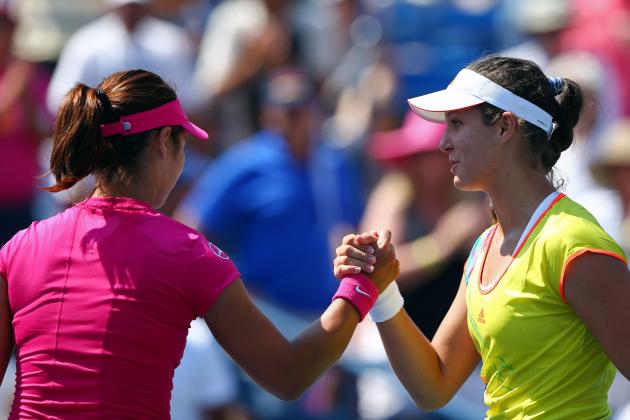 Elsa/Getty Images

Laura Robson may be only 18 years of age, but she has been playing like a seasoned pro at this year's U.S. Open.
In the process, the youngster from Great Britain took down the stars one at a time, trying to battle her way into the U.S. Open quarterfinals.
In the first round, Robson dismissed American Samantha Crawford, who qualified to get into the draw. Nonetheless, it was a tight match with Robson pulling it out 6-3, 7-6.
Of course, her second-round opponent was crowd favorite Kim Clijsters, who was playing her final U.S. Open. The Belgian announced earlier this year that this would be her last tournament as she said good-bye to professional tennis.
Robson and Clijsters battled through two sets with each outcome coming down to a tiebreak—both which Robson won.
A star was going home and another one was rising, perhaps, to take her place in women's tennis.
In the next round, Robson faced another fan favorite in Li Na of China, seeded No. 9 at this year's Open. But again, the teenager prevailed 6-4, 6-7, 6-2 in a very pivotal match for both players.
Li Na definitely did not play her best, as her serve failed her time after time. When Li Na came back to win the second set in a tiebreak, most youngsters would have folded under the pressure—but not Robson.
The Brit came back strong and took the third set, sealing a victory and a place in the fourth round, where the defending champion Samantha Stosur was waiting.
But Stosur did not fold, break down or go away. Instead, she defeated Robson 6-4, 6-4. The teenager fought hard but finally fell. Still, it was an excellent tournament for Robson.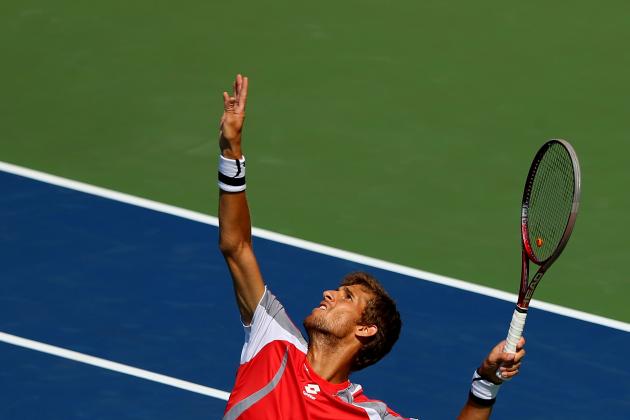 Cameron Spencer/Getty Images

Unseeded and unheralded Slovak Martin Klizan is making his way through the draw under the radar, mainly because no one knows who he is and why he is playing so well at this year's U.S. Open.
Prior to the U.S. Open, Klizan seemed to have spent most of his time winning on clay courts and at Challenger events. His wins in 2012 allowed him to achieve his current No. 52 ranking—up from outside the top 100.
There was not much in Klizan's recent history to indicate his apparent prowess on the hard courts.
He played only one other hard-court event before the Open. That was at Winston-Salem, where he lost in the second round to eventual champion John Isner.
But the Slovak has turned out to be, perhaps, the most surprising winner on the men's side of the draw so far.
Klizan defeated world No. 6 Jo-Wilfried Tsonga in the second round of the 2012 U.S. Open.
Tsonga, in a decidedly lackluster performance, fell 6-4, 1-6, 6-1, 6-3 in a real shocker.
After his first win, Klizan went on to defeat the No. 32 seed Jeremy Chardy of France in the third round 6-4, 6-4, 6-4.
Coming up next for the Slovak is the No. 12 seed, Marin Cilic of Croatia in Round 4.
Klizan has turned out to be a huge surprise for everyone in week No. 1 at the U.S. Open.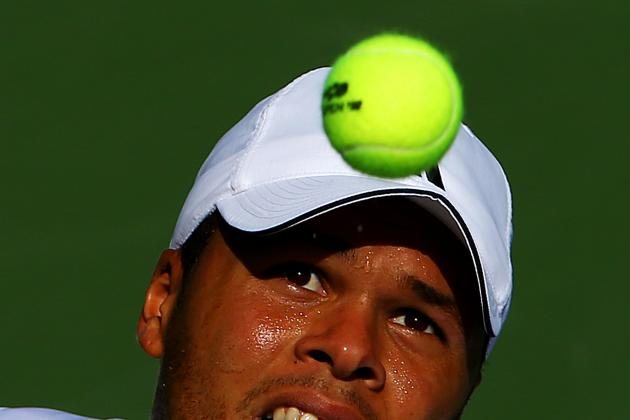 Al Bello/Getty Images

The No. 5 seed Jo-Wilfried Tsonga only half showed up for his second-round match.
After winning his opener in straight sets over Slovak Karol Beck 6-3, 6-1, 7-6, no one expected Tsonga to go down to defeat at the hands of Beck's countryman, lefty Martin Klizan.
Regardless of questions concerning Klizan, Tsonga never appeared comfortable or engaged throughout the match, which he lost 4-6, 6-1, 1-6, 3-6.
It was the biggest upset of the Open so far for the men as one of the top seeds was dropped, opening up a spot for someone with less expectation to break through—someone like Martin Klizan.
At last year's Open, Tsonga made it through to his first quarterfinal at Flushing Meadows—losing to Roger Federer in straight sets. Prior to 2011, Tsonga had never advanced beyond the fourth round of the U.S. Open.
Coming into this year's Open, Tsonga had to be regarded as one of the favorites outside the top three seeds to finally capture a Grand Slam title—especially because Rafael Nadal was not in the field.
Tsonga reached the semifinals at Wimbledon again this year, losing to Andy Murray, and had a terrific run at the Summer Olympics—where he played a great deal of tennis in singles and in doubles.
Perhaps, the summer just caught up with the charismatic Frenchman, whose down day cost him a shot at the 2012 U.S. Open.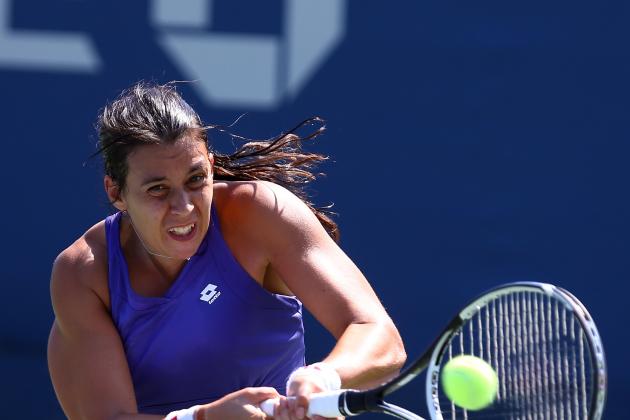 Al Bello/Getty Images

It looked like the No. 5 seed Petra Kvitova was going to have another routine win as she swept through the first set against the No. 11 seed, Frenchwoman Marion Bartoli, 6-1.
Bartoli could not manage to hold her serve, losing it three times in the first set.
Finally, the Frenchwoman, with the unorthodox playing style, woke up and began the steady and relentless task of dismantling the Czech across the net.
Bartoli stepped into the court, catching the ball early and blasting returns past Kvitova, who soon began to resemble a player who was cemented to the court.
Unable to find her game, Kvitova held her serve only once in the second set.
With her opponent down and out—up 4-2 in the second set, Bartoli won the next eight games to close out the match 1-6, 6-2, 6-0.
The loss marks the first time that Kvitova failed to reach the quarterfinals of a major since the Australian Open in January.
Bartoli's performance, however, stunned everyone. It was that fiery determination on display once again—the one that got her to the semifinals of Wimbledon in 2007.
We will see if she can find the same fire to take down the Russian Maria Sharapova, her quarterfinal opponent.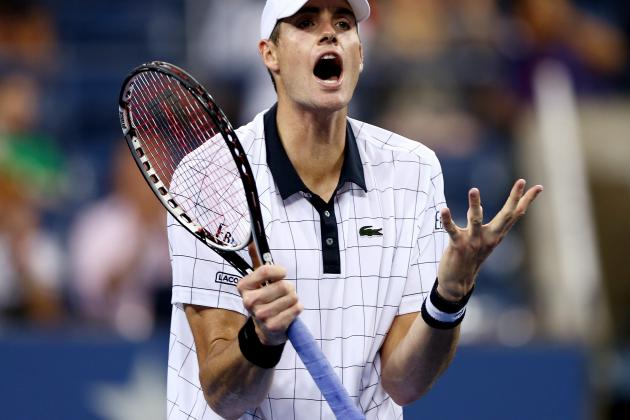 Elsa/Getty Images

Say it isn't so, Big John.
The rains came. Maria Sharapova and Nadia Petrova finished their protracted and rain-delayed match. After 11 p.m., John Isner and his opponent Philipp Kohlschreiber took the court to do battle for a spot in the fourth round.
The match would end at 2:25 in the morning with an astounding result.
Isner, who had been touted as a probable semifinalist coming out of the quarter of the draw headed by No. 4 seed David Ferrer, was defeated by the German 6-4, 3-6, 4-6, 6-3, 6-4.
Isner, after losing the opening set, had won the next two and seemed to have a firm grasp on the match.
Kohlschreiber, however, is accustomed to tough struggles and long matches.
Isner had his chances in the fourth set during the opening game with break points on Kohlschrieber's serve. But Isner failed to win an advantage there.
Then, with the set at 3-4, Isner's serve failed to save him and he gave up the break, allowing Kohlschrieber to serve it out and take the fourth set.
In the fifth set, Isner suffered with a foot-fault and an early service break. Kohlschrieber was able to hang on, capturing the fifth set and the match.
Kohlschreiber moves on to his first round of 16 at the U.S. Open. For Isner, it will be a huge learning experience going forward—gaining insight about overcoming adversity in this match.
It was a great match, seen by few, with an outcome mourned by many.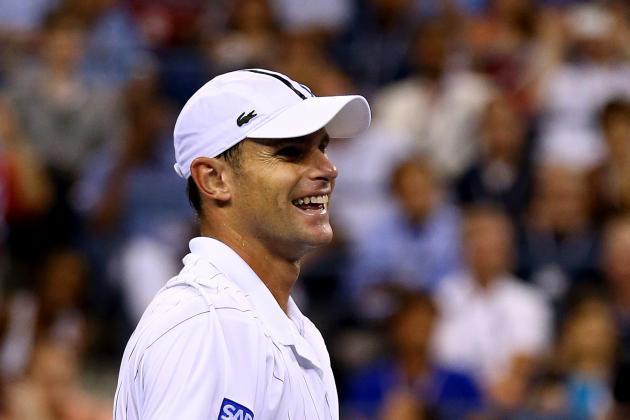 Al Bello/Getty Images

On Thursday, Aug. 30—on his 30th birthday—Andy Roddick announced to the press and the rest of the world that the 2012 U.S. Open would be his "last hurrah" in professional tennis.
Roddick has been playing on tour for 12 years, since 2000, when he began blowing people off the court with his rocket serves at 18 years of age.
The pinnacle of his career came in 2003 when Roddick captured the U.S. Open, defeating Spaniard Juan Carlos Ferrero. The win catapulted him into the No. 1 ranking at the age of 21.
Starting then, Roddick became the standard bearer of U.S. tennis. An immense weight of expectation promptly fell directly on Roddick's shoulders. To his credit, Roddick picked up the load and carried it.
As the heart and soul of men's tennis in the United States, Roddick did everything in his power to succeed.
Roddick upended fellow American Rhyne Williams 6-3, 6-4, 6-4 in the first round of this year's Open.
After that match, Roddick made his announcement—then prepared to face teenager Bernard Tomic of Australian Friday night on Arthur Ashe. Friends, family and fans prepared for the inevitable last match but Roddick was not ready to leave.
Roddick defeated Tomic in straight sets to move onto the third round, played on Sunday. There Roddick defeated Italian Fabio Fognini in four sets, winning 7-5, 7-6, 4-6, 6-4.
Next up in the fourth round is Argentine Juan Martin del Potro, the No. 7 seed.
Will that be Andy's "last hurrah?"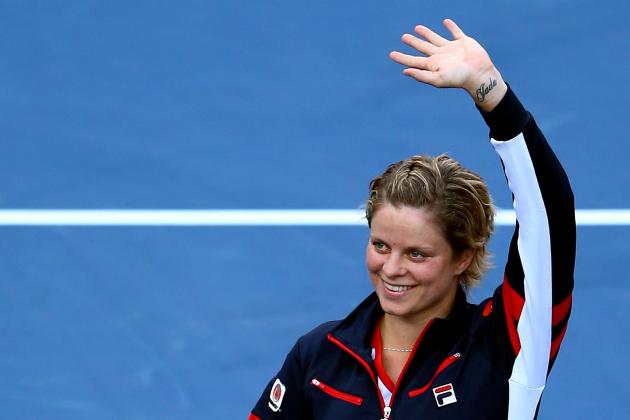 Al Bello/Getty Images

Fans knew well in advance that the 2012 U.S. Open was going to be Kim Clijsters' last tournament. The former world No. 1 was going to retire from professional tennis for the second and last time.
Clijsters had previously retired in 2007 but came back to the game in 2009, enjoying tremendous success. Recent injuries and setbacks, however, plus wishing to concentrate on her family, compelled the former No. 1 to retire again.
Clijsters won her opening-round match over charming teenager Victoria Duval 6-3, 6-1. Her second round match was against another teenager, up-and-coming Brit Laura Robson.
The two met on Arthur Ashe Stadium in a night session. Most assumed Clijsters, with her experience on the biggest stages in tennis, would prevail in the match.
But that did not turn out to be the case.
The teenager won 7-6, 7-6 in a riveting match. Clijsters fought hard, never giving an inch. But Robson held tough, never allowing nerves to interfere with her desire to win the contest.
In the beginning, it looked like Clijsters would put the teenager away easily as she shot out to a 4-1 lead in the first set. But then Robson caught fire, fighting back when the Belgian stood ready to serve out the set at 5-3, eventually forcing a tiebreak.
Robson managed to fight off three set points, winning the set at her first opportunity.
In the second set, Clijsters again broke out to an early lead but gave the break back in the second game. The two seesawed to another tiebreak with Robson taking the set and the match in another tight finish.
Clijsters' singles career ended after being on tour since 1997. She won three titles at the U.S. Open and one title at the Australian Open, playing exciting, athletic tennis.
Clijsters will be missed by tennis fans all over the world.