With the 2012 fantasy football season almost upon us, it's time to break down and analyze when you should be taking an injured star like Minnesota Vikings running back Adrian Peterson.
The NFL all-star is one of the best backs in the sport, but a torn ACL and MCL at the end of the 2011 season has brought his 2012 effectiveness into question.
After offseason surgery and a rehab program pace unheard of in the medical community, the physical freak of nature is already taking slight contact in practice and is a game-time decision for Week 1 of the regular season.
As a fantasy owner, it is imperative that you know when it is too early to snag the injured star and when you must pull the trigger on the ace. That's why we're here to help!
What Round Should I take Adrian Peterson?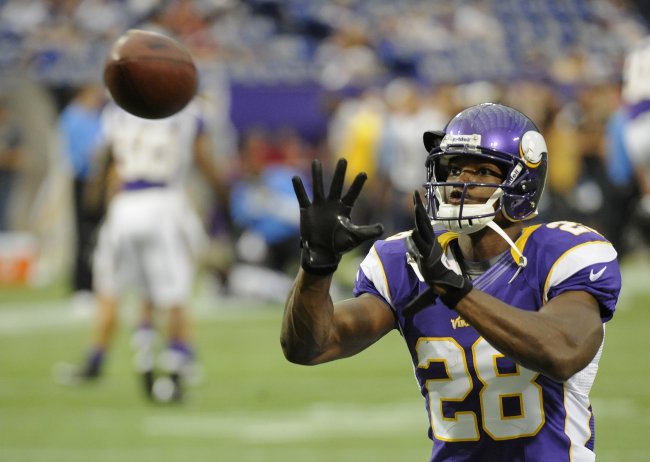 Hannah Foslien/Getty Images
With a 2012 average draft position of 20.69, you will be looking at taking Adrian Peterson in the late second round or the early third round. Despite the injury scare, this will give you ample time to secure a viable backup for the first two or three weeks AP is less than 100 percent.
The injury will scare people away from the Vikings running back and the putrid offense in Minnesota won't help, but Peterson is a beast when he is on the field. If you can take AP in the third round, you must pull the trigger.
Injury Assessment/Latest News
The injury Peterson suffered is a catastrophic injury that has stolen the career of many of the best players in NFL history. Thank goodness for the Vikings and fantasy owners, though, that the star running back is not a normal human being.
Peterson's unnatural ability to destroy defenders on the field has led him to be a beast in the recovery room as well. While AP just started taking contact in practice, the fact that the star is back on the field and cutting at close to 100 percent is amazing.
Minnesota may start him in Week 1, but Toby Gerhart will take the majority of the snaps and will do so until Peterson is back to his old self. That should be Week 3 at the latest.
Season Projections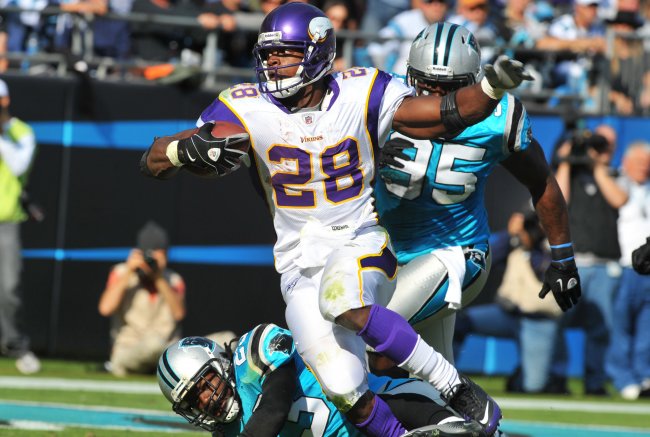 Al Messerschmidt/Getty Images
Despite being limited the first few weeks of the season, Peterson will get better with every regular season game. He will touch the ball in every game, but will only start taking the bulk of the workload after about Week 3.
Even with the knee injury, Peterson will cross the 1,000-yard rushing mark and add six touchdowns as well; most of which will come in the latter stages of the regular season (or as I call it, the fantasy football playoffs.)
Bye Week
With a Week 11 bye, there is not too much concern about how that will affect your team. Peterson should be close to 100 percent before everyone else's bye weeks start kicking in, and you will have backups that will be playing in Week 11.
AP's bye week should have no bearing on the selection process.
Split Situation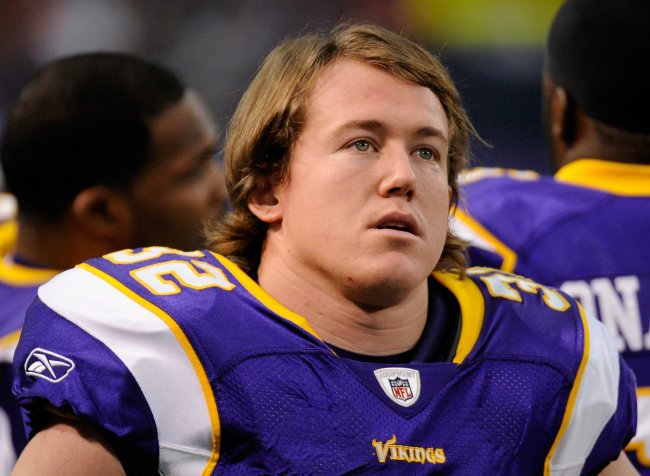 Hannah Foslien/Getty Images
The starting running back job is Adrian Peterson's and everyone knows it, but backup Toby Gerhart is a must-draft for the owner that steals Adrian Peterson in the third round. While Peterson is still limited by his injury, it will be Gerhart that takes the bulk of the carries.
If you snag Gerhart late in the draft as a handcuff to your early investment, the worries about Peterson diminish as you have both of the Vikings' key options. Whatever they choose, you will be prepared.
Players to Take Before Adrian Peterson
While Adrian Peterson is a serious No. 1 overall pick in a normal season, this year will feature plenty of backs going before the star.
If you are picking late in the first or early in the second rounds, stars like DeMarco Murray, Matt Forte and Darren McFadden must be considered over Adrian Peterson because of his health alone.
Where should Adrian Peterson be selected in your fantasy draft?
Players to Take After Adrian Peterson
As much as his injury scares many fantasy owners. Adrian Peterson will still put up solid numbers and vindicate your selection.
Instead of taking stars like Maurice Jones-Drew, Jamaal Charles or Ryan Mathews in the late-second or early-third rounds, take the gamble with a potential 2013 first-round pick like AP; it's a risk well worth the reward.
Conclusion
Adrian Peterson is an absolute freak of nature and taking him as high as he is going may be a huge risk this season, but one that could win you the entire fantasy league.
Do not pass on a star this great in the third round if he is there.
Check back for more on the National Football League as it comes, and don't miss Bleacher Report's NFL page to get your fill of all things football.